By Patricia Fitzgerald
December 20, 2022
Kitchen Collaborative is a recipe-development initiative formed by Summit F&B and Flavor & The Menu. To fuel flavor innovation, a group of talented chefs partnered with sponsor brands and commodity boards to create recipes that showcase the passion and potential of our industry.
CHEF SPOTLIGHT: Michael Slavin
Star anise. Coca-Cola. Blackberry preserves. Balsamic glaze. Michael Slavin, VP Culinary & Menu Innovation for Landry's Hospitality Group, understands that thoughtful attention to the supporting players in a dish not only elevates the hero ingredient but can be the key to craveable differentiation. He finds inspiration in dine-arounds and culinary immersions, leaving such events excited and challenged "to do my best work in trying to create the coveted, truly 'original' dish," he says. His recipes for Kitchen Collaborative—Bacon-Wrapped Scallops and Dates with Fig Cola Jam, Unagi Sauce Balsamic Syrup and Wasabi Ice Cream, and Baked California Cheesy Bistro Dip with Toasted Truffle Crumbs—reflect Slavin's commitment to putting inspiration into action.
Bacon-Wrapped Scallops and Dates with Fig Cola Jam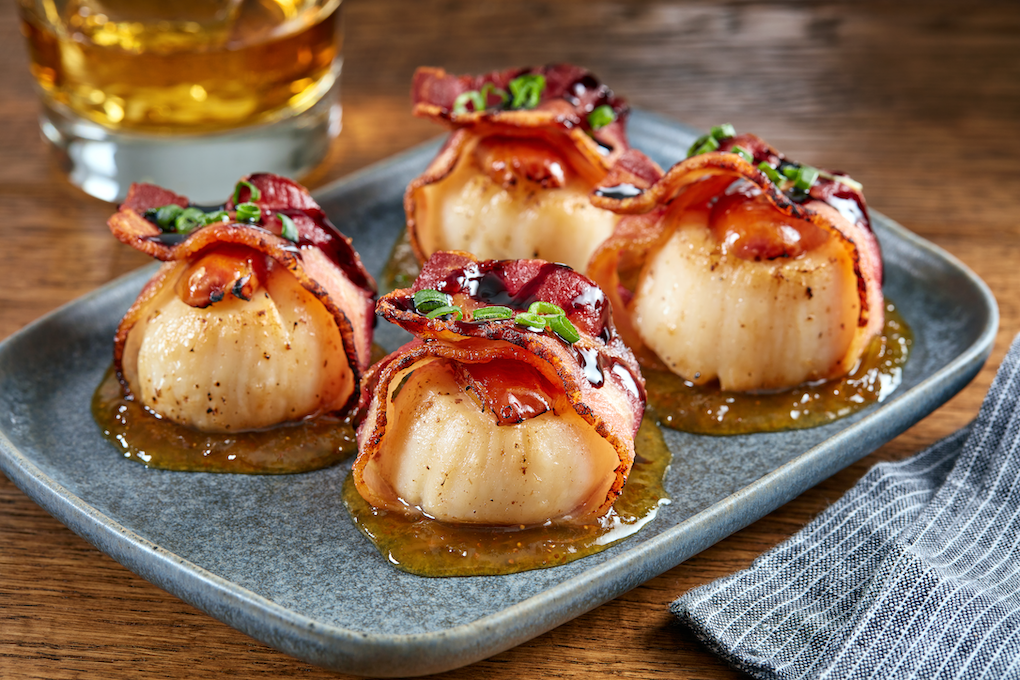 Photo: Carlos Garcia // Food Styling: Peg Blackley & Bree Williams
Highlight "bacon-wrapped" on the menu and you've guaranteed a second or third look, if not a confirmed order. "Bacon's smoky, sweet aroma evokes such fond memories—think about those really pleasurable meals when bacon was the star, whether it was supposed to be or not," says Slavin. "It leaves you with the feeling that only good things lie ahead."
Wright's Bacon® from Tyson Foods is the hero ingredient for Slavin's Bacon-Wrapped Scallops and Dates with Fig Cola Jam. He recommends using either hickory or applewood-smoked bacon varieties, doing a quick par bake in the oven before wrapping each scallop and date together and then cooking again. These are then placed atop a dollop of fig cola jam, drizzled with balsamic glaze and garnished with a sprinkle of scallions.
"Typically, you would see bacon-wrapped figs, but I decided the dish would benefit from a simple spin," says Slavin of his decision to sub in dates. "Their concentration of sugars, along with a lower moisture content, allows for a crispier end product, delivering the snap and crunch you desire and expect from anything bacon-wrapped."
Slavin brings tradition back into the equation with the fig jam, although this, too, defies convention, mixed with classic Coca-Cola, star anise and a bay leaf. "It may be a nod back to my Philadelphia roots, where I first cut my teeth in the early '90s," he says. "Back then, chefs would experiment a lot with non-traditional marinades and sauces, producing unique flavor pairings like the fig cola jam. The recipe is very simple—only four ingredients—but it leaves you wondering what's driving the flavor."
Unagi Sauce Balsamic Syrup and Wasabi Ice Cream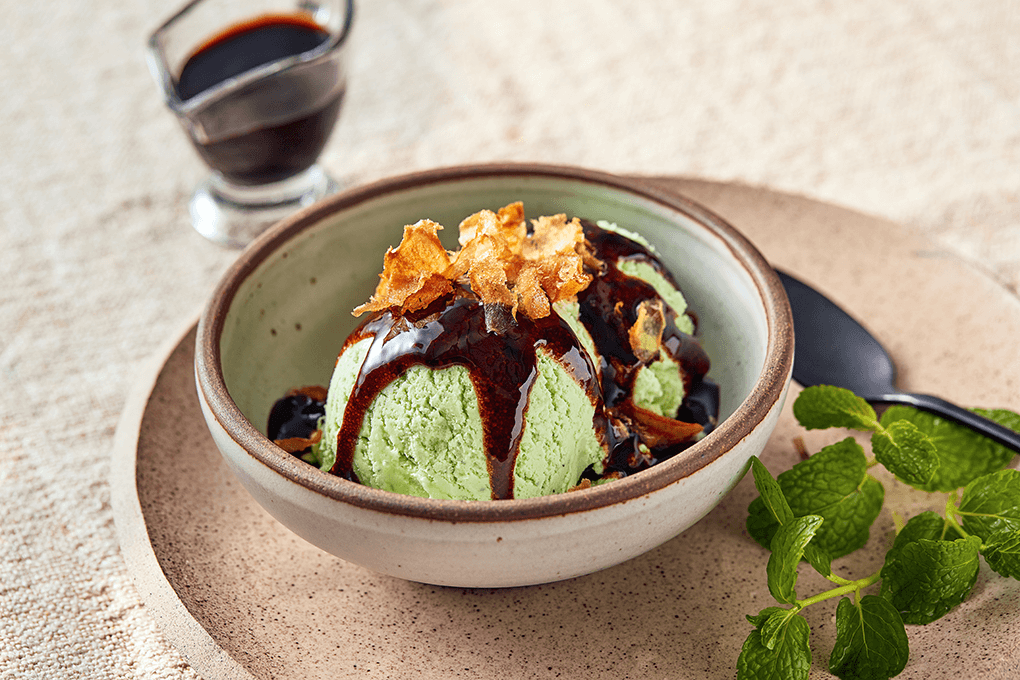 Photo: Carlos Garcia // Food Styling: Peg Blackley & Bree Williams
Slavin goes all in on the Asian flavor pantry with his Unagi Sauce Balsamic Syrup and Wasabi Ice Cream, going beyond conventional recipe approaches in responding to the rising interest in cuisines from this part of the world. "Respectfully honoring traditional Asian culinary principles can lead to authentic innovation," says Slavin. Showcasing Kikkoman® Unagi Sauce is certainly an intriguing place to start. While he was aware of the sauce, best-known in Japanese cuisine as a finish for grilled eel, Slavin had no previous experience using it in recipe development. "It is definitely more interesting than traditional soy sauce," he notes. "It's basically a thicker, sweeter soy sauce that benefits from the depth of flavor provided by sake or mirin."
Slavin cuts two cups of unagi sauce with one cup of balsamic glaze. "Sometimes, chefs have to bridge the gap between hyper-authentic and what the American consumer is willing to try," says Slavin. "The balsamic vinegar mellows the sweetness of the mirin, and it blends nicely to create a craveable syrup that is more broadly appealing." Another point of differentiation is the inclusion of a star anise pod added while the liquids heat to a simmer. "The anise imparts a pleasant hint of licorice for a little bit of recipe intrigue."
The unagi-balsamic syrup is paired with wasabi ice cream, which features mint and basil leaves, simple syrup and wasabi powder. The frozen dessert "gives an herbaceous, yet comforting, sweet hit on the palate up front before finishing with the expected nasal sensation from the Japanese horseradish," says Slavin. A sprinkling of fried ginger as a finish delivers textural interest, while serving as the perfect Asian profile grace note.
Baked California Cheesy Bistro Dip with Toasted Truffle Crumbs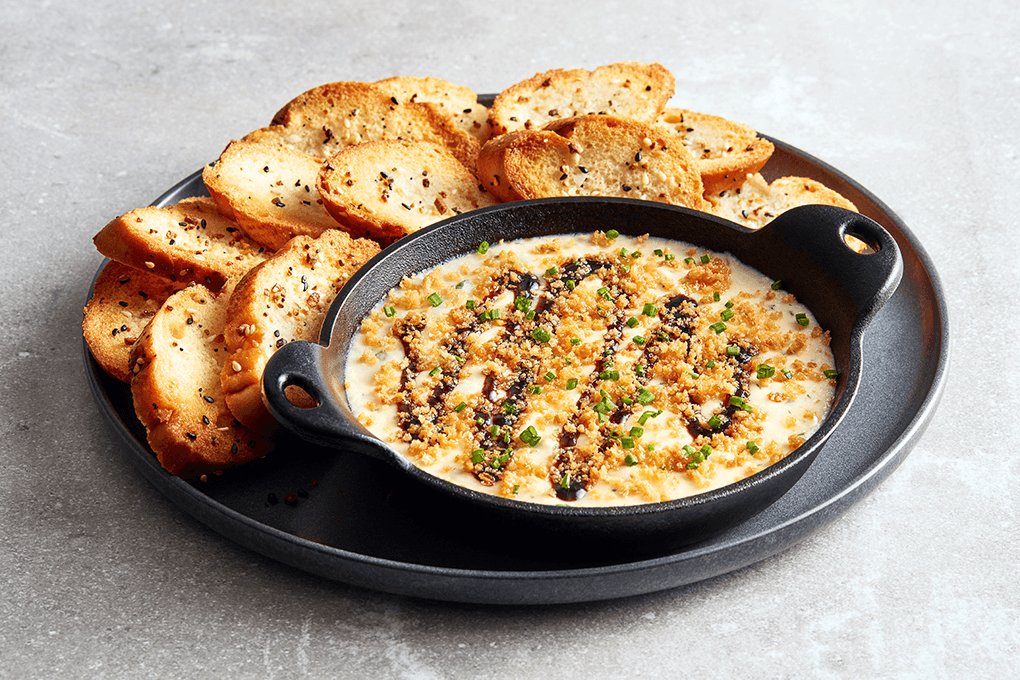 Photo: Carlos Garcia // Food Styling: Peg Blackley & Bree Williams
At its most fundamental, the melty magic of baked cheese ranks pretty high on the craveability scale. But when chefs approach this dish with flavor nuances top of mind, the crave factor can go off the charts! Take this Baked California Cheesy Bistro Dip, which features not one but four Real California cheeses: Brie, Cotija, ricotta and cream cheese. The goal, says Slavin, is not just to create a balanced blend, but to "leave subtle pockets of flavor throughout the dip."
Slavin includes other assertive ingredients—garlic powder, onion powder, parsley, basil, horseradish sauce, pepper and Tabasco—to add more power to the flavor punch. "The dish is meant to be super aromatic, especially with those palate stimulators," says Slavin. "Each bite has a deliberate and pronounced flavor that makes it uniquely craveable."
The dish is finished with a drizzle of blackberry preserve-balsamic glaze, which helps to cut some of the fat from the mouth feel without overpowering the dish, explains Slavin. Final touches are a generous sprinkling of truffle panko crumbs ("to give the appropriate level of crunch and umami") and a garnish of chive snips. Slavin recommends serving the dip with a crostini crusted with everything seasoning. "This blend of warm cheese aligns naturally to that profile, and crostini packed with everything bagel seasoning look amazing and certainly deliver on flavor," he notes.
Project Management: Summit F&B
Photography: Carlos Garcia // Food Styling: Peg Blackley & Bree Williams