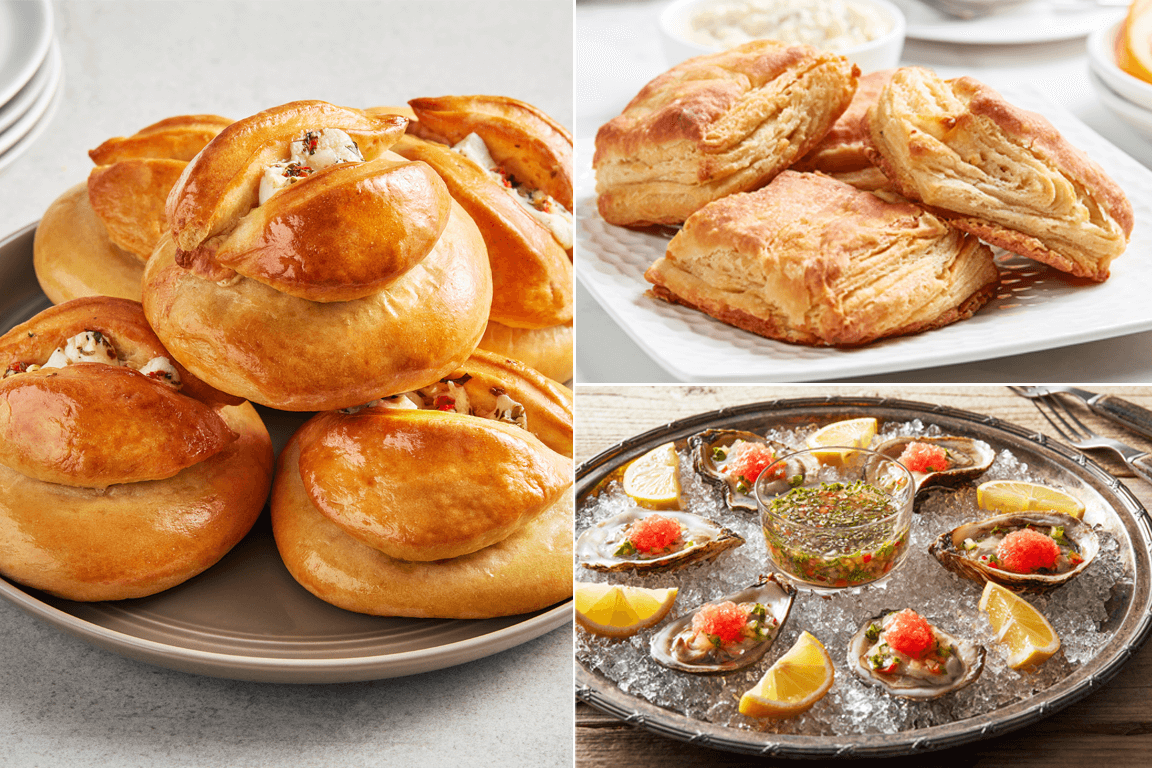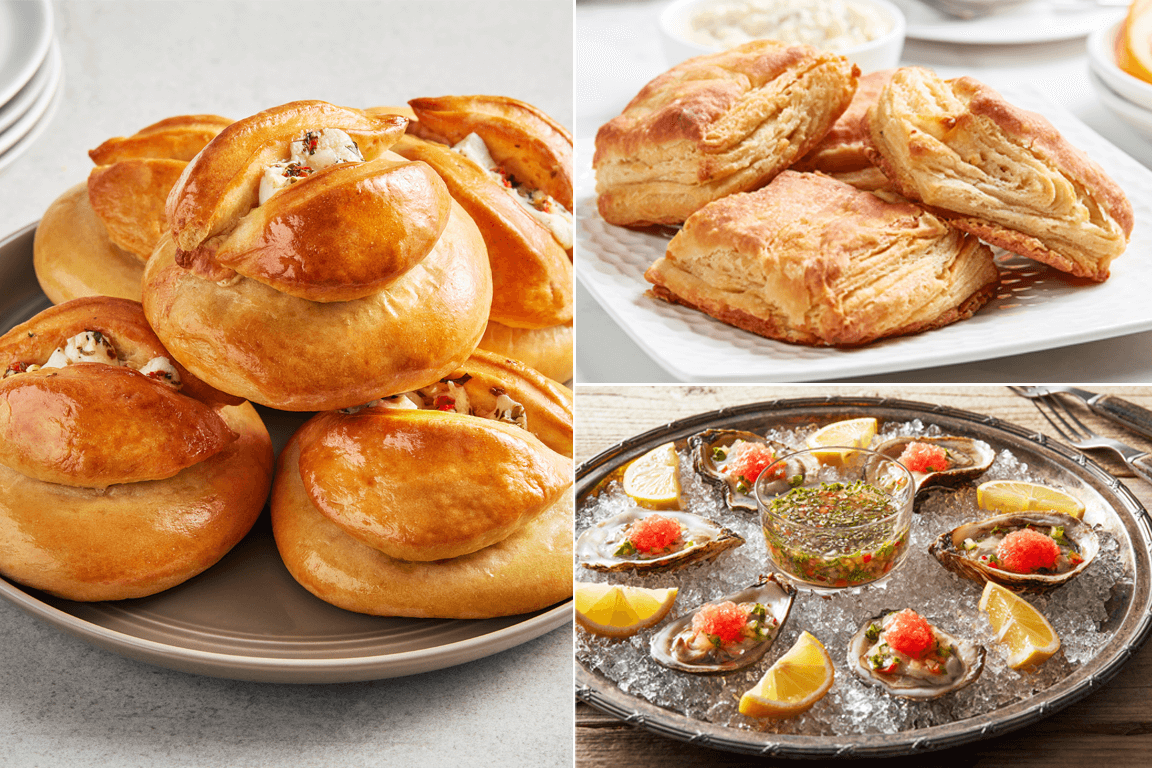 By Patricia Fitzgerald
January 18, 2023
Kitchen Collaborative is a recipe-development initiative formed by Summit F&B and Flavor & The Menu. To fuel flavor innovation, a group of talented chefs partnered with sponsor brands and commodity boards to create recipes that showcase the passion and potential of our industry.
CHEF SPOTLIGHT: Jason Gronlund
Chef Jason Gronlund has had to request extra pages for his passport, thanks to career opportunities that have found him cooking on every continent across the planet. "To be immersed in so many cultures and so many cuisines has been amazing," he says of the experiences that have given rise both to his appreciation for the global pantry and an urge to explore cross-cultural flavor play. Pressed to pick a favorite region, he expresses an affinity for the Asian-Pacific, which certainly has influenced Gronlund's recipes for Kitchen Collaborative: Marinated California Mozzarella Shokupan; Buttermilk Bissants (Biscuit Croissants) with Boursin® IQF Gournay Cheese Cubes; and Watermelon Rind Mingonette and Watermelon Granita with Oysters.
Marinated California Mozzarella Shokupan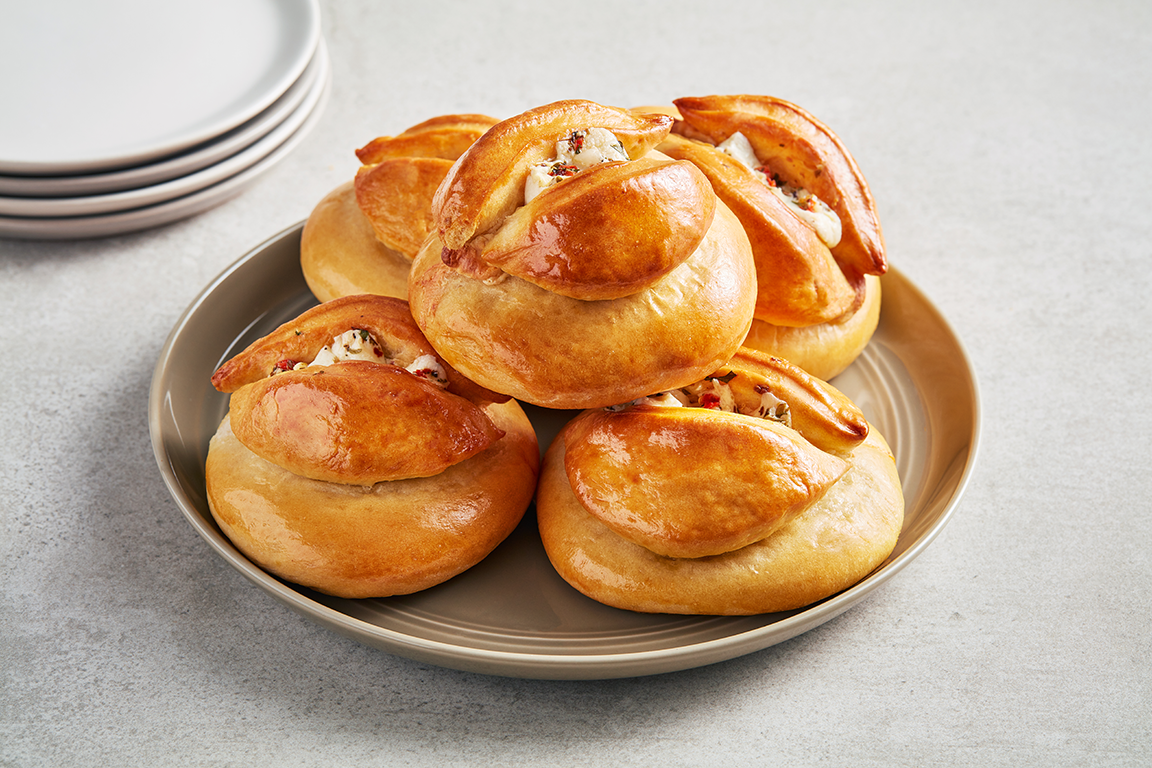 Photo: Carlos Garcia // Food Styling: Peg Blackley & Bree Williams
The marriage of signature ingredients, flavors and formats associated with two (or more) global cuisines is a reliable approach for menu innovation that intrigues and excites chefs and diners alike. In this Marinated California Mozzarella Shokupan, Gronlund shakes up expectations, combining "classic Japan with bold bread flavors," ones typically associated with the ripping, dipping and eating of a hearty, rustic bread.
Fresh mozzarella made with Real California milk is marinated in olive oil and classic Mediterranean seasonings—white balsamic vinegar, red peppers, garlic, basil and oregano—and then tucked into shokupan, the Japanese milk bread, which Gronlund describes as "slightly sweet, buttery and milky, with a delicate balance that comes from simple ingredients. It's easier to shape and bake than the crustier, Italian-style bread you might expect to be paired with the marinated mozzarella and served with a sundried tomato Calabrian chile pepper aioli."
He recommends preparing the dough using the yudane method. "Loosely translated, it basically means a boiled dough," says Gronlund. "It's a process in which you 'cook' your bread flour with water, making a roux that gelatinizes into your base dough. It creates a highly moisture-absorbent dough, which produces a softer bread."
There is lots of room for flavor play with this dish, says Gronlund. The shokupan can serve as a handheld breakfast pocket. Or bake as directed, with the marinated mozzarella, but split the bread into halves to sandwich burgers, pepperoni slices or shredded meats. He also suggests leaning harder into the Asian notes by swapping the Calabrian chile peppers in the aioli with Sriracha and either furikake or togarashi. When bloomed in the mayonnaise, both spices bring "amazing" umami flavors forward. "These combinations, along with the rich, marinated mozzarella, reveal a true flavor departure," he says.
Buttermilk Bissants (Biscuit Croissants) with Boursin® IQF Gournay Cheese Cubes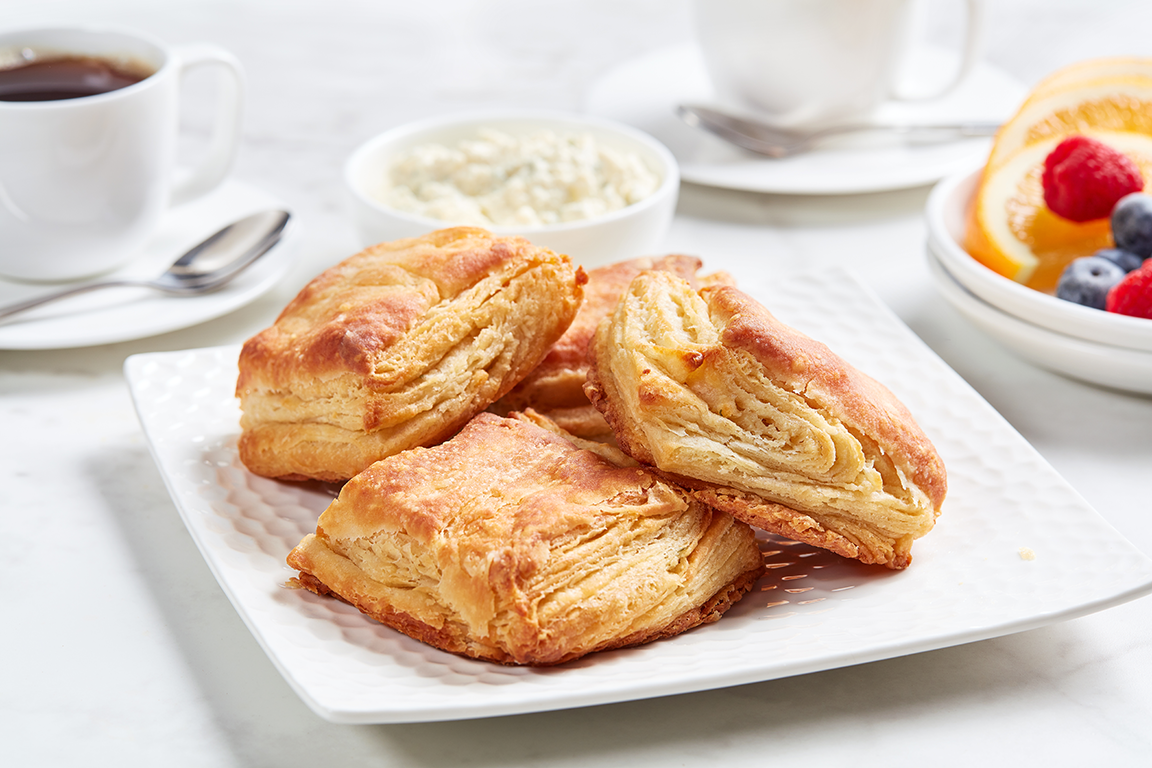 Photo: Carlos Garcia // Food Styling: Peg Blackley & Bree Williams
Assigned Boursin® IQF Gournay Cheese Cubes for Kitchen Collaborative, Gronlund zeroed in on recipe applications that showcased the cubes in ways that differentiate them from the spreadable form of the flavorful cheese. He hit paydirt with these Buttermilk Bissants, pairing together the most craveable aspects of biscuits and croissants. "Laminated dough gives way to the genius of the Boursin product," he says.
The secret is applying the cheese cubes while they are still frozen and spotting them across the dough. "This truly helps in the lamination process, keeping the layers of butter cold to develop a strong dough and laminated layers," says Gronlund. "Once baked, the cubes melt into the layers throughout the bissant, creating individual pockets that explode with flavor. If you had spread the Boursin as a layer across the dough, the flavor would have infused only that layer." The result is addictive, he says.
These herby, cheesy bissants can be incorporated into other dishes, acting as a carrier, an accompaniment or a showcase, notes Gronlund, ticking off suggestions: "They could be an element for the most unique chicken pot pie, placed atop a rich filling for a flakey crust with pops of Boursin flavor. Or cut them into bite-sized pieces, split after baking and insert guava jelly for a memorable brunch addition or paired with a charcuterie board." Square or round, he continues, "They can be filled with a tender brisket or smoked, chopped pork butt and a tangy sauce. Combined with the buttery flavor and the Boursin explosions, it will create an amazing taste sensation."
Watermelon Rind Mingonette and Watermelon Granita with Oysters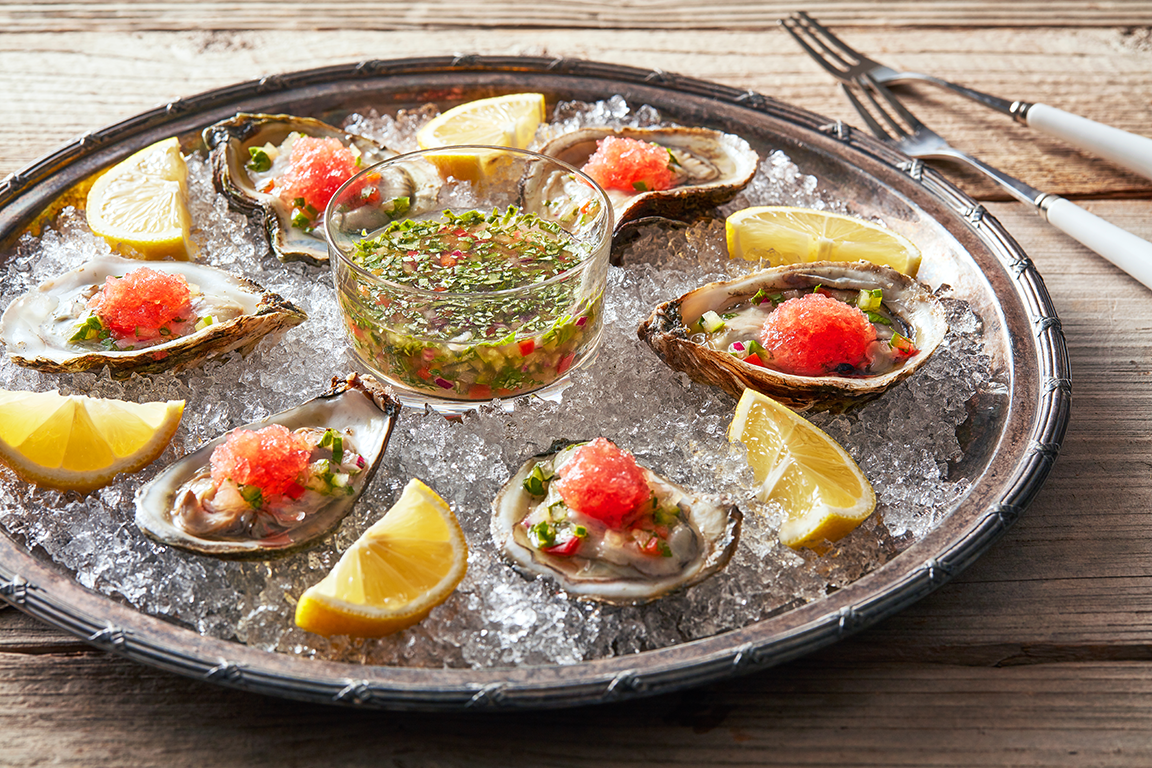 Photo: Carlos Garcia // Food Styling: Peg Blackley & Bree Williams
In Gronlund's recipe for Watermelon Rind Mingonette and Watermelon Granita with Oysters, fresh-shucked oysters are topped with a double shot of watermelon. "Using the entire watermelon is an important story to tell guests today," he says. "We need to become better about generating less food waste, especially when it comes to produce. Forty percent of the watermelon is the rind, which is usually discarded."
For the mignonette, Gronlund chops the watermelon rind and adds it to a mixture of red onions, red peppers, jalapeño, cilantro, basil, water, vinegar, salt and sugar, which is then chilled. To prepare the granita, the watermelon "meat" is puréed and combined with a cooked and strained Korean ginger tea with honey jelly, plus golden Sriracha, sugar and vinegar, before being frozen in an ice cream machine. Each oyster is topped with a tablespoon of the mignonette and the same amount of the granita.
"This granita packs flavor and a dash of heat that hits late for a pop of surprise," Gronlund says of the flavor build. "The golden Sriracha has a sweeter tone than the red variety, and the Korean honey tea jam also delivers on its name with unexpected back notes." Despite these robust pairings, the fruity tones of the watermelon don't get lost, he adds, noting that the dish is well balanced between sweet, heat, tart and salt.
Project Management: Summit F&B
Photography: Carlos Garcia // Food Styling: Peg Blackley & Bree Williams