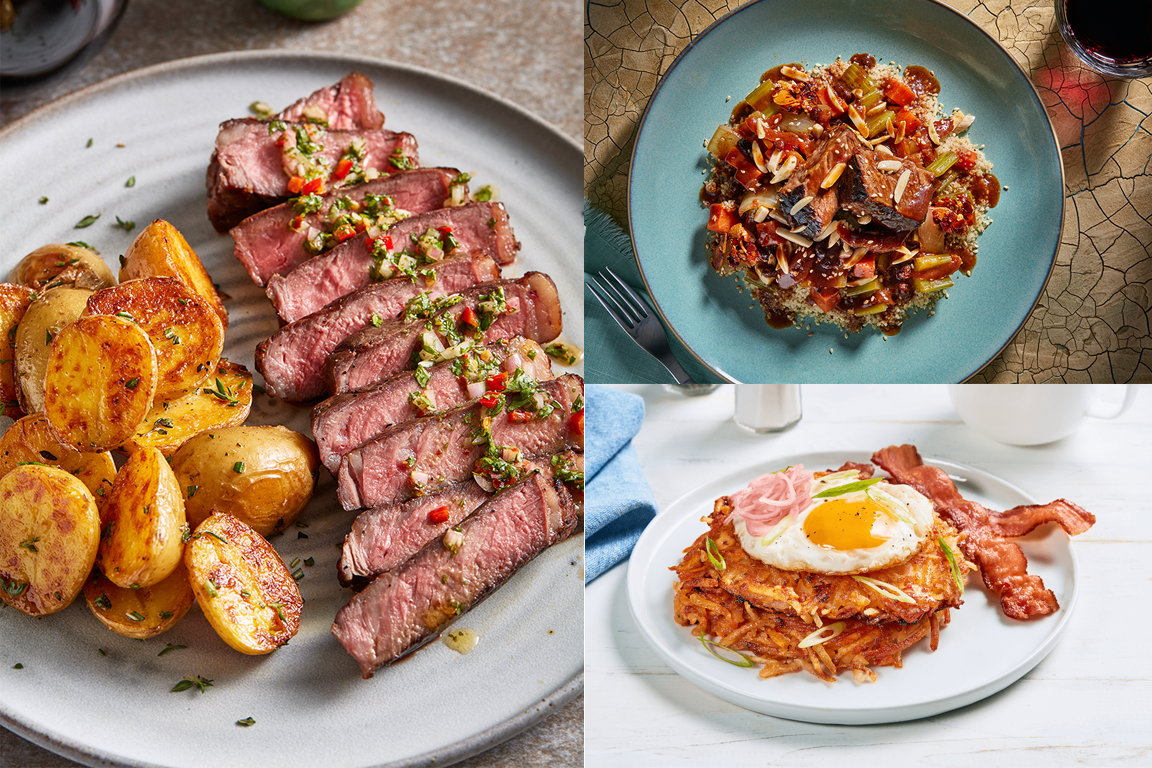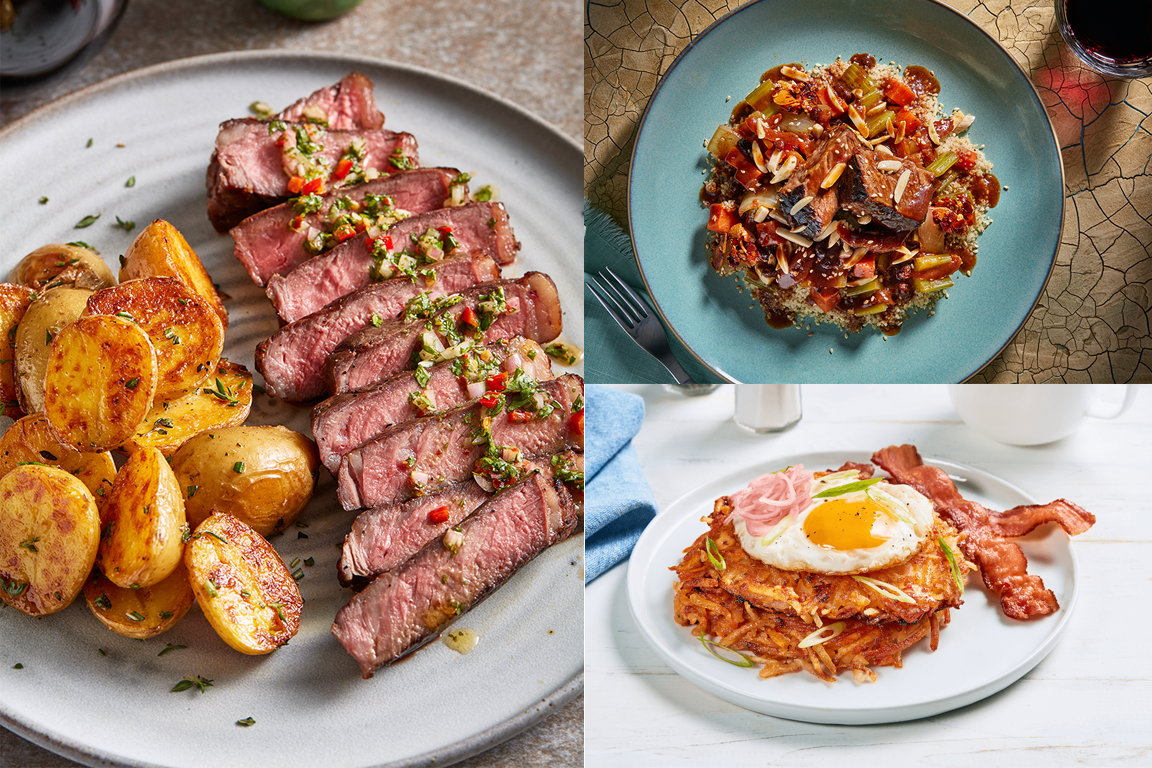 Kitchen Collaborative is a recipe-development initiative formed by Summit F&B and Flavor & The Menu. To fuel flavor innovation, a group of talented chefs partnered with sponsor brands and commodity boards to create recipes that showcase the passion and potential of our industry.
Chef Haim Asher pours himself onto a proverbial plate without reservation or hesitation, whether it's in his bold declaration of being a proud "meat-and-potatoes person," the personal appeal of "breakfast-y" foods or his enthusiasm for his beloved home state of South Carolina and the special resonance of its low country cooking ("which deserves its moment in the spotlight"). His exuberance is clearly a hallmark of his approach to recipe ideation, as is an assured confidence. "I seek inspiration and then develop the food that I feel inspired to create," says Asher, Director of Culinary for Hofman Hospitality Group in Southern California. "Whether it is a completely innovative and unique offering or precisely executing a tried-and-true classic, I cook what ultimately will be delicious."
In his recipes for Kitchen Collaborative—Pimento Cheese-Stuffed Hash Browns, Spiced Short Rib "Tagine" and New York Strip Steak with Chimichurri—Asher brings all kinds of delicious to the table.
Pimento Cheese-Stuffed Hash Browns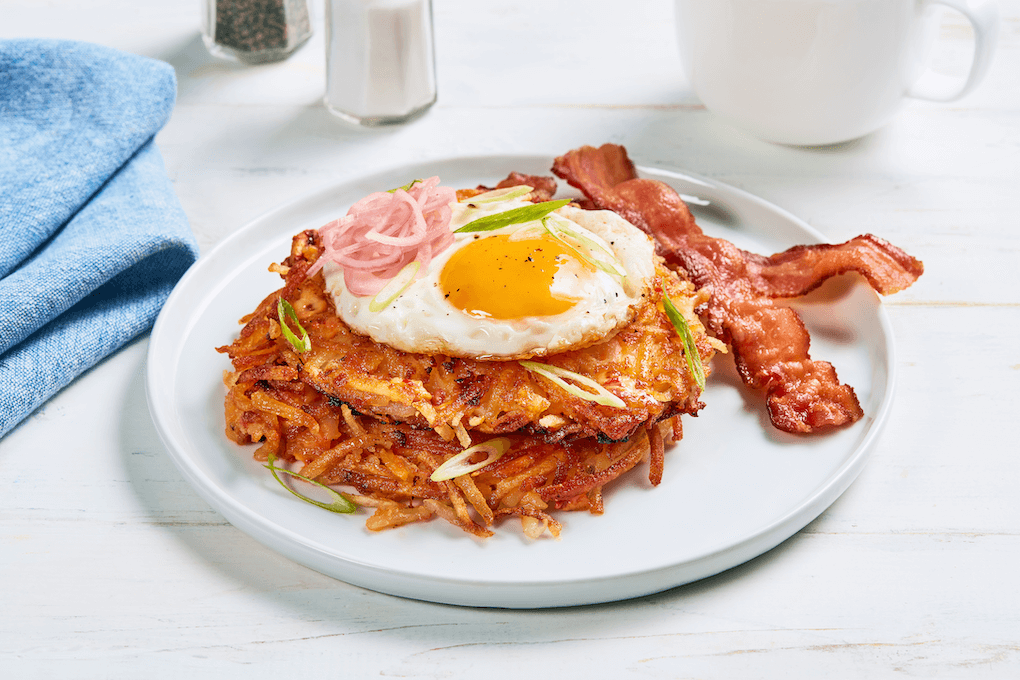 Photo: Carlos Garcia // Food Styling: Peg Blackley
"Growing up, my parents had restaurants, and breakfast was a very important meal period for the business," he explains of his longstanding affinity for "breakfast-y" foods. Assigned Price*s® Original Pimento Cheese Spread, Asher sought a breakfast application that would go "beyond simply slathering it on a biscuit—which is also delicious, by the way!" In scrolling through a mental list of his own craveable favorites, he discovered that this Pimento Cheese Stuffed Hash Brown checks all of the boxes: "Cheese and potatoes, yes. Crispy and creamy, yes. I can add an egg to it, yes. It just sort of happened!"
The simple build is composed of shredded hash brown potatoes (prepared with onion and garlic powder, kosher salt and black pepper) sandwiching a layer of the pimento cheese spread, with both sides of the potatoes cooked to a golden brown. The dish is topped with pickled shallots, sour cream, a fried egg and sliced scallions. "Imagine a plus'd-up potato skin, but for breakfast," says Asher. "You have super crispy hash browns on the outside, with a very soft, almost creamy potato texture within. Then the flavors of cheese, sour cream, allium—and then do what all chefs do, and throw an egg on it. I assure you, you're gonna love this!"
Asher credits the "delicious sweetness" of the Price*s cheese spread among the factors that bring on the crave. "Typically, pimento cheese is not a spicy dip, although you can turn up the heat any way you like. This particular spread is creamy and mild, with a slight tang," he explains. "It performed better than I expected. It gave the hash brown a really enjoyable creamy element." Meanwhile, the pickled shallots provide balance to cut the richness in the dish and lighten it up just a bit.
Spiced Short Rib "Tagine"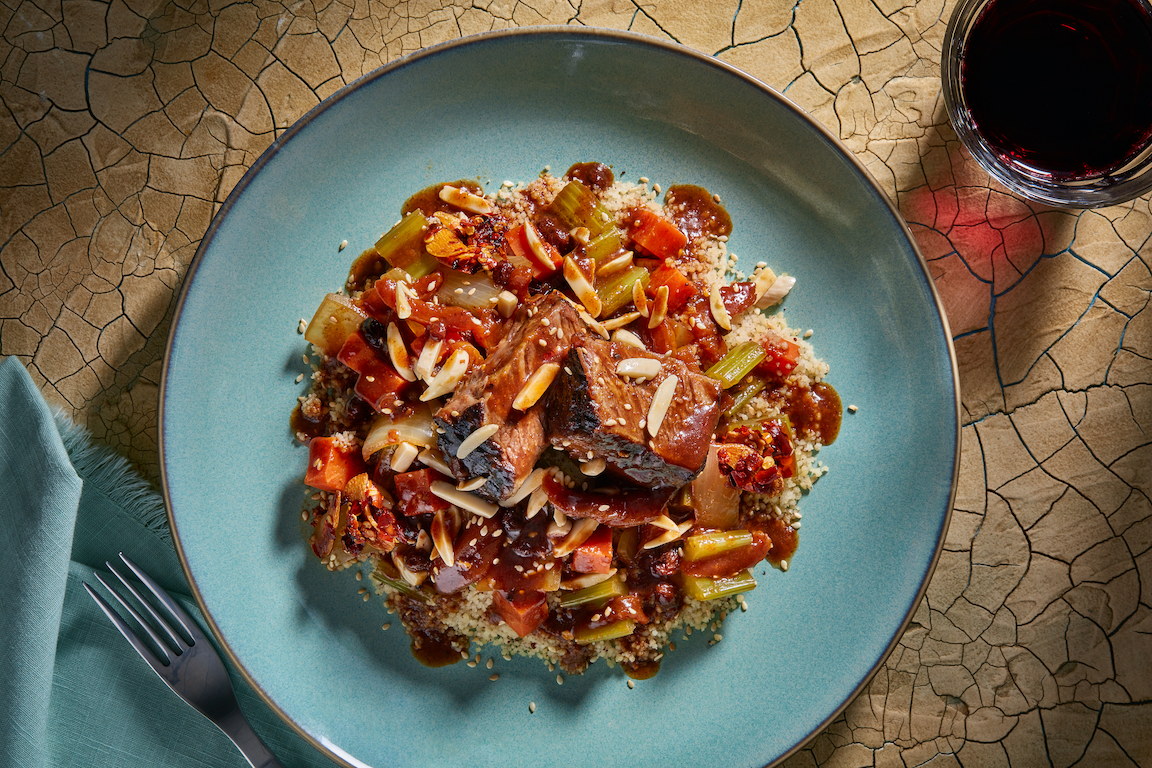 Photo: Carlos Garcia // Food Styling: Peg Blackley
Intrigued by the challenge to use the Asian flavor profiles of Lee Kum Kee products in a non-Asian application, Asher looked to his roots for inspiration. "My mother's Moroccan heritage meant flavors of warm spices, coriander, black pepper and chile were already in my ethnic pantry," he says. His selections of Lee Kum Kee® Black Pepper Sauce and Lee Kum Kee® Peppercorn Chili Oil fell very naturally into this Spiced Short Rib "Tagine," building flavor in the braising liquid and a harissa chile crisp, respectively.
"Braised short ribs are always popular. They are delicious, rich and loaded with collagen, making for an outstanding braise," says Asher, noting that the cut is also riding the coattails of the Korean barbecue trend. "Short ribs' moment is here."
"The Black Pepper Sauce was a great way to add depth and assertive notes to the braising liquid, which then becomes the sauce for the dish," Asher explains. The ribs are braised with onions, carrots, celery, ras el hanout, cinnamon, tomato paste, garlic, beef stock, bay leaves and the Black Pepper Sauce. After braising, the strained liquid gets a boost from dried currants and dried apricots to produce a sauce that is added at service. Asher builds the dish with Moroccan couscous, the braised vegetables, the ribs, the sauce, a sprinkle of toasted almonds and sesame seeds and a few dollops of the harissa chile crunch. It's finished with EVOO-dressed fresh herbs (cilantro, dill, mint and parsley).
"Harissa is a very popular condiment in my culture, and chile crisp has become popular with diners today, so this was a whimsical addition, one that brings the authenticity of ingredients to life in a relevant way," Asher notes. With so many high-impact ingredients in this dish, are there any standouts that take the dish to the next level of intrigue? "That's like asking someone who their favorite child is," protests Asher. "Each ingredient serves its purpose and their ratio to one another is critical for flavor and texture. But if I had to pick two, I would say the Moroccan couscous and the Black Pepper Sauce, which is a major flavor driver for this dish."
Chimichurri New York Strip Steak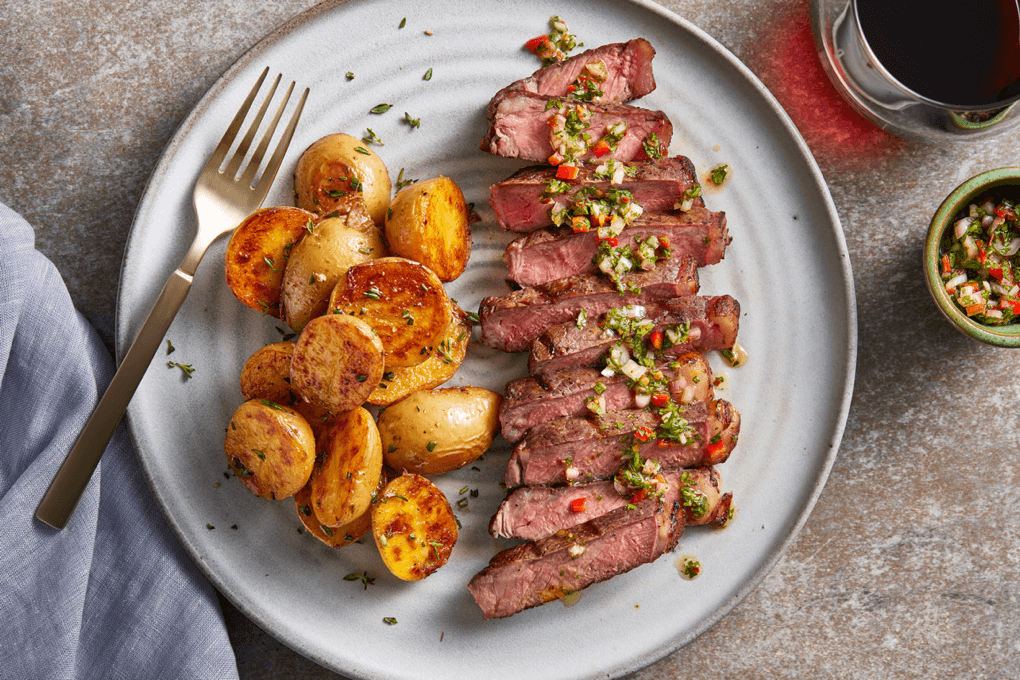 Photo: Carlos Garcia // Food Styling: Peg Blackley
"Steak, to me, is one of the most satisfying things to eat," says Asher, acknowledging the hazards in identifying as "a meat-and-potatoes person" in an environment that celebrates culinary risk-taking. "But beef has always been a celebratory and luxurious center-of-the-plate choice." For his Chimichurri New York Strip Steak, Asher opted to serve up a classic, focusing on "creativity in the way it is brought to life."
And that creative escalation leads directly to his decision to pair the steak with the chimichurri sauce, rather than a more traditional choice like bearnaise, bordelaise or herbed butter. Chimichurri is enjoying a growing popularity, Asher says. "And I love it. The vibrant and intense herbaceous quality of a chimichurri is an amazing complement to something as rich and indulgent as a steak."
Asher's chimichurri features three herbs: cilantro, parsley and mint. "Mint is a wonderful herb to pair with meat," he notes. "It is not a classic ingredient for chimichurri, but chefs are increasingly taking some liberties, while keeping the sauce's origins intact. I was inspired by a roasted lamb with mint chimichurri that I had seen years ago."
To dial up flavor and ease back-of-house challenges, Asher made judicious use of both Custom Culinary® Roasted Garlic Flavor Concentrate and Custom Culinary Beef Base. The garlic flavoring added a punch to the chimichurri, as well as to an iconic side dish: Crispy Garlic-Herb Potatoes. He used the Beef Base as a rub for the steaks. "The key with any base or flavoring is restraint, as they are supercharged in terms of flavor delivery," Asher cautions, while remaining enthusiastic about their advantages. "The Roasted Garlic Flavor Concentrate is a fantastic way to introduce the flavor of sweet garlic to a number of dishes, without the operational concern of having someone on your team burn the garlic that you had intended to roast."
Asher recognizes that his use of the Beef Base as a rub is something of an unconventional application. "But I believe it adds amazing depth of beefy flavor to the steak," he says. "And if the purpose of dry aging a steak is to tenderize and intensify flavor, then this Beef Base can do half of that work for you. Plus, you won't get the 'funk' associated with dry-aged beef. Just take care with your salt before cooking the steak, because these bases are intended to be diluted, so it could be a little salty when used directly as a rub."
Project Management: Summit F&B
Photography: Carlos Garcia // Food Styling: Peg Blackley