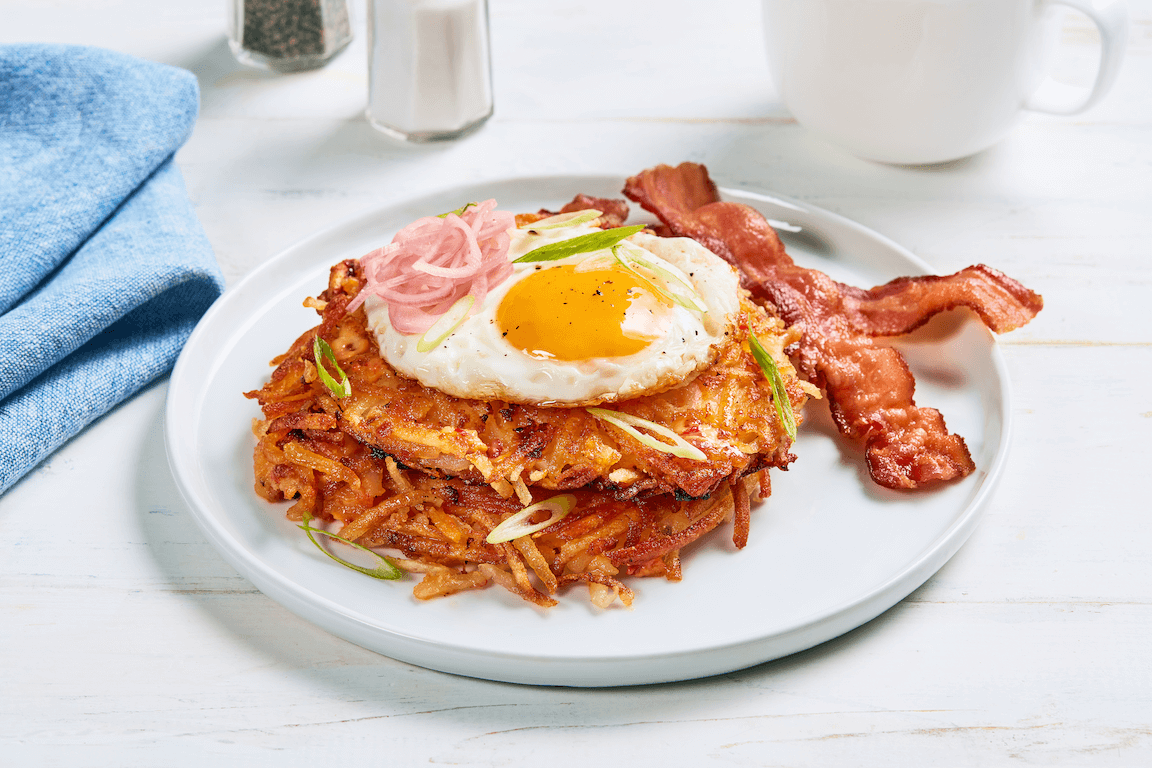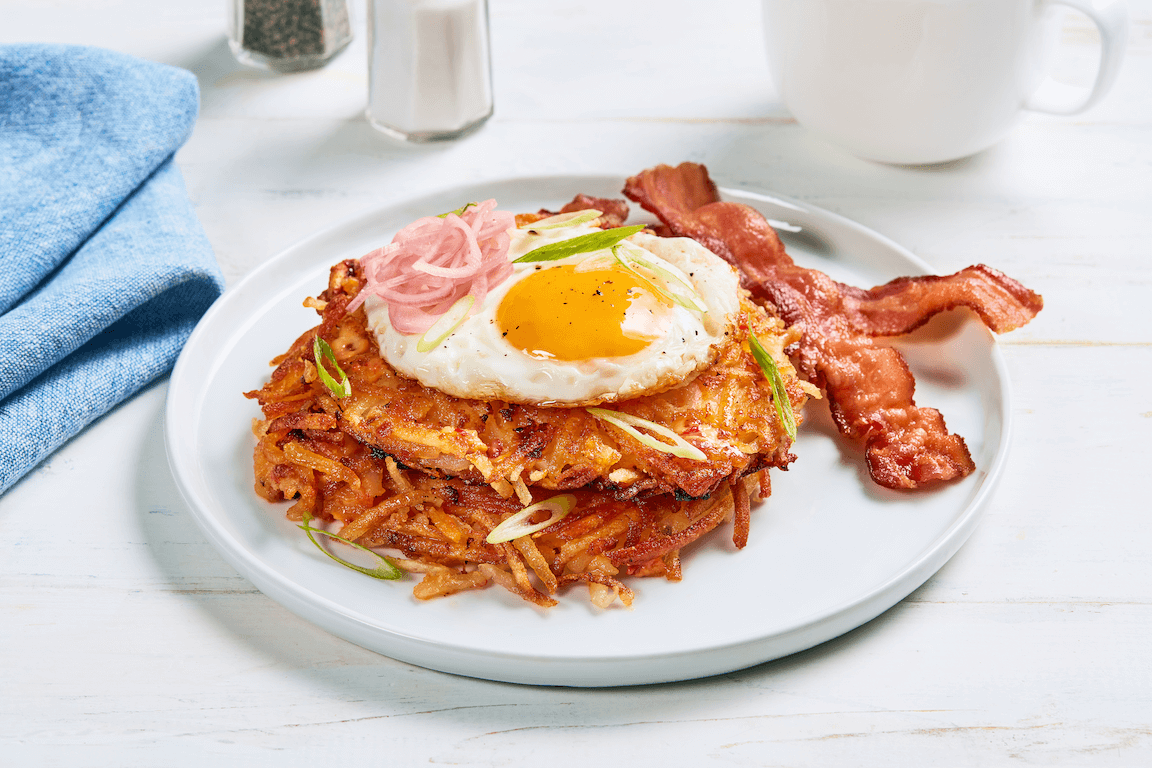 Price*s® Original Pimiento Cheese Spread Stuffed Hashbrowns
Recipe courtesy of Haim Asher, Director of Culinary, Hofman Hospitality Group
Sponsor: Bel Brands USA
Servings: 24
Ingredients
Pickled Shallots:
½ c red wine vinegar
¼ c honey
¼ c water
4 oz shallots, sliced into rings
Stuffed Hashbrowns:
4 oz clarified butter
12 oz shredded hashbrown potatoes, thawed
1 tsp onion powder
¼ tsp garlic powder
Kosher salt, as needed
Ground black pepper, as needed
3 oz Price*s® Original Pimiento Cheese Spread
Plating:
1 Stuffed Hashbrown
1 fried egg
1 oz Pickled Shallots
2 oz sour cream
1 Tbsp sliced scallion
Directions
For the Pickled Shallots:
Place the vinegar, honey and water into a saucepot and bring to a boil.
Pour the liquid over the shallots in a heatproof bowl and allow them sit for at least 4 hours. Reserve for plating.
For the Stuffed Hashbrowns:
Heat 1 oz of clarified butter in a nonstick pan on low heat.
Place the potatoes in a kitchen towel and squeeze as much water out of them as possible.
In a bowl, mix the potatoes, garlic powder, onion powder, salt and pepper thoroughly.
Place two-thirds of the hashbrowns into the pan in an even layer.
Spread the pimiento cheese in an even layer in the middle of the hashbrowns, making sure to leave it ½ in from the edge of the potatoes.
Place the rest of the potatoes over the top of the pimiento cheese, creating an enclosure for the cheese.
Slowly cook the potatoes over low to medium-low heat, occasionally drizzling more clarified butter along the edges. Drizzle clarified butter on the uncooked side of the potatoes before flipping.
Once the crust is set and golden brown, slide the hashbrowns onto a plate, then place the sauté pan upside down over the plate and flip the hashbrowns back into the pan.
Repeat the cooking process until the other side is golden brown.
For Plating:
Slide the cooked hashbrowns onto a plate. Top with the egg. Garnish with the sour cream, Pickled Shallots and scallion. Serve.
Project Management: Summit F&B
Photography: Carlos Garcia // Food Styling: Peg Blackley