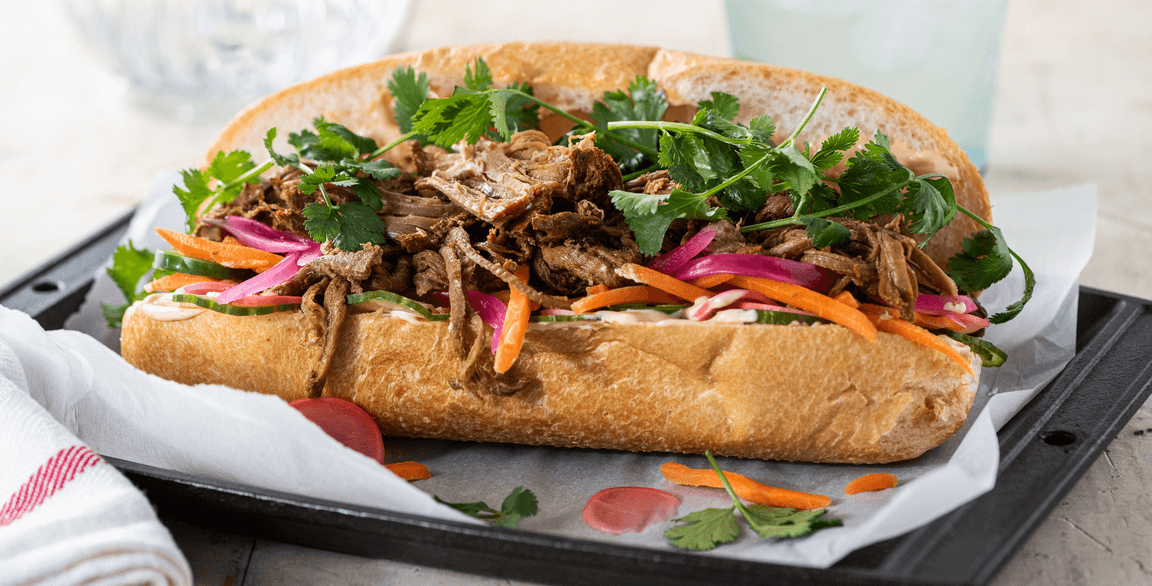 By Flavor & The Menu
September 26, 2022
Modern American menus are a reflection of modern American neighborhoods, manifesting the vibrancy and diversity of multicultural communities, blending and bending an array of world cuisines in dishes that simultaneously celebrate traditional ingredients and preparation methods while also exploring ingenious fusions of flavor. Today's diners increasingly expect to crisscross the globe without need of a passport, choosing Mexican cuisine today, yearning for Indian dishes tomorrow and seeking out Eastern Med favorites before the week is out. Restaurant concepts that understand the value of meeting more than one of these global cravings within a single menu are well positioned for success in an increasingly competitive foodservice marketplace.
Tapping the power and potential of the global pantry requires a commitment to authenticity and a culinary credibility that can't be presupposed. Hormel Foods is helping foodservice operators break down the barriers to success here with CAFÉ H® fully cooked globally inspired proteins, expertly prepared with authentic spices and marinades, using methods inspired by their areas of origin: Mexico, India, Hawaii and Italy.
"Our team has taken a deeper dive in understanding the background of each of the dishes in the CAFÉ H® line," says Assistant Brand Manager Isabel Arreola. "They do their research on the region to make items as traditional as possible." The line features:
Carnitas (pork and chicken): marinated with garlic and citrus, slow-cooked for tenderness
Barbacoa (premium beef, beef and pork): slow-cooked and seasoned with garlic, chiles and spices that can lend a Mexican, Latin and Caribbean twist
Chicken Tinga: marinated with tomatoes, garlic, onions and peppers
Pork Ossobuco: marinated in Italian herbs, olive oil, spices and white wine, and slow-cooked
Kalua Pork: inspired by the underground oven cooking of Hawaii and featuring a unique sweet and smoky flavor profile
Chicken Tikka Masala: chicken thigh meat marinated in a creamy tomato sauce and featuring classic Indian spices, such as turmeric, garam masala, ginger, garlic and paprika
The CAFÉ H® brand allows operators to further expand their reach, with transformative menu and recipe suggestions that use these proteins and flavor systems in a broad spectrum of inventive fusions and mash-ups.
"They deliver global flavor but are extremely versatile," says Nick Jones, Corporate Chef for Hormel Foodservice. For example, he proposes adding capers, olives and roasted peppers to the pork carnitas to make a ropa vieja. Other cross-cultural flavor fusions Hormel Foodservice suggests include the following:
Use the pork carnitas, along with queso fresco gravy and fried potato wedges in a Mexican-inspired poutine.
Develop a Mediterranean ossobuco served alongside couscous, grilled mixed veggies and a roasted red pepper sauce.
Pile Kalua pork onto a flatbread and add barbeque sauce, red onions, pineapple, sliced jalapeños and fresh cilantro.
Pair the beef barbacoa with cheddar biscuits, refried beans, poached eggs and green chile Hollandaise for a south o' the border eggs Benedict.
BOH ADVANTAGES
Every menu daypart can be lifted by new recipes featuring CAFÉ H® products, says Arreola. Consider the opportunities in the breakfast space alone: "Omelets, hashes, skillets, breakfast burritos, eggs Benedicts—you can even top waffles with some of these proteins," she notes.
Or zero in on the menu versatility of a single product. For example, says Arreola, the Chicken Tikka Masala could be added to a vodka pasta dish for a dynamic Italian/Indian fusion. Use it in a handheld, as a pizza topping or in an array of bar bites.
Chef Jones echoes this enthusiasm for the possibilities of culinary creativity with CAFÉ H® products, citing the opportunities with barbacoa: "I see the barbacoa on breakfast, lunch and dinner menus. It can be added to a hash or a breakfast taco, filling a burrito or bowl for lunch or at the center of the plate enjoyed as a variation on pot roast at dinner."
In addition to SKU optimization versatility, the CAFÉ H® brand offers another significant back of house advantage: easy, heat-and-serve prep for delivering global flavor with minimal labor. The products are simple to execute without need of special equipment or expertise. Arreola sees great potential across the board, and particularly in the college and university segment, where it can be especially difficult to train young adults in the kitchen to properly and safely prep authentic world cuisines, she notes. And as Gen Z matures, continuing to hone its palate sophistication, the demand for global flavors will continue to dominate in university dining programs.
Of course, C&U is not the only segment primed to seize the front and back of house benefits of adding trend-forward global flavors to menus and applying the simple solution of the fully cooked CAFÉ H® products in the kitchen. Chef Jones notes that across the foodservice industry, "operators are labor-crunched, and these are awesome alternatives to cooking from scratch back of house." CAFÉ H® globally inspired proteins apply the "old-school cooking techniques still relevant today" to produce the slow-cooked, fork-tender meat customers crave without burdening the kitchen, he continues. "It's great to be able to produce this at scale and at a quality level that matches what would be made from scratch."
Today's foodservice challenges require simple ingredient solutions that maximize flavor, provide consistency and deliver versatility all in an effort to exceed customer expectations without straining kitchen and budget efficiencies. And, as Millennial and Gen Z diners lead the demand for global cuisines and today's parents raise adventurous eaters, restaurant concepts are encouraged to lean into the opportunities presented by the global pantry. With its CAFÉ H® product line, and a deep well of brand support, Hormel Foods is a leading-edge partner addressing the current and future needs of foodservice operators.
To learn more creative ways to expand your menu with globally inspired, universally desired dishes visit our website.