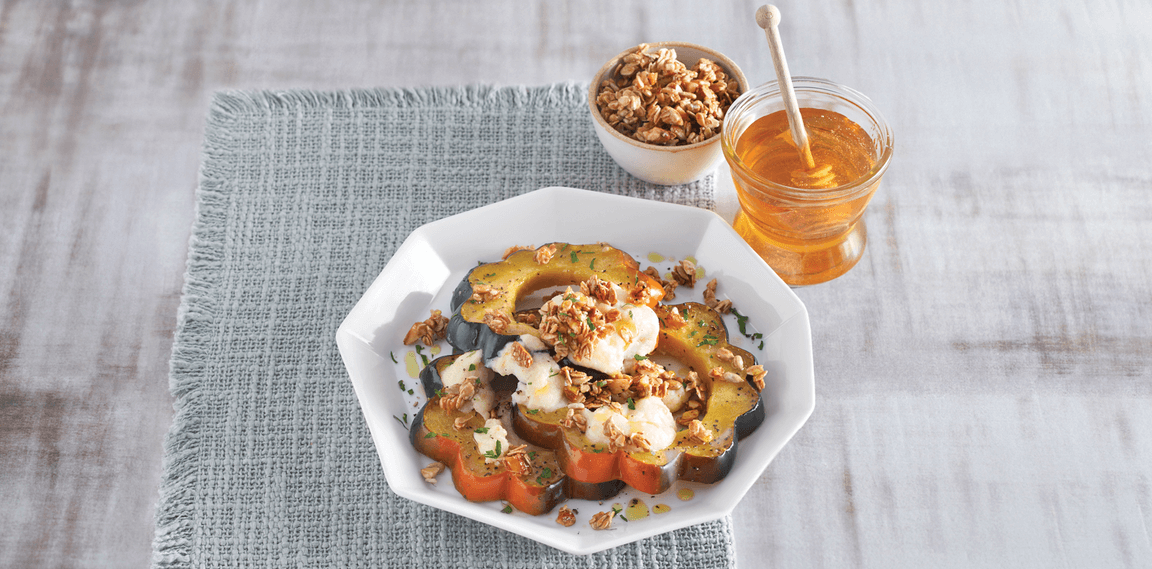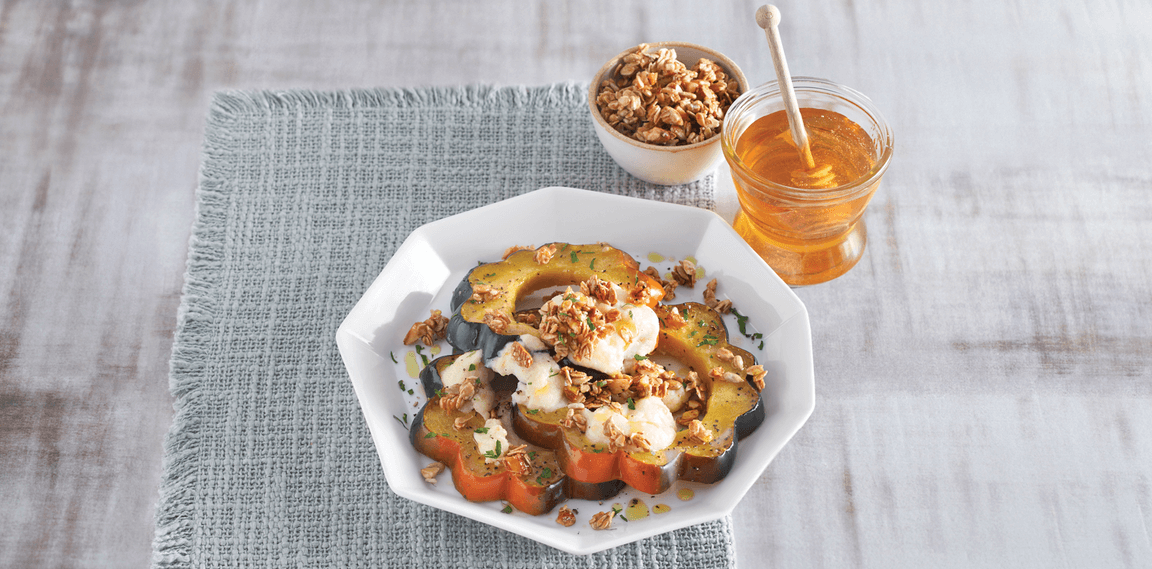 Honey-Roasted Acorn Squash with Honey-Lemon Ricotta and Spicy Hazelnut Granola
Recipe courtesy of Chef Ashfer Biju
Sponsor: National Honey Board
Servings: 24
Ingredients
Granola
6 oz rolled oats
6 oz hazelnuts, roughly chopped
3 oz sunflower seeds
½ c honey
1 1/4 tsp red chile flakes
1 1/4 tsp kosher salt
1 1/4 tsp crushed peppercorns
Cheese Mixture
1 lb ricotta cheese
¼ c honey
2 lemons, zested and juiced
Salt and pepper, as needed
4 oz Parmesan cheese, grated
8 oz hazelnut powder
Acorn Squash
½ c honey
2 oz olive oil
1 sprig thyme
2 tsp salt
1 1/4 tsp crushed peppercorns
8 medium acorn squash, seeded, cut in segments, skin on
1 head garlic, crushed
Garnish
1 bunch parsley, chopped
1 oz extra-virgin olive oil
1 1/4 tsp crushed peppercorns
Directions
For the Granola:
Combine all the ingredients. Spread on an oiled sheet pan and bake in a 350 degree F oven or under a heated kitchen pass until the mixture is dry and crunchy. Cool and store in an airtight container.
For the Cheese Mixture:
Whip the ricotta with the honey, lemon zest and juice, and season with salt and pepper. Fold in the Parmesan and hazelnut powder and taste for seasoning. Fill a pastry bag fitted with a plain tip with the cheese mixture. Keep aside.
For the Acorn Squash:
Preheat a convection oven to 375 degrees F.
Prepare a marinade by whisking together the honey and olive oil. Add the thyme, salt and pepper.
Toss the marinade with the squash and spread the squash on a sheet pan with the crushed garlic. Roast for 20 minutes, or until the squash is cooked through.
Increase the heat to 400 degrees F, then cook another 5 minutes to get a deeper, darker color on squash.
To plate:
Place 4 or 5 pieces of squash per serving on an ovenproof dish. Pipe several dollops of cheese mixture over the squash. Gratinate under a salamander until the cheese starts to turn golden brown. Remove and top with a generous sprinkling of granola and chopped parsley. Spoon over extra-virgin olive oil and top with crushed peppercorns.
Chef's Notes
Cooking time of the squash may vary depending on the ripeness of the fruit. Leaving the skin on provides a great texture for the final product.
Make sure the squash is patted dry before the marinade is applied.
Project Management: Summit F&B
Photography: Carlos Garcia // Food Styling: Peg Blackley & Bree Williams