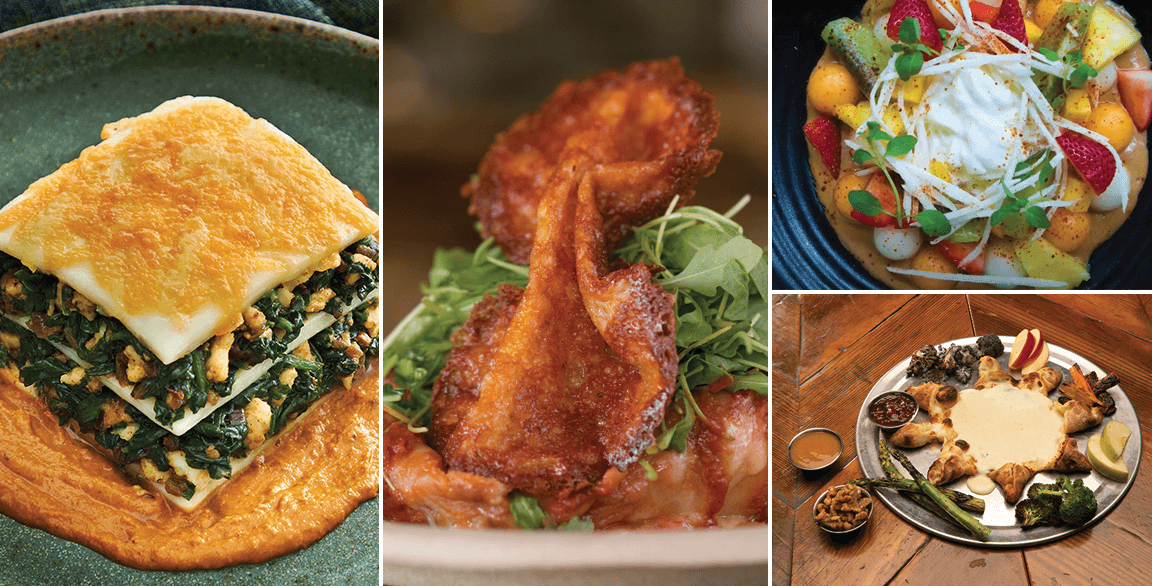 While the simplicity of an elegant cheese board or the luscious bite of the perfect grilled cheese sandwich will never lose their appeal with dairy fans, real excitement lies in the skyrocketing potential of cheese to push past expectations and conventions with inventive applications on modern menus. Since 2015, the California Milk Advisory Board (CMAB) has identified "REAL Makers," innovative chefs who are using California dairy—especially cheese—in ways that surprise and delight guests.
"REAL Makers are a community of artisans and craftsmen taking these beautiful ingredients and transforming them," says Chef Thomas Garnick, formerly with Denver-based Brava Pizzeria, and now a culinary consultant and instructor in Tucson, Ariz. "As chefs and craftsmen, we are bringing people along with us on that journey, tying in our experiences, our flavors and our memories." This community includes several chefs from a wide array of concepts who evince genuine excitement about telling new flavor stories with California cheese.
"Cheese is so versatile! From mild to sharp, gooey to hard, it offers a range of flavors that pack a ton of irresistible umami," says REAL Maker Mary Sue Milliken, Chef/Co-owner of Socalo, a Cal-Mex eatery in Santa Monica, Calif. Along with Partner Susan Feniger, Milliken understands and values the unifying role cheese can play in a dish, such as how sharp and salty cheeses pull together all the flavors of a salad or how use of creamy, milky cheeses can balance a dish with strong flavors.
"It's always about balance," agrees Feniger. At Socalo and their Border Grill concept, modern Mexican dine-in sites and food trucks in California and Las Vegas, the two chefs frequently blend different cheeses in a single and singular dish. "I love a combination of cheeses: something that melts and then creaminess versus saltiness and a bit of texture. Even, at times, some chew and freshness," says Feniger.
"Our signature cheese blend is California Manchego, California Cotija and California Panela. You grate and toss those together, and that's where the magic happens," says Milliken. "It's the mix that so much of our menus are built on." She goes on to note that California Oaxaca and Monterey Jack can be subbed in, as well. "We use a lot of cheeses from California because they are absolutely the tastiest. They are luscious and milky, with incredible melting properties."
As two CMAB REAL Makers, they regularly make genius cheese moves in an effort to dial up the craveability of various dishes. "We love using cheeses in unexpected ways at our restaurants," says Milliken. This includes frying cubes of Cotija into "croutons" for Socalo's popular kale salad. "They are quickly fried, so they are really crispy on the outside and nice and gooey on the inside," she says. "They are so delicious, irresistible and unexpected," adds Feniger.
Another standout example is how they feature their signature cheese blend in their adaptation of Vampiro Tacos. "We discovered this dish in Tijuana, and when we saw this street vendor using a comal to stick golden, crispy cheese to a tortilla, we were just, 'Boy, we've got to take this back and make these our own,'" recounts Milliken. Their vegetarian version has become the No. 1 dish at Socalo. They griddle their three-cheese mix until it begins to turn a "gorgeous, lacey brown" and then press a blue corn tortilla over top, holding it down for 30 to 40 seconds. The frico-lined tortilla is piled high with fresh vegetables from the local farmers market, such as fresh corn, zucchini and kale, plus onions that have been pickled with beets for eye-popping color.
Milliken and Feniger also use this frico application with flour tortillas, producing a "shield of cheese" that can help contain juicy meats—and avoid a soggy, mushy tortilla—in an inventive approach to burritos.
REAL MENU WINS WITH CALIFORNIA DAIRY
The REAL Makers campaign reveals other bold, flavor-forward inspirations that make cheese the hero in unconventional applications.
Crispy Mozzarella Cheese Bow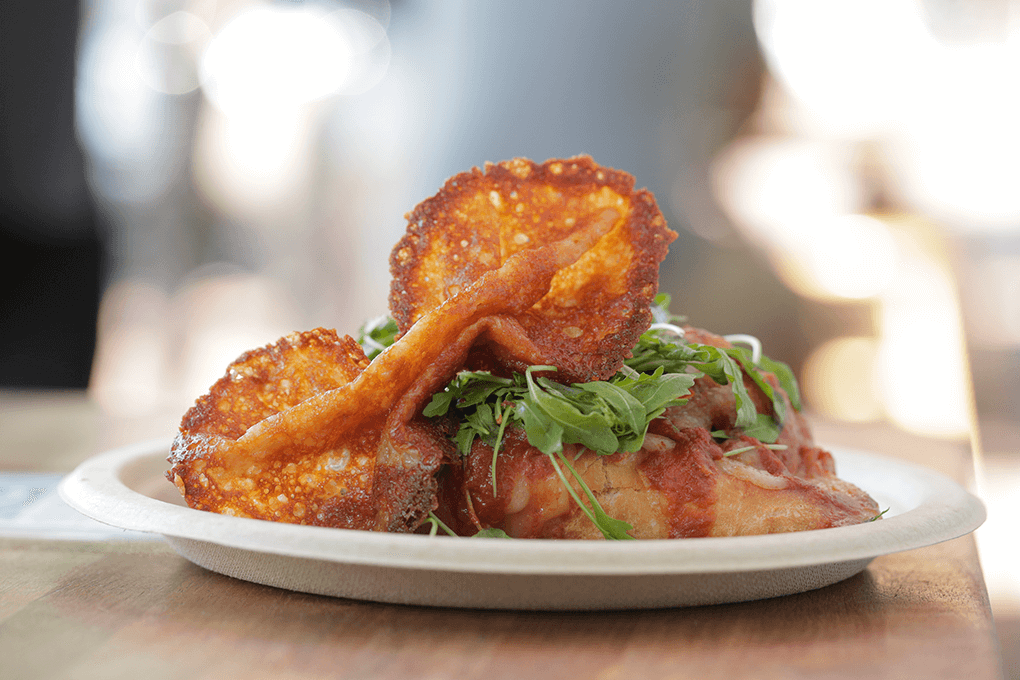 For their showstopping Crispy Mozzarella Cheese Bow, chefs Celeste Cooper and Alexa Lopez, formerly with Hen House in Oakland, Calif., delicately pinch shredded mozzarella frico to form a simple bow shape that is perched on top of a meatball sandwich. "It's a 'gift' to you, from us," the chef team says of the high-impact presentation.
---
"I'm Not Pasta" Spinach and Paneer Lasagne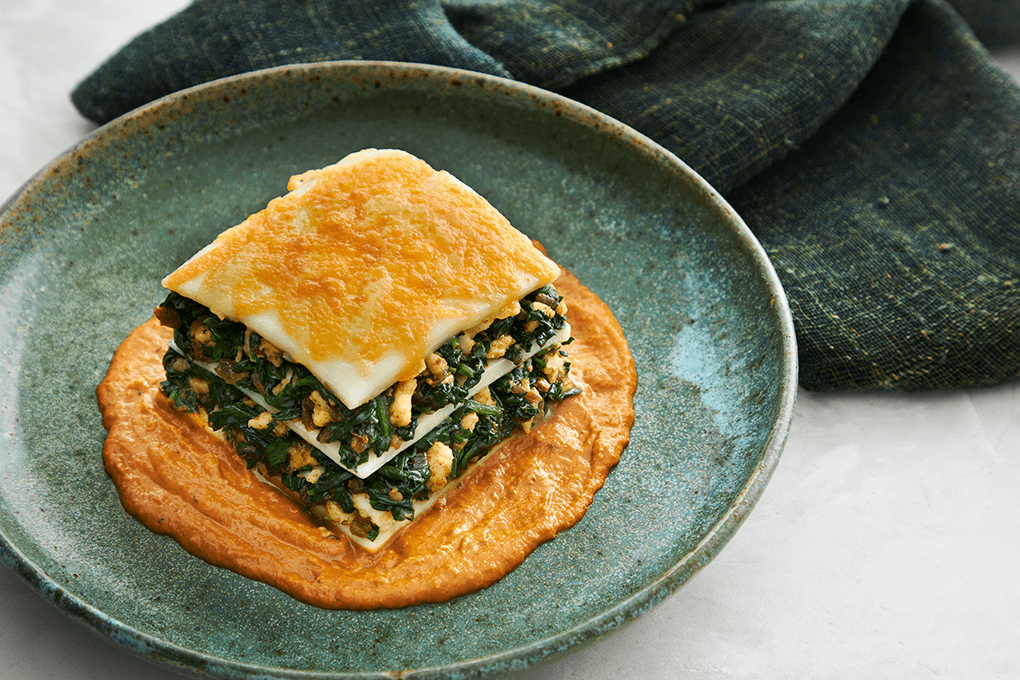 In the hands of Manish Tyagi, chef/COO of Indian-inspired Aurum in Los Altos, Calif., California paneer stands in for pasta sheets and is layered with spinach and grated California mozzarella cheese and baked to order. It's served on a base of spicy, creamy tomato sauce and finished with basil oil and chile threads. "When it comes to the table, diners have a totally different understanding of the sak paneer," says Tyagi, "and the experiences are 'Wow!'"
---
Fonduta Cheese Star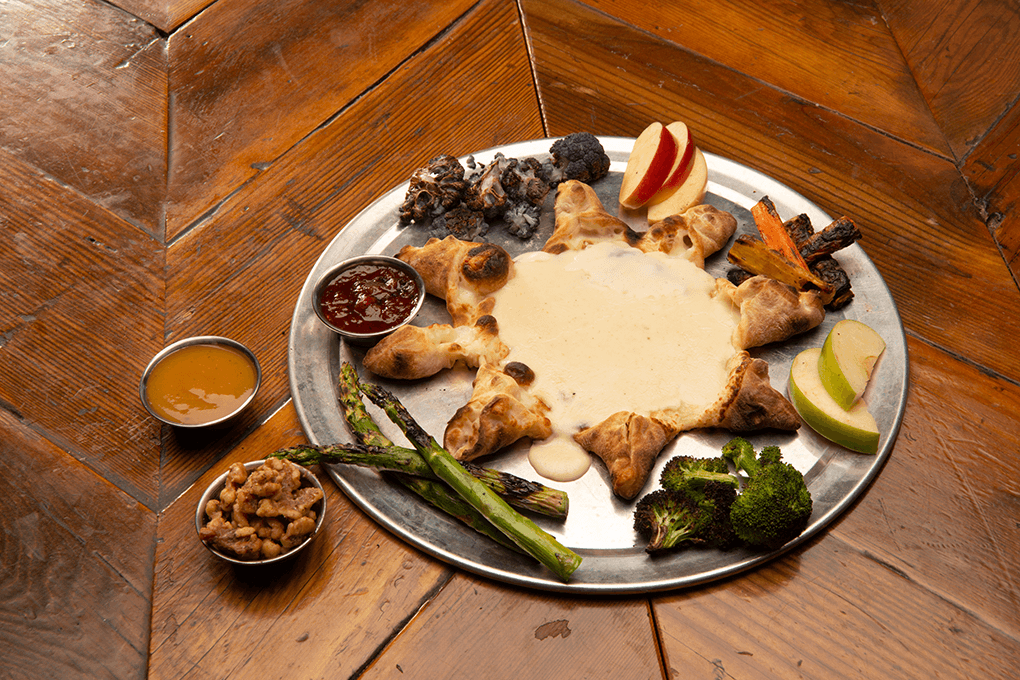 For Chef Thomas Garnick, formerly of Denver-based Brava Pizzeria and now owner of Sapore Concepts in Tucson, Ariz., a winning pizza recipe was inspired by a "happy accident" after a breadstick fail resulted in a star-shaped baked dough. An 8-in. circle of pizza dough gets corner-cut slices to form eight points of a star, each point used to create a pocket of melty mozzarella. After baking in the wood-fired oven, fonduta (made with California fontina, white wine, California cream cheese, roasted garlic and fresh lemon zest) is poured into the middle of the star for a craveable shareable. "Dairy's a beautiful bridge that brings in some unique flavor and rich, creamy texture and fat," he says.
---
Rujak Burrata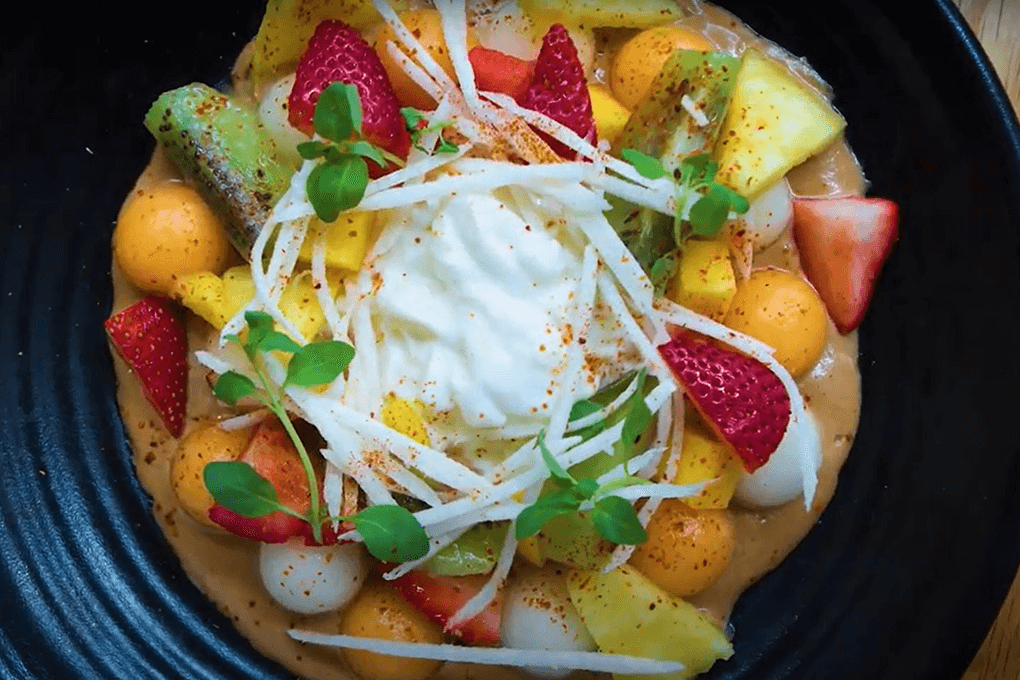 California burrata is the showcase of Erwin Tjahyadi's take on an Indonesian fruit salad, centered on a bed of sweet peanut sauce and surrounded with summer melons, kiwi and mango and garnished with jicama and a lemon-spicy sauce. This sweet-savory recipe is representative of the creative Southeast Asian flavors at Bone Kettle in Pasadena, Calif., where he is owner/executive chef. "It's not a natural marriage between Southeast Asian cuisine and cheese, but with the success of this dish, we think, 'Where can we take this and bridge the gap further?'" says business partner and brother Eric Tjahyadi.
---
Makeover Cheese-Rind Mousse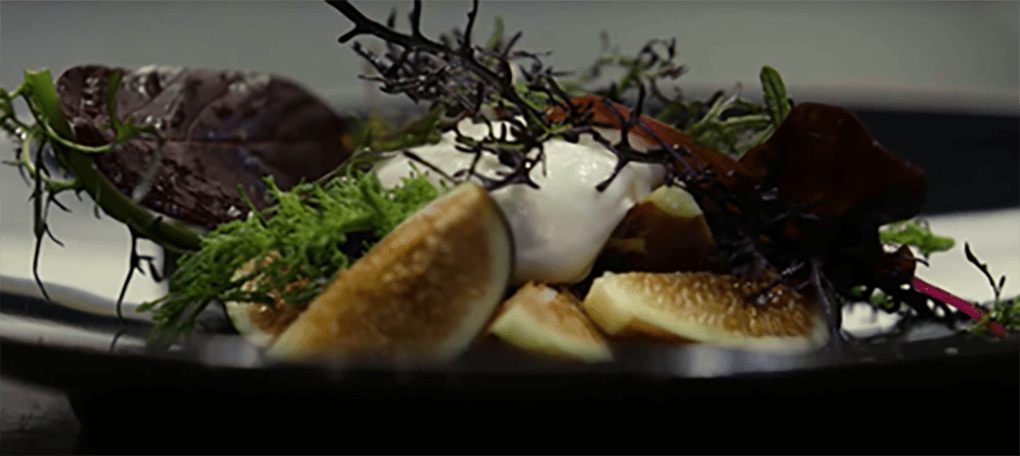 Michelin-starred chef/owner Nicolas Delaroque—formerly with famed Nico Restaurant but now at French-inspired market and café Maison Nico in San Francisco—makes smart use of cheese rinds, transforming them into a rich and decadent mousse with versatility across any menu. For this creative application, Delaroque chops aged California toma cheese rinds, cooking, straining and adding a thickener like carrageenan, before letting the liquid set twice, the second time in a syphon. The mousse might be served alongside figs and fresh greens or on a spoon with different herbs as a one-bite amuse bouche.
To learn more creative ways to feature cheese and other California dairy products, visit RealCaliforniaMilk.com/foodservice.