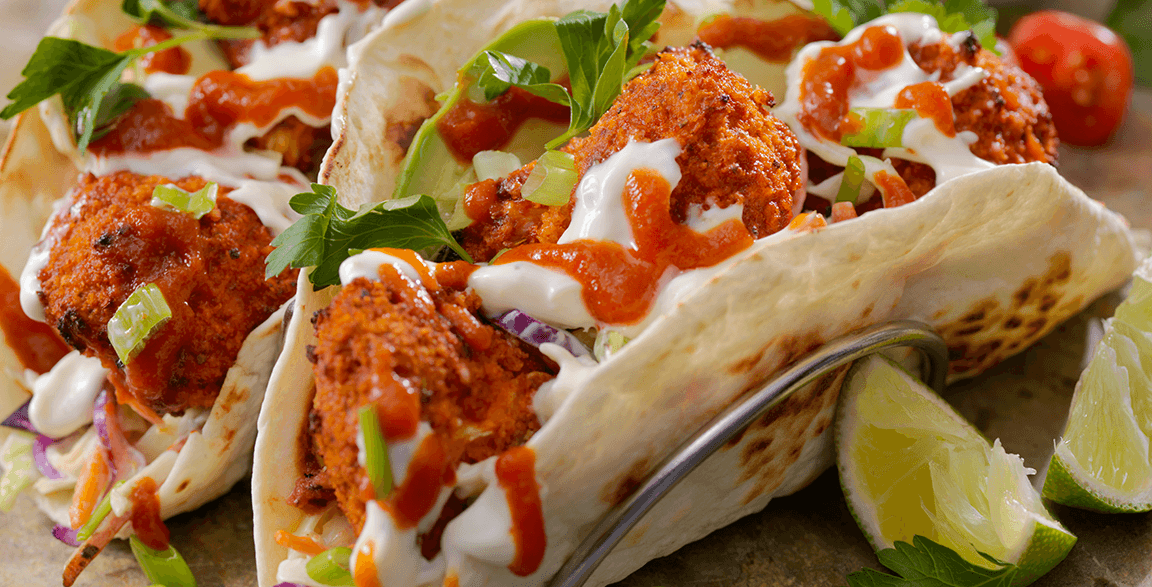 Tacos are the glorious sum of all of their parts, with accompaniments pulling flavors together, pushing the discovery of new trends and driving menu interest. Implementing an array of tongue-grabbing spicy finishes adds immediate menu appeal. Here, we highlight six scratch-made finishing touches, each an opportunity to introduce heat-loving patrons to new taco experiences.
1

PICKLED HEATERS

Lift up tacos with the unexpected, using unique pickled fruits and vegetables hit with flavorful heat and acidic brightness.
Habanero-Pickled Watermelon Rind: Habanero- + salt-blanched watermelon rind slices + garlic + cider vinegar + sugar + cloves
Chile-Pickled Butternut Squash: Toasted ancho and guajillo chiles + salted butternut squash slices + ginger + orange peel + cider vinegar + sugar + bay leaf
2

BOLD CREMA

Add complexity to seafood tacos by employing crema's creamy, tangy coolness paired with spicy warmth and bite.
Serrano Avocado Ranch Crema: Sour cream + avocado + dry ranch seasoning + lime juice + Serrano chile purée + cayenne
Sriracha Cocktail Crema: Greek yogurt + Sriracha cocktail sauce
3

SPICY SAUCES/SALSA

Target next-gen tastes with signature, fiery sauce creations that impart memorable taco cravings.
Flamin' Ranchera Corn Sauce: Fine-chopped yellow tomatoes + buttery yellow corn purée + roasted garlic + cumin + hot sauce + smoked paprika
Mezcal Peppercorn Salsa: Blackened red tomatoes + chipotle + mezcal + lime juice + cracked green and black peppercorns
4

POPPIN' PICO

Engage taco purists with spicier distinctive variations of pico, bringing flavorful pops of freshness to lighter tacos.
Torched Hominy Pico: Roma tomatoes + chile de árbol + pan-charred hominy + grilled nopales + sweet onion
Spicy Green Pico: Green zebra tomatoes + Hatch chile + red onion + garlic + lime juice + micro cilantro + toasted pepitas
5

ATOMIC AÏOLI

Add mouthfeel, fat and welcome spice to plant-based tacos by making garlic mayonnaise signature with an infusion of assertive heat.
Morita Macha Aïoli: Aïoli + morita chile salsa macha
Calabrian Aïoli: Aïoli + Calabrian chile paste + charred lemon juice
6

BLASTED QUESO

Elevate meat-centric tacos via lusciously indulgent queso amplified with pungent heat.
Fresno 3-Cheese Queso: White cheddar-asadero-Monterey Jack queso + red Fresno pepper relish + chorizo
Fire-Dusted Goat Cheese Queso: Goat cheese-Oaxaca queso + blistered jalapeño and poblano + hot sauce "dust"