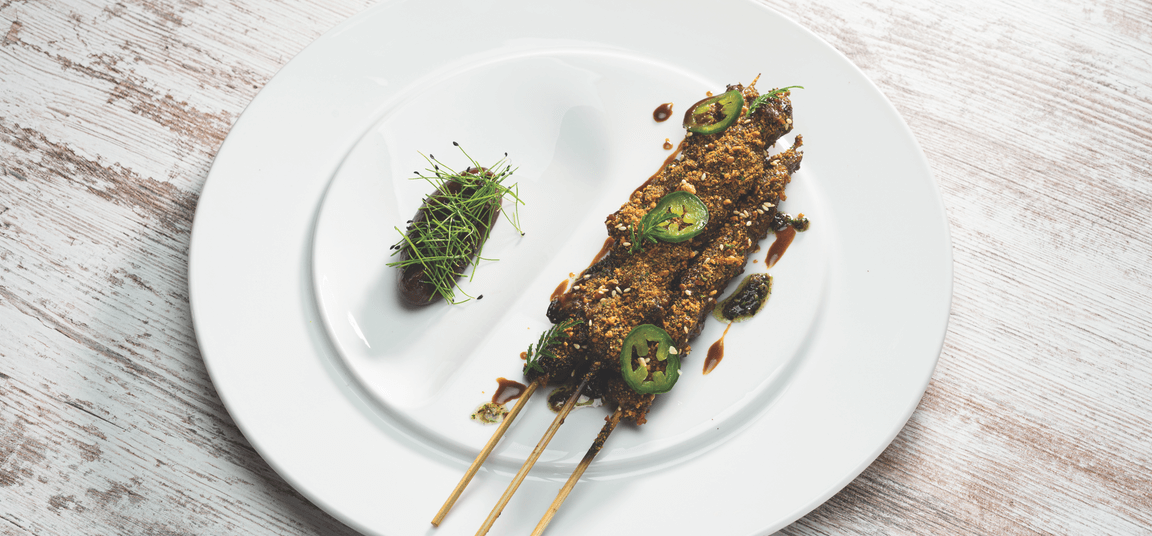 By Katie Ayoub
September 7, 2022
Keith Pears, executive chef of the W Hotel in Toronto, Ontario, developed a modern take on lamb skewers, showcasing incredible depth of flavor through an inventive ingredient combination. He came up with the dish at a recent culinary immersion for Canadian chefs, hosted by True Aussie Beef & Lamb at The Culinary Vegetable Institute (CVI) in Milan, Ohio.
"When I was a young cook, I worked at the Teahouse in Stanley Park in Vancouver, where my mom was the executive chef. She had Jakarta Lamb Chops on the menu and they were delicious," says Pears. "They had a peanut butter and almond crust with an Indonesian sweet soy sauce. I pulled inspiration from that dish while trying to incorporate as much of the farm at CVI as I could, along with some of the ferments on hand."
His Jakarta Lamb Skewers are a study in flavor development and textural play. He uses Aussie lamb sirloin, choosing that cut for its tenderness, marinating it in soy, honey, liquid koji, Lake Erie fish garum, cumin, anise, micro lemongrass and cilantro. "It's full of sweet, salty and umami. For the flavors to really penetrate the lamb, I vacuum-pack it," says Pears. The peanut butter glaze includes local honey, soy sauce, sambal, liquid koji plus concentrated lamb stock and more garum. A lemongrass-mint chermoula introduces yet another dimension.
"It's fresh and herbaceous, acidic with a bit of kick and smokiness from the fire-grilled young garlic leaves and scallions," he says. Pears' dish is thoroughly modern, pulling from memory and reimagining flavors imprinted by his mother while introducing his unique culinary point of view.
Additional creations from the True Aussie Beef & Lamb culinary immersion:
Chimichurri-Marinated Lamb T-Bone, Pomme Fondant with Charred Onion Soubise, Smoked Carrot Purée and Glazed and Pickled Carrot
Created by Chef David Godsoe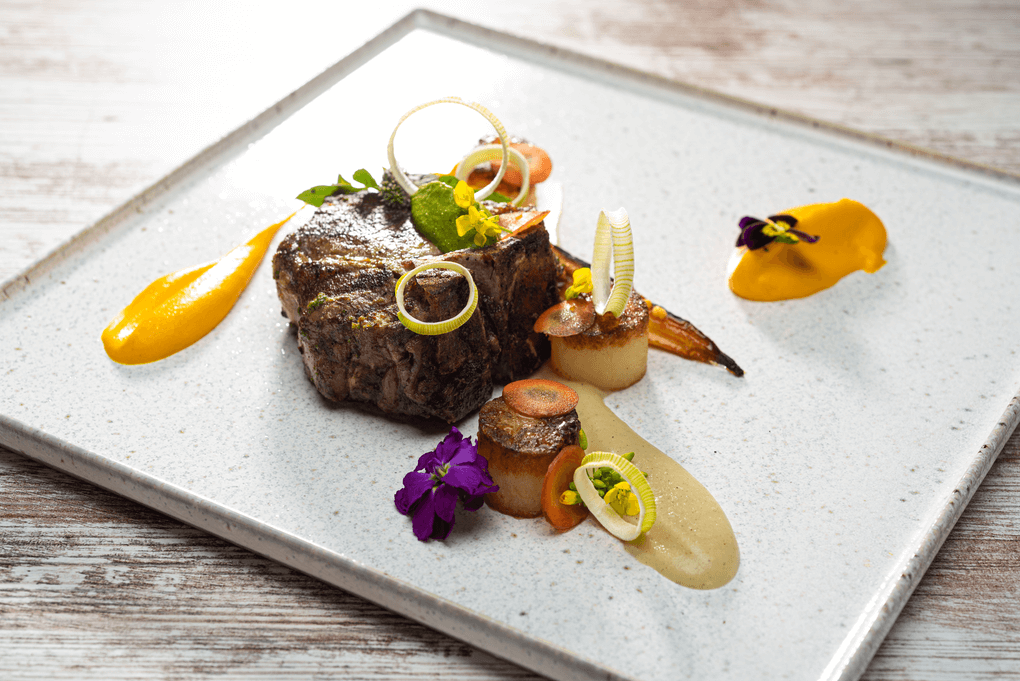 ---
Vegemite and Seed-Crusted Shank: Braised lamb shank on brown butter celery root mash with bourbon honey glazed carrots, roasted radishes and Vegemite jus
Created by Chef Kim Wilson Sutherland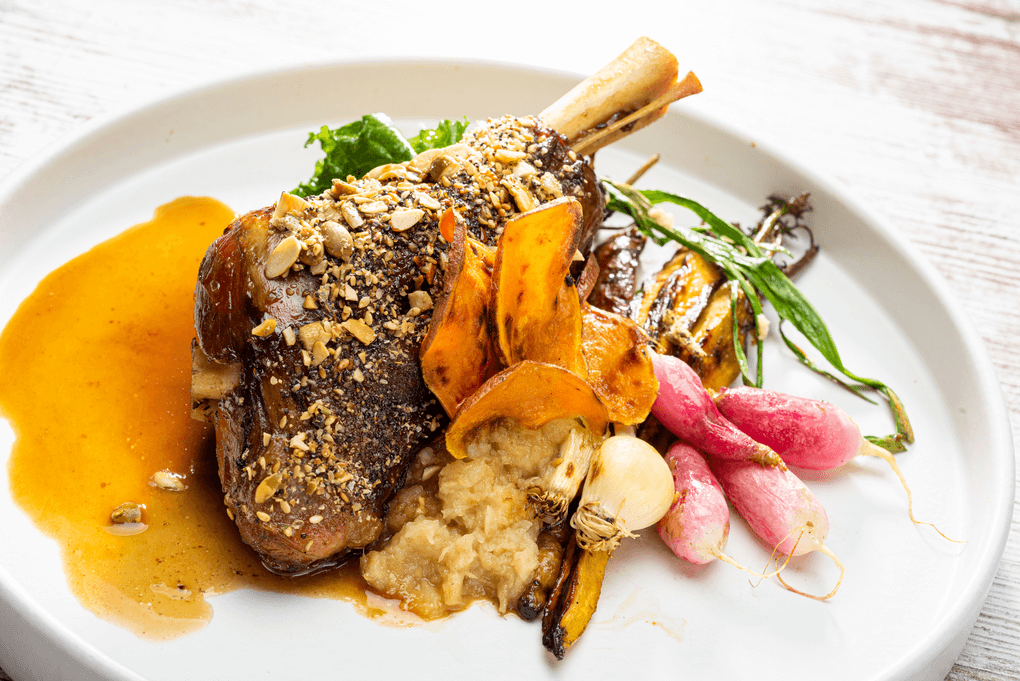 ---
Roasted Sirloin with Labneh, Latkes and Pickles: Charred lamb sirloin brushed with citrus honey, carrot-top zhoug, labneh, parsnip latkes and pickled vegetables
Created by Chef Matt Rosen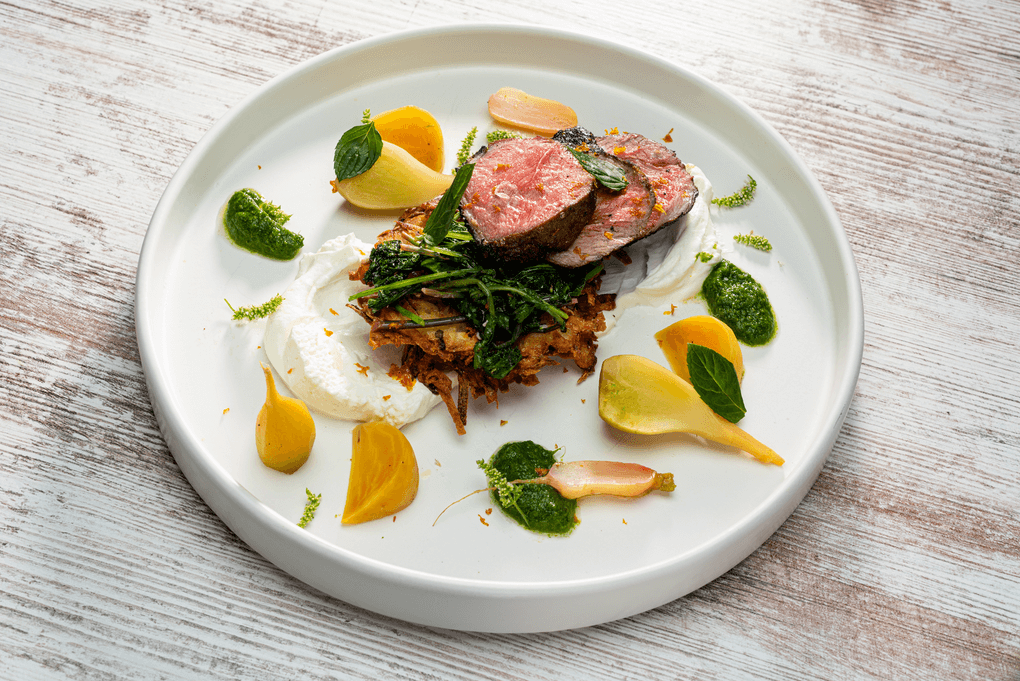 ---
Korean Lamb Rib with Gochujang Sauce, Sesame Spinach, White Kimchi and Daikon
Created by Chef John Lee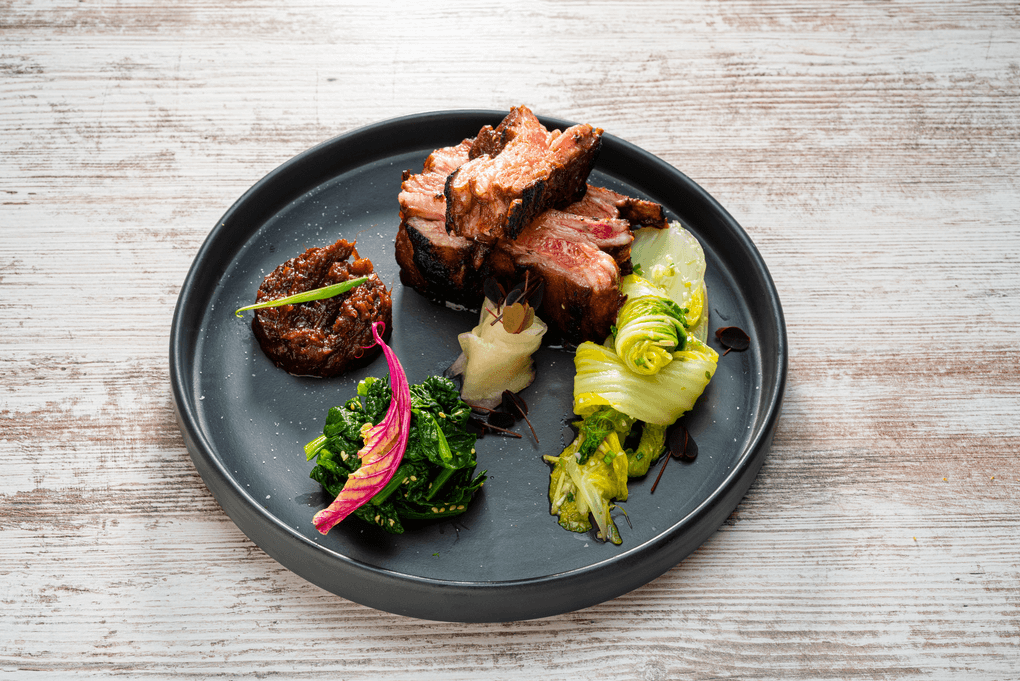 ---
Harissa-Roasted Leg of Lamb with Beet Textures
Created by Chef Terrance Tew