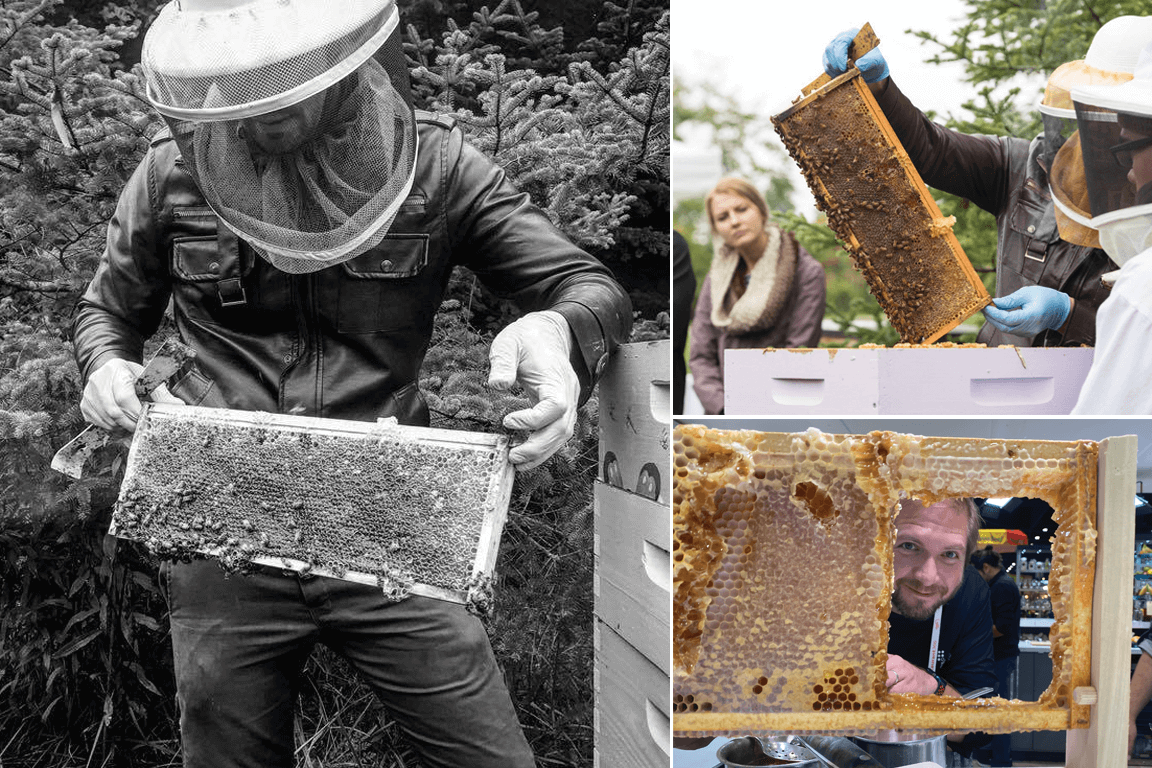 SPONSORED CONTENT
Honey Craft
Bringing together the individual artistry and expertise of chefs and beekeepers
SPONSORED CONTENT
Honey Craft
Bringing together the individual artistry and expertise of chefs and beekeepers
By Flavor & The Menu
November 14, 2023
By Flavor & The Menu
November 14, 2023
"We need bees." At the time, some eight years ago, Chef Jamie Simpson was speaking quite literally, on the hunt to source hives for The Culinary Vegetable Institute (CVI) at The Chef's Garden® in Milan, Ohio. But it's become a declaration that extends far beyond the needs of his singular foodservice operation—and one that resonates with ever-greater urgency year upon year.
Active support of honey bee populations is a call to action that agricultural experts have been urging in the face of threats to the survival of these natural pollinators, so crucial to the global food ecosystem. Fully one-third of the world's food supply is made possible by honey bees. The foodservice community has a part to play by purchasing and using real honey for menu items, which supports the beekeepers who take care of hives and promote the health of honey bees.
A partnership between chefs and beekeepers not only helps to sustain bees, it can be a savvy business strategy that leverages the synergy of complementary crafts. Menuing honey provides a valuable market for this natural sweetener, nurtured by beekeepers who manage an estimated 2.67 million hives, while providing foodservice operations with a versatile ingredient that can drive modern menu innovation— and tell a powerful story to diners.
Simpson, CVI Executive Chef, has a particularly unique perspective on such hive-to-table opportunities: He personally learned the art of beekeeping when first bringing hives
to CVI, and although he has ceded most of that work to colleague George Weirich, along with others in the kitchen, he insists that no matter where his professional and personal journeys take him, "I will always have a hive."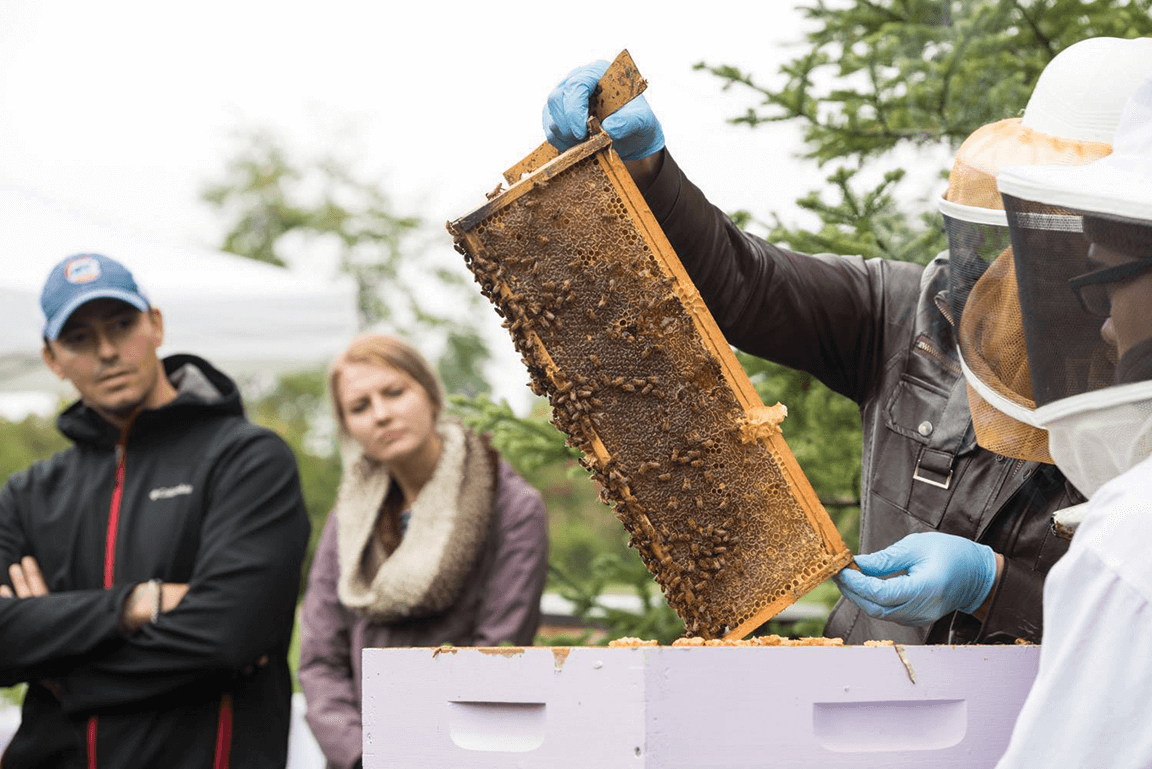 HELPING HIVES TO THRIVE
Weirich has been beekeeping at CVI/The Chef's Garden® for the last two years, currently managing 37 hives, each hosting some 30,000 bees that may forage for up to three miles, producing honey from wildflowers, the 65 varieties of edible aromatic flowers planted on the property and neighboring farms. For both Simpson and Weirich, learning the craft of beekeeping has been a combination of unofficial mentorships by veteran apiarists and self-taught trial and error, including a fair share of online video tutorials. Arguably the greatest challenge, says Weirich, is keeping the hives alive through Ohio winters.
The honey business at The Chef's Garden® is also made distinct by the decision to sell whole frames of honeycomb, as they exist naturally in hives, which provide chefs with greater flexibility in using honeycomb in menu applications and cutting their own shapes, while gaining a visually powerful tool in sharing the honey bee message with diners. "Whole-frame honey is a beautiful presentation and takes the connection to agriculture to the next level," says Simpson, drawing comparisons to the visual power of other whole foods, such as a whole cluster of maitake mushrooms or the hoof on Ibérico ham, and encouraging servers to pair the visual with brief commentary about bee pollinators. "It's a really powerful way to connect people to the message and is a better experience for guests," says Simpson.
The foodservice customers of The Chef's Garden® get it, purchasing roughly 1,200 pounds of honeycomb every year. A few restaurant customers have standing orders for multiple frames every month, reports Weirich.
TAKE THE PLEDGE

Honey Saves Hives is a national campaign designed to raise awareness about one of our most precious natural resources: honey bees. When you buy and use real, delicious, natural honey for your restaurant offerings, you're taking steps to support honey bee health and ensure the sustainable production of the global food supply.

Learn more and take the Honey Saves Hives pledge.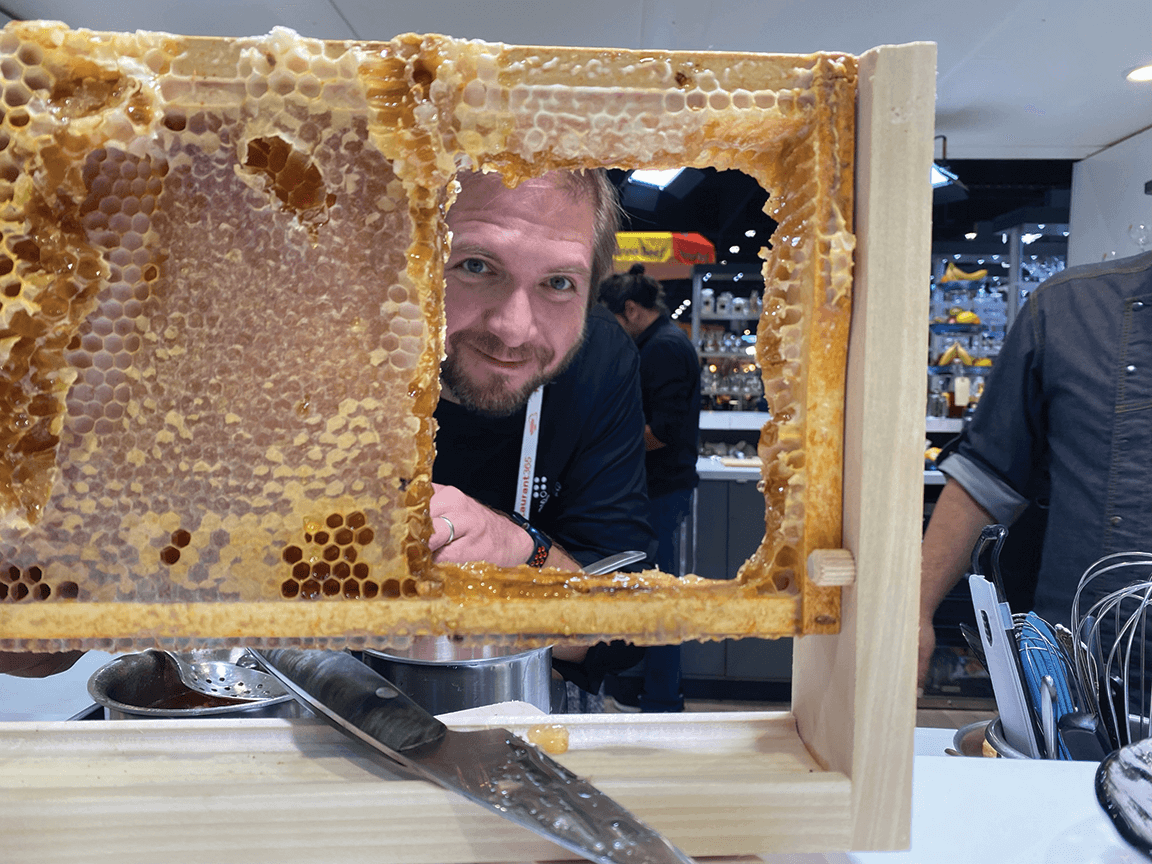 TASTES O' HONEY
Honey is a versatile flavor partner for chefs furthering their own craft. "One thing people rarely think of is that honey is a desiccant; it pulls moisture and can do this when combined with ingredients," says Simpson. "Take a bunch of basil stems, toasted dried chiles, shallots and so on and bury those in honey. The honey will pull aroma—and capture the flavor—of those ingredients. It's amazing and a fun way to consider how any ingredient that has an aroma can be extracted into honey."
When asked to share some favorite honey-based culinary discoveries, Weirich cites Puffed Honey Crumbles, a method of puffing the honeycomb and producing a flavor and texture like a Butterfinger candy bar. "It's crunchy, then it becomes chewy, like taffy," he explains. Simpson, meanwhile, is leaning into fermented honey (similar to mead) applications. "I prefer this form on vegetables, because the flavor is more savory; it's not overly sweet. Onions, garlic, bread and carrots are great pairings with fermented honey." He's also exploring experiential opportunities with the CVI/ The Chef's Garden® hives to further showcase the delicious results when one craft elevates another.
For on-trend, flavor-forward menu inspirations featuring honey, visit honey.com/foodservice