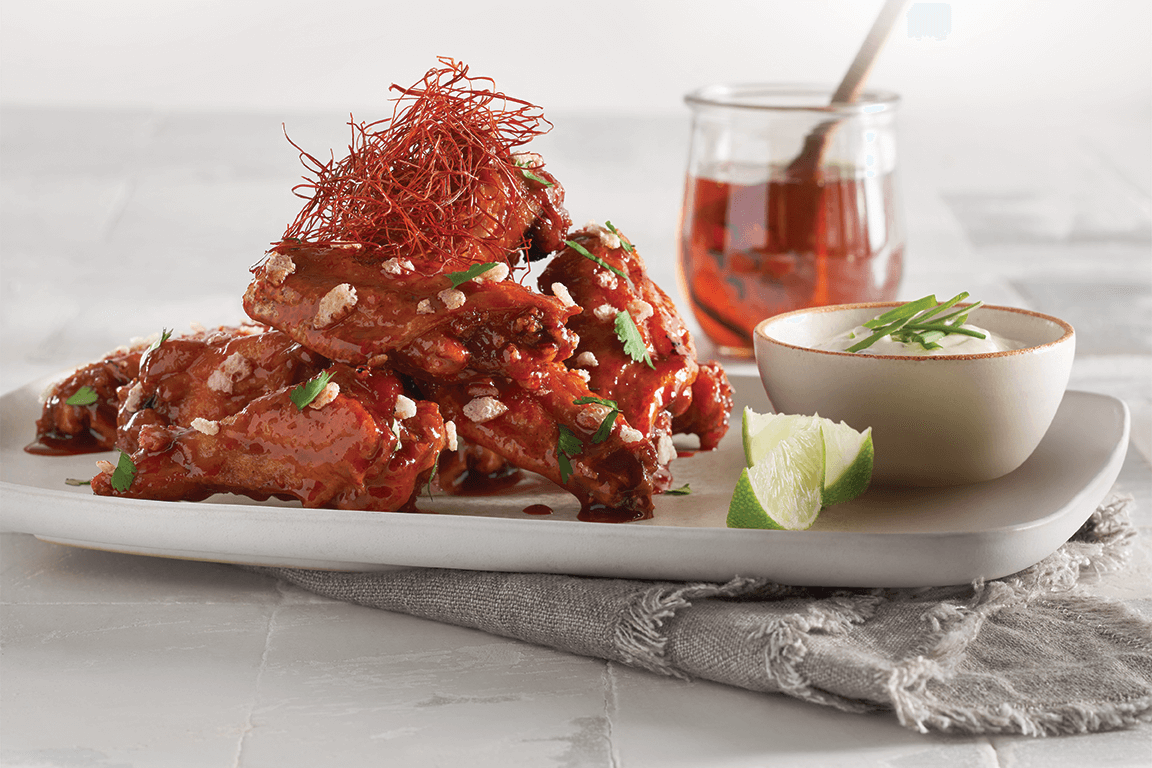 A Sweeter Burn
How honey can temper hot spices with just the right amount of sweetness
A Sweeter Burn
How honey can temper hot spices with just the right amount of sweetness
By Katie Ayoub
November 14, 2023
By Katie Ayoub
November 14, 2023
The sweet and spicy trend draws much of its inspiration from global cuisines. Popular numbers such as Chinese kung pao chicken and Mexican hot chocolate long ago helped introduce American consumers to the allure of this dynamic flavor union. Thanks to the seemingly insatiable appetite for this craveable flavor combination, the pairing of sweet and spicy knows no bounds or borders. Indonesian sambal, North African harissa, Jamaican jerk and Korean gochujang all offer spicy counterpoints to a world of sweetener options, from Mexican piloncillo and Indian jaggery to maple syrup and honey. Indeed, honey is the go-to sweetener across global flavor combos, thanks in large part to the huge success—and consequent consumer comfort level—of hot honey.
On behalf of the National Honey Board, Hayley Christopher, culinary director of Boulder, Colo.-based SRG Culinary Council, developed the recipe for Honey-Gochujang Wings. The flavor combinations and textural contrasts demonstrate a thoroughly modern approach to the "swicy" trend.
"This dish is a perfect representation of sweet and spicy. Gochujang lends just enough heat and spice to complement the honey for a beautiful sweet heat," says Christopher. Gochujang brings the heat while adding further dimension with its salty, fermented notes. "Apart from natural sweetness, the honey brings in a lovely textural element, creating a silky, smooth mouthfeel," she says.
Christopher suggests deeper exploration with honey and global heat. She recently experimented with partnering honey and salsa macha for another glaze variation on wings. "The rich, smoky heat from toasted ancho and guajillo, along with the crunchy texture of the garlic and seed blend, make for a fun way to push the global spin of the wings while still demonstrating a balance of heat, sweet and texture."