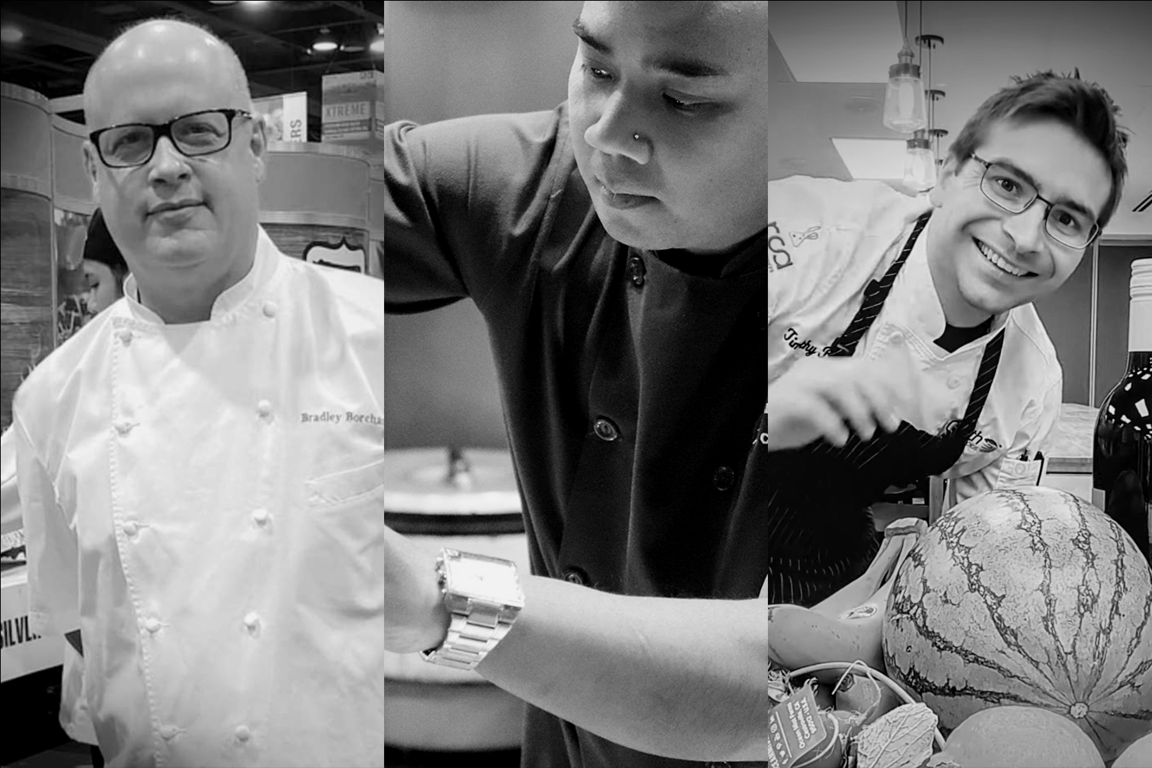 SPONSORED CONTENT
From Spice to Sizzle
Exploring global ingredients and meat marvels
SPONSORED CONTENT
From Spice to Sizzle
Exploring global ingredients and meat marvels
By Flavor & The Menu
September 21, 2023
By Flavor & The Menu
September 21, 2023
With consumers increasingly seeking adventurous culinary experiences, bold and fiery options are taking center stage to create memorable dining occasions. Consumer demand for global cuisine and a desire to explore diverse flavor profiles have given rise to innovative spice applications and beef-centric dishes catering to traditional and contemporary palates.
Here, we explore the dynamic world of global spice trends in beef-centric applications through the lens of three accomplished chefs who share their inspirations, strategies, and guidance for the next generation of culinary professionals.
GLOBAL WITH SIMPLICITY
"The beef from Sterling Silver® Premium Meats is such a great canvas from which to season. It takes well to just about any desired flavor," says Chef Bradley Borchardt, Cargill Senior Corporate Chef, Innovation & Strategy. Borchardt, a classically trained chef who has studied at six different culinary schools across the U.S., Southeast Asia, China and Japan, adjusts the spice application to elevate the cut of meat. Sterling Silver cuts adapt seamlessly to various culinary concepts, allowing chefs to experiment with different spice profiles to create innovative and memorable dishes.
Borchardt's approach to Southeast Asian curry builds on one of his favorite flavor systems. "I'll braise a chuck roll, creating a spice paste with flavors that complement the ingredients in the curry – garlic, ginger, lemongrass and chiles with a bit of coconut oil. The ingredients are pounded into a paste using a mortar and pestle, and the meat is then marinated overnight. The result is a Thai curry with wonderful layers of flavor," he says.
Borchardt notes that North African flavors and ingredients – exemplified by the popularity of sweet-spiced tagines from Morocco and the exquisite Egyptian dukkah, a blend of nuts, seeds, and spices that imparts an exceptional crust to any steak – are becoming more mainstream.
"The full flavor Sterling Silver top blade steak (also menued as a flat iron) works perfectly with any global concept you desire," he adds. To tap into the younger cohort's penchant for rice bowls, Borchardt suggests simple prep options for global variations. For example, consider thinly slicing the meat and seasoning with teriyaki for a Japanese rice bowl or dicing the meat and mixing it with adobo and serving over cilantro rice for a Mexican-inspired version.
SEASONED & REFINED
As one of Cargill's select Sterling Silver Signature Chefs, Alan Ferrer's use of spices and seasonings is not bound by borders, although he does showcase quality seasonal ingredients to complement the protein. Ferrer, the Executive Corporate Chef, Regional Director for Aburi Restaurants Canada, strives to achieve the perfect balance of flavor, texture, presentation and technique in every dish.
"For me, a complete plate must always have the balance of salt, sweet, spice, acid and something refreshing," says Ferrer. His menu prep for a Japanese concept fuses global flavors with traditional ingredients and cooking methods. Two of his go-to ingredients are sake kasu and shio koji, natural tenderizers that are packed with umami and elevate the protein's natural flavors to another level. Sake kasu – also called sake lees – is the byproduct of sake production, while shio koji is based on a traditional rice ferment and becoming more popular as a flavoring agent on North American menus.
Appealing to the Gen Z diner, Ferrer envisions the fusion of sweet and spicy notes in fried and grilled meats while also emphasizing the significance of simpler spice combinations for bowl builds.
BEEF-CENTRIC SPICE APPLICATIONS
Drawing inspiration from global pantries, Timothy Baran, Corporate Executive Chef for Griffith Foods, highlights spices like cayenne or rich earthy chiles from Latin American cuisines as well as garam masala from India to complement meats by adding depth, warmth and complexity to the flavor profile. "I also think of spices like rosemary, thyme, garlic and black pepper as fantastic for enhancing the flavor of various cuts of Sterling Silver Premium Meats," says Baran, a National Champion Official apprentice for the ACF Culinary Team USA. "These are classical flavors that stand the test of time. A hearty cut of beef, such as Sterling Silver ribeye, could benefit from a rosemary and garlic rub that is slightly smoky and spicy."
Baran suggests beef-centric spice applications that offer a blend of bold flavors and customizable options to appeal to younger demographics. "Popular choices are bowl or skewer applications that feature marinated meats with vibrant and tangy spice blends," he says. "Consider flavor profiles like Korean-inspired barbecue bowls with gochujang sauce, or skewers featuring Mediterranean-inspired spices like za'atar and sumac. These approaches provide a mix of familiar and bold flavors that resonate with younger palates."
These options also show well on social media, a must-have to feed the cravings of the culinary curious, who quickly spread the word about a new flavor profile.
---
INSIGHTS:

Guiding the Next Generation of Culinary Professionals
In pursuing culinary excellence, these seasoned chefs offer invaluable insights to inspire and guide the next generation of culinary professionals.
"Be patient – there is no fast track to getting good," says Borchardt. "YouTube can show you some things but doing something thousands of times gives you muscle memory. It's a lot of boring work, but you must love it." He compares the mastery of culinary skills to the lifelong dedication required to become a skilled musician, urging young chefs to embrace the meditative nature of the culinary journey, where every moment spent in the kitchen contributes to their growth.
"Everything is earned; let your work speak for itself and showcase your talent," says Ferrer. He calls out the principles of hard work, never-ending learning, self-improvement and developing a discerning palate. He also encourages learning from your peers and colleagues – not just the executive chef and management team.
Baran's guidance is rooted in a holistic approach encompassing curiosity, mastery of basics, work ethic, adaptability and a commitment to innovation. Reflecting on his journey, one area he wishes he had more appreciation for is the profound impact of skilled marketers earlier in his career. "Marketing is so much more than an ad or a commercial," he says. "It is about direction and the sharing of information. Marketing helps connect us with consumers; consumers directly impact what we research and create."
To learn more about Sterling Silver® Premium Meats, visit sterlingsilvermeats.com