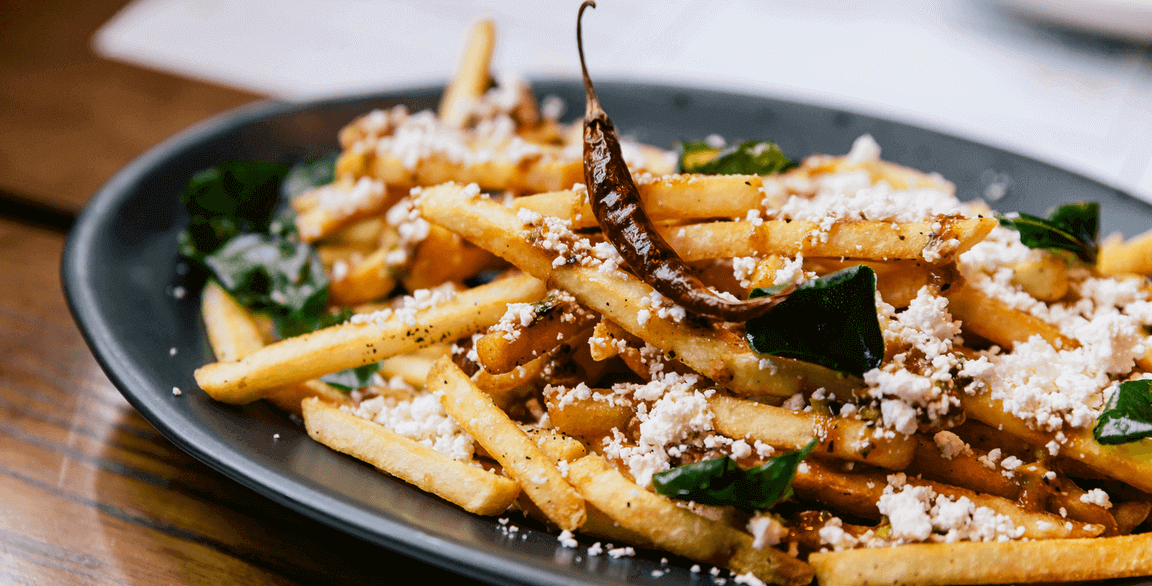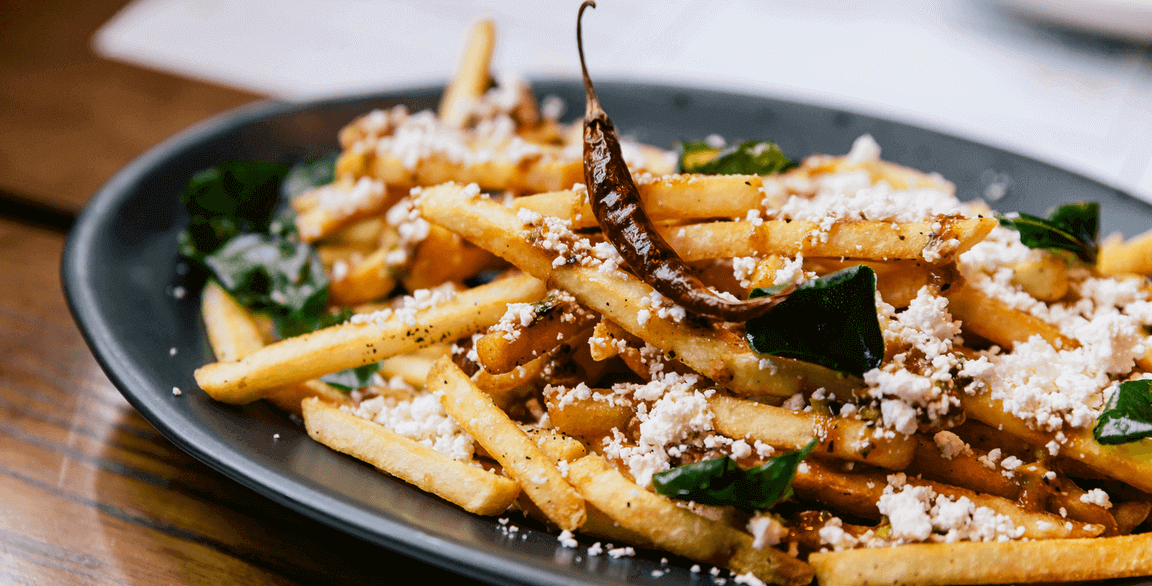 By Rob Corliss
March 15, 2022
A creative array of heat-packed powders, chile flakes and salts provides effective ways to amplify loaded fries targeted at heat lovers. Here, the flavor story centers around the memorable delivery of heat, which is accompanied by a complementary sauce and a simple topping—an easy, straightforward layering to avoid ingredient overkill.
DUSTS & SEASONINGS
Dusts and seasonings disperse spiciness evenly across every bite of fries. These tossed/coated fries add great visual cues and vibrant contrast to a slathering of sauces. Operations can use a prepared hot sauce dust blend, harissa powder, hot curry powder, or create their own signature heat seasoning specific for loaded fries. Add extra dimension by incorporating citrus or vegetable powders into the spicy dusts/seasonings.
Bayou Fries: Waffle fries + hot sauce dust + smoked rémoulade + minced caramelized bell peppers/onion/celery
Moroccan Fries: Shoestring fries + turmeric-harissa powder + toum + feta cheese fine crumbles
PEPPER FLAKES
Chile pepper flakes add bites of crunch and random punches of bold, flavorful heat to fries, creating an appealing textural contrast. Trending chile pepper flakes include Hatch red chiles bursting with flavor, Turkish Marash chile flakes for earthiness, Sichuan for savory, gochugaru for a touch of sweetness, chipotle for smokiness, Aleppo for fruity brightness, Urfa for tobacco/raisin-like qualities and guajillo for mild smokiness. These varieties add stimulating undertones paired with their inherent levels of heat.
Mexi Fries: Steak fries + ancho/pasilla/guajillo chile flakes blend + asadero queso + nopales relish
K-BBQ Fries: Curly fries + gochugaru chile flakes + spicy Korean barbecue sauce + pepper Jack cheese shreds
SPICY SALTS
Salted fries are a menu staple and, of course, serve as a welcome base for loaded fries. Add chiles to the salting equation and flavors will have a distinctive pop. Trending chiles infused into either stone-ground fine or small crystals or flaked salt include: pink peppercorn berry, habanero, ghost pepper and cayenne/Sichuan. Take it a step further and incorporate heat into salt varietals like grey, black lava, pink Himalayan or smoked salt.
Habanero Ranch Fries: Natural cut fries + habanero-mezcal "worm" salt + chipotle ranch dressing + crispy bacon crumbles + fine grated cheddar
Calypso Fries: Crinkle cut fries + Trinidad scorpion pepper salt + curried crab