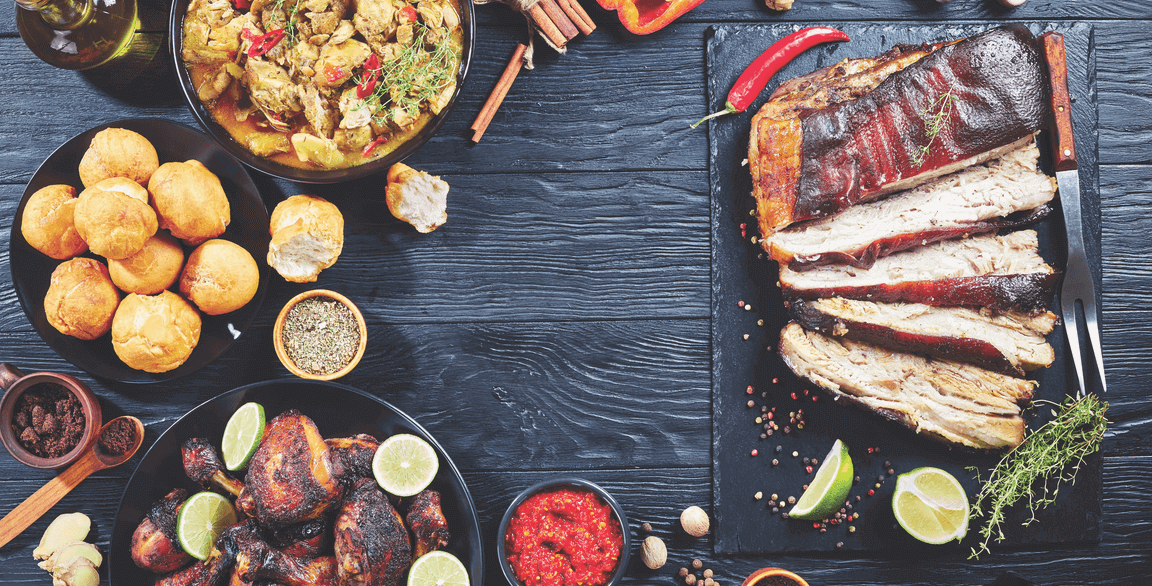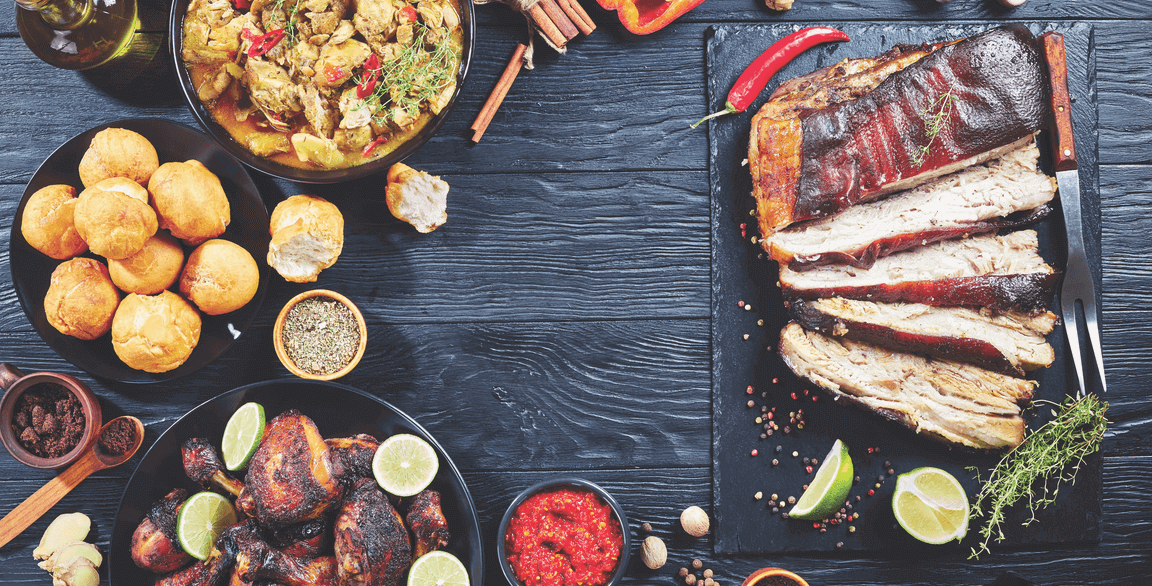 The islands of the Caribbean bring a well-established culinary credibility and vibrancy to the table, one that is marked by a flavorful fusion of Indigenous, Latin, African, European, Middle Eastern and Asian influences. This diversity is woven throughout the array of bold ingredients, flavors, colors and textures that are signatures of Caribbean cooking. Adaptation begins with a commitment to employing techniques such as pickling, marinating, salting, smoking, curing, grilling, roasting and stewing to bring authenticity to the fore. Sauces, seasonings and condiments also play a critical role, as they often deliver the flavor punch that dials up the crave factor.
The door to development is wide open for operators to pull in traditional Caribbean stars (like jerk, sofrito, mojo, curry, mofongo, callaloo and pikliz) translated with modern American menu stylings. Dive into the ingredients and specialties of each island nation with a culinary curiosity and weave their essence into your brand. Here, we explore 10 areas that could benefit from Caribbean influences, honoring heritage and celebrating flavor complexity.
1
Loaded Fries
Loaded fries continue to thrive as a wildly popular shareable, providing patrons with a low-risk path to flavor adventure. Take fries to a new level by channeling a Caribbean spirit with an approachable fusion sensibility.
TRY THIS
Jamaican Fries: Crispy sweet potato waffle fries + Red Stripe beer queso + confit goat belly
Cuban Fries: Steak-cut fries + stewed shredded beef (ropa vieja) + Cuban black beans
MENU SIGHTING
Loaded Island Fries: Island-seasoned sweet potato waffle fries topped with signature barbecue pulled pork, chopped bacon, shredded cheese, green onions, sharp cheese sauce and a strawberry-guava barbecue drizzle.
—Whiskey Joe's Bar & Grill, based in Tampa, Fla.
2
Appetizers
Small-bite starters need to pack big flavor, setting the tone for the entire meal. Delve into island classics or new translations of those dishes, intriguing guests with savory-sweet-spicy combinations. Pair these with bold, one-of-a-kind dippables to leverage Caribbean flavors.
TRY THIS
Bahamian Cracked Conch Fritters: Fried conch fritter nuggets + Scotch bonnet rémoulade + mango-Key lime crema
Ackee Sampler: Ackee and salt fish spring roll + papaya jam + ackee-green mango escabeche with crisp taro chips
MENU SIGHTING
Ghee-Roasted Plantains: Tamarind yogurt, coconut, cilantro and crispy chickpeas.
—Mamey, Miami
3
Seafood Entrées
Pair the versatility and health halo of seafood entrées with the versatility and pleasures of Caribbean flavorings. Look to citrus and other tropical fruits, peppers, spices and aromatics to build uniquely premium delicacies.
TRY THIS
Martinique Mahi: Grilled mahi-mahi + "burnt" rice + papaya sauce chien (Creole sauce)
Mojo Scallops: Skewered prosciutto-wrapped scallops + passionfruit mojo + yellow rice
MENU SIGHTING
Lamu Coconut-Peri Peri Shrimp: Wild shrimp over basmati rice with an East African coconut-tomato-hot spice sauce and sautéed garlic spinach.
—Jambo Cafe, Santa Fe, N.M.
4
Pasta Dishes
Island style makes pasta fun. Pasta is a blank canvas for Caribbean flair, whether it's adapting the famous macaroni pie from Barbados or giving traditional pasta an injection of beloved island specialties. Artfully incorporate these flavors into broths and sauces.
TRY THIS
Macaroni Pie: Ziti noodles + grated onions + chopped Trinidad pimento peppers + sharp cheddar cheese + honey mustard/ketchup + milk/egg + breadcrumb topper
Chicken 'N' Shrooms Tortelloni: Mushroom and ricotta-filled tortelloni + brown stew chicken (boneless chopped thighs) + pigeon peas
MENU SIGHTING
Jerk Chicken Ramen: Noodles topped with jerk chicken, scallions, carrots, corn, egg, edible flowers, sesame seeds, fried onions, nori seaweed and tonkatsu-jerk broth.
—Roc-N-Ramen, New York
5
Nachos 2.0
Don't take nachos for granted as an obligatory starter. Break from the norm by injecting bold Caribbean flavors and inventive swaps. For example, move past thin corn chips in favor of thick plantains or employ crispy-exterior/soft-interior breads, and pair these with attention-getting flavors.
TRY THIS
Trinidad Doubles: Wedges of fried spicy flatbread + chickpea curry + tamarind chutney + grated cucumber + queso fresco crumbles
Cruzan Cakes: Golden crispy johnny cakes + rum-glazed shredded pork + Scotch bonnet aïoli
MENU SIGHTING
San Pedro Nachos: Duck, mozzarella, pico de gallo, tropical mango salsa and lemon-habanero aïoli.
—San Pedro Café, Hudson, Wis.
6
Stews
Hearty stews hit all the comfort cues driving today's menus. Offer new takes on iconic stew recipes and transport guests ready to explore authentic interpretations of one-pot meal traditions with a contemporary twist on Caribbean culture that reflects the provenance of island flavors.
TRY THIS
Run Down Stew: Cod + coconut "milk"-tomato broth + ginger/onion/garlic/Scotch bonnet + fava beans + lime wedge
Lamb-Pepper Pot Stew: Lamb shoulder + beef broth + sweet potato + root vegetables + collard greens + habanero
MENU SIGHTING
Brown Stew Chicken: Tender bone-in chicken marinated, braised and stewed in a rich brown gravy.
—Cool Runnings Jamaican Grill, Houston
7
Plant-Based Entrées
Sophisticated flavors are now par for the course when menuing vegetarian entrées. Caribbean influences can help reimagine the way guests experience these plant-based meals. Layer in modern flavor treatments to deliver a healthful indulgence and clean, singular flavors.
TRY THIS
Vegetable Sofrito Bowl: Mascarpone risotto + roasted spaghetti squash (pulled strands) + charred purple cauliflower florets + sofrito + chopped pickled limes
Eggplant Picadillo: Sautéed and simmered eggplant/bell pepper/garlic/onion + raisins/olives/cumin/cinnamon + tomato sauce + pillowy flatbread
MENU SIGHTING
Veggie Mofongo Plate: Garlic-flavored green plantains mashed in a wooden pilón and then formed into a plantain bowl filled with mixed vegetables, topped with a sofrito vegetable sauce and served with white rice.
—El Nuevo Frutilandia, San Francisco
8
Soups
Soup is an easy and flexible format for introducing global flavors that align with evolving consumer tastes. Play up the comfort of soup with the warmth of a Caribbean getaway. Regional ingredients can transform popular soups with a fresh escapist vibe.
TRY THIS
Jamaican Smoked Corn Chowder: Creamy corn chowder (with smoked corn kernels, sweet corn purée, yellow split peas, ginger and turmeric) + Pickapeppa sauce swirl
Tropical Gazpacho: Coconut water + citrus juice + mamey fruit + yellow tomato/roasted Caribe peppers/cucumber/jicama + candied star fruit slice soaked in rum
MENU SIGHTING
Red Pea Soup: Red peas cooked in a flavorful herb-infused coconut broth with potato, carrots, yam and dumplings.
—Golden Krust, Houston
9
Meat Entrées
Savory meats paired with hot Caribbean seasonings yield distinctly rich, flavorsome entrées. Apply bold marinades to deepen the flavor of the selected meat, and pair with tart, bright fruit sauces that pull together an island-centric profile.
TRY THIS
Triple Chop: Lime and garlic marinated Puerto Rican roasted/fried kan kan pork chop (loin, belly and skin) + mashed sweet potatoes + guava demi-glace
Trinidad Oscar: Sambal-rubbed roasted beef tenderloin + sautéed crabmeat + hollandaise + kale-okra callaloo
MENU SIGHTING
Wood-Fired Chicken: Half chicken, citrus brined, herb marinated, with a Scotch bonnet emulsion and roasted seasonal vegetables.
—APT 4B, Atlanta
10
Wings
Consumers crave bold wings, looking to the sauce to provide extraordinary flavor. The Caribbean pantry is sure to deliver a multi-sensory experience. Entice patrons with an interplay of sweet-heat combinations, layered with underlying textures and rustic tones.
TRY THIS
Fried Coconut-Curry Wings: Coconut-battered fried chicken wings + hot pineapple-curry sauce
Sticky Smoke Wings: Slow-smoked chicken wings + mango-molasses glaze + hot pepper flakes
MENU SIGHTING
Caribbean Jerk Wings: Chicken wings seasoned with Caribbean spices and toasted in a housemade spicy jerk-guava sauce.
—Dukunoo Jamaican Kitchen, Miami