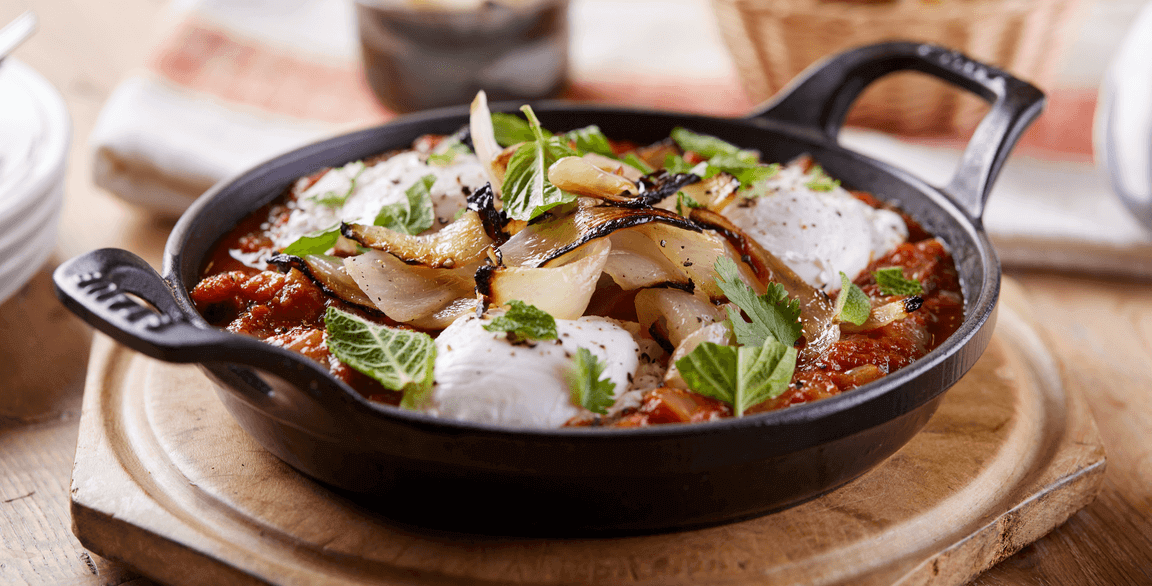 Few ingredients are as essential to the modern menu as the humble onion, but not without a fair share of labor and time required to transform it into a culinary powerhouse. Today's back-of-house challenges necessitate further support by supplier-partners, and the processed onion is indisputably one of the most valuable ingredients for chefs and menu developers. From the savings in labor and time to the consistency of quality product, value-added onions are a best bet for modern menus.
Chicago-based chef Michael Ponzio underscores the value the further-processed onion brings to the kitchen. "It is a time- and labor-saving step that still allows you to create scratch recipes," he says. "The ability to save labor while still being able to create full recipes in an operation is a huge problem solver today."
In addition to labor and prep time, chefs are also mindful of optimizing product usage—with maximum shelf life and minimal food waste—as well as the confidence that comes with traceability to the source.
PASSION PROJECT
Nearly 40 years ago, brothers and fourth-generation farmers Steve and David Gill took on the mission to offer the highest quality, sustainably grown fresh-cut onion products to its foodservice and retail customers. Gills Onions, an Oxnard, Calif.-based onion grower and supplier, has become one of the largest family-owned onion growers and processors in the world.
That growth didn't happen by accident. It's the company's focus on quality and all the detailed work that goes along with that process that has made the company a leader, and a solutions-based partner to foodservice operators. Gills Onions uses a three-pronged approach to its onion farming, centering on innovation, conservation and sustainability to ensure their onions have the best growing conditions and the lowest environmental impact.
"There are so many complex details that go into raising the best onions," says Megan Jacobsen, VP of Sales and Marketing for Gills. "Every product in our line-up is grown, processed and transported with quality as the priority."
Starting with the highest quality soil, which in turn creates a strong root system aiding in withstanding pests and extreme weather, and a proprietary growing program, Gills Onions is in control of the entire process up until their onions arrive at its customers' doors. The end result is a superior product that not only tastes better, but has an industry-leading 18-day shelf life, says Jacobsen.
"The onions are crisp and fresh," says Ponzio of Gills Onions' products. "They have an amazing shelf life and hold their integrity after processing."
KEY ATTRIBUTES
For time-strapped chefs dealing with a tight labor market the convenience of using Gills Onions is huge. "Safety is incredibly important as finding a qualified labor workforce continues to be difficult," Jacobsen adds. "As we like to say, take the knife out of an employee's hand and replace it with a whisk."
Available in a variety of formats, ranging from diced (for instant flavor and texture to soups, salads and sauces) and sliced (perfect for onion rings or on a burger or sandwich) to slivered (great as a topping on wood-fired pizza or as a base in Indian cuisine) and whole peeled, Gills Onions arrive fully washed— eliminating the unsanitary dirt and bacteria common with unpeeled onions—and ready to use.
Delivering a product that offers consistency in quality, price and yield is another plus for back-of-house staff. "This allows operators to make the best financial decisions for their restaurant," says Jacobsen. Traceability is another critical factor in Gills Onions' favor. "From seed to package, our customers know where their onions are grown, harvested and processed," she adds.
"Our team at Gills Onions invests the time, money and energy into growing a product that makes the experience of cooking with onions easier so you and your team can enable the magic to happen in delicious recipes," says Jacobsen.
Discover more about the foodservice products and advantages available from Gills Onions by visiting https://gillsonions.com/products and clicking on "Foodservice."