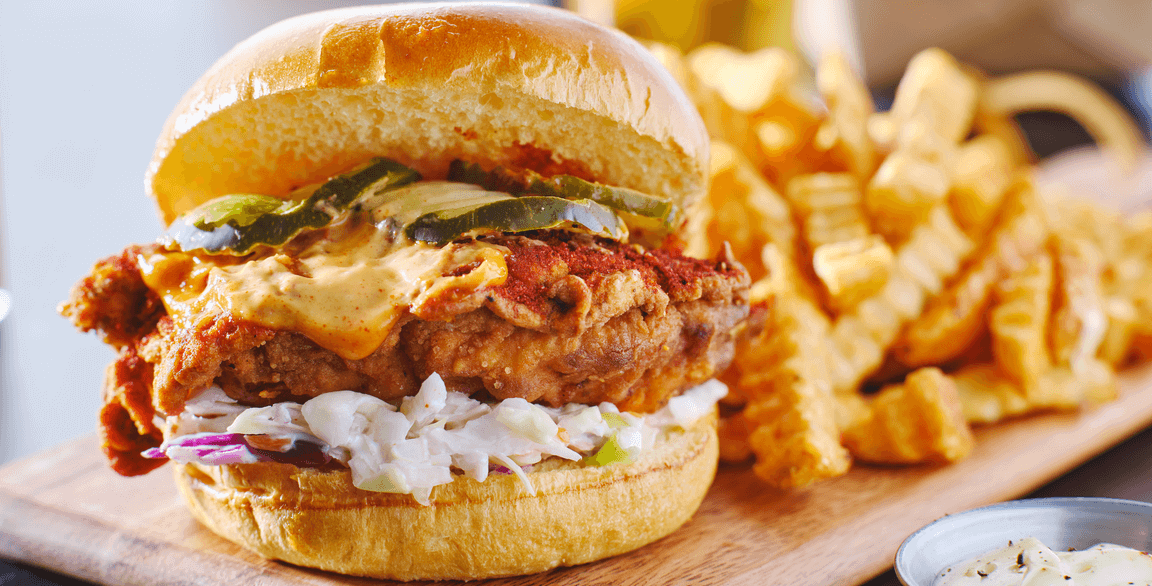 By Rob Corliss
July 17, 2022
Restaurants can extend the fried chicken sandwich craze with continued attention to what is resonating with patrons and what answers their heat cravings in exciting, unexpected ways.
Key learnings on what may drive future spicy iterations of the beloved fried chicken sandwich has led to the following four areas of focus where menu developers can keep patrons yearning for more. Each is paired with menu sightings, serving up inspiration for modern applications.
1

CRAVE-INDUCING TEXTURED COATINGS + HEAT
The new trend in combining flavorful heat with either double-fried chicken or other methods of crispy textured coatings/batters/breadings dials up the crave factor in fried chicken sandwiches. It's also giving operators ample room for signature moves, delivering both heat and texture in creative combinations.
ON THE MENU
Fried Chicken Sandwich: Rice flour-battered, twice-fried, on a potato roll with root vegetable and green apple slaw, harissa, pickles
—The Long Island Bar, New York
Nashville Screamin' Chicken Sandwich: Buttermilk fried chicken breast doused in Nashville sauce and loaded with jalapeño slaw, ranch dressing and pickled red onions on a brioche bun, finished with a fried whole jalapeño
—Slater's 50/50, based in Southern California
2

"HOT" SAUCE-COATED BIRD
"Hot" sauce-coated fried chicken lusciously soaks into every textured crevice of chicken, injecting deeper flavor that grabs diners' undivided attention.
ON THE MENU
Chicken & Waffle Sandwich: Brown butter waffle, crispy chicken breast topped with powdered sugar, smoky chipotle maple syrup and honey mustard
—The Village DC, Washington D.C.
Spicy Chikin Sandwich: Crispy fried boneless thigh dipped in "Sichuan nom nom" (housemade Sichuan chile oil), topped with spicy mayo and pickle on a brioche bun
—Meshikou, Columbus, Ohio
3

ANGRIER NASHVILLE
Iterations on Nashville hot will resonate with heat-seeking patrons. An even bigger flavored heat opportunity could be combining the heritage of Nashville hot with the global appeal of Korean (gochujang), Eastern Med (s'chug), North African (harissa) or Caribbean (jerk).
ON THE MENU
The Cry Bird: Ghost pepper-dipped, angry-dusted fried chicken, shredded lettuce, red pepper jelly
—Flip The Bird, based in Beverly, Mass.
Hot Moroccan: Fried chicken, fiery harissa sauce, red cabbage slaw, Alabama white sauce
—Twist Hot Chicken, Peoria, Ariz.
4

TRIPLE THREAT
Instead of doubling down, triple down on the heat, but deliver it with complexity of experience. Amplify the fried chicken with a heat-spiked crunchy slaw or pickled vegetable, plus introduce a spicy aïoli. It's a simple, effective way to deliver a trifecta of sandwich comfort and craveability. Take it one step further and smoke the fried chicken for a deeper layer of flavor building.
ON THE MENU
Buttermilk-Fried Chicken Sandwich: Serrano-dill slaw, spicy aïoli, brioche bun
—The Corner Office, Denver
Sichuan Hot Fried Chicken Sandwich: Chile aïoli, pickled daikon
—CHIKO, Washington, D.C.