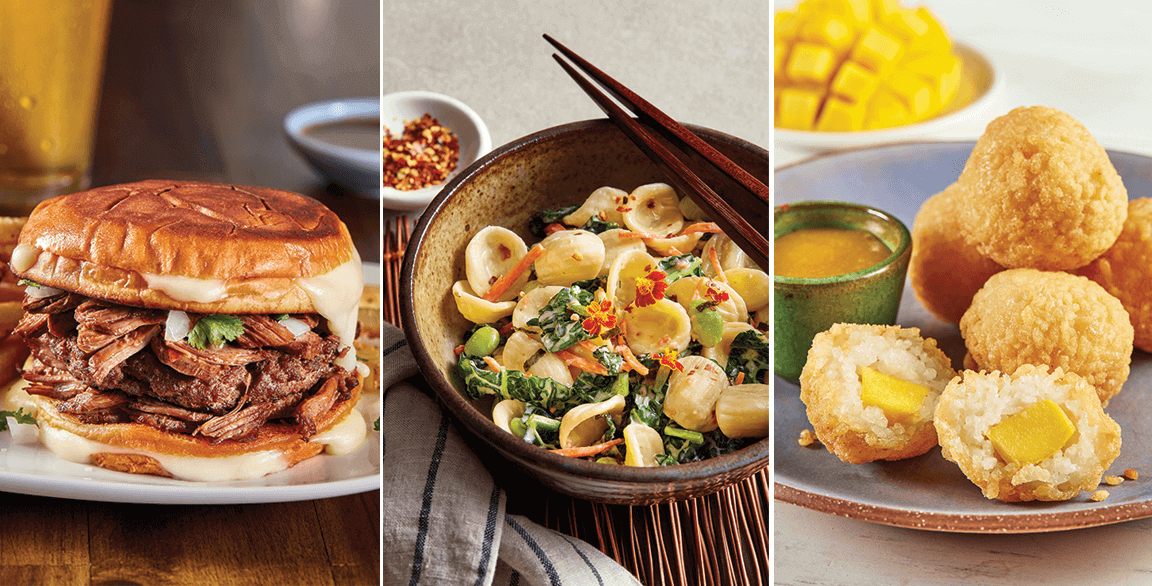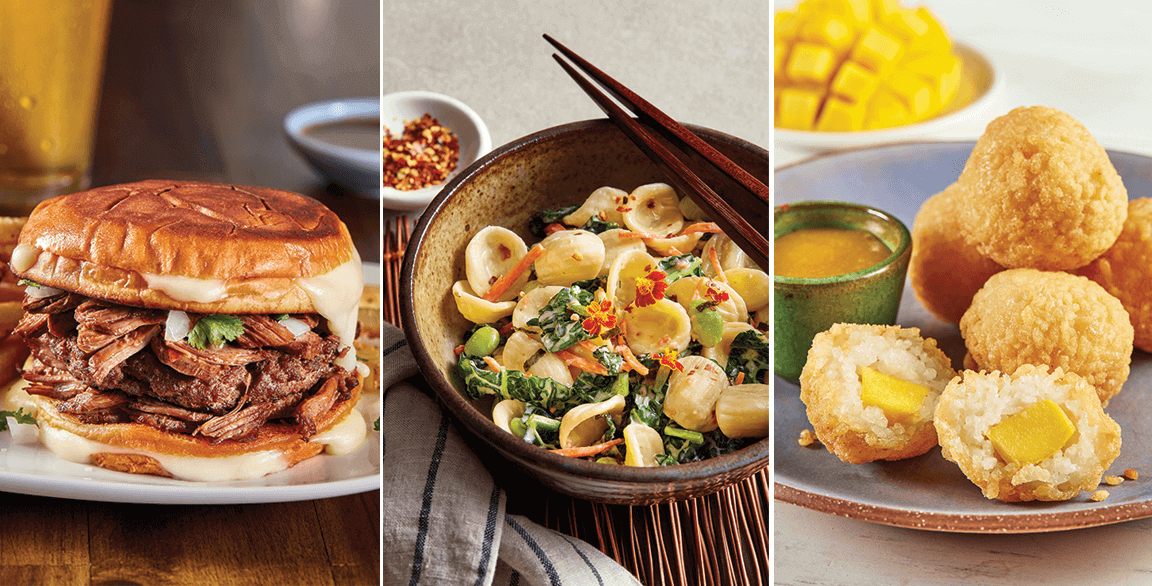 By Flavor & The Menu
July 14, 2022
Kitchen Collaborative is a recipe-development initiative formed by Summit F&B and Flavor & The Menu. To fuel flavor innovation, a group of talented chefs partnered with sponsor brands and commodity boards to create recipes that showcase the passion and potential of our industry.
CHEF SPOTLIGHT: Dustin Hilinski
Captivating, craveable culinary inspiration beckons from every corner, says Dustin Hilinski, Director of Culinary Innovation, Jimmy John's/Inspire Brands, of his love to visit markets, restaurants, food stalls and farms wherever he travels. "It's tasting and seeing how ingredients are grown, procured and used. You really get a different perspective when you are experiencing authentic cuisines or tasting an ingredient at its source," he says. These flavor journeys clearly informed his creations for Kitchen Collaborative: The King Birria-Style Cheeseburger; Miso Orecchiette with Garlicky Asian Vegetables and Furikake; and Fried Mango Sticky Coconut Rice with Mango Dipping Sauce. Each reflects a global point of view that remains accessible to mainstream diners.
The King Birria-Style Cheeseburger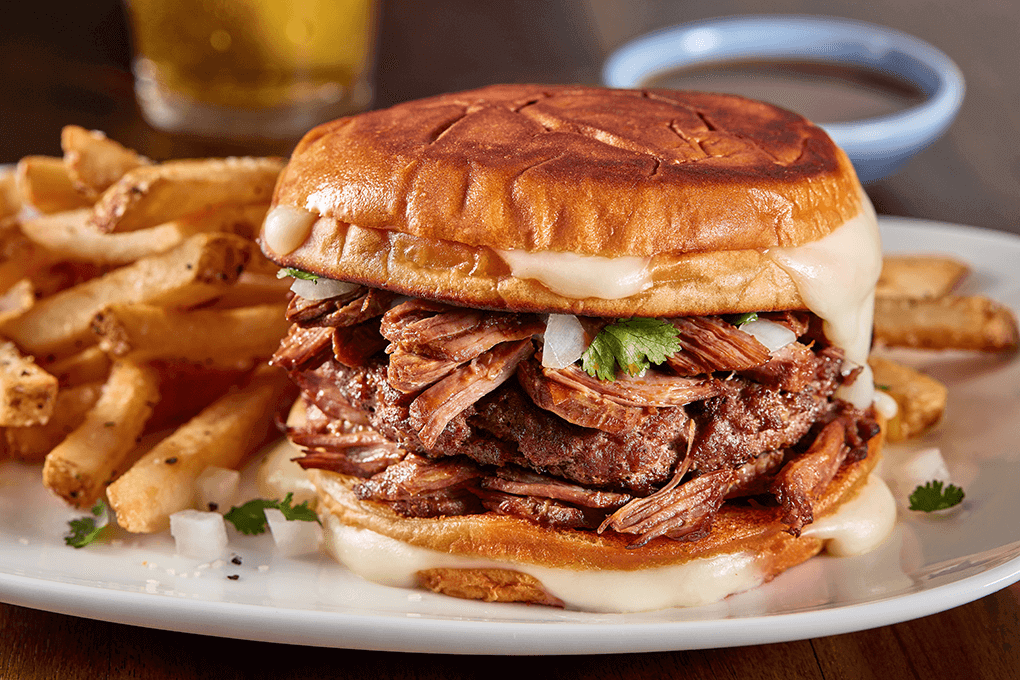 Photography: Carlos Garcia // Food Styling: Peg Blackley & Bree Williams
Craveability is king, which is why birria continues to reign as a social media darling and inform modern menu innovation. "You can't watch someone making or eating birria without wanting to try it. It's so craveable and comforting," says Hilinski. His King Birria-Style Cheeseburger is a genius move to elevate an enduring classic with a trend-forward flavor profile. "It has broad appeal. It's familiar, with a twist."
Hilinski retains most of the signature birria elements in his handheld: the fork-tender, slow-cooked braised beef simmered for hours in a vegetable and spice-seasoned broth that is also served on the side. "Really, the only traditional element I didn't use was a tortilla," he says of the Kitchen Collaborative swap of King's Hawaiian® Original Hawaiian Sweet Hamburger Buns.
The chef showcases the bread with a few deft touches: Both the top and bottom halves of the bun get a hinge cut into which he tucks a slice of Oaxaca or other good melting cheese. He then brushes the buns all over with reserved fat skimmed from the broth and toasts them on all sides to ensure the cheese melts. "I wanted to toast the buns for a grilled cheese effect, and using the fat from the consommé was a perfect way to do this," Hilinski explains. "The King's Hawaiian bun works very well for this dish, with great flavor and soft texture."
He opts to use a smashed burger in the build. "I wanted to have some textural difference between the birria meat and the burger patty, so I chose a smashed burger. I love its crispy edges, and it has so much flavor," says Hilinski. Using a slotted spoon to allow the shredded birria beef to drain, he places equal amounts of the meat under and on top of the beef patty. The sandwich is finished with some chopped onions and cilantro, and is served with the obligatory cup of reserved consommé.
Miso Orecchiette with Garlicky Asian Vegetables and Furikake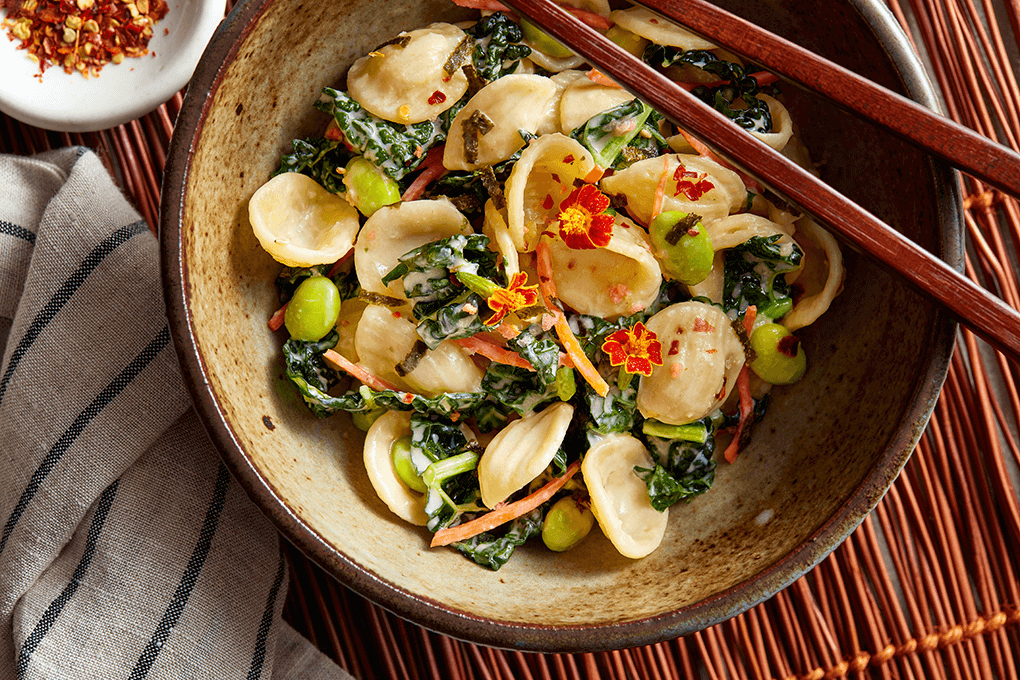 Photography: Carlos Garcia // Food Styling: Peg Blackley & Bree Williams
There are many factors that can drive how a new recipe takes shape—including the shape of a key ingredient! For his Miso Orecchiette with Garlicky Asian Vegetables and Furikake, Hilinski found inspiration in the cup-like structure of the Barilla® Orecchiette. "It cups all the ingredients it's cooked in, so it's like a bowl in every bite," he explains. That's where the dish began, but Hilinski was just getting started. "I wanted to create something different that was super flavorful, super comforting and that mashes up ingredients that are not usually paired together."
The dish features garlic-sautéed kale, edamame, shredded carrots and red pepper flakes, alongside orecchiette in a flavorful miso-Parmesan cream sauce. It's finished with furikake. Each ingredient choice reflects a thoughtful approach to both flavor and visual aesthetics. "I like how kale gives a slight bitterness, but the carrots balance that with a little sweetness. The edamame provides texture, and all three vegetables give this dish pops of color," says Hilinski.
"I like building all of the senses into a recipe," he continues. "This dish hits you with a fantastic savory umami from the white miso, nice saltiness from the Parmesan, richness from the heavy cream, slight heat from the red pepper flake, some bitter from the kale and sweetness from the carrots. The edamame and orecchiette provide texture, while the furikake ties it all together."
Fried Mango Sticky Coconut Rice with Mango Dipping Sauce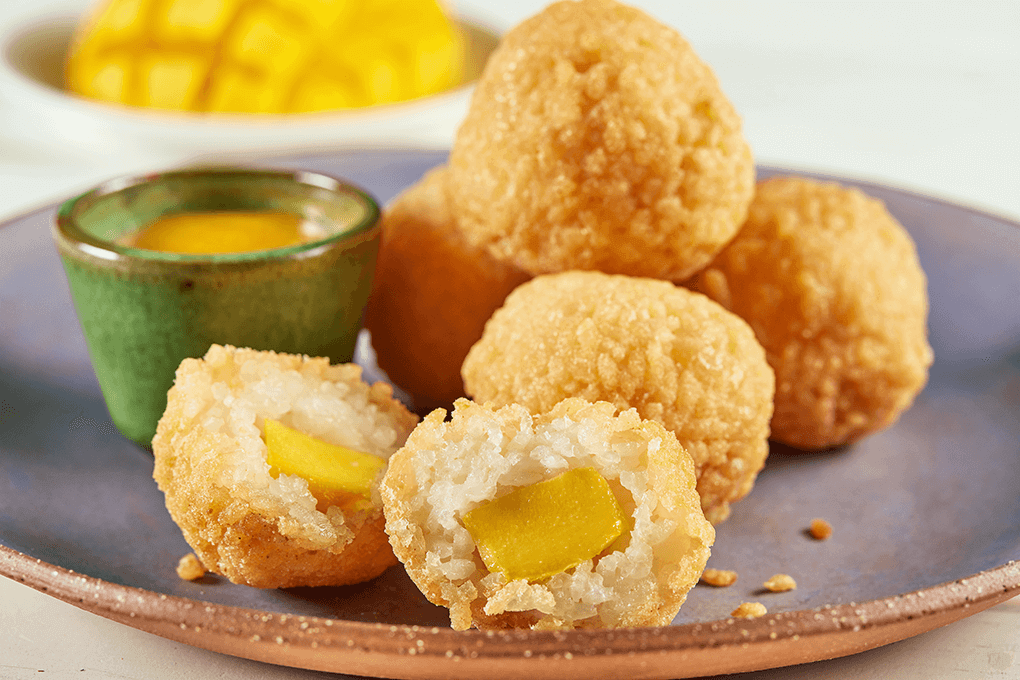 Photography: Carlos Garcia // Food Styling: Peg Blackley & Bree Williams
"Sticky rice with mango is such a classic dish in a number of Asian countries. You'll find it served in restaurants, food stalls—just about anywhere," says Hilinski. "I've had it in many forms, but fried is my favorite." With this inspiration top of mind, it's no wonder that Hilinski opted to create his own take when assigned mango for his Kitchen Collaborative recipe project. He goes all in on the popular Asian fruit with his Fried Mango Sticky Coconut Rice with Mango Dipping Sauce.
Hilinski prepares the sticky rice with a mixture of coconut cream, sugar and salt, and uses it to envelope a single diced piece of mango. Rice balls are rolled in rice flour and deep fried. They're finished with a drizzle of coconut cream and served with a chilled dipping sauce made from diced mango blended with water, sugar and lime juice. "Mangos are a classic fruit with sticky rice, and in this preparation, they have wonderful texture, sweetness, a slight sourness and a pop of color," says Hilinski.
"This dish has so much going on in such a small bite," he continues, touting the sweet-sour flavor and complex textural experience. Hilinski believes the dish could work on a wide array of menus, from a shareable starter to a small plate or a dessert. "It's really a broadly appealing flavor profile—and it's super craveable."
Project Management: Summit F&B
Photography: Carlos Garcia // Food Styling: Peg Blackley & Bree Williams