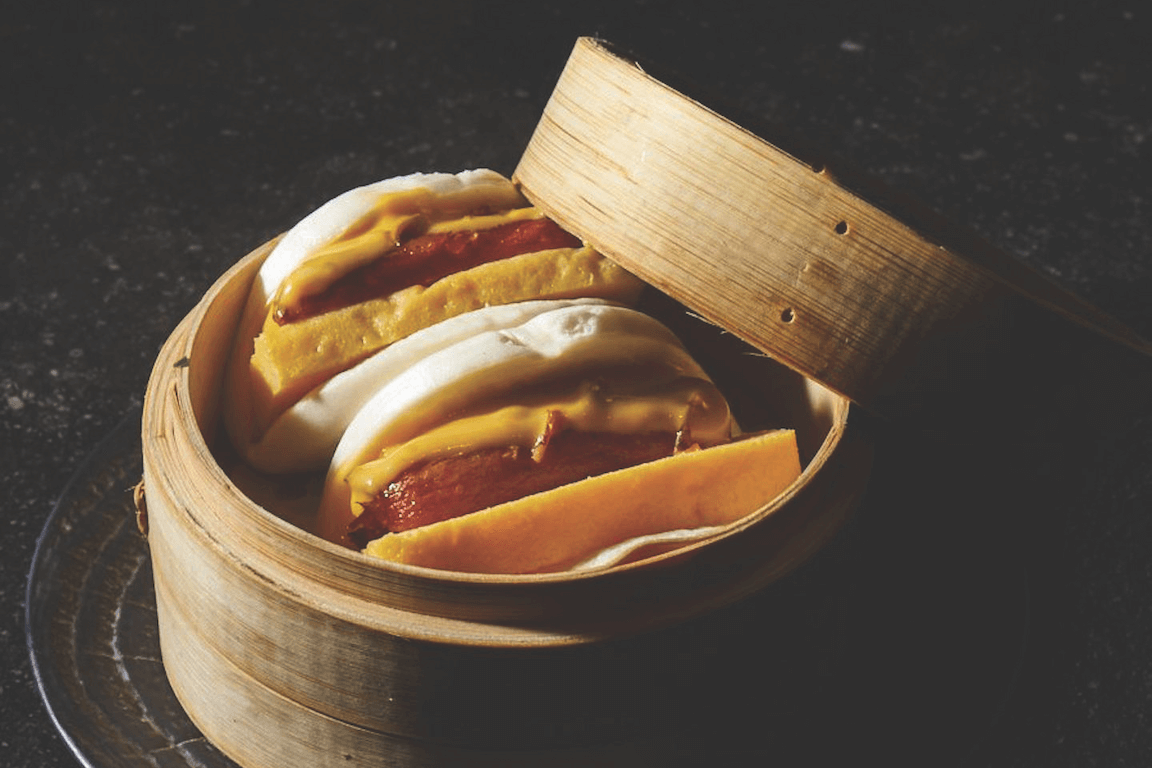 As breakfast continues stretching past traditional morning hours to keep pace with nontraditional schedules, the definition of breakfast fare keeps expanding. That fluidity drives menu innovation, which in turns fuels guest engagement. And just as we've seen in other dayparts, breakfast innovation today is drawing heavily from the global pantry. Pushing beyond familiar Mexican flavors and formats, menu developers are looking to the East and finding big opportunity in the cuisines of Asian countries like Vietnam, the Philippines, South Korea, Japan and China.
"Other cuisines, like Mexican, that have successfully penetrated the breakfast category, have paved the road for the next injection of global breakfast flavors and formats," says Rob Corliss, chef and founder of ATE (All Things Epicurean). "It feels natural that the ever-reaching popularity of Asian flavors would translate into this realm."
Successful penetration of these cuisines' influences into breakfast menus across the country requires a mindful approach, often adopting familiar formats and fusing flavors in creative ways. Palm & Pine, a Louisiana-Caribbean-Latin concept in New Orleans, cleverly spins Vietnamese iced coffee into a brunch pastry with its Vietnamese Coffee Cinnamon Roll, topped with a sweetened condensed milk frosting. In Chicago, Kasama, the buzzy, Michelin-starred Filipino neighborhood bakery/café by day and fine-dining restaurant by night, menus a breakfast sandwich stacked with a square of soufflé eggs, sweet longanisa sausage, American cheese and a hash brown patty, all on a potato bun. Kasama moves further into Filipino territory with its Mushroom Adobo, a vegetarian take on this classic dish, featuring soy-braised mushrooms, a fried egg and garlic rice.
Chefs looking to capitalize on fried chicken's relentless popularity can turn to trending Asian flavor combinations for menu differentiation at breakfast. The Japanese Spicy Chicken Sandwich at Breakfast Republic, with locations throughout Southern California, features sesame-chile oil, togarashi, a fried egg, spicy mayo, slaw and sunomono (pickled cucumber salad). Juniper Café, a modern Asian-Southern café and bakery in Atlanta, offers a twist on Nashville hot chicken on its brunch menu. The Vietnamese Hot Fried Chicken starts with a marinade of Thai bird's eye chile, turmeric and fresh mint. Once out of the fryer, the chicken is served with chile crisp, jicama-cabbage slaw and jam on a housemade biscuit.
BOWL'D MOVES
American consumers have long embraced the bowl format, so it makes sense that there's a natural affinity for Asian breakfast items served in bowls. "We see a rise in breakfast bowls where white rice is the base, and then there's an egg and some form of protein on top," says Mike Kostyo, trendologist and associate director at Datassential. "Today, white rice is up 67 percent on breakfast menus. When you look at how Gen Z eats and what they crave as they get older and gain more influence in five to seven years, these types of bowls are going to be the norm on menus."
The Asian-inspired bowl builds Kostyo alludes to are rich with texture and flavor. Onefold, a breakfast and lunch restaurant in Denver that serves "family-inspired" food, offers a prime example with its Chinese Sausage Fried Rice in a bowl, featuring sweet-savory lap cheong sausage chunks, two fried eggs, scallions, garlic, chile oil and organic tamari soy sauce. It also menus congee, that comfort-centric savory rice porridge from China, also served in a bowl. Onefold keeps it modern and interesting, flavored with chicken and duck broth, duck confit, a poached egg, scallions, salted ginger and chile oil.
Ramen doesn't require a lot of tweaking to make it breakfast-ready, especially for younger consumers, avid fans who slurp the brothy noodles on the regular. Ukiah, an Asheville, N.C., smokehouse that blends Japanese soul food and Southern barbecue, has gone the bacon route to make the transition easy. Its Breakfast Ramen features a sunny-side-up egg and maple-shichimi bacon. In Chicago, Chef Bill Kim's Ramen Bar at Time Out Market sells Hangover Ramen on Sundays, offering weekend diners a restorative bowl of broth with chicken wonton, chile oil-poached shrimp and pork braised in kimchi.
UMAMI UPS THE ANTE
When it comes to the exploration of the deep and complex world of umami, the average American diner has come a long way in the last few years. Chefs and beverage developers have certainly moved the needle here, deftly wielding—and highlighting—umami-rich ingredients like miso, gochujang, bonito flakes, soy sauce and fish sauce. Of course, there's a world of ingredients outside of Asia that boast umami, but the aforementioned ones, along with a whole slew of others from Asia, are in the culinary zeitgeist and are helping position Asian breakfast as the next big opportunity in menu development.
"We already put hot sauce and ketchup on eggs or potato preparations in the morning, so using soy-based condiments and fresh spices isn't too far of a stretch," says Liz Moskow, principal of Bread & Circus consultancy. "Diners are also seeing umami flavors that are signatures of Asian cuisines at breakfast today. Bonito, oyster sauce, ikura, soy sauce, hoisin and more can be spread into omelettes, crêpes, burritos and fusion builds. Or more traditional preparations, like jianbing pancakes, can entice trial and adoption of Asian items at the breakfast daypart."
Examples at leading-edge concepts abound. At Tanuki Miami, a modern pan-Asian eatery in Miami Beach, Fla., the Sausage, Egg & Cheese breakfast sandwich is loaded with umami. It features fried kurobuta sausage, tamago sweet egg (made with sugar and dashi) and cheddar, served on a steamed bun. "It's our Asian take on a Sausage McMuffin," says Jason Acoba, brand chef. "We took a dish traditionally served at an izakaya and turned it into a savory brunch sandwich." At eccentric cocktail bar The Peacock Room in New Orleans, the Washoku Marii cocktail is a study in umami. A play on a classic Bloody Mary, it stars Japanese flavors, including tamari, togarashi, ginger, soy sauce and wasabi, and is garnished with a ramen-style cured egg, pickled lotus root and garlic scapes.
HOW SWEET IT IS
Although savory flavor-building is a driving force behind much of the innovation in the Asian breakfast trend, there is a sweet side to the story. And thanks to Gen Z's love of colorful, sugary, whimsical drinks, today's morning beverage development is being inspired by the likes of Vietnamese and Thai coffee culture, Taiwanese boba drinks, and Japanese ingredients.
"When you look at younger consumers and the sweeter flavor profiles associated with Asian drinks, particularly specialty coffee beverages, it has made that leap to the breakfast menu so much easier," says Kostyo. He points to Café Cà Phê, a Vietnamese coffeeshop in Kansas City, Mo., as an example. Its Dirty Thai-ger is a cold, colorful coffee drink with Vietnamese espresso, traditional Thai iced tea and a condensed milk drizzle. Another colorful drink is the café's purple Hella Good Latte, which jumps on the ube craze, featuring Vietnamese espresso, ube syrup, oat "milk," condensed milk drizzle and ice.
Sweet informs modern Asian breakfast entrées as well. Back at Tanuki, fluffy Japanese pancakes are prebaked in molds, and on pickup their tops are cut off and the pancakes are pan-seared in clarified butter before being sprinkled with powdered sugar. The plate is finished with a shiso-strawberry compote and yuzu curd, along with a side of dark maple syrup. "They're a little jiggly and a little fluffy. Super delicious," says Acoba, who credits his chef de cuisine Gustavo Montes for the recipe. "That's their beauty—they're pancakes, so our guests recognize them, but they're unique and memorable."