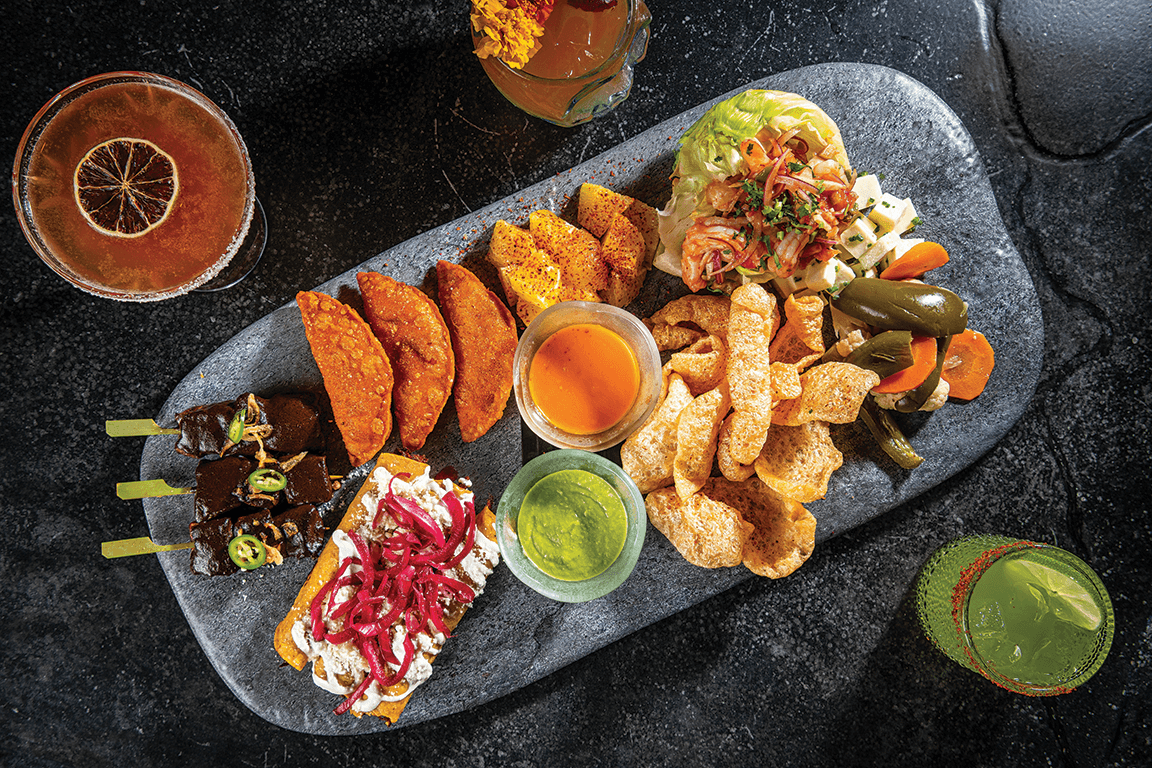 By Katie Ayoub
February 27, 2023
In spring 2021, Rodolfo Cuadros, chef/owner of Amaru in Chicago, decided to cease weekend brunch service and, instead, focus on building earlier evening dining. The pan-Latin eatery launched a weekday happy hour from 5 to 6 p.m. and a Sunday happy hour from 4 to 5 p.m. He reports a 30 percent spike in business. In an effort to reach work-from-home residents when it opened its new location in Washington, D.C.'s urban 14th Street neighborhood, Mexican restaurant Mi Vida extended its hours from 11:30 a.m. to 6 p.m. And after gauging how dining-out culture has shifted significantly post-pandemic, the team behind Pompette, which opened last October in a residential neighborhood in Chicago, positioned the restaurant as a laid-back, all-day café and neighborhood gathering spot that serves brunch from 10 a.m. to 4 p.m. and dinner from 4 to 9 p.m. "People use the space in ways that suit their needs while feeling very comfortable and relaxed. It opens up another living space for guests. The afternoon is a popular time of day to meet up with friends or colleagues. One person may order an oat 'milk' latte and the other has a glass of wine," says Ashlee Aubin, Pompette partner and general manager.
These strategies at Amaru, Mi Vida and Pompette are working because they key into the fact that many of today's consumers are following unconventional schedules and are looking for a variety of options on any given day—outside of standard daypart hours. There's an overarching trend taking shape in foodservice that sees dining habits fundamentally shapeshifting. Offering differentiated, compelling, snackable menus in relaxed, inviting spaces is a major opportunity. "It's important for restaurant brands to ask themselves, 'What problems are we solving for our post-pandemic patrons?'" says Maeve Webster, president of Menu Matters. "Adding afternoon service solves for both the operator and the consumer. Restaurants don't have to open all the way up, and they don't have to offer the whole menu. But there's a swath of consumers looking for sit-down food in the afternoons, including people who are only going into work for half a day and need a meal solution, or work-from-home folks who want to get out in the late afternoons." This is an ideal time for brands to institute change, Webster points out. "Consumers are in a state of flux. Their behavior patterns are all blown apart, and they're open to new ideas. Now's the time to start rethinking what to do with those afternoon hours."
THIRD PLACES
As Pompette's Aubin observes, there's a deep-seated desire by people for "third places," a term coined by sociologist Ray Oldenburg in 1989, which refers to social environments that are a welcome escape from home and work. Collectively, we lost these spaces during the pandemic, so it makes sense that our yearning for them has helped stoke the fire fueling this trend.
Of course, the rise in working from home or other non-office locations, including cafés and restaurants, is itself a huge driver, as consumers seek snacks, meals and drinks across the entire workday. Apart from wanting a change of scenery and having more time (thanks, in large part, to trading the commute for Teams calls), the pull to socialize and enjoy hospitality with friends or colleagues is strong. "Sometimes they bring their laptops. Sometimes they just want a glass of wine and a slice of quiche. They really just want an experience outside of the home," says Aubin.
HAPPY HOUR
Operational malleability is a key factor in attracting guests. Their needs can range from free wi-fi for those late afternoon work meetings to fabulous early happy-hour specials and shareables for impromptu gatherings of friends.
"The typical nine-to-five workday was flipped on its head after March 2020," says John Franke, president of Franke Culinary Consulting. "A shift in dayparts has seen a rise in guests coming in to dine earlier. This gives brands an opportunity to seek more inventive ways to repackage what is on their menus or create dishes with a lower price point using ingredients that are in house." Franke points out that this approach yields a win for both the operator and the guest. "The guests feel as though they are getting value in what they are eating, and the operator is able to sell items that were low-use SKUs and/or be creative in portioning and pricing."
Trend-forward offerings that keep flavor in the crosshairs are at the heart of successful modern happy hours. Birdie G's in Los Angeles, a concept where Eastern European and Californian cuisines meet, added the Early Birdie's Happy Hour to its line-up last July, running special prices on drinks and snacks every day from 5 to 6 p.m. Menu items include Whipped Avocado with fried matzo (a Jewish rendition of guacamole and chips), Pickle Chicken Wings with dill pickle hot sauce, Olives with wild fennel and chile, Reuben Fries and Lavender Almonds.
Puro Gusto in Washington, D.C., leverages happy hour to express its Italian sensibility, theming it as the Bottomless Aperitivo Happy Hour, running Monday through Wednesday, 4 to 6 p.m. For $17.95, guests enjoy as much draft beer (Peroni, Dogfish Head IPA) or draft cocktails (Aperol spritz, seasonal strawberry spritz, classic Negroni) and snacks as they like.
Happy hour used to be primarily relegated to the after-work crowds in city centers or other hubs of concentrated workforces. Everything has changed, which ensures one foodservice constant: ingenuity.