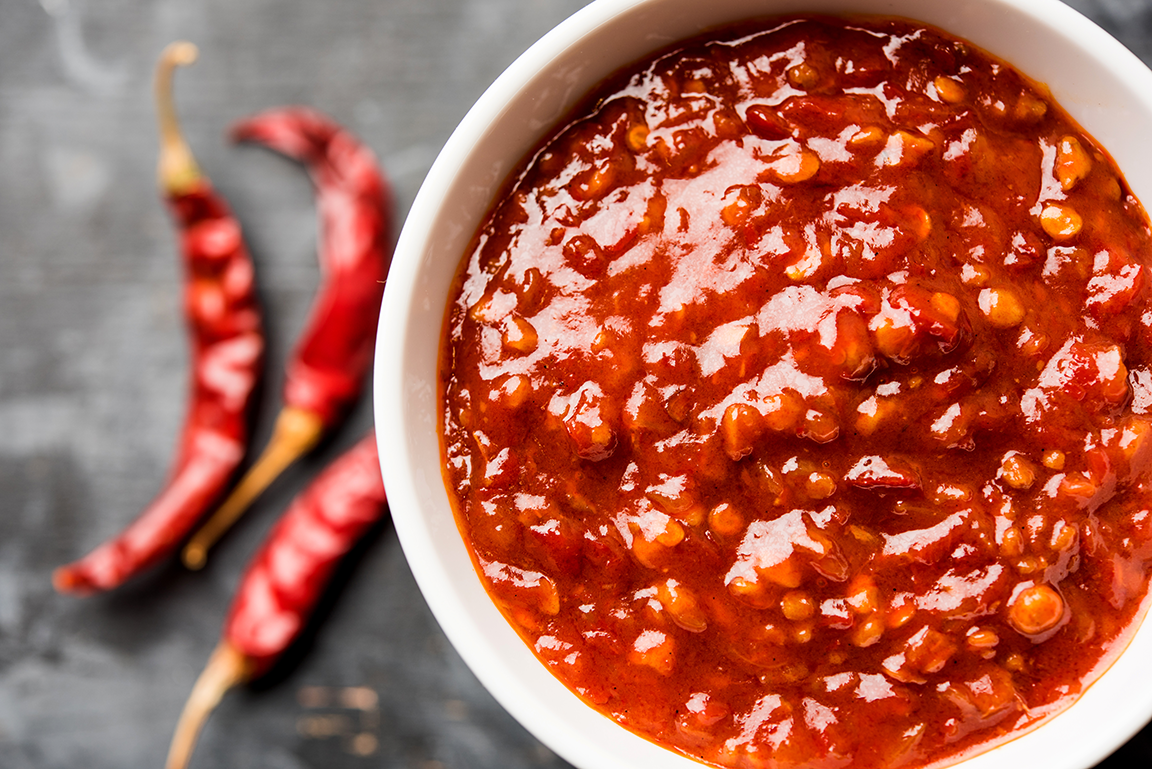 By Mike Kostyo
February 27, 2023
Is there a better indicator that American consumers' love of heat has blown past the Scoville scale than California Tortilla's Wall of Flame? While most operators are content with a few bottles of hot sauce on the table, Maryland-based California Tortilla offers a whopping 75 varieties at any given time. The eye-catching display is a visual reminder to guests that the brand isn't afraid of heat, while also giving customers a key customization opportunity. In addition, they can purchase any bottle they fall in love with.
Consumers now say they are increasing their hot sauce consumption faster than any other condiment variety, according to Datassential. A flavor-packed condiment can be the "secret sauce" when creating a craveworthy new menu item. The data research firm shares that 81 percent of operators agree that offering the right sauce or condiment is essential in creating craveable dishes consumers love.
Extending Menu Reach
Ari Bokovza is one of those operators. Executive chef and partner of Dagon, a modern Israeli restaurant in New York, his housemade harissa is derived from a family recipe and both celebrated and cross-utilized in a broad array of dishes across the Dagon menu. It flavors the dry-aged beef kebabs, amps up the vegetable tagine, morphs into ketchup for the burger, and is toned down into an aïoli for the grilled chicken sandwich. As a signature condiment, customers request to purchase jars of it.
While flavors like harissa, hot honey, Nashville hot and mango-habanero continue to trend on menus, many forward-leaning chefs are experimenting with fermenting their own sauces or using house-pickled peppers for greater control and even more complex flavor profiles.
Portland's Pollo Bravo house-ferments its hot sauce, which is not only one of the dipping sauce options served with chef and co-owner Josh Scofield's signature Spanish-style rotisserie chicken, but it also gets turned into a paste with onions, carrots and spices for the chicken's overnight rub. As an added flavor hit, the chicken is brined in fermented padrón peppers.
Giardiniera Makes Moves
Speaking of pickled peppers, Chicago's favorite spicy Italian condiment—giardiniera—is showing up on menus across the country, in part, thanks to growing awareness of Italian beef sandwiches, helped by the nationwide expansion of the Portillo's restaurant chain and the popularity of the TV show "The Bear."
Giardiniera finding its way outside of Chicago's city limits can also be credited to the broader trend that sees so many consumers eager to try more variations of heat-laced condiments. Giardiniera has a lot to offer, with its hot, tangy combination of pickled vegetables and chile pepper, along with bell pepper, carrot, onion and spices.
The team at Antico Posto, in the Chicago suburb of Oak Brook, makes giardiniera a signature part of its bread course. Its housemade version features peppers, olives, carrots and eggplant. In New York, fine-dining Italian restaurant Al Coro menus a frico topped with a vegetable giardiniera. And in Chicago, Aaron Cuschieri at The Dearborn uses it as a differentiating ingredient in his garnish for the Scotch Egg. He adds giardiniera into his version of piccalilli (a traditional English condiment featuring mustard and pickles).
Heat-spiked condiments have always worked hard for chefs. Today, they're using them in unexpected ways, in unexpected places, leveraging their built-in craveability to give diners new, come-back-for-more experiences.