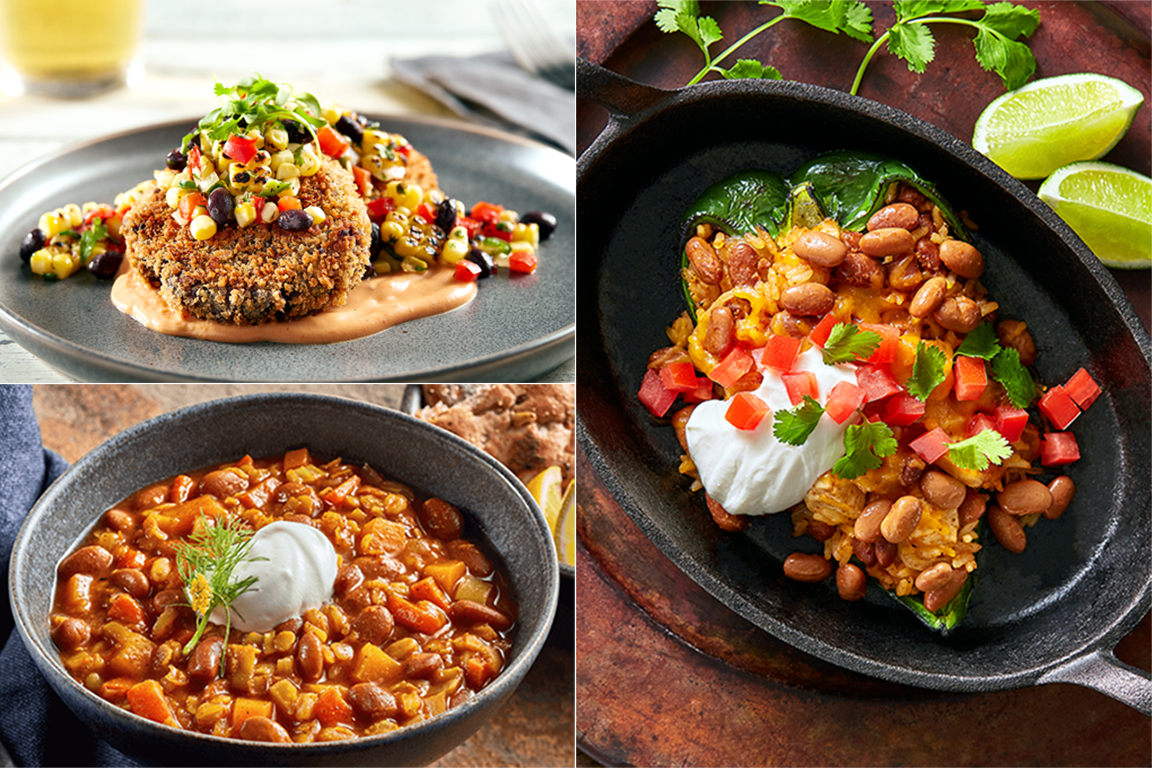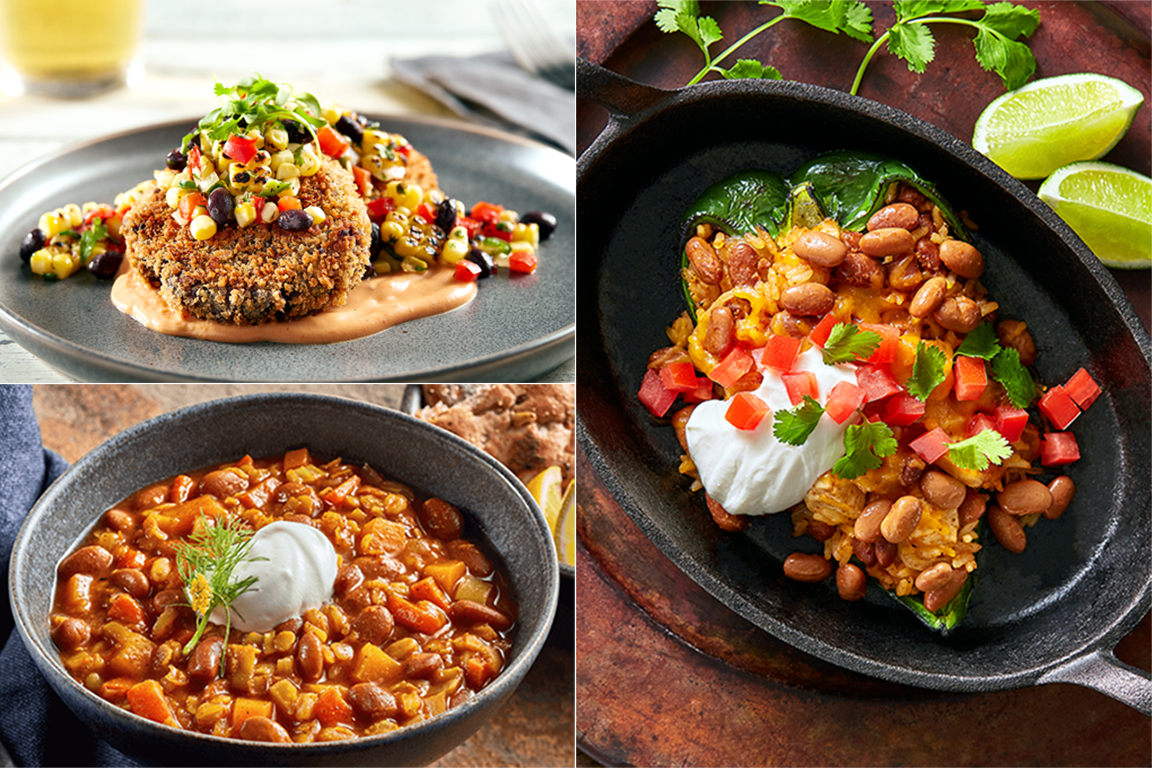 Extremely versatile from a culinary perspective, beans are the perfect carrier to introduce diners to new flavors and global cuisines. Here, three chefs demonstrate the potential with flavor-forward recipes that put beans front and center.
Heat Index
"Adding heat is a must on today's menus," says David Cox, VP of Food & Beverage and Corporate Executive Chef for Norms Restaurants. "The younger demographics definitely skew toward spicy items, but even older folks crave heat or chiles and menu items with bold flavor profiles." Cox makes good on meeting this customer need state with his recipe for Spicy Black Bean Cakes featuring Bush's Best® Sidekicks™ Taco Fiesta™ Black Beans.
For this recipe, Cox dials up the heat and flavor by adding serrano chiles in the bean cakes, plus chipotles for an accompanying sauce. "I like using a variety of chiles—fresh, dried and smoked—to layer flavors," he says. "The serrano provides consistent heat and a sharp, grassy bite that contrasts well with the smoky, earthy chipotle chile used in the sauce."
The dish also features a roasted corn salsa, and together with the pan-fried bean cakes and chipotle sauce, customers can expect "the holy trinity of Latin cuisine: beans, corn and chiles," says Cox. The build is a sophisticated balance of flavors and textures. "There's the crispy outside texture and deep umami flavor of the black bean cakes, with the spicy, naturally sweet corn salsa, balanced with lime, plus the smoky heat and richness of the chipotle sauce. They all come together to make it a complete dish."
Mash-ups With Versatility
Since the age of exploration, the classic dishes of one cuisine have been adapted by cooks half a world away. These Southwest Stuffed Chicken Poblano Peppers created by Dawn McClung, Research and Development Chef, Piada Italian Street Food, for example, fuse the fundamentals of an Italian favorite with flavors found 6,000 miles away. "I used the basic principles of Italian stuffed peppers—peppers, rice and cheese—but transformed them with Mexican flavors: the poblano pepper, lime, cilantro, cumin and beans," she says.
The dish features Bush's Best® Easy Entrees™ Texas Ranchero® Pinto Beans, a flavor-packed product that reduced the need to add a grocery list of extra seasonings. "It was very easy to marry flavors together," says McClung, pointing to the labor-saving benefits. "It reduced the number and amount of ingredients needed to make such a flavorful dish. Less measuring equals less time!" She got the job done with minimal amounts of thinly sliced white onion, garlic powder, cumin and salt.
McClung's recipe includes tweaks to easily convert the dish into a soup. "It's critical that all dishes I create can be used in multiple ways or that the ingredients can be used in many different dishes," she says. "This keeps inventory lower and product fresher."
Global Gateway
Daniel Camp, Senior Director of Menu & Beverage Innovation for On the Border Mexican Grill & Cantina, is a big fan of the flavors and spices of North Africa. "I knew I wanted to play in that area, since beans are a staple in so many dishes from the region," he says. The North African Bean Stew with Farro and Lentils, featuring Bush's Best Chili Beans, is a winning example of the opportunities for menu development found in this part of the world. "I believe African cuisine in general is still in its nascent phase, and we will see more and more of the great food and ingredients from the continent being highlighted in the next few years."
The stew is a hearty mix of vegetables (onions, leeks, fennel, carrots), tomato paste, garlic and a veritable pantry of spices (cumin, coriander, cardamom, turmeric, cinnamon, sea salt, black pepper, cayenne pepper and smoked paprika). It also includes vegetable stock, farro, squash and lentils. Finally, Camp's recipe subs chili beans for the more traditional garbanzo beans. The dish is served with a dollop of yogurt, a drizzle of olive oil and sprinklings of chopped cilantro and fennel fronds.
"The texture of Bush's chili beans is very similar to cooked garbanzo beans, so I was confident that they would be a good replacement," says Camp. "Plus, the flavor profile of the product is fairly mild, but includes many of the same spices that are already in the stew, so I knew they would pair well."