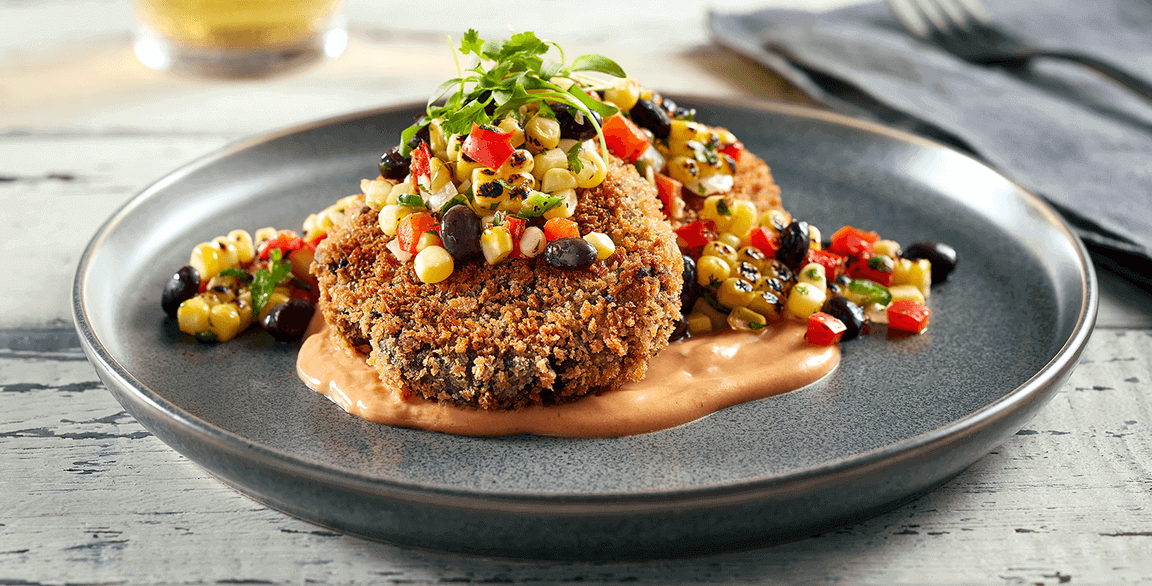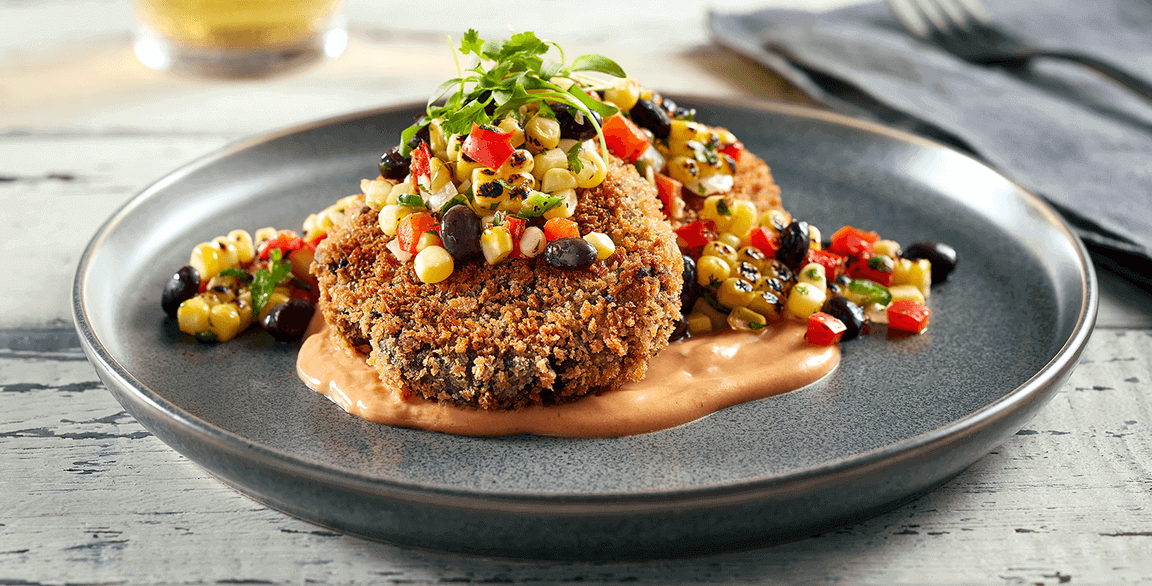 Spicy Black Bean Cakes
Recipe courtesy of David Cox
Sponsor: Bush's Best
Servings: 12 (2-3 cakes per serving)
Ingredients
Roasted Corn Salsa (12 servings):
3 ears fresh corn, shucked
¾ c diced roasted red bell pepper
1/3 c chopped fresh cilantro
3 Tbsp finely chopped serrano chiles
3 Tbsp yellow onion, ½-inch dice
3 Tbsp fresh lemon juice
1 Tbsp kosher salt
¾ tsp ground black pepper
1 ½ Tbsp extra-virgin olive oil
Chipotle Sauce (12 servings):
2 c mayonnaise
6 Tbsp chopped chipotles in adobo sauce
3 fl oz fresh lime juice
1 ½ tsp kosher salt
Spicy Black Bean Cakes (makes 30):
1 (#10) can Bush's Best® Sidekicks™ Taco Fiesta™ Black Beans or regular black beans, drained
¾ c ¼-inch dice yellow onion
2 Tbsp minced garlic
¼ c finely chopped serrano chiles
3 Tbsp ground cumin
3 Tbsp ground coriander
1 ½ c chopped fresh cilantro
1 ½ tsp black pepper
1 ½ tsp kosher salt
3 large eggs, whisked
1 ¾ c panko breadcrumbs
Extra-virgin olive oil for frying, as needed
Panko breadcrumbs for dredging, as needed
DIRECTIONS
Roasted Corn Salsa:
Grill corn on all sides, cover, let steam and cool.
Cut corn off cobs. Mix all ingredients, adding half the serrano to start. Taste and add remaining if more heat is desired.
Chipotle Sauce:
Combine the ingredients in a blender and blend to a smooth consistency.
Refrigerate for service.
Spicy Black Bean Cakes:
Mash black beans in a large mixing bowl with a potato masher until they form a paste.
Add the onion, garlic, chile, cumin, coriander, cilantro, pepper, salt, eggs, panko and mix well.
Use a #16 scoop to portion 2-oz balls. Form cakes approximately 3 inches in diameter. Cover and refrigerate until service or use immediately.
Dredge cakes lightly in panko breadcrumbs.
Heat a sauté pan with a ¼ inch of oil. Pan fry the cakes in batches over medium-low heat. Cook on both sides to form a nice crust and cook through.
Remove from pan and plate two or three cakes. Garnish with corn salsa and a dollop of chipotle sauce.
Project Management: Summit F&B
Photography: Carlos Garcia // Food Styling: Peg Blackley & Bree Williams