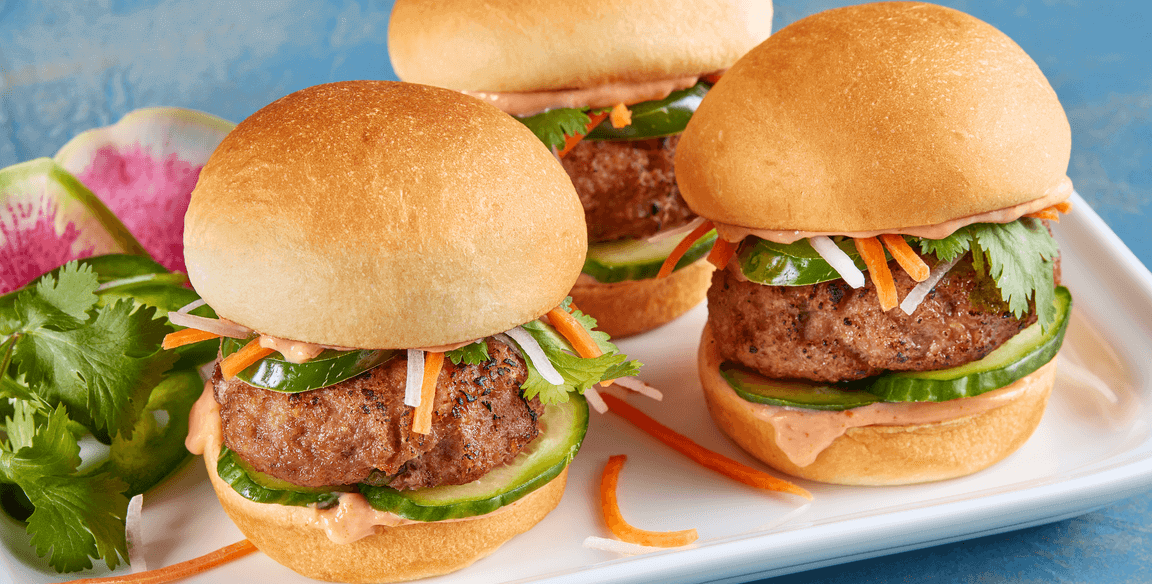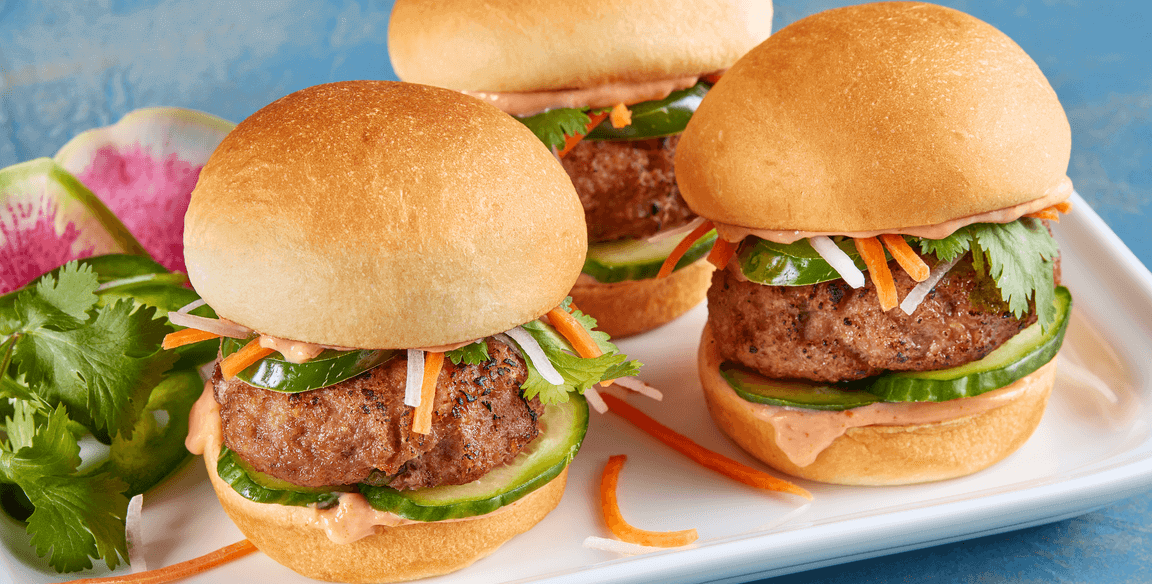 Ground Pork Banh Mi Sliders
Recipe courtesy of David Cox
Sponsor: King's Hawaiian
Servings: 20
Ingredients
Banh Mi Patties: (yield 60)
7 ½ lbs pork butt
1 ½ c basil chiffonade
¼ c chopped garlic
1 c thinly sliced green onion
¼ c fish sauce
5 Tbsp Sriracha sauce
1 ½ Tbsp kosher salt
5 Tbsp sugar
3 Tbsp cornstarch
1 ½ Tbsp ground black pepper
Sriracha Mayonnaise: (Yield 37 fl oz)
1 qt mayonnaise
½ c Sriracha sauce
2 Tbsp fresh lime juice
Pickled Veggies: (Yield 2 pounds)
1 lb daikon, peeled and julienned
1 lb carrots, peeled and julienned
½ c sugar
2 Tbsp kosher salt
½ c seasoned rice wine vinegar
Banh Mi Sliders: (per serving)
3 Banh Mi Patties
3 King's Hawaiian® Original Hawaiian Sweet Slider Buns
3 Tbsp Sriracha Mayonnaise
3 slices English cucumber, ¼ inch thick
3 slices fresh jalapeño, thinly sliced rings
1 oz Pickled Veggies
3 sprigs fresh cilantro
DIRECTIONS
For the Banh Mi Patties:
Chill the grinder attachment. Cut pork into cubes and place in the freezer to get a hard chill. Grind twice through a 3/8-inch plate.
Add all other ingredients to the pork and mix well until evenly incorporated.
Make 2-ounce patties and refrigerate for service.
For the Sriracha Mayonnaise:
Combine the ingredients in a bowl and whisk together until fully incorporated.
Place in squeeze bottles and refrigerate for service.
For the Pickled Veggies:
Put carrots and daikon in a bowl and sprinkle with the salt and sugar.
Add the vinegar and mix until salt and sugar are totally dissolved.
Let sit 1 hour, mixing every 20 minutes. Keep refrigerated until service.
For each order:
Grill the Banh Mi Patties until cooked through, about 1 ½ minutes on each side.
Toast slider buns on grill cut-side down.
Squeeze about ½ Tbsp Sriracha mayonnaise on both top and bottom buns (1 Tbsp per bun).
Place a cucumber slice on each bottom bun and top with a pork patty, jalapeño slice, some pickled veggies, and a cilantro sprig.
Place on top buns and arrange sliders on a plate (a sandwich pick is useful to hold together).
Garnish with more pickled veggies, jalapeño and cilantro.
Project Management: Summit F&B
Photography: Carlos Garcia // Food Styling: Peg Blackley & Bree Williams