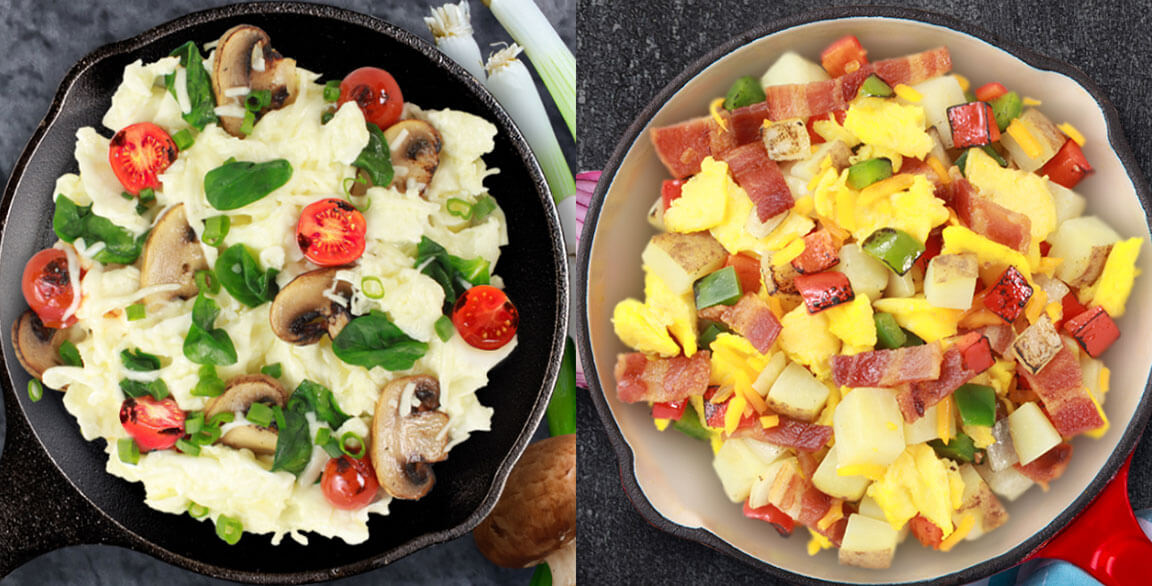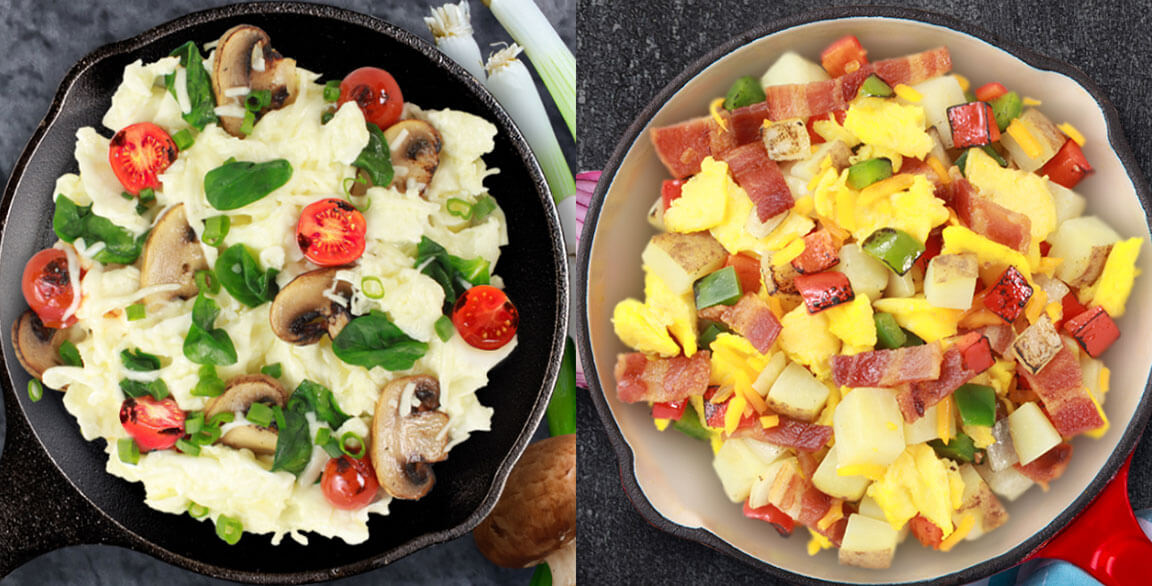 By Flavor & The Menu
December 8, 2021
Optimizing breakfast menus can allow more room for menu creativity. Chef Mike Leccese, VP of innovation for Haliburton International Foods, Inc., knows this well, proposing Haliburton's new line of Breakfast Scrambles to step in. A Southern California-based specialty foods processor that specializes in creating customized, hand-crafted quality SKUs for multiple menu items, Haliburton also works alongside operators looking to develop unique and on-trend custom flavors. Here, Leccese describes the company's Breakfast Scrambles, and the solutions they bring to operators and consumers.
Describe Haliburton's new Breakfast Scrambles.
Our new line of single-serve Breakfast Scrambles comes in four varieties of fully ready-to-use blends that include variations of whole or white egg curds, proteins, veggies, potatoes, real cheese and seasoning profiles to help add a hit of umami:
Classic American Scramble: Whole egg curds, bacon, potatoes, cheddar cheese, roasted red and green bell peppers, and red onions
Meat Lover's Ultimate Scramble: Whole egg curds, bacon, sausage, ham, potatoes, cheddar cheese, roasted red and green bell peppers, and red onions
Ranchero Breakfast Scramble: Whole egg curds, chicken chorizo, pepper Jack cheese, roasted poblanos and onions, black beans, Adobo seasoning and salsa roja
Egg White Veggie Scramble: Egg white curds, spinach, roasted mushrooms, cherry tomatoes, green onions and Swiss cheese.
What was the objective driving the development of these new Breakfast Scrambles?
The Breakfast Scrambles are targeted for quick-serve and fast-casual operators, convenience store, retail and home delivery. Our objective was to offer the consumer a better tasting breakfast option with premium ingredients and recognition of homestyle cooking, with real eggs, real cheese, real proteins and fresh vegetables. For operators, Breakfast Scrambles can help with ease of operations, labor and back-of-house efficiencies. They can also use them as a base and cross-utilize existing items to expand upon the builds to offer more options.
Discuss the opportunities for operators with Breakfast Scrambles.
Because the blends are RTU and only need to be microwaved, they can help operators with limited back-of-house skill and equipment. For those that do have the ability to prepare foods with a full kitchen, these blends can help reduce labor, maximize consistency, improve food safety, and offset the need for on-hand ingredients and ordering.
How might Haliburton help operators create signature Breakfast Scrambles?
We specialize in custom work, and our culinary team is eager to help operators create the best-tasting breakfast options that fit their menus, utilizing the best possible ingredients available while taking into account the trends driving menu innovation today.
Visit Haliburton International Foods for more.