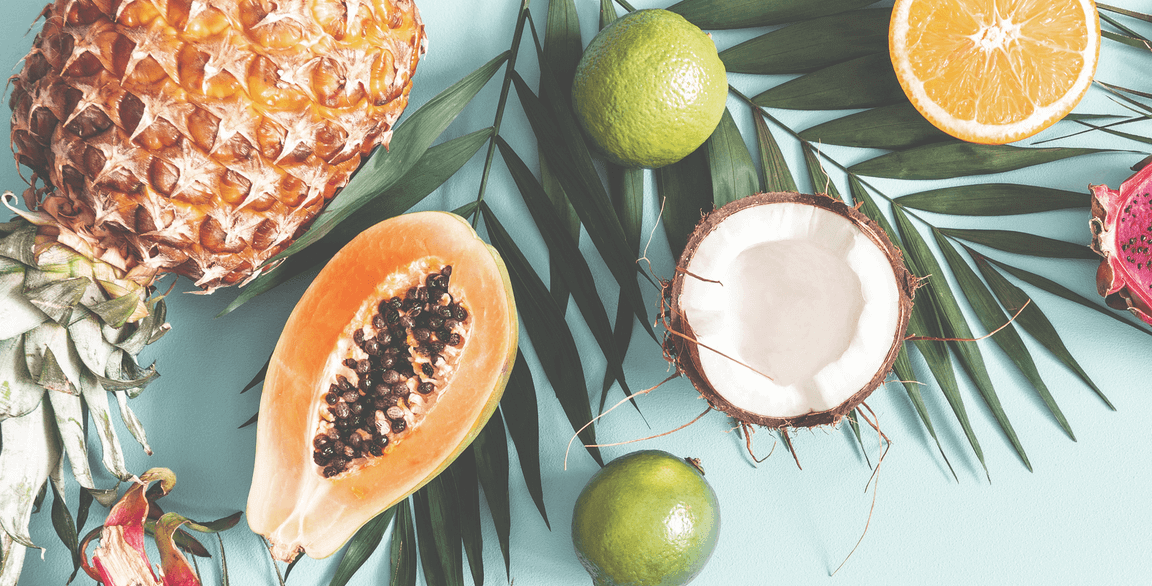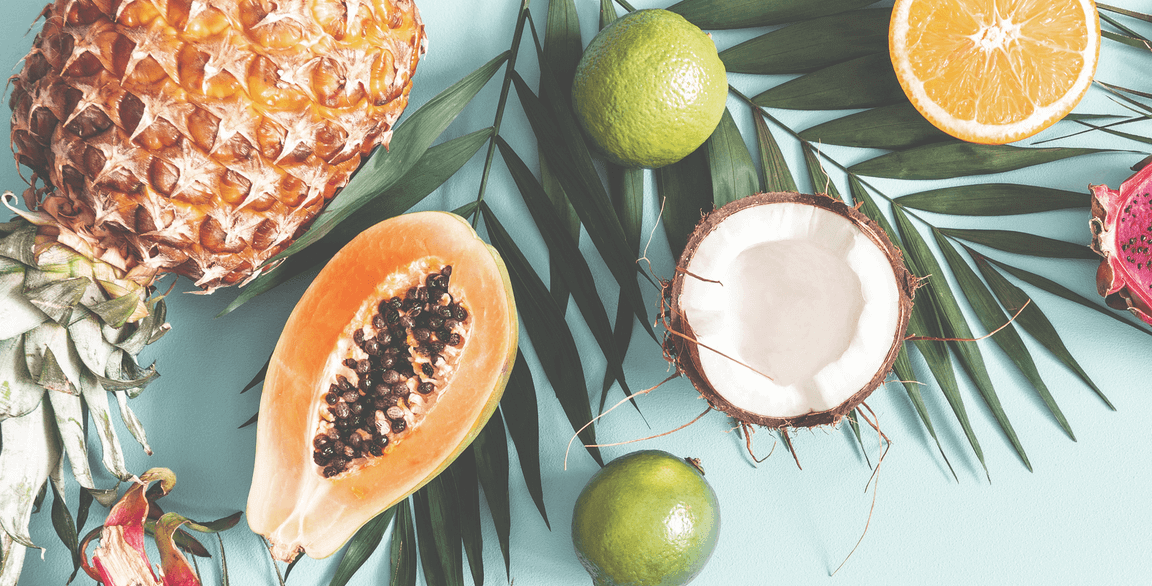 If the nation could come together to choose a tagline for the last two years, it would probably be, "Wanna get away?" Escapism, that desire to seek distraction from reality, is now a national pastime. With mood-boosting colors, vibrant ingredients and an island-escape sensibility, tropical flavors are answering the call, ready to entertain, uplift and energize. And while the nation continues to embrace comfort food, tropical flavors and ingredients—served up with a modern touch—answer another fundamental need right now: joy.
For example, look to the menu at Omar's Kitchen and Rum Bar in New York, a lively venue offering modern Caribbean food and drink. Omar Walters, chef/owner, describes its ambiance as conveying a fun carnival vibe. The menu's Chicken and Waffles promises a tropical getaway while serving up a flavor-forward experience. The chicken boasts a Red Stripe beer batter and diners can choose from either Bailey's Rum Raisin Waffles or Guinness Stout-Spiced Buns. Peppered Tiger Prawns swim in a Scotch bonnet pepper broth, providing a snapshot of a "new" chile pepper with potential for broader menu play.
"The fun, bright and refreshing notes of tropical flavors present an opportunity to breathe a 'feel-good vibe' into menu development," says Rob Corliss, chef and founder of ATE culinary consultancy. "Tropicals can add allure to both vegan and vegetarian dishes. Desserts with a tropical flair engage the palate with new levels of sophistication. Tropical flavor descriptors on menus make cocktails and non-alcoholic drinks come alive with excitement. Furthermore, consumers are drawn to ingredients with a perceived health halo, and in this category, tropical delivers big."
Certainly, tropical flavors aren't new to the American diner. Darden's Bahama Breeze found success here in the '90s. "What we learned through consumer insights is that people were looking for 'fresh' and 'fun' and 'flavorful,' and a tropical escape delivers on all of those. We could bring elements of that tropical escape into familiar dishes," says Pam Smith, nutritionist and culinary consultant, who co-created the Bahama Breeze menu. "It's no surprise, given what we've come through today, that diners need fresh, fun and flavorful. But we have to take it up to a whole new level to meet today's expectations."
For menu developers, modern tropical flavor play beckons, from young coconut chutney, pineapple-habanero glaze, cilantro chimichurri and passionfruit barbecue sauce to a spiced rum-guava glaze, jerk brine and caramel-rum syrup. These flavors are easily accessible and workable, playing well with savory, spicy and sweet profiles. But underpinning the opportunity, giving this trend buoyancy and momentum, is tropical's inherent happiness factor.
"It's all about creating an experience these days," says Kathy Casey, chef and owner of Kathy Casey Food Studios-Liquid Kitchen. "The current challenge for operators for the 'Now Times' is to get a guest in the door and keep them coming back for more. A tropical drink or food item that is island inspired can speak happiness from across the room. Once that blue drink goes by with the tropical flower and a back scratcher souvenir, everyone in the room will want one with their Flaming Pineapple-Jalapeño Wings." Casey is quick to point out an important element in adopting a successful flavor approach. "Look to the past at what was popular on retro menus, then take it over the top with innovative flavors and presentations," she says. "Make it fun with garnishes and provide inspired menu items that will make your guests want to Instagram it."
Yellowbelly in St. Louis describes itself as a contemporary gastropub with a tropical vibe, dishing out island-inspired seafood and craft cocktails. Its menu showcases the deft touch that finds the balance between modern and traditional. It features a Rum-Battered Cod with Creole tartar sauce and cabbage slaw. "We wanted the cod sandwich to punch with flavor, so we developed a batter with Creole spices and a decent amount of rum and a rum-based liqueur," says Tim Wiggins, co-owner and beverage director. "When it cooks off, the batter gets extra crispy and retains a sweet, spicy flavor."
---
Fruit Forward vs. Fruity
Wiggins describes the modern approach to tropical flavors as one that bends toward light and fresh. "We're in the Midwest, where you don't see a lot of equatorial warm-weather food. When it's done well, there's a balance of sweet and sour, with lots of bright acidity and fun flavors. Using tropical fruits like papaya, guava and pineapple in interesting ways can make it more exciting. The trick is to use subtlety with the sweetness and not make everything taste like a smoothie." He pairs Lump Crab Fritters with a housemade passionfruit-honey mustard, made with passionfruit purée, Dijon mustard, honey and a touch of mayonnaise. "It's got a great tropical flavor—tart, tangy and unique," he says.
Coconut, pineapple, mango and lime are tropical mainstays, but operators are also adding guava, tamarind and passionfruit to bring vitality. Like the iconic Tiki torch, fire is the star element. Spices, such as cinnamon, garam masala and cardamom, along with aggressive cooking techniques, such as charring, grilling and caramelizing, bring in the welcome contrasts of flavor and texture. "The trend in tropical today is about adding elements that lift up the whole profile," says Smith. "You've got the sweet with the heat, the sweet with warm spices like cinnamon and allspice (which may not be fiery, but they bring incredible layers of flavor), and, most importantly, you have the flavor of fire. Fire is an essential part of the tropical experience; you get it with the jerk pits in Jamaica and the charring and grilling of all of these wonderful exotic fruits we're talking about. The spices are not just added to the pineapple or the mango or the tamarind—they're caramelized. And it's the caramelized aspect that happens with fire that really brings the 'tropical escape' to a new level."
At Noreetuh, a modern Hawaiian restaurant in New York, chef/owner Chung Chow wields the flavor of fire with elegance. His Brûléed Hawaiian Pineapple dessert is served with lime zest and alaea, Hawaiian red salt. The dessert could not be simpler, but the depths of flavor hint at much more complexity. Chow decided the unique minerals of red salt would pair well with the tangy, sweet and lime flavors of the pineapple finish. He adds that he went with brûlée to give the pineapple "a textural component when eaten immediately." Speaking to elevating simple, beautiful ingredients, he concludes, "We wanted to showcase how amazing a pineapple can be, so we minimized how we treat it, basically dressing it up with a little sugar, some lime and salt."
Tamarind's sweet-tart flavor and beautiful color make it well suited for a number of applications, including glazing meats and produce. The Longboard, a Caribbean-meets-South Carolina coastal restaurant in Sullivan's Island, S.C., menus a comforting Heritage Pork Belly with a pineapple and tamarind glaze, served with poblano, grilled pineapple and ajo blanco.
Mash-ups between Caribbean and other parts of the world are intriguing, for sure, but the very nature of Caribbean cuisine makes it inherently dynamic, pulling from a mash-up of influences from India and Africa. Bridgetown Roti, a Caribbean food pop-up in Los Angeles, is being touted as a cultural phenomenon, signaling a growing excitement about the rich cultural narrative told through its menu. The opportunity in exploring tropical flavors and foods stretches beyond what is familiar, opening up the global adventure side of the equation. Bridgetown's menu offers a few great examples. Its hand-rolled roti sandwiches celebrates the roti stands that dot the landscape in Trinidad and Barbados. Chef/owner Rashida Holmes makes the roti in house, baking until crisp and flaky. The Channa and Sweet Potato Roti, a vegan offering, is filled with coconut-chickpea curry, fried cauliflower, spiced turmeric slaw, cilantro and scallions. Her menu also features a tropical version of a cucumber salad with a jerk vinaigrette, benne seeds, lime juice and cilantro.
---
Tropical Tipples
The best storytelling can cast off everyday cares and whisk customers away from home. Visual appeal feeds the senses, and the colors and flavors of today's tropical drinks are vital to evocative storytelling. "Creating beverages with an 'island-escape vibe' has been a growing trend for several years now," says Tony Pereyra, bar and beverage specialist with The Spirits in Motion consultancy. "The classics will always stay classic, but some of the drinks are now carrying over to well-balanced, simple-step recipes that really focus on the 'Wow!' factor and stunning presentations."
Yellowbelly carves out a category on its cocktail menu called Big & Tropical, committing fully to the notion that its guests seek out the fun, colorful, vibrant flavors traditionally found in tropical drinks. The menu showcases high-quality craft frozen cocktails, a world away from standard-issue daiquiris. The Frozen Bird of Paradise features a 50 / 50 blend of two house frozen cocktails: the Frozen Piña Colada, with aged rum, sherry, coconut cream, pineapple and lime, and the Dumpster Fire, with Rum Fire, oat "milk," cacao, orgeat and lime. The Passionfruit Margarita melds blanco tequila, passionfruit, guava, hibiscus and lime, and the restaurant's namesake cocktail, the Yellowbelly, stars a blend of rums, a ginger-turmeric tea bloomed in coconut cream, cold-pressed ginger falernum, lime and pineapple. "The namesake drink should encapsulate how you want people to feel about the restaurant," says Wiggins. "This cocktail is spice driven; it's balanced with sweet and acid. The garnish is fun and the vibe is about a warm escape," an apt description for the deliverables of modern tropical.