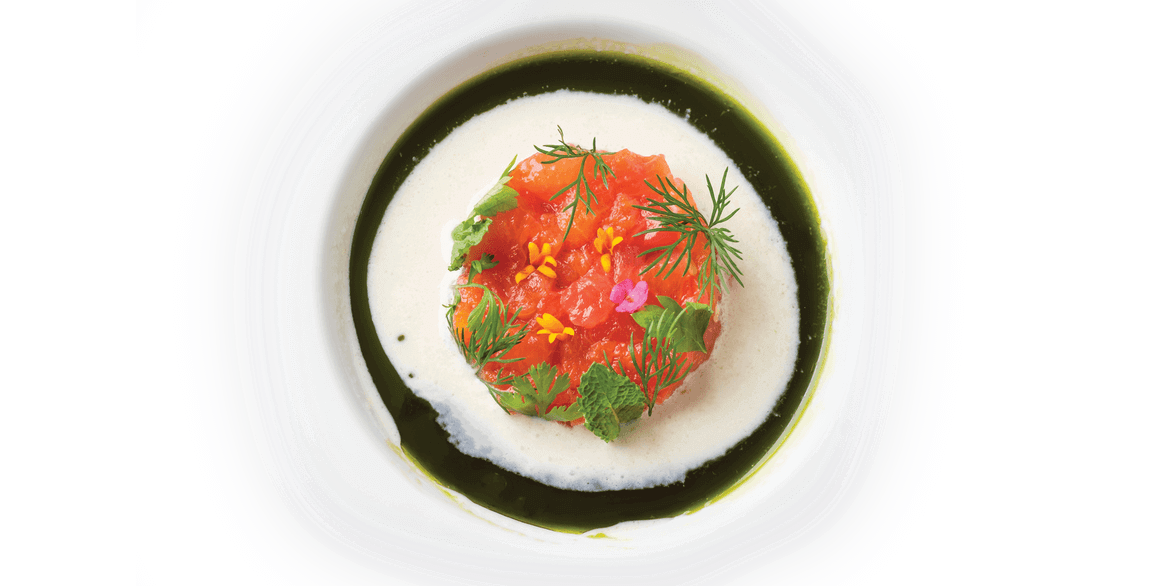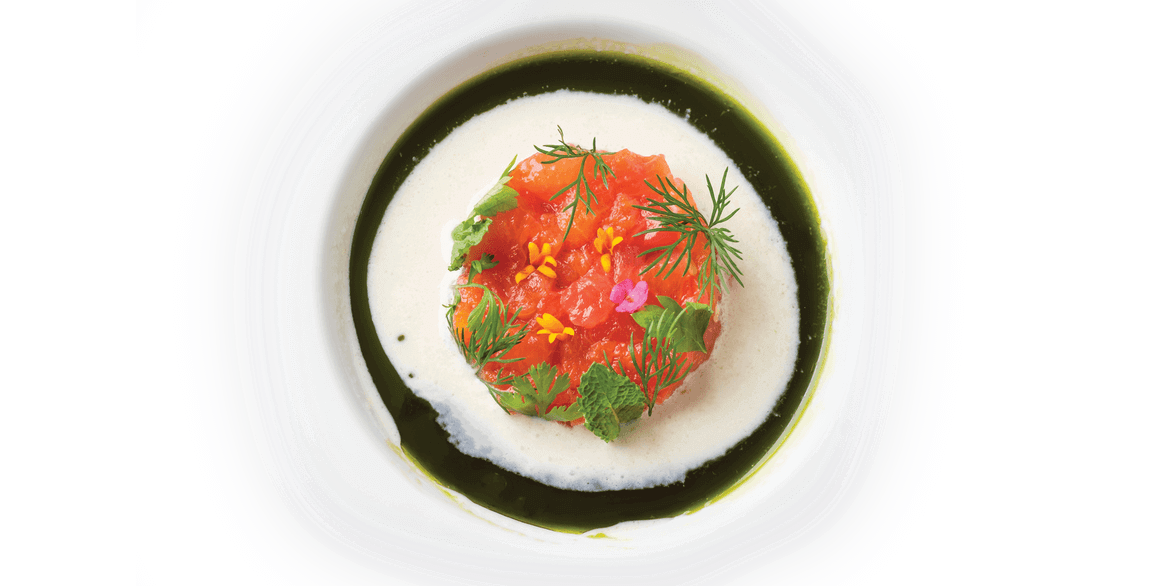 By Katie Ayoub
February 9, 2022
The next frontier in plant-based foods is the seafood category. With momentum driven by a consumer who has embraced plant-based meats and dairy alternatives, chefs are getting creative in how they bring plant-based seafood options to the table. Of course, playful dishes like watermelon "poke" were early players in this space, but mostly by borrowing the name and adapting the shape of the cubed fish dish rather than going all-in on replicating the flavor and texture of a poke experience. Today, chefs are employing inventive culinary techniques with fruits and vegetables or using innovative new products on the market that essentially replicate the flavor and texture of a particular fish or shellfish. Made with ingredients that include nutrient-rich elements like algae, pea and lentil proteins, chickpea flour, fungi and an array of produce varieties, plant-based seafood finds solid footing today as a positive "replacement" story.
Edgar Escalante is the executive chef of Dirty Habit, a modern American restaurant in Washington, D.C. In the realm of plant-based seafood innovation, his Watermelon Tartare is a game changer. To introduce the flavors of the sea, he injects kombu into the watermelon and then employs a clever technique that draws from his Mexican heritage: nixtamalization. "Although this is typically used in making corn tortilla dough, we noticed that with fruits like watermelon that have a high pectin content, this process creates another layer that helps break down the watermelon and adds the flavor of fish without destroying the fruit," he says. To drive home the connection to the ocean, he finishes the "tartare" with a kombu reduction and chlorophyll oil.
---
For operators who might not want to take on such nuance-building steps like nixtamalizing, but who still want to offer bona fide plant-based seafood items, the landscape is rich with available products, thanks to a growing group of innovative manufacturers. It's no exaggeration to say that the vegan seafood market is positively booming. In 2017, investments in this category were clocked at $4 million, according to the Good Food Institute, an organization that promotes plant-based products. In 2020, that number had jumped to a jaw-dropping $35 million-plus.
"So many manufacturers are getting into the game, and a tidal wave of capital is flooding the industry," says Mike Kostyo, trendologist with Datassential. "As we saw with plant-based meats, everyone is jockeying for pole position because they recognize that it's a growth area with consumer interest." Plant-based suppliers like Gardein, Good Catch, Quorn and New Wave Foods are rolling out ready-to-use alternatives, and even seafood suppliers are venturing into this space, expanding their portfolios with plant-based options.
To accurately substitute the texture and flavor of seafood is a tall order, however. "Seafood is, by nature, a world of different animals," says Kostyo. "If you're trying to mimic beef, you have just one animal protein to recreate. If you're recreating seafood, you're replicating cod and tilapia and tuna and shrimp." He also points to the variable of different preparations in seafood to contend with, including raw and cooked. "Manufacturers have to achieve these different textures, colors, flavors and palatability for chefs to be able to develop menu items around them and for consumers to embrace them." Still, with the current capital, innovation and momentum in the plant-based seafood category, the market seems to be rising to the occasion.
---
Who's the Target Consumer?
Vegan options once dotted menus as flags to help wave off the veto vote, giving a "something-for-everyone" advantage to restaurants that included these dishes. Now, the audience is broader, with more consumers claiming flexitarianism as their eating style and actively seeking out plant-centric foods as a regular course of behavior. With strong positioning in both wholesomeness and sustainability, craveable, well-executed plant-based seafood items should pique the interest of flexitarian diners.
"The demand for plant-based items has grown tremendously over the past 18 months, as consumers are looking for healthier and more sustainable menu options. Plant-based seafood is the next untapped segment," says consultant Mark Moeller. "By creating food that has the flavor of traditional fish, a restaurant can appeal to a broader market. Operators can continue to expand their guest base, generate more frequent visits and increase revenue."
Plant-based seafood's strong narrative around sustainability may be its biggest selling point among consumers. With growing concerns about the overfishing of certain seafood items and bycatch hazards on endangered species, a sound substitute that mitigates those issues is viewed as a huge positive. "The reasons consumers choose plant-based seafood are not necessarily the same reasons they choose plant-based meats," says Kostyo. "The primary driver here is a concern for the environment and sustainability. They do not choose it purely for health reasons because consumers already perceive seafood as healthy."
Ian Ramirez, director of culinary innovation and operations of Creative Dining Services in Zeeland, Mich., agrees. And although he recognizes that plant-based seafood is still an emerging trend, he believes it's important for operators to get out in front. "Consumers don't know they want it yet, but we're going to offer it to them, which will reflect well on our clients who contract us to provide foodservice to their guests," he says. "Plant-based seafood answers the call for healthy and sustainable fare." Ramirez sees big opportunity among younger diners in the college and university segment. "I think it's going to be huge with them. The marketing has to be in place—we really have to talk about the 'why.' The sustainability factor goes a long way with that demographic."
---
Flavor Counts
Intrigue around plant-based seafood is sure to spark curiosity among diners, but creativity in flavor innovation is what will move the needle—as always.
Blue Sushi Sake Grill, headquartered in Omaha, Neb., dedicates a large segment of its menu to vegan "maki" varieties. Highlights include the Green Goddess, featuring spicy, plant-based "tuna," cucumber, cilantro, shallot, black tobiko "caviar" and ponzu sauce. Tony Gentile, chief culinary officer, sources the "tuna" from Kuleana, a new player on the scene, which uses a combination of algae, koji and radish to replicate the color, texture and flavor of the fish. Another menu item is the Vegan South Pacific, starring barbecue eggplant "eel" tempura that Gentile brines and then roasts off, achieving the overall profile of eel. Vegan "cream cheese," pineapple, scallions and sweet soy sauce complete the build.
"Blue Sushi hits a large demographic, including flexitarians and vegans," he says. "We want to give them more than just a token offering. We want to extend the same level of culinary technique and finesse to the plant-based seafood menu that we do to the rest of the menu." In January, Blue Sushi celebrates "Veganuary" with three LTOs. In the Vegan Hot Night, Gentile highlights a new addition to the menu, a vegan "shrimp" sourced from New Wave Foods. In this application, he combines vegan shrimp tempura with plant-based "tuna," along with avocado, sesame seeds and Sriracha. "We partner with the Monterey Bay Aquarium for our seafood program so we look for vegan partners with the same vibe," he says. "This LTO promotion spotlights our commitment to flavor-forward vegan dishes."
Ramirez has been playing around with plant-based seafood for a while, and he reports that the quality has vastly improved in the last few years. "We can't wait to get it on our menus now," he says. Ramirez developed an alternative "crab cakes" dish, spotlighting a product from Good Catch Foods. Its "crab cake" product features pea protein isolate, soy protein concentrate, chickpea flour, faba protein, lentil protein, soy protein isolate and navy bean powder. Ramirez pan-fries the faux crab cake and then serves it with crispy Boursin bites, alongside an avocado, cucumber and sweet pepper salad tossed in a dill-caper chimichurri. "This dish could be applied anywhere from modern eateries and white-tablecloth restaurants to college catering, B&I catering and quick serve," he says.
Other innovative menu examples provide inspiration, demonstrating in-market success and growing familiarity. Copper Branch, a Montreal-based vegan concept with two locations in the U.S., featured a Poke Bowl LTO, made with Save Da Sea "smoked salmon," cucumber, radish, organic brown rice, avocado, edamame, carrot, cabbage, aïoli and General Tso's sauce. Organika, with locations in Southport and Ridgefield, Conn., offers a vegan take on bagel and lox with its carrot "lox," served with cashew "cream cheese," cucumbers, capers and chives on a sprouted bagel.
Plant-based seafood presents a sustaining menu opportunity expected to gain its sea legs over time. "This is a long-term trend," predicts Kostyo. "It's got a lot of room for growth."