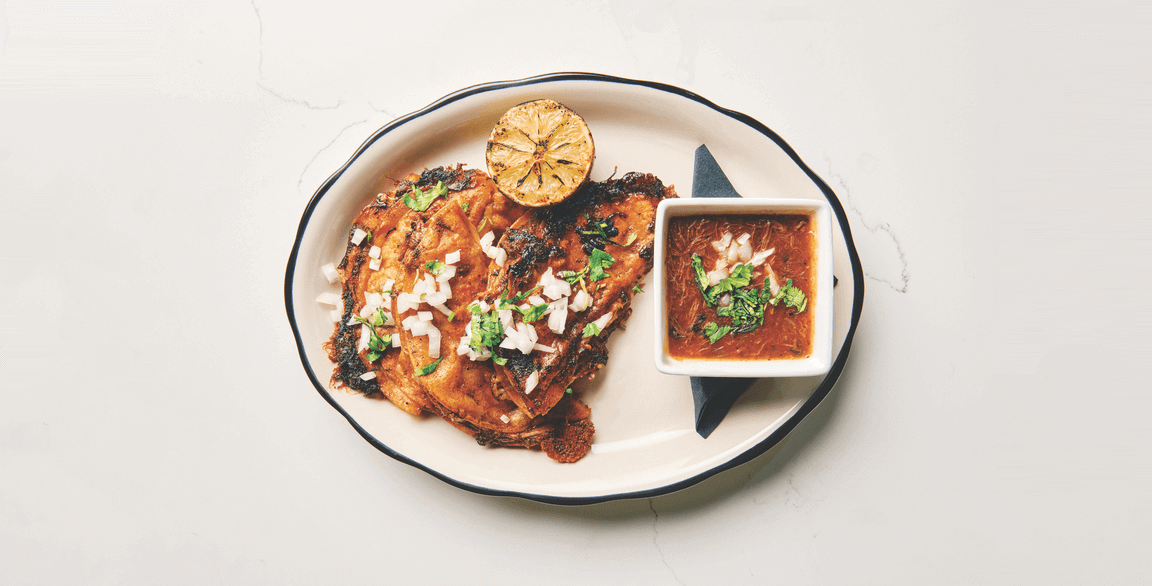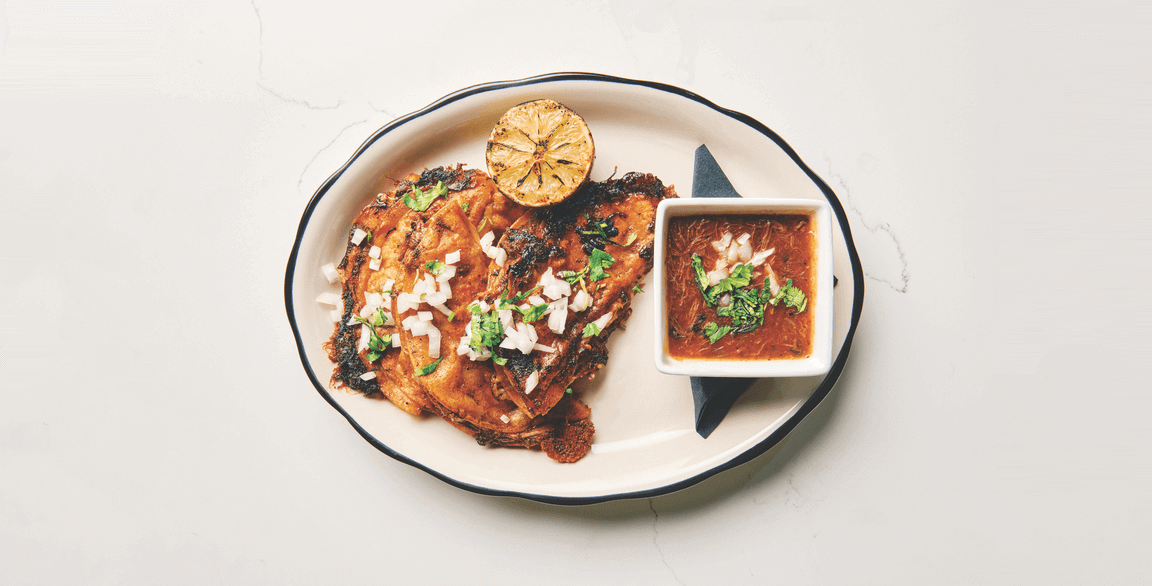 By Flavor & The Menu
February 14, 2022
Comfort food continues to call to American diners, yet they're looking to foodservice for more flavor, more fun, more revelation. And although comfort can be found in the arms of most global cuisines, Mexican fare offers the softest place to land for many consumers.
Of course, the world of Mexican cuisine is exquisitely complex, with chefs here digging into its many regions and flavor nuances, then adapting those discoveries onto their menus. This trend runs parallel, drawing from the same country's rich culinary heritage, but zeroing in on homey comfort and raising it to new heights with inventive twists and flavor-forward iterations. "Mexican food continues to be one of the most interesting cuisines in the United States," says Michael Parlapiano, strategy director with The Culinary Edge. "These approachable formats are just so well established now in the U.S. that they have become part of the American lexicon of food."
The volume of iconic dishes that fall under the umbrella of Mexican comfort is impressive, giving operators a broad playing field for innovation in all parts of the menu, from breakfast to dessert. Three stand out in particular, making inroads onto progressive menus and showcasing big opportunity for signature takes: the quesadilla, the taquito and birria.
---
Spotlight on Birria
Menu innovation around Mexican comfort food is on full display with the bellwether of this movement: birria, that long-simmered, richly flavored, chile-infused stew typically made with goat, although beef (birria de res) is the popular choice here. It just may lay claim as the hero of this trend.
Start with its meteoric rise in popularity. The speed at which birria has entered the vocabulary of the American consumer is nothing short of head-spinning. It has the all-powerful social media factor to thank for this feat, with its craveability easily conveyed through photos and reels.
Of course, there would be no social media chatter without birria's incredible craveability. The quesabirria, the go-to format that sees shredded meat and cheese stuffed inside a tortilla that is griddled to deliver a textural experience that is at once crispy and chewy. Served with a side of consommé for dipping, the resulting build embodies so much of what consumers love about Mexican cuisine: meat, heat, cheese, sauce and tortillas. Birria delivers its fans the familiar comfort of these elemental components and flavor profiles in an exciting new-to-them format.
Classic examples abound, the rising number of menu mentions serving as another signal of the breadth of opportunity just waiting to be tapped. At Mas Amor Cantina in Hickory, N.C., an Imagine One Hospitality concept that offers up modern Tex-Mex cuisine, Michael Hoeneisen, executive chef, offers a slow-cooked smoked birria (featuring a mix of chuck, short rib and sirloin) with onion, lime and a white cheese blend packed into a fried tortilla and served with a side of savory birria "au jus." Short Rib Birria Tacos are on the menu at Hearth and Hill, a modern American restaurant in Park City, Utah. Jordan Harvey, executive chef, wraps tender beef short rib in crispy flour tortillas, finishing with fresh radish and Oaxacan cheese. Little Miner Taco, a food truck and counter-service restaurant with locations in Washington, D.C., and Bethesda, Md., enjoys success with its Birria de Res Quesotacos, three corn tortillas filled with slow-braised beef, salsa roja and Jack cheese, accompanied by the ubiquitous beef consommé. And Pilo's Street Tacos, a fast casual with three locations in Miami, features crispy corn tortillas with Chihuahua cheese and beef short rib cooked in a rich Mexican adobo sauce and served with a side of beef caldo.
---
Building on Birria
It's impossible to overstate the breakout potential for birria, with an adaptability quotient that is signficant, allowing chefs free rein to explore and experiment with ingredient combinations and flavor mash-ups. At Next Door, a casual comfort-food restaurant in Boulder, Colo., Michael Bertozzi, director of culinary of parent company The Kitchen Restaurant Group, muses about its appeal: "Birria tacos are like a Mexican French dip. I like the contrast of the crispy tortilla and the sauciness as you dip and eat." He builds his Birria Tacos using Mississippi pot roast, along with provolone cheese and green onions, while retaining the side of consommé. "The Mississippi pot roast and provolone just worked for me," he says. "I love the combinations and juxtapositions you can achieve when taking license over those flavors and ingredients."
Birria lends itself to flavor play with global cuisines as well, putting mash-ups on the table as another exciting option for menu developers and consumers alike. In a clever riff, Camp, a modern American restaurant in Greenville, S.C., offers a fresh format with its Crispy Birria Dumplings, featuring braised short rib, queso Oaxaca, onions, cilantro and a birria broth. Dirty Habit in Washington, D.C., boasts an intriguing lineup of brunch menu mash-ups that are anchored in comfort, including Birria Shakshuka. "This is our take on the original recipe, but made with birria," says Edgar Escalante, executive chef. It's finished with a cilantro crema and an egg poached in the birria chile broth.
At the birria-centric fast casual L.A. Birria by Chef Anaya, in Los Angeles, Eduardo Anaya goes all-in on the phenomenon, offering a birria fusion menu that includes the beloved stewed meat atop pizza, tucked into egg rolls, layered in a grilled cheese and more iterations. Its most popular fusion concept is the Birria Ramen. "Birria today appeals to consumers because we can pair it with their favorite dishes to create delicious fusions," says Anaya. "People love the innovations we come up with." His sentiments give a nod to the strong appeal and menu-development potential with birria.
---
The Quesadilla Grows Up
Birria is just one of the culinary champions of Mexican comfort food. Taquitos and quesadillas are also key players. These homey, familiar favorites are near-universal palate pleasers. And here is the big opportunity with this trend: the more familiar a dish, the easier it is for creative operators to leverage that familiarity for signature menu items.
Standard fare from kids' menus and appetizer menus across the country, the basic quesadilla is a menu hero in disguise. Imagine strolling through the pantheon of Mexican food, pausing at the quesadilla and asking "Why have we ignored this for so long?" There is so much latent potential here: the melty layers, the carriers, the griddled cheese crusts and any number of ingredients tucked inside.
"Quesadillas are ripe for increased comfort play. Think about cheese that is crispy-caramelized on the outside of a quesadilla, creating a double effect for cheese lovers—that first hit of crunchy cheese on the outside and then the gooey pull of cheese melted inside," says Rob Corliss, chef and founder of ATE culinary consultancy. "Opportunities for innovating this Mexican stalwart are rooted in new cross-cultural flavor introductions and creative applications, all executed without losing sight of the flavor fundamentals inherent in this griddled classic." He reiterates the importance of keeping sharp focus on quesadilla's built-in appeal while innovating around components like outside cheese crusts or the inventive folds popular on social media.
Boston's Lolita Cocina & Tequila Bar introduces modern flavor detail in its Steak Sofrito Quesadilla, filled with shaved ribeye, sofrito-fried rice, black beans and smoked cheddar. Its plant-forward offering of the Mushroom Quesadilla stars red chile mushrooms, smoky poblano relish, "jalapeño yum yum" and queso Chihuahua.
At Borrachito taqueria in New York, Yuval Ochoa, executive chef, blends traditional Mexican cooking techniques with experimental ingredients, resulting in inventive takes on comforting classics. Its menu of five quesadillas includes the Vegan Chorizo con Papas Quesadilla with vegan "chorizo," potatoes and vegan "cheese," and the Barbacoa version has brisket, bone marrow, grilled onions, Chihuahua cheese and green sauce. In Richmond, Va., trend-forward chicken skin brings signature crave and crunch to Intergalactic Tacos' Hot Honey-Chicken Skin Space-A-Dilla.
---
Taquitos' Time
Most consumers know the humble taquito as a no-frills heat-and-eat home meal, right out of the freezer. Nostalgic cues, and a crisp, craveable crunch, help give this college dorm snack big potential on menus today. It's one Mexican comfort item home consumers likely aren't making from scratch, so the bar is set pretty low for culinary upgrades. The genius of the taquito is also its essence: simple, handheld, craveable crunch. Eaten as an on-the-go snack or in multiples as a satisfying shareable or meal, taquitos deliver for any occasion.
Yellowbelly, a modern gastropub in St. Louis, offers Pibil Chicken Taquitos, incorporating layers of cooking styles to replicate the underground Yucatán meat prep. "When you think taquitos, you don't usually think of them filled with chicken that has been cooked three ways and then slathered in rich, garlicky ranch with bright, herbaceous salsa verde," says Tim Wiggins, co-owner and beverage director, highlighting the relatively simple but rewarding payoff taquitos can bring to a concept. Other variations in rotation include one stuffed with lobster knuckle and claw meat, smoked tomato, poblano crema and Chihuahua cheese.
In Minneapolis, MB Foodhouse's Tex-Mex menu offers hand-rolled taquitos filled with green-chile beef and potato, topped with cheese, a housemade red sauce, cabbage slaw, crema and queso fresco. And Roll-Em-Up Taquitos, the Chino Hills, Calif.-based fast casual, is betting big on the love for taquitos. With an expansion plan targeting 500 units in five years, the menu is simple, with a lineup of five taquito fillings: braised shredded prime beef, marinated chicken, avocado, potato and cheese.
---
P.S. HERE'S SOMETHING SWEET
The progression of a menu concept to a flavor system is always a solid trend marker. When it comes to Mexico's most comforting sweet snacks and desserts, two are taking the lead here. Churros have been flexing their menu-development muscles over the past few years, proving that while they're perfectly enticing as a delicately crispy, chewy fried sweet, they can carry broader format plays as well.
Churros easily shape-shift into ice cream sandwich carriers and ice cream flavors and add-ins, not to mention countless other sweet formats. The seasonal offering at Terran Treats at Disney California Adventure Park in Anaheim, Calif., is a pineapple-flavored spiral churro dipped in a coconut glaze and sprinkled with toasted coconut. And at New York's La Churreria, the Lollipop Churro comes on a stick, coated in chocolate or dulce de leche sauce.
Given their comfort positioning, breakfast and brunch concepts are a natural opportunity for these flavor systems. Churro French toast variations are popping up across the country. In Chicago, Chikatana's version is a horchata-soaked French toast with cinnamon sugar and a seasonal compote. New York's La Churreria takes the churro into a savory carrier. Its Churro Egg Sandwich layers two scrambled eggs, Serrano ham and manchego cheese between two spiralized churros.
Following in churros' footsteps, the rich and creamy tres leches dessert is moving from its traditional cake format into other iterations. Like churros, French toast is a welcome platform here. At Dirty Habit in Washington, D.C., the Tres Leches French Toast is accented with toasted coffee butter, Rice Krispies and maple syrup, while in Tulsa, Okla., brioche is dipped in a tres leches batter and topped with berries and housemade lemon whipped cream on Madre's Mexican Kitchen's brunch menu.
Coffee drinks are another easy evolution for these sweet Mexican flavors. The newly opened Casa Azul Coffee in Fort Worth, Texas, menus a Tres Leches Latte alongside other Mexican profiles like a horchata version and a Mazapan Latte, bringing the peanutty Mexican confection into a familiar format.
La Panadería uses the sweet, creamy profile for its top-selling Tres Leches Croissant, a split pastry layered with tres leches cream and fresh strawberries. "We wanted to elevate the tres leches, to really bring it to the next level," says David Cáceres, co-owner. "We used a mascarpone whipped cream, which created a deeper flavor profile and a better consistency, bringing more intensity to the tres leches and the strawberries. And the butter croissant brings a nice texture, which is a twist on the softness of the traditional cake."
Like the savory side of Mexican menu development, so long as innovation is guided by comfort cues, there's plenty of runway available for further innovation around these favorite flavor profiles.