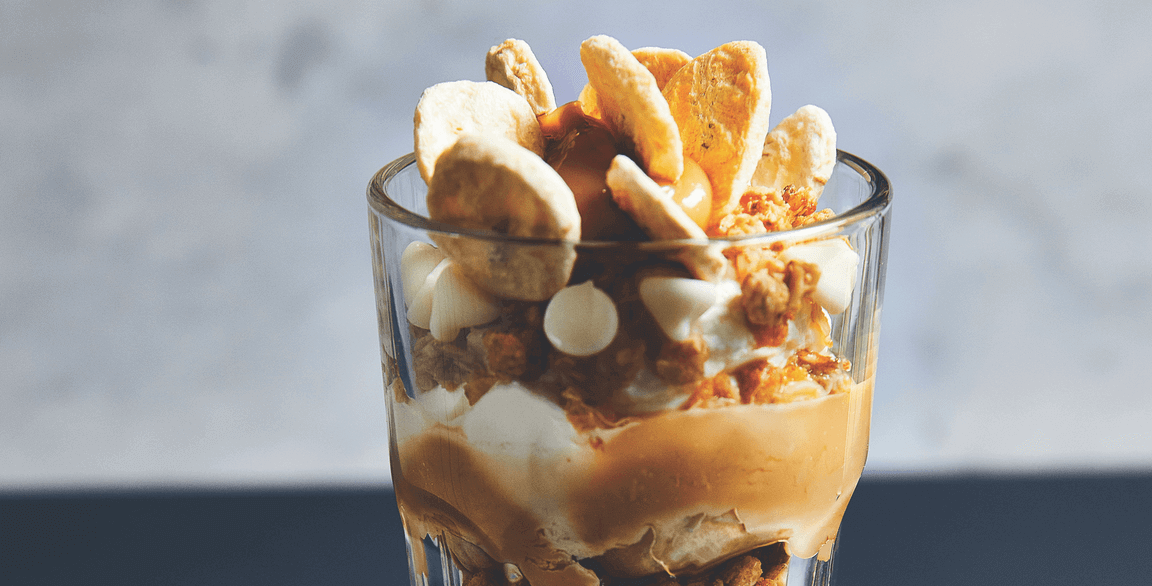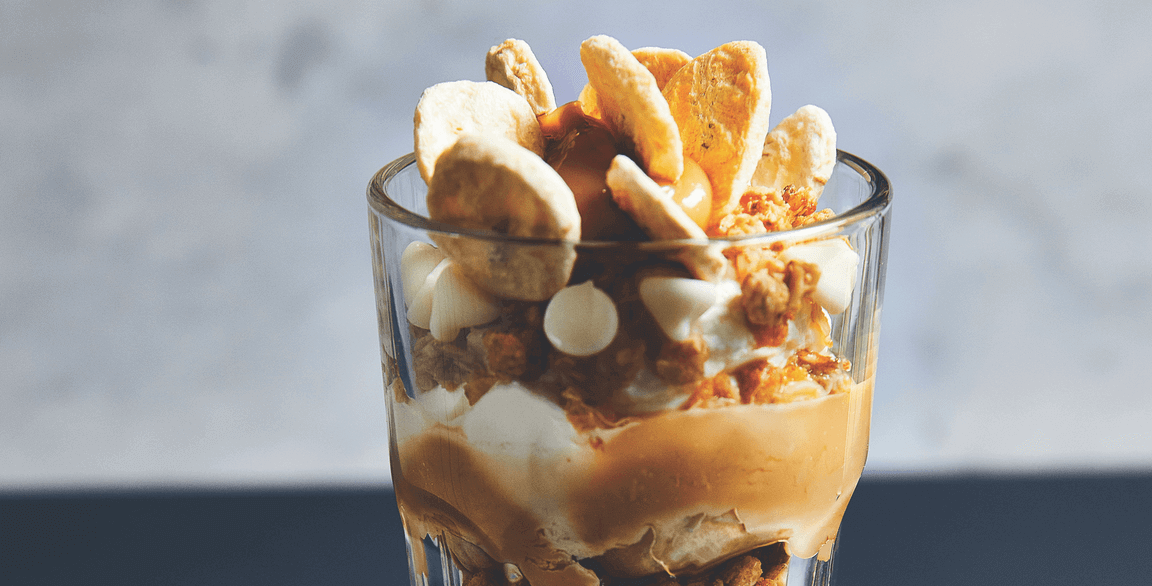 It's exciting when a familiar, everyday ingredient or flavor gains celebrity status as a trend. It shines a light on the inspired menu development that drives the foodservice industry. Lately, there's been a surge of inventive flavor play with banana, primarily in the dessert category, but also on breakfast and brunch menus, as well as in the beverage space.
Innovations around comfort classics like banana pudding and bananas Foster play a significant role in how this trend is taking shape, but drivers beyond comfort are helping thrust the humble banana into flavor stardom. Versatility, availability and familiarity—though not sexy—are prompting menu developers to take a longer look at the banana and peel back its layers of possibility. "Bananas can work in sweet and savory applications. They're also relevant in a surprising number of cuisines, touching a whole host of culinary hotspots like the Caribbean, Latin America and Southeast Asia," says Maeve Webster, president of Menu Matters foodservice consultancy. "They are grown and harvested continually, giving operators welcome flexibility for year-round sourcing to feature menu items outside the confines of seasonality."
Menu developers can dial up banana's tropical tones, lean into its Southern comfort or explore eclectic mash-ups. They can counter its sweetness with spices, heat or funk. And they can manipulate its texture and flavor by working with different stages of ripeness and through cooking techniques like caramelizing and charring. "Exploring culinary techniques opens the door to creativity across the menu, taking consumers on an adventurous path," says Rob Corliss, chef and founder of ATE culinary consultancy. "Operators can look to popular menu callouts, like roasting, caramelizing or torching, and apply these to bananas." As an example, consider Bad Habit, an ice cream shop in New York that runs Roasted Banana with coffee caramel as a flavor combination. Belgian bakery-café Le Pain Quotidien showcases the intrigue factor that resides on the savory-sweet side of the menu with its Chia Seed Pudding topped with roasted banana jam.
As with so many other trends today, changes in consumer behavior brought on by the pandemic have pushed banana into the zeitgeist. There's really no other scenario that would explain why banana bread is a bona fide trend driver. Boredom, ease of execution and nostalgia (plus an underlying satisfaction in practicing frugality by using past-their-prime bananas) got consumers baking and posting their beloved loaves of banana bread on social media. Celebrities like Chrissy Teigen and Meghan Markle got in on the game, lending this homey quick bread a little bit of street cred and a whole lot of momentum.
"The banana bread phenomenon essentially elevated banana in people's consciousness," says Webster. "Even though it's been around forever, banana's newly advanced profile is a huge factor in pushing it forward into greater innovation. I'm sure many menu developers thought, 'If banana bread is so big, what else can we do with it?'" And although those early months of the pandemic are behind us, it's worth noting that consumers are still showing banana a lot of love at home, keeping this fruit in the limelight. Not only has it reigned long as the most popular fruit in this country and across the globe, in November of 2021, Uber Eats Cravings Report revealed that banana was the most popular grocery item—across product categories—delivered over the past 12 months.
---
The Proof Is in the Pudding
Traditional banana pudding promises sweet indulgence in its layers of vanilla custard, fresh bananas, whipped cream and Nilla Wafers. Creative spins on this lush dessert abound, with diners eating it up, renewing their vows of commitment to comfort. A broader fan base has developed recently, too. The signature banana pudding from New York-based Magnolia Bakery extended its reach thanks to its partnership with Goldbelly, the nationwide food-based shipping service.
Chris Scott, chef/owner of Butterfunk Biscuit Co. in New York, makes a decadent biscuit bread pudding called Go Bananas, staying within the borders of the traditional, but tweaking the dish so it reflects the brand's core identity. Utilizing day-old biscuits, Scott combines Southern-style custard-like banana crème and biscuit pieces for the foundation of the dessert. To intensify the layers of flavor, he adds salted caramel and sweet whipped cream before topping it off with fresh banana slices, vanilla wafers and a white chocolate-oat crumble.
To bend banana pudding toward an Italian sensibility, Kristen Hall, executive pastry chef/owner of The Essential, an all-day café in Birmingham, Ala., created the Banana Pudding Semifreddo. Infused with banana purée and ribbons of salted caramel, it lies somewhere between a mousse and ice cream. To serve the semifreddo, she scoops it into a coupe and drizzles on more salted caramel. "I think banana pudding has such a unique flavor profile," says Hall. "It's a combination of textures and flavors, which is what we tried to achieve with the semifreddo—to have a robust banana flavor, but still keep some of those soft vanilla wafer textures. The punch of the salted caramel brings out the flavor of the bananas even more."
Trēt Baking Co.'s Nashville, Tenn., pop-up deftly demonstrates taking banana pudding into an unexpected direction. Pastry chefs Michael Werrell and Keaton Vasek partnered with chef Sean Brock on a menu of baked goods and desserts. Their popular banana pudding croissant featured the pudding as a filling in a 24-hour croissant studded with mini-housemade vanilla wafers. At Porter, a gastropub in Weehawken, N.J., Tara Glick, executive pastry chef, reimagines the banana pudding in her Banana, Pudding, Cake dessert, a top seller since the restaurant opened in late 2020. She molds banana mousse onto yellow cake, then freezes it and enrobes it in ground housemade vanilla wafers that have been combined with vegetable oil and butter. "It makes a 'magic shell' around it and has a buttery, rich crunch," she says. The dessert is served with a bourbon-butterscotch sauce. "I like the way banana plays with bourbon; it's warm and toasty with a little kick," she adds. As part of Porter's zero-waste program, Glick features the ingredients from that dessert in an ice cream special, running it when she has bananas that are about to spoil. The Banana Pudding Ice Cream stars roasted banana ice cream, crushed vanilla wafers and a ribbon of bourbon butterscotch.
---
Form and Function
Banana's textural advantage is significant, yielding different flavor experiences depending on ripeness and preparation method. "This one product will give you so many options throughout its stored life in your operation," says Webster. "From when it just starts to ripen to when it passes into overripe, you can cross-utilize it depending on how it's intended to be featured. I've made tarts with bananas that are on the greener side, and because of the starch, I've gotten a really nice, hard caramelization on them. Riper bananas might fall apart in the pan, and suddenly you have this entirely different texture from the same product."
Indeed, overripe bananas are the secret to success in the Curry Banana Ice Cream at Palm & Pine, a Louisiana-Caribbean-Latin concept in New Orleans. The ice cream features cooked banana and curry spices, and is garnished with a peanut "crunch" and brûléed banana slices. Here, the sweetness in the overripe bananas gets a counterbalance thanks to the warm, heady spices. "The ice cream still tastes like banana but has been completely transformed into something unique in the final dish," says Pastry Chef Shalonda Berry.
---
Top Banana at Breakfast
Banana certainly is no stranger on breakfast menus, but given its newfound star power, chefs are dialing up delivery of flavor, texture and craveability. "It's a natural ingredient that has a clean label, boasts great texture and distinct flavor," says Charlie Baggs, chef/founder of Charlie Baggs Culinary. "Banana offers a lot of opportunity in the breakfast and brunch arena, from stuffed French toast to banana pancakes."
In a genius move that claims banana pudding as a breakfast item, The Greasy Spoon, a pop-up at Uptown Social in Charleston, S.C., menus Banana Cream Pie Pancakes: banana pancakes topped with banana pudding and vanilla cookies. At Chicago's Goddess/Eggy's, a dual concept of Goddess and the Baker and Eggy's Diner, a passion for banana-centric comfort is well apparent. The Nutella French Toast features a crunchy bran flake batter and is stuffed with Nutella, peanut butter and bananas, while the Bananas Foster Waffle features a fresh waffle topped with caramelized bananas.
---
Fostering the Banana Craze
Needless to say, bananas Foster is having a moment. Celebratory, boozy and dating back to 1951, this New Orleans classic dessert is made with bananas flambéed with butter, liqueur, brown sugar and cinnamon, then topped with a scoop of vanilla ice cream. It's now moved beyond a dessert into a trending flavor system. Ralph Brennan's Jazz Kitchen Express in the Downtown Disney District, Orlando, Fla., menus Bananas Foster Glazed Beignets with a banana-rum glaze that's then topped with cinnamon-sugar dust and a caramel drizzle. A signature créme anglaise, with a flavor akin to banana pudding, is a decadent finish.
Ruby Sunshine, an all-day brunch restaurant based in New Orleans, applies the Foster treatment to French toast. Its Bananas Foster Pain Perdu stars rum-flambéed bananas and raisins. And at Gospel Coffee and Boozy Treats, a lively corner café at the Kimpton Hotel Fontenot in New Orleans, bananas Foster transforms into a parfait of Greek yogurt and housemade banana granola, anchored by a creamy bananas Foster sauce and studded with dried bananas.
When considering banana's potential in the R&D kitchen, it's worth evaluating the advantages that have moved it into the limelight—and that promise to keep it here for a while. "Bananas are super low in cost," says trends analyst Liz Moskow. "They can be a great way to entertain, excite and play with flavor. Not surprisingly, bananas are the world's most popular fruit, so I'd say they are an enduring trend that manifests differently lately because of societal factors that push it top of mind."