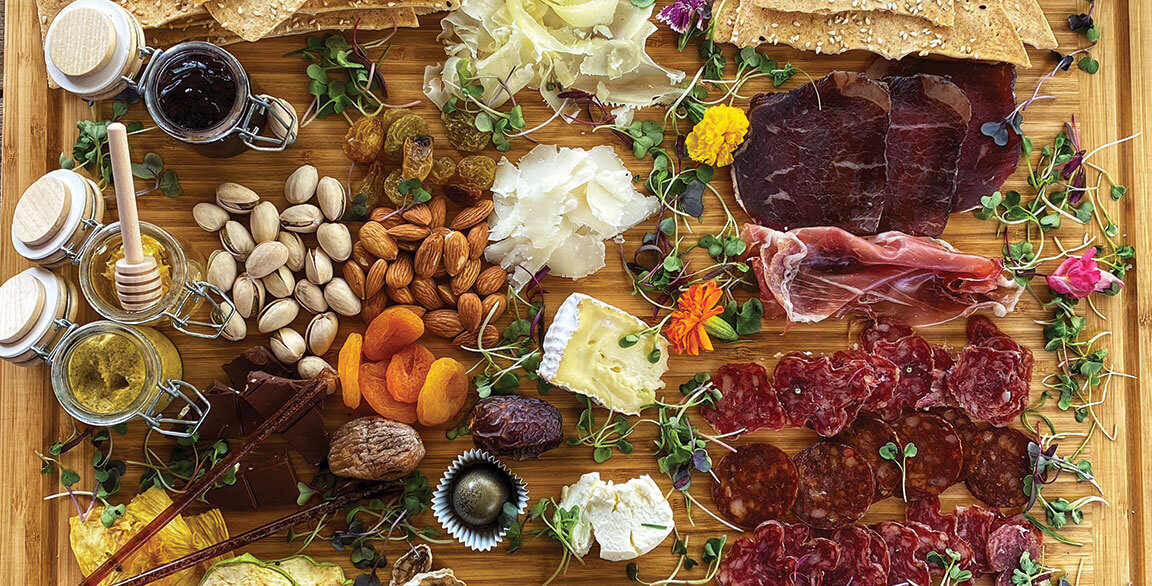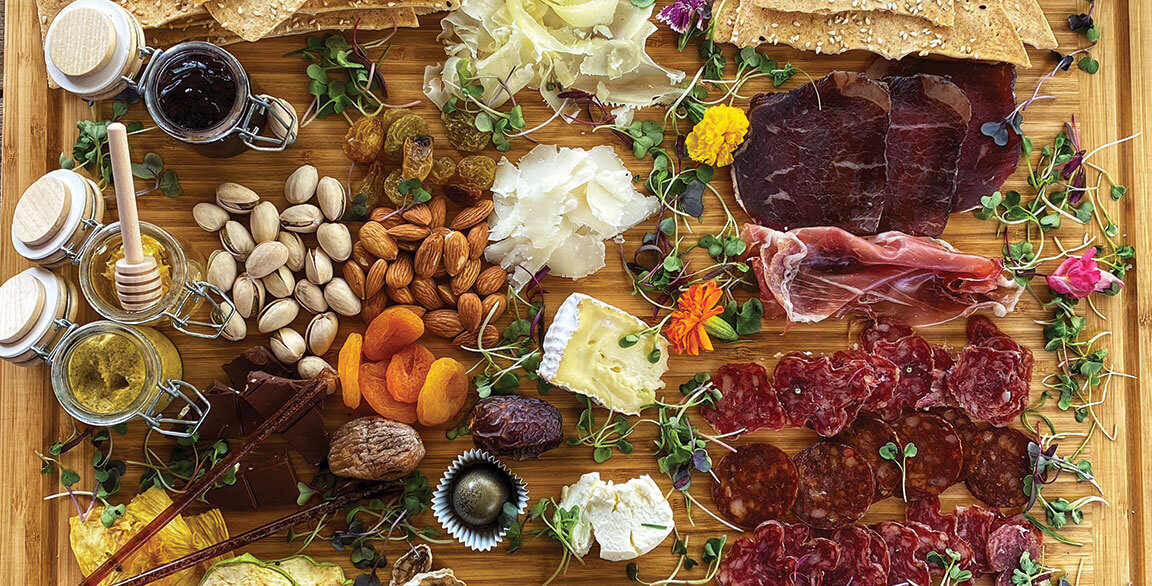 By Katie Ayoub
January 14, 2022
While charcuterie is a classic that has graced tables for centuries, today, chefs are reimagining, retooling, repackaging and rethinking traditional meat-cheese-condiment builds. Their whimsy and creativity are being cheered on by today's diner, drawn to the sensory experience of a charcuterie board that feels as if it is custom-built for these times: teeming with showmanship, artistry and, best of all, conviviality.
Although charcuterie on menus was certainly on the upswing before the pandemic, it has been fast-tracked into the innovation pipeline after becoming a social media superstar. TikTok and Instagram captured a flurry of one-upmanship from consumers stuck at home during lockdowns, gamely trying their hand at meat roses and honey drizzles. A slew of shared masterful charcuterie boards both inspired people to try making them, too, and—more importantly—reframed charcuterie as a modern, hip shareable, launching it into a newfound menu opportunity.
On a parallel path with the social media phenomenon, savvy chefs and gourmet retailers also helped fuel the trend. When takeout orders surged, they began packaging up charcuterie in portable formats, offering restaurant finesse and culinary expertise greatly missed by consumers confined to family dining tables. Although set in motion because of sheer circumstance, it cleared the path for charcuterie to carve out a new market, adding the off-premise space (beyond its well-established positioning in catering) to its catalogue. Charcuterie is now a viable and popular item in both the to-go and delivery worlds.
Menu developers in all segments are riding this modern wave of consumer interest in charcuterie, creating signature boards, portable cones and customizable boxes. The opportunity is growing and shifting, with flavor play leveling up, quick-serve concepts getting in on the game, and the very definition of what makes up a board evolving with an inventiveness that promises to keep charcuterie in sharp focus in 2022 and beyond.Driving momentum from the back of the house is charcuterie's versatility. It can be easily recast into sandwich elements, artisan toasts, pizza toppings and much more.
As charcuterie solves back-of-house issues, works well in delivery, is easily signaturized and boasts a steady fan base, Mike Kostyo, trendologist with Datassential, sees its growth as multi-faceted. "It's not only going to grow more, but it is going to continue to grow in other directions," he says. "Traditionalists get upset when you call something 'charcuterie' that isn't meat, but we are seeing breakfast boards and dessert boards—the definition is moving into all kinds of new categories."
---
Delivering Shareability
Today, a search on Instagram for "charcuterie" yields nearly 1 million results—charcuterie's newfound stance as a modern shareable cannot be overstated. As a result, younger diners are actively seeking out boards on restaurant menus, claiming its aesthetic as part of their social culture.
Modern boards are reflecting that sensibility, with next-level visual allure, novelty or instant-read craveability, along with exceptional ingredients. Culture + Co., a cheese, charcuterie and wine-focused spot in Nashville, Tenn., demonstrates the trend beautifully. The menu features artisan products in eclectic flavor combinations and intriguing pairings. Offerings include a local Nashville hot cheese with cornichons and smoked honey, capicola with Castelvetrano olives and housemade yogurt crackers, chai-spiced pecans and a triple cream cheese served with a ramekin of spring pea and pistachio pesto. The open kitchen and communal dining space dial up the immersive experience with a novel rotating conveyor belt, gliding plates past sitting customers who simply pluck the ones they like, similar to sushi models common in Japan and springing up in the U.S., too.
"Charcuterie boards represent community, something we all crave," says Mike Buononato, chef and senior VP of Creative Food Solutions, a food innovation consultancy. "They are by design a shareable, artistic execution of flavors, visuals and textures meant for people to experience together."
---
Quick, Serve It Up
Gilli Rozynek got the idea for Kured, her Boston-based quick-serve charcuterie concept, when she was studying in Madrid. "Everybody there eats a ton of charcuterie. I learned a lot about the culture. When I returned to Boston for my senior year, I started a side hustle of making charcuterie boards for friends across campus," she says. Her business quickly grew. "The mission of wanting to make charcuterie accessible and convenient for people, and also with the goal of scaling the company someday, is why I chose the quick-serve route," says Rozynek. She started the company as a digital business in the summer of 2020 and then opened a brick-and-mortar in June of 2021.
Kured's emergence onto the foodservice landscape is an inflection point for charcuterie. It is a quick-serve restaurant serving premium meat and cheese selections that come in boxed and handheld formats, featuring both curated and customizable options. And it's succeeding. Rozynek is applying the "point and shoot" model that diners are familiar with, repositioning charcuterie as an anytime snack, a meal on the go or a casual lunch choice at the office. "Our everyday customer is the younger working professional, ages 25 to 35," she says. "We definitely do well in the snacking category. The cones are our most popular product."
Meats and cheeses are the building blocks of classic charcuterie boards, but condiments and accompaniments bring the alchemy. Flavorful and varied chutneys, mustards and pickles add depth to the simplest pairings. Offering seasonal Italian soul food, Esther's Kitchen in Las Vegas curates a protein-centric board, playfully offering "all the things" that go with meats, such as pickles, cheeses, toast and condiments. Elevating the flavor experience, accompaniments also include basil ricotta, beet conserva with capers, preserved walnuts and pickled grapes.
Distinctive choices of condiments can offer diners the opportunity to personalize their ideal meal. Beautiful Rind, a cheese shop, restaurant and classroom space in Chicago, offers diners à la carte meats and cheeses, as well as self-curated "monger selections" (aka charcuterie boards) built from such menu pairings as cured fennel salami and sport pepper relish, manchego and sweet potato-ginger jam or pork terrine and fig mustard. Customers also can select pickled okra, pimento cheese, white bean salad, Valencia almonds, caramelized pecans, olives and cornichons as additional accompaniments.
Novelty and a desire to confound expectations also fuel innovation. Where once diners could expect familiar salami, aged cheddars, nuts and olives on charcuterie boards, they now discover pickled shrimp, lamb pastrami, burrata and artisan flatbreads.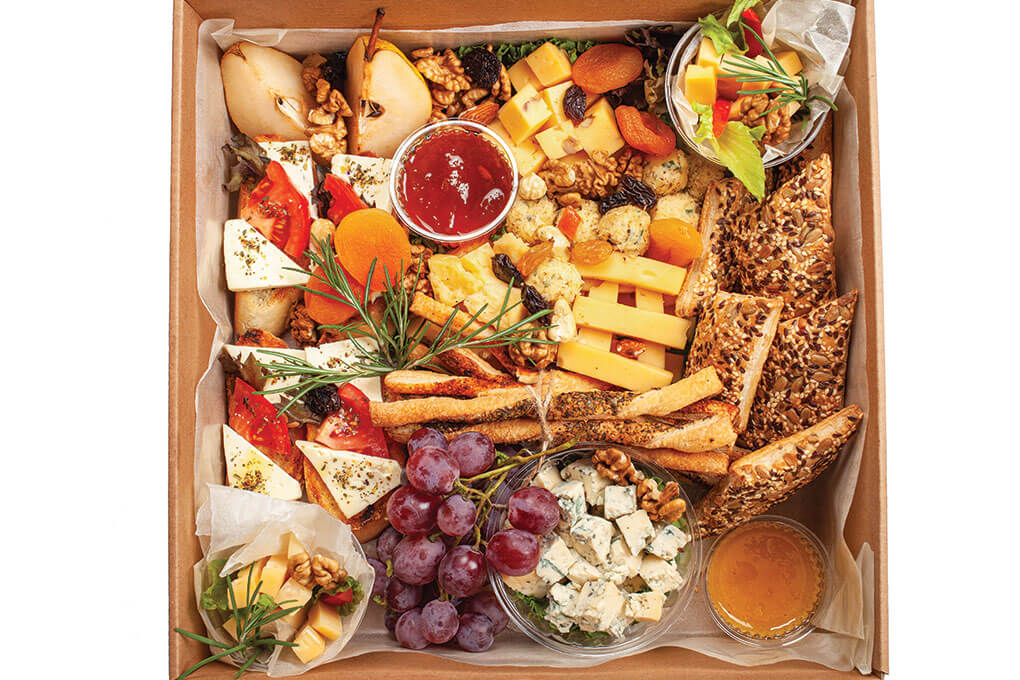 ---
Back To The Drawing Board
The shareable board, platter or plate are hallmarks of charcuterie's visual aesthetic, but the ongoing imperative for takeout items for many operations across the country has required a reimagining in layout and display.
Snack cones are one way to deliver a moveable feast for the consumer on the go, a tactic Rozynek employs for Kured's menu. For certain ingredient curations, charcuterie cones work as either a great off-premise solution or a playful snack presentation at the bar. But even the to-go box, the essence of function over form, can be elevated with thoughtful touches of even the simplest pantry staples: slivers of flavorful cheese, a slim parchment cone of whipped Greek feta, torn bread, red grapes on the stem and a garnish of fresh herbs.
Jason and Heather Hernandez are chefs and co-owners of Graze Street AMI, a modern market on Anna Maria Island, Fla., that specializes in takeout charcuterie. Flavor-forward touches include pickled watermelon rind or pickled avocado, plus housemade savory jams, like a peach-whiskey-bacon jam featuring local ingredients. "Presentation is key in to-go boxes—it has to hold up and maintain its elegance," says Jason. "All it takes is tucking in a rosemary sprig or an edible flower to make a box look special," adds Heather.
---
Curated Flavors
Signature builds can easily give charcuterie a competitive edge. "The crave for salty, sweet, sour and umami all at once is real. Charcuterie boards provide all that and more," says Jessica Bograd, director of culinary R&D at CSSI Marketing + Culinary. "The key to a successful board, outside of a crafted cured meat and cheese selection, is the accoutrement pairings. Incorporate a signature sauce or spread as the center of a board. Pair it with pickles, cheeses and a range of sliced meats."
In fact, Maeve Webster, president of Menu Matters, confirms that global fusion charcuterie is inevitable. "As the charcuterie trend continues, we are going to start seeing a mash-up of higher-quality charcuterie that are cured with flavors from Asia and Central and South America," she says.
At Graze Street AMI, a differentiating factor is the pantry of housemade pickles, bursting with global flavors, including earthy Chinese five-spice and a nuanced Moroccan spice blend redolent of cumin, paprika, coriander, turmeric, five-spice, ginger and curry.
More Than Meat
Doors are opening for other creative shareable boards and boxes. Operators can curate ingredients based on any number of factors, including cuisine, daypart, menu application or diet preferences. "Take the notion of charcuterie, put it in a snack or tasting box, highlight the craftsmanship and partnership with local companies, and you have a menu item that is exciting, nourishing and profitable," says Kostyo. "That's a home run."
Brunch, the signature convivial meal of conversation and cocktails, is prime board territory. Star Maye, executive chef of Anzie Blue, a Nashville, Tenn., café and cocktail bar, offers a breakfast and brunch board packed with an all-star cast of Southern comfort fare and crowd-pleasing shareables: chicken and waffles, biscuits and gravy, bagels with cream cheese, bacon and fruit. "Our middle-sized board that serves six to eight people is our best seller. People use it for parties, they take it to the office—these are a big hit," she says. "Our breakfast board was just an experiment, but it is becoming a very big seller for us." Beyond breakfast, Maye menus a nostalgic s'mores board complete with graham crackers, warm chocolate fondue, caramel sauce, toasted marshmallows and a childhood fantasy roster of chocolate candies.
Turning conventional charcuterie on its head, vegan alternatives offer two key opportunities: experimenting with vibrant flavors and providing flexitarian and special-diet options to serve a growing demographic. North Italia, the modern Italian chain based in Calabasas Hills, Calif., prides itself on its fresh take on charcuterie. Its Farmers' Market Board features an assortment of flavorful vegetables, such as heirloom carrots, roasted butternut squash and broccolini, paired with Tuscan bean salad and fresh baked bread with basil pesto for dipping. This artfully crafted board is a plant-forward showstopper, hopping on charcuterie's coattails and riding the success of a communal, celebratory eating experience.
Dessert boards extend the reach even further, serving as a clever means for restaurants to end a meal with head-turning drama. Mediterranean-inspired Agapi Bistro + Garden in Pensacola, Fla., offers a chef-curated charcuterie board and a vegan version as savory shareables to start, but the concept gets play on the dessert menu as well. Here, a "chocuterie" board is made up of house-curated chocolate confections and fresh berries, sized for two or four diners.
---
Board Forward
What's next for charcuterie? Some savvy marketers have begun trading on its star status, using it as a value proposition to describe select meat-centric items on the menu. "Once a classic dish moves into its own flavor profile, then the opportunity for growth is huge," says Kostyo. "Charcuterie gravy" is the flavor anchor for the signature Biscuit + Gravy at Spoke & Steele in Indianapolis, while Los Angeles-based French bistro Petit Trois features a bone-in pork chop with "charcutière sauce" and pomme purée. Charcuterie is evolving into flavor shorthand.
As boards can easily blur with flights, we may see a resurgence of sampling boards from all menu parts. "Taking inspiration from charcuterie offerings, serve an appetizer board with a sampling of items like sliders, wings and oven-roasted flatbreads with hummus, olives and feta cheese," says Donnell Jones-Craven, chef and culinary consultant. "This can lure diners with various textures, and sweet and savory flavors that appeal to everyone."
Jason Hernandez is optimistic about charcuterie's limitless potential. "If the restaurant world has learned one thing from COVID, it's that nothing is off the table," he says. "Creativity, inspiration, color, global mash-ups—all of those are wide open for charcuterie exploration."