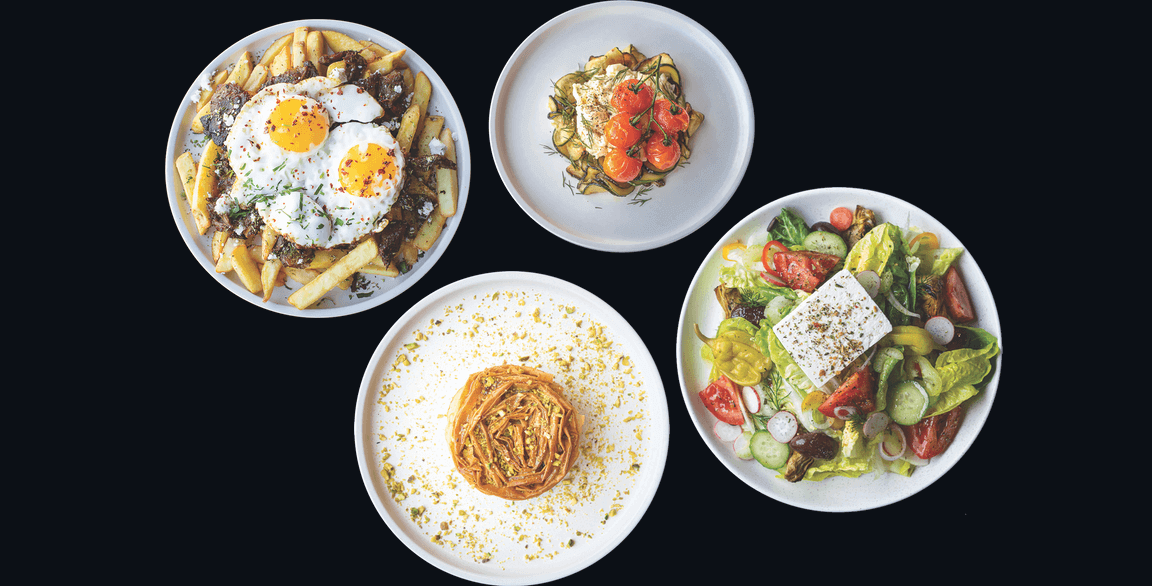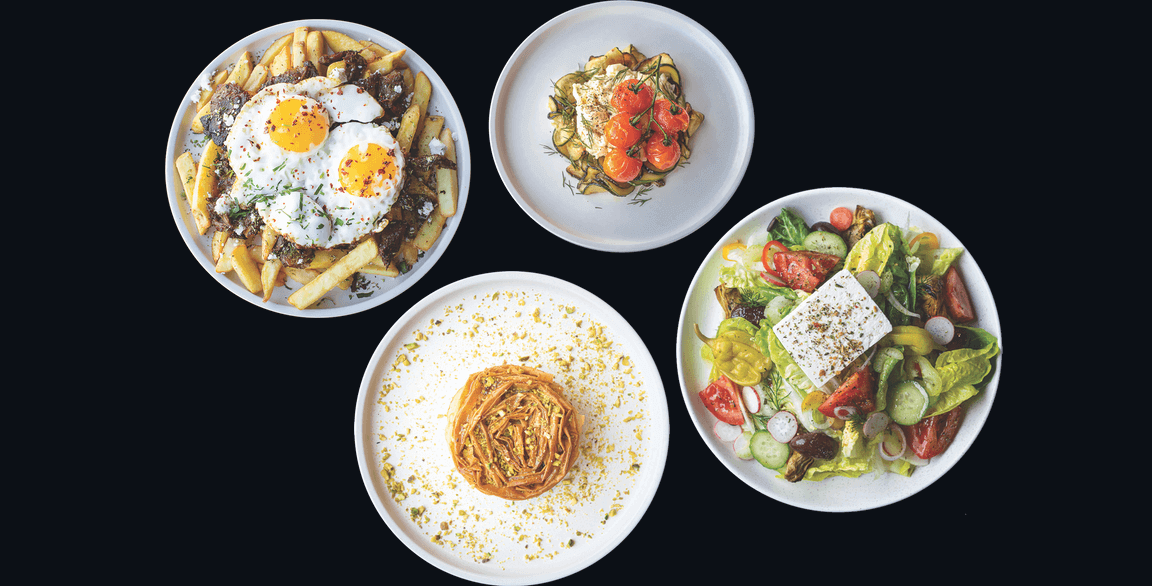 By Katie Ayoub
January 14, 2022
Brunch fare at Krasi Meze & Wine in Boston features the flavors of Greece presented in a modern, inventive way that is both alluring and disarming. It's warmly familiar and newly exciting. The cocktail list includes drinks like Aphrodite's Bellini, described as "Greek bubbles," garnished with lush ouzo-infused apricots. The Baklava Muffin borrows from that classic dessert, boasting walnuts, Greek honey, cinnamon and clove. At sister concept Committee Ouzeri + Bar, dinner guests can get their fried chicken fix, pointed toward Greece with a tzatziki rub and accompanying blackened Greek yogurt, oregano fries and Greek slaw. In Chicago, Avli on the Park reimagines Greek favorites. Its starter of Saganaki with Tomato Jam replaces the traditional (albeit somewhat-touristy) "Opa!" presentation with a more refined version, pan-sautéing a slab of kefalograviera cheese that's been coated in flour. "It gets a golden-brown crust on the outside and is soft on the inside," says Nikolaos Kapernaro, executive chef. All three of these restaurants capture the new wave of exciting menu innovation inspired by the wide world of Greek flavors and ingredients.
This narrowing in on the opportunities found in Greek cuisine is fueled in part by the flood of Eastern Mediterranean menu inspirations that have delighted American diners in recent years. The convivial, hospitable nature of food from this region of the world is incredibly compelling, promising a natural spirit of togetherness that consumers crave more than ever right now. "Guests are loving the idea of sitting around the table enjoying good food and conversation. They want to settle into an inviting atmosphere and enjoy a good vibe," says Eric Papachristos, CEO and co-owner of Trade, a modern Mediterranean restaurant in Boston with a particular concentration on the Grecian pantry. "Greece's simplicity of flavors and cooking techniques are what inspires."
The momentum behind Eastern Med flavors highlights key ingredients that have taken star turns in modern Greek applications: grilling cheeses like manouri and kefalograviera; Greek yogurt and honey; charred pita; grilled lamb; and shareable dips like taramasalata and spreads like htipiti (Greece's version of pimento cheese), among others. Plus, the cuisine's built-in bright and breezy aesthetic delivers tremendous value to restaurants seeking to attract weary consumers with the draw of a sunny, laidback dining experience.
Adding to the attraction of Greek food is its inherent healthfulness. The Mediterranean Diet has long been touted as the world's ideal "food pyramid" and Greek cuisine champions it mightily, with heavy use of ingredients that are rich in antioxidants, healthy fats, fiber, vitamins and minerals, such as olive oil, yogurt, legumes, fish, nuts and produce. "There's an amazing opportunity with this cuisine because it intersects flavor and wellness," says Pam Smith, RDN, nutritionist and culinary consultant. "Greek, and particularly modern expressions of Greek cuisine, make the Mediterranean Diet come to life in craveable ways. Citrus, fresh herbs, spices—all laced throughout Greek foods, bring such depth of flavor. Greek chicken is marinated in lemon until tender, then it's seared in and caramelized. Yogurt is thick and luscious, made sweet with a touch of honey and given nice crunch with a tumble of pistachios from one of the Greek islands. It's all of the things we know, but elevated in the most craveable of ways while still delivering a feel-good experience."
---
Modern Greece
It's important to note that the driving forces behind contemporary flavor play here are not entirely born of American ingenuity. Athens is home to trend-forward chefs mashing up ancient culinary traditions with global influences and modern touches. "I think there's a lot happening in Greece in terms of modern Greek food. Many chefs in the U.S. look to Athens, which is an incredible culinary city," says Diane Kochilas, host of "My Greek Table" on public television and author of "My Greek Table: Authentic Flavors and Modern Home Cooking from My Kitchen to Yours" (St. Martin's Griffin, 2018). She also runs the Glorious Greek Cooking School on the island of Ikaria. "There's a fluidity between the U.S. and Athens, as well as the Greek Islands. Chefs are experimental by nature, and as long as you stay within the parameters of identity, there's a lot of room for exploration and a lot of room for American chefs to Hellenize menu items."
Serving as a consulting chef when Committee opened a few years back, Kochilas, who splits her time between New York and Greece, is expert at taking Greece's most compelling flavor profiles and turning them into flavor systems. Committee's Sunday Spanakopita Grilled Cheese, filled with feta, kasseri and spinach, and served on sourdough with a side of tomato soup, was inspired by a hunt through her home fridge in Athens on a mission to whip up something to feed her teenage sons. "I spotted leftover spinach and feta, and this sandwich was born," she says. "It was a stroke of genius. Spanakopita is such a familiar and loved dish. It can be reinvented in so many different ways—tucked into an omelette, stuffed into a baked chicken, or served under baked fish, for example."
Chicago's new Andros Taverna is modeled on the cosmopolitan taverns of Greece, celebrating regional flavors and culinary heritage while giving them a decidedly Midwestern spin. "We were able to curate a style of food unique to Andros that expresses the conviviality of Greek food culture informed by the modern food scene happening in the urban landscape there," says Doug Psaltis, chef/owner. He and his wife Hsing Chin, pastry chef of Andros, travel regularly to Greece. "Yes, the classic foods of Greece are wonderful and we definitely look to them for inspiration, modernizing them on our menu, but a lot of what is driving innovation is coming from Greece itself," he says. "Talented chefs are doing amazing things there. In fact, they're traveling, getting inspired and adding contemporary touches to their menus. It's incredible."
---
The menu at Andros features approachable yet creative fare, like the Andros Salad with barrel-aged feta and crunchy vegetables. Specificity of place gets called out frequently, transporting diners across the pond and grounding them in a vivid sense of place: a Santorini fava bean spread, tiny Cretan sausages, grilled Cypriot halloumi. "We source from Greece and then call it out, because it lends personality and adds to the romance of the experience. Herbs from Mount Olympus and fish from the Aegean Sea? Pretty wonderful," says Psaltis.
Andros is among a number of modern Greek restaurants that sees brunch as a natural home for many of this country's flavors and ingredients. The Olympia goes for the easy lay-up—loaded fries topped with sunny-side-up eggs and Georgie's gyro. Tsoureki French Toast is topped with cinnamon butter and tahini honey, introducing diners to Greece's version of brioche. "There are very few foods in traditional Greek cuisine that customers will be thrown off by," says Maeve Webster, president of Menu Matters, a foodservice consultancy. "The Greek words to describe the dishes or ingredients might be unfamiliar, but every element will be approachable. How you communicate and market them to guests is crucial, but worth the effort."
---
Baklava Breaks Out
Baklava, Greece's iconic sweet, sticky pastry is popping us a fun flavor system outside of its classic form, appearing both in other desserts and in breakfast foods. "Essentially we're talking about walnuts, cinnamon, clove and honey," says Kochilas. "There's so much you can do when you take that delicious mixture and apply it to other things. For example, I've used it as the base of an ice cream cake and as a topping over oatmeal."
At Andros Taverna, the brunch menu features a Baklava Bear Claw and its dessert menu spotlights a Baklava Froyo. The Greek-style frozen yogurt is topped with pistachio sauce and honey, and a garnish of baklava crumbles, lightening up the traditionally syrupy sweet dessert while still paying homage to its flavor profile. Agnes, an all-day café in Houston, menus a Baklava Granola, with oats, pistachios, walnuts, Bulgarian yogurt and honey, while Boston's Trade moves it into a dramatic dessert with the Baklava-Yogurt Napoleon, served with cherry compote, Verrill Farm berries and pistachios.
For many consumers, the sweet spot when dining out is the feeling of familiarity balanced with a sense of discovery. Modern Greek cuisine finds it effortlessly, making it rich territory for menu developers in this country.