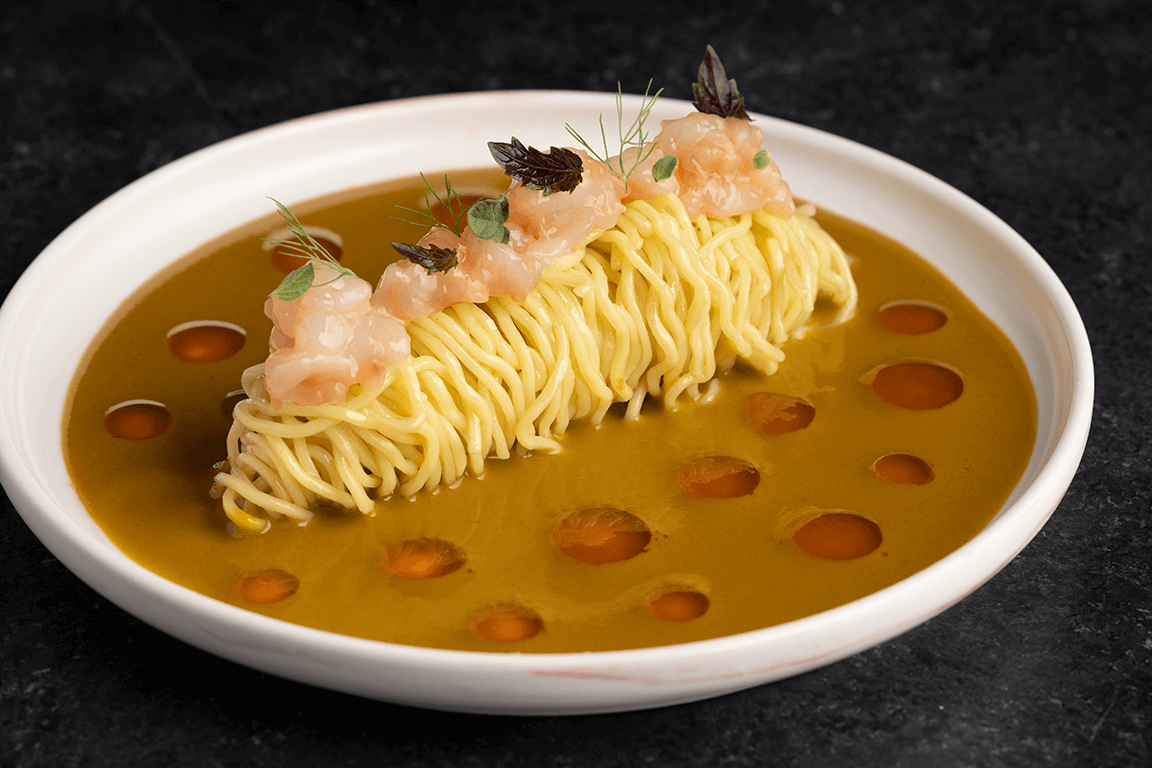 By Flavor & The Menu
January 12, 2023
Imagine walking through downtown Tokyo and coming upon a restaurant featuring classic Italian dishes like spaghetti and meatballs on the menu. Intrigued, you enter, order and the dish you are served is both familiar and wholly unexpected, prepared with Japanese ingredients and techniques and presented in a local style. Honestly, you can't tell if the dish is Italian or Japanese, but it's simply delicious—and truly the best of both culinary cuisines.
This is Wafu Italian, and there are thousands of restaurants throughout Japan specializing in this culinary niche. Elite chefs in Italy are also applying Japanese influences to their culinary creations. Here in the United States, Wafu Italian is gaining increased notice, largely thanks to the evangelism of Chef Robbie Felice, who not only evinces a passionate advocacy, but an impressive mastery of this emerging cuisine. Felice is the James Beard-nominated Chef/Partner of northern New Jersey's Viaggio Ristorante, Osteria Crescendo and pastaRAMEN, which began as a speakeasy pop-up concept specializing in Wafu Italian.
Wafu, simply translated, means "Japanese-style," and until recently, the term may have been most often associated with American steakhouses that specialize in Japanese meat cuts and presentations. But Felice is excited to see Wafu Italian gain greater recognition here, especially in the past year: "This trend is gaining momentum, and it's gaining fast. Every day, I turn around and I see it in some way, shape or form. As a chef, I'm obsessed with it, as it allows me to create something entirely new."
Eschewing terms like "fusion" and "mash-up," Felice characterizes the cuisine as a marriage. While he insists there are no rules for authentic Wafu Italian, the foundational principle is its unique identity. "You should not be able to pinpoint if the dish is Italian or if it is Japanese. If it is instantly identified as one or the other, then it's back to the drawing board," says Felice. "It doesn't matter if you are using more Italian or more Japanese ingredients and techniques, the result should be a perfect balance that leaves diners guessing about the origin."
Felice's attraction to Wafu Italian is rooted in his deep and abiding love for Italian cuisine and culture. "The rustic approach, letting ingredients shine, keeping it simple…I dedicated a huge part of my life to eating and cooking Italian food," says Felice. "But there are Italian restaurants everywhere—sometimes 20 to 30 within a single mile. As a young chef and restaurant owner, I wanted to do something different and groundbreaking."
His discovery of Wafu Italian came after considerable research, reading and tasting. The instant success of some of his first trial dishes—still on his menus today—cemented his commitment to be an ambassador for the opportunities the cuisine presents to modern chefs. Examples of popular dishes—and some of his personal favorites—include Sesame Uni Ramen Carbonara (featuring miso uni butter, yolk, sesame and Parmigiano Reggiano) and Sesame Ricotta Cavatelli (with ginger soy pork ragu, soy meat crumbles and pickled ginger).
Beyond Borders
Andrew Hunter, Foodservice and Industrial Chef for Kikkoman, characterizes Wafu Italian as a "borderless" cooking approach, similar to the union of culinary elements from Japan and Korea with those of Peru and Mexico. "In comparison to other Asian trends, Wafu is relatively newer, but increasing in popularity," he says, noting that it reflects a rise in the relevancy of Japanese staple ingredients in foodservice pantries, as they are cross utilized throughout the menu, helping to introduce diners to Japanese signatures beyond sushi, ramen and katsu.
"Wafu Italian cuisine is delicious because of its emphasis on umami-rich ingredients," Hunter continues. He cites pizza as an example, pointing to its fermented dough, tomatoes, aged cheese and meats. "With the inspiration of the Wafu trend, bonito or traditionally brewed soy sauce could be added to beautifully meld both cuisines together."
Hunter notes that by learning the principles of Wafu Italian, chefs can create both simple and complex flavor profiles. "Fermentation and umami are two core concepts from Japanese pantry ingredients that chefs can incorporate into their cooking." he says. "To encourage more Wafu acceptance, I think it's important to provide chefs with resources to better understand its principles and core ingredients ." To that end, Hunter identifies and defines several of these:
Soy sauce is the mixture of soybeans, wheat and brine, brewed in a delicate fermentation process that lasts several months.
Katsuobushi are dried bonito flakes and considered an essential in any Japanese pantry.
Dashi is the broth used in miso soup or whenever a savory umami flavor is needed.
Koji is cooked rice or soybeans inoculated with a bacterial culture that leads to a fermented flavor that is broadly recognized in Japanese cuisine, including the production of soy sauce.
Mirin is a Japanese sweet cooking wine often used for marinades, dressings and sauces.
Moromi sauce is made from an unmatured mash byproduct of soy sauce fermentation and mixed with soy sauce and miso.
Panko breadcrumbs are flaky and airy, maintaining their crunch longer than their Western-style counterparts. Chefs can give panko a flavor boost with seasonings such as lemon, parsley, olive oil and garlic.
Rice wine vinegar comes in several colors, most commonly a pale yellow, and lends dishes a sharp, acidic profile.
Shichimi togarashi is a seasoning blend of seven spices, including red chile, sesame seeds, ginger, nori and dried citrus peel and is often the source of moderate heat in Japanese-inspired dishes.
Sansho, often mistaken for Szechuan pepper, tastes like the Japanese version of lemon pepper.
Blonde and black sesame seeds add nuttiness to dishes, especially when pulverized.
Authenticity Is Table Stakes
For Felice, moving Wafu Italian to greater adoption hinges on respect. "Respect the cuisine, the cultures and the two countries," he says, "When preparing Wafu Italian, respect it as much as you would Japanese or French cuisines."
Chefs can demonstrate that respect by working with flavor partners like Kikkoman that bring authenticity to the products they market. "Honestly, Kikkoman is a huge part of why I have been so successful with Wafu Italian cuisine," credits Felice. "Learning Japanese cuisine is no easy task. Finding respected products that are consistently great takes a lot of the burden off of me, as a chef."
Among Felice's top go-to Kikkoman products are Kikkoman® Soy Sauce, Sesame Oil, Panko Japanese-Style Bread Crumbs and Teriyaki Marinade and Sauce. "Kikkoman also has some others that I love to use in making Wafu Italian sauces, marinades and bases, such as ponzu, unagi sauce, katsu sauce and mirin."
Hunter speaks to Kikkoman's commitment to helping advance an embrace of trend-forward flavors and concepts like Wafu Italian. "Our goal is to highlight intriguing Asian palates and share cooking methods so that more chefs can adopt these in their own kitchens," he says. "We're passionate about immersing ourselves with new questions and ideas to help facilitate excitement about innovative applications."
To learn more about Wafu Italian and access helpful resources, including videos and trend-forward recipes, visit Kikkoman USA Foodservice.