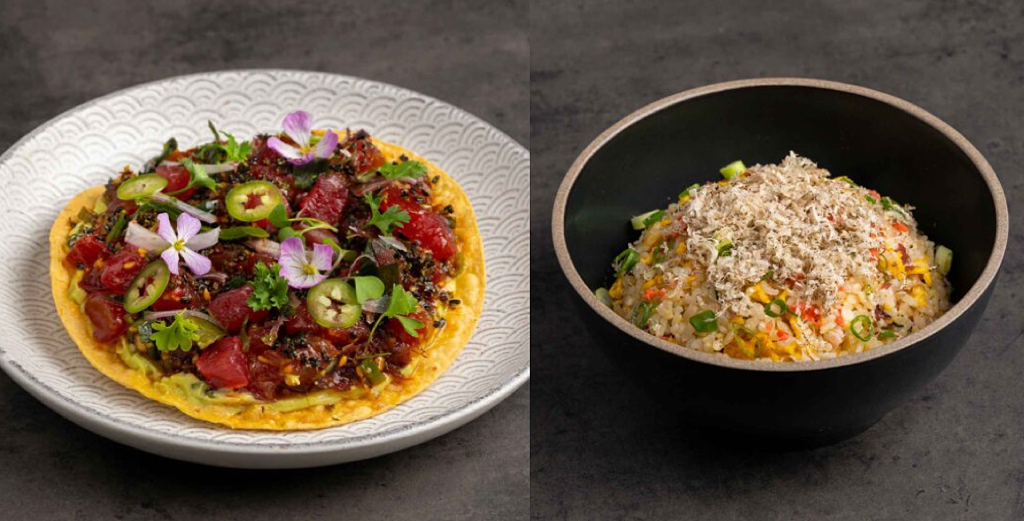 SPONSORED EDITORIAL
Umami Inspires
Japanese mash-ups: where tradition meets innovation
SPONSORED EDITORIAL
Umami Inspires
Japanese mash-ups: where tradition meets innovation
By Flavor & The Menu
October 23, 2023
By Flavor & The Menu
October 23, 2023
On the leading edge of mash-up cuisine comes Japanese-leaning flavor innovation, which represents big flavor-building opportunities for modern menus. Known for their versatility and depth of flavor, traditional Japanese ingredients have a remarkable ability to harmonize with a variety of culinary traditions. Their delicate balance and broad diversity of flavor notes can act as a bridge between cuisines, creating a bold mash-up for today's flavor-seekers.
Wafu Italian, an emerging culinary trend in the U.S., is but one example. This unlikely marriage of the flavors, ingredients and culinary techniques of Japan and Italy delivers savory creations of items rich with umami. So, a Wafu-style pork ragu might begin with a brine of soy sauce, miso and sesame oil, and served with ramen noodles topped with grated Parmigiano Reggiano.
Underlying the winning flavor development of Japanese-leaning blends is, of course, umami, that key component present in many Japanese ingredients and the baseline flavor of the cuisine. "Umami adds a savory, mouthwatering quality that complements and enhances the flavors of other ingredients," says Chef Andrew Hunter, Executive Chef for Kikkoman Sales USA, Inc. "Kikkoman® Soy Sauce, in particular, is a universal condiment that not only adds saltiness but also that coveted umami character. This makes it a natural choice for chefs looking to elevate the taste of their dishes, regardless of the cuisine."
At Ryla, a modern Japanese hotspot in Hermosa Beach, Calif., traditional ingredients are at the heart of flavor development, with Kikkoman a cornerstone of their flavor profile. "We use Kikkoman to seamlessly integrate Japanese flavors into our menu with updated takes on classic Japanese dishes infused with California influences," says Chef Ray Hayashi.
Ryla features a modern take on Japanese mash-ups, melding Japanese ingredients with So Cal favorites – such as its Tostada, Egg Salad and Avo Toast. "We use a mix of authentic sauces—from Kikkoman® Soy Sauce, Thai Style Chili Sauce, Hoisin, Sesame Oil, and Kotteri Mirin®—for their rich umami flavor and savory depth to bring an unmistakable twist to familiar favorites," says Hayashi. "Whether it's subtle and nuanced to complex, this is ultimately my take on California cooking through an L.A. lens."
Ryla's chefs also make their own signature infused soy sauces to go with their Japanese sashimi by steeping local seasonal ingredients in Kikkoman® Soy Sauce. "We've used tomatoes in the summer, mushrooms in the winter, and we especially love California citrus like bergamot and calamansi that give the soy sauce an acidic pop," says Chef Cynthia Hetlinger.
Want to bring that bold, umami-rich flavor to your cocktail offerings? Kikkoman® Soy Sauce is a surprising ingredient that adds depth to cocktails. Renowned mixologist Jim Meehan, owner of Mixography consultancy, created The Peeking Duck Cocktail, blending the umami flavor profile of Kikkoman® Soy Sauce with vodka, Cognac, Mandarin Napoleon, Amaro Averna, ginger syrup, lemon juice and orange juice for a signature sipping experience.
New research shows that U.S. restaurant patrons favor Kikkoman® Soy Sauce over other brands. To find out just how much consumers care about soy sauce when dining away from how, and how much soy sauce brands matter to them, Kikkoman conducted a national survey to explore the soy sauce preferences of restaurant patrons. Data showed that over two-thirds (67%) of restaurant patrons surveyed agree that Kikkoman® Soy Sauce tastes better than other soy sauce brands. And using Kikkoman can enhance an operation's appeal—more than half (54%) of restaurant patrons surveyed prefer restaurants that use Kikkoman® Soy Sauce over those that use other soy sauce brands.1
Here are more menu ideas to kickstart Japanese mash-up creations:
Soy-Glazed BBQ Ribs Tacos: Marinate tender ribs in a mixture of Kikkoman® Soy Sauce, honey and Japanese sake. Grill them to perfection and serve them in soft tacos with a slaw made with daikon radish and Japanese shiso leaves. Top it off with a drizzle of wasabi-infused crema for an irresistible fusion of Japanese and Mexican flavors.
Miso Ramen Burger: Craft a burger patty infused with miso paste and Kikkoman® Soy Sauce for an umami-packed delight. Top it with caramelized onions, shiitake mushrooms and a miso-mayo spread. Serve it on a ramen noodle "bun" for a playful twist that combines Japanese ramen elements with a classic American favorite.
Sushi Pizza: Create a unique fusion by transforming sushi into a pizza. Use a crispy rice crust as the base, layer it with a mix of sashimi-grade seafood, avocado and thinly sliced cucumber. Drizzle a spicy Kikkoman® Soy Sauce and Sriracha mayo over the top, and garnish with sesame seeds and nori flakes. This Japanese-Italian fusion will delight both sushi and pizza lovers.
Yakitori Poutine: For a delicious and modern take on comfort food, elevate the Canadian classic by adding a Japanese twist. Top crispy French fries with tender yakitori chicken skewers glazed in Kikkoman® Soy Sauce and Kotteri Mirin®. Finish it off with a rich miso gravy and garnish with green onions.
The possibilities for Japanese mash-ups are never-ending. Kikkoman's range of high-quality Japanese ingredients can be the key to unlocking a world of creative and delicious culinary combinations.
For more information and recipe inspiration, visit KikkomanUSA.com/Foodservice.
---
Kikkoman's 50th Anniversary in Wisconsin: A celebration of tradition and sustainability

In 1973, Kikkoman set up shop in Walworth, Wisc., chosen for its proximity to essential ingredients—soybeans, wheat and water—crucial in crafting the unique flavors of Kikkoman® Soy Sauce. On June 9, the company celebrated its 50th anniversary at the Wisconsin location, where Kikkoman continues to craft its soy sauce following a time-honored traditional brewing process. The state's governor Tony Evers officially declared it "Kikkoman Day" to commemorate the golden anniversary.
To celebrate this milestone, Kikkoman pulled out all the stops. The festivities included a traditional sake cask-opening ceremony, a feast blending Japanese and American flavors, mesmerizing taiko drum performances, and an immersive multimedia presentation that showcased Kikkoman's rich history and heritage in Japan and the U.S.
In honor of the celebration, Mr. Yuzabro Mogi, honorary CEO and chairman of the board of Kikkoman Corporation, donated $5 million to support sustainability research at the University of Wisconsin's Madison and Milwaukee campuses. The study will focus on preserving and safeguarding the natural resources that initially drew Kikkoman to the state half a century ago. This investment in sustainability underscores Kikkoman's commitment to producing exceptional soy sauce and promoting responsible and environmentally conscious practices.
1 From April 11-21, 2023, Kikkoman conducted an online survey among 1,000 soy sauce consumers who were aware of either Kikkoman or other leading soy sauce brands and who have dined out or ordered from an Asian restaurant in the past month. The margin of error is +/-3%.