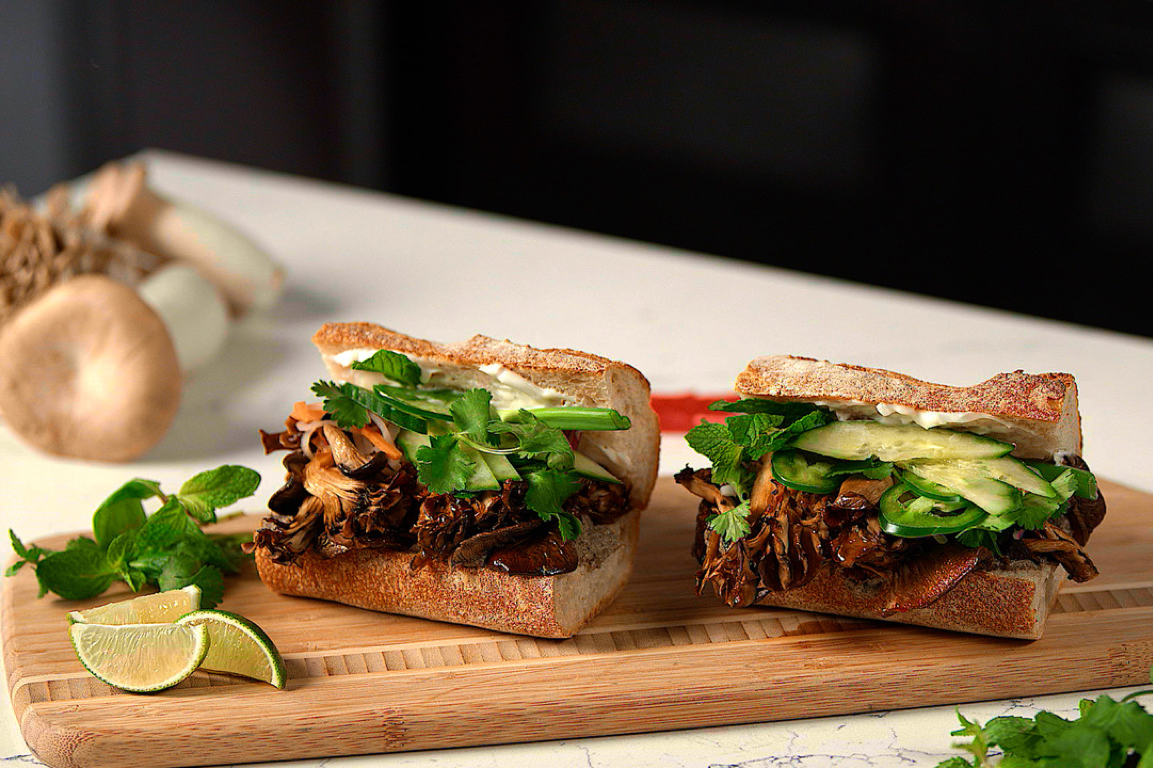 SPONSORED CONTENT
5 Super 'Shroom Trends to Watch
Leverage the power of mushrooms with flavor-forward menu ideas
SPONSORED CONTENT
5 Super 'Shroom Trends to Watch
Leverage the power of mushrooms with flavor-forward menu ideas
By Flavor & The Menu
October 20, 2023
By Flavor & The Menu
October 20, 2023
The 'shroom boom continues! Consumers can't seem to get enough of this superfood ingredient. Fresh mushrooms meet the demands of several important modern values thanks to their nutritional profile, immunity-boosting qualities, and their role as a natural, plant-based protein. Mushrooms also tell a sound climate-friendly story—as researchers have declared them one of the nation's most sustainably produced foods.
For menu developers, mushrooms are magic—offering umami- rich flavor, meaty texture and menu versatility. "Fresh mushrooms are the natural plant-based center-of-the-plate star," says Pam Smith, RDN, Co-Chair of The Culinary Institute of America's Healthy Menus Collaborative and foodservice strategist for the Mushroom Council. "Playing a key role in every world cuisine, chefs turn to mushrooms to fortify builds. They are the ultimate flavor lifter. 'Shroom-ability' makes dishes more craveable, more flexible and more forgivable."
Mushrooms are not only a trending ingredient, they fuel various broader culinary trends with their plant power. We outline five here, each leveraging mushrooms' unique qualities for maximum menu impact.
1
SANDWICHING TRENDS IN PLANT-FORWARD HANDHELDS
Global flavors and handhelds are a proven pair, delivering flavor adventure in a familiar, well-loved package. Mushrooms' ability to take on flavor, boost umami and provide satisfying meatiness makes it the ideal ingredient for creative menu development in this arena. From al pastor to shawarma to banh mi, mushrooms enhance the impact of spices and offer a plant-based version with no trade-down in experience.
2
LEVELING UP THE MODERN PIZZA
When it comes to pizza, mushrooms are all over it: According to the 2023 "Slice of the Union" report from Slice, mushrooms were the topping of the year last year, appearing on 9 percent more pizzas than the previous year. They're trending far beyond pizza toppings, introducing craveable flavor from the sauce to the crust to the finishing drizzle or crumble. Mushrooms build umami-rich sauces, like pestos or duxelles. Roasted and ground mushrooms become a meat-like addition to red sauce. When dried and pulsed into powder, they offer intriguing craveability to the crust. Made into "bacon" or "jerky," mushrooms introduce contrasting crispy texture. And of course, a drizzle of shiitake oil adds an earthy, silky touch.
3
EXTENDING "THE BLEND"
Evolving iterations of "The Blend" further mushrooms' place as one of the most versatile ingredients in the pantry. The Mushroom Council co-created the concept of "The Blend," which combines 25 percent finely chopped mushrooms with 75 percent ground protein (any type of meat or pulses) for better tasting, more nutritious and more sustainable burgers. Chefs have pushed beyond burgers and are now using it in meatballs, tacos, larb, Bolognese, kibbeh and more. "It's one of many ways mushrooms are showing up on menus as an operationally friendly and sustainable food source," says Smith. "Plant-based or plant- forward menu items that star mushrooms offer their guests an all- natural option that they can understand, recognize and get excited about. What's most special about 'The Blend' is that there is no one definition. It's up to the chef to give it their own creative take."
4
GETTING CREATIVE WITH WHOLE-MUSCLE MUSHROOMS
The portabella burger remains a classic for a reason—in its "whole-muscle" form, mushrooms can telegraph heartiness and provide a satisfying meaty experience. There's so much room for modern play with this unsliced form, taking on trending profiles, from Japanese katsu to Peruvian lomo saltado.
"Employing the beloved 'bella's incredible umami, texture, juiciness, meatiness and healthfulness across the menu is a delicious start," says Smith. "The wider availability of specialty varieties has chefs hand-breading and frying or oven-roasting royal trumpet tenders, fries or poppers. And smashing and searing maitakes or oyster mushrooms makes them a sensational crispy and caramelized add to bibimbap, kimchi fried rice or risotto."
5
BREAKFAST IS BETTER WITH MUSHROOMS
Breakfast and brunch are natural playing fields for mushrooms, rocketing beyond the omelette station and proving their star power on modern menus. "Mushrooms are the welcome new toast, the savory side, and the go-to inclusion in frittatas, huevos picante, hashes and shakshuka," says Smith. "They bring elegance and craveability to the simplest of breakfast fare. Chefs are making deeply savory and crispy 'bacon' with royal trumpets and portabellas and adding it to Bloody Marys and egg sandwiches. Lion's mane can be pulled to make a most delicious 'crabcake' or 'crab' Louie. And, of course, shiitake lattes, smoothies and teas are an aromatic, wholesome and flavor-rich wake-up."
For more menu inspiration, visit www.mushroomcouncil.org/foodservice.