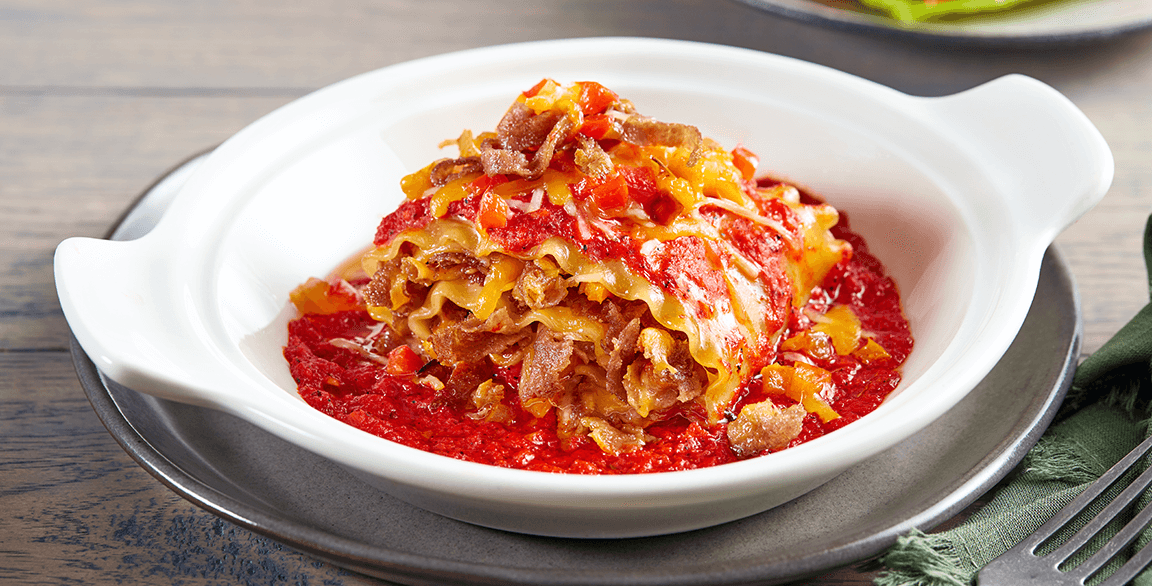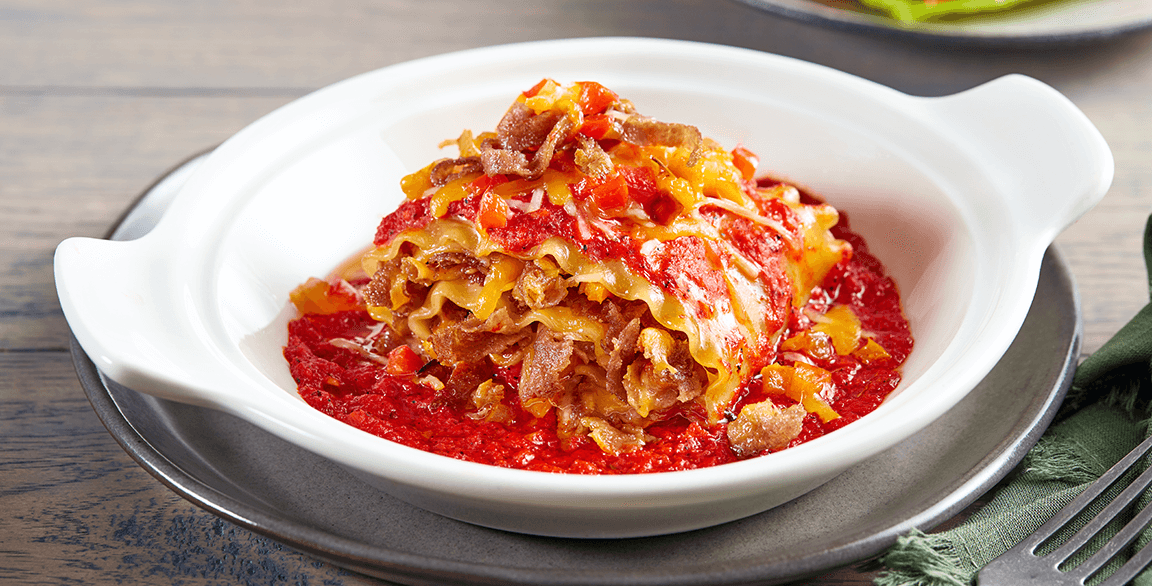 Tyson Cheesesteak Rotolo di Pasta
Recipe courtesy of Chef Thomas Horner
Sponsor: Tyson Foodservice
Servings: 24
Ingredients
Pepper Sauce
2 lbs jarred roasted red peppers
4 Tbsp butter
6 cloves garlic, minced
1 tsp dried basil
Freshly cracked black pepper, as needed
1 c heavy cream
Rotolo di Pasta
2 lbs lasagna noodles
Oil, as needed
5 lbs Tyson® Steak-EZE® Traditional Beef Ribeye Steak
2 lbs bell peppers, assorted, small dice
1 lb sweet onions, diced
3 lbs shredded provolone and cheddar
Directions
For the Pepper Sauce:
Add the roasted red peppers to a blender along with about 2 Tablespoons of the liquid from the jar. Purée the peppers until smooth, adding 1 to 2 Tablespoons water if needed to help it blend (avoid adding too much liquid from the jar as it can be very acidic).
Heat a skillet with the butter. Sauté the garlic in the butter over medium-low heat. Pour in the puréed peppers, then add the basil and some freshly cracked pepper. Stir to combine.
Allow the sauce to come up to a simmer. Turn the heat down to low and let the sauce simmer for 10 to 15 minutes, stirring often, or until the mixture is thick.
Add the cream to the skillet, stir until the sauce is smooth, and allow to heat through. Taste the sauce add salt if needed. Set aside
For the Rotolo di Pasta:
Heat the oven to 350 degrees F.
Cook the pasta to al dente. Drain, cool and toss lightly with oil.
Cook the Steak-EZE Ribeye on a flattop until browned, separating the meat slices as they cook. Check seasoning and remove the beef to a bowl.
Sauté the peppers and onion and combine them with the meat. Add 2 ½ pounds of the cheese and mix thoroughly.
Spread half of the pepper sauce in a baking pan. Roll up each lasagna noodle with some of the beef and vegetable mixture and lay it in the baking dish.
Top with the remaining sauce and any remaining beef mixture. Finish with the remaining cheese and bake until set, 45 minutes to 1 hour.
Chef's Notes
These can be built as individuals or in larger formats.
Project Management: Summit F&B
Photography: Carlos Garcia // Food Styling: Peg Blackley & Bree Williams