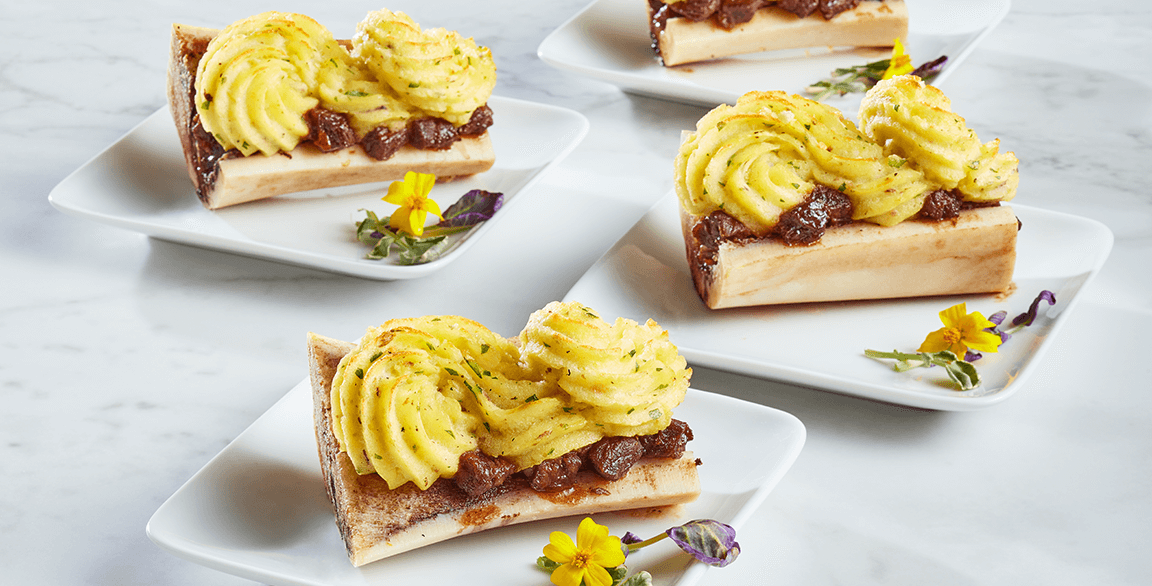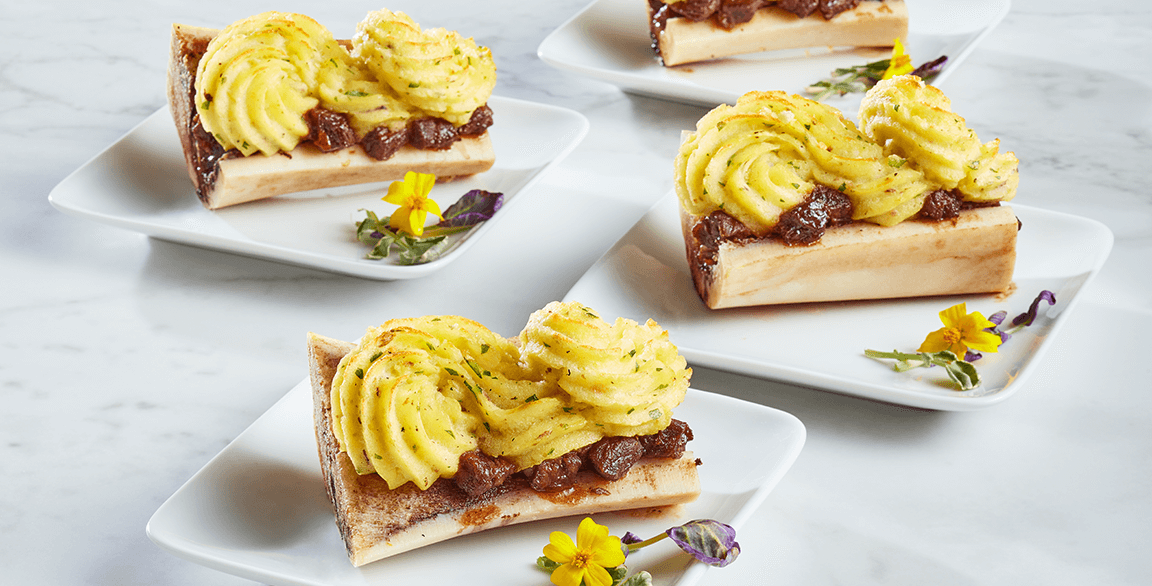 Bone Marrow Duchess Idaho® Potatoes with Braised Beef Cheeks
Recipe courtesy of Chef Thomas Horner
Sponsor: Idaho Potato Commission
Servings: 24
Ingredients
Duchess Potatoes
24 (3-inch) split marrow bones
5 lbs Idaho® Russet potatoes, peeled and diced
¼ c parsley
6 egg yolks
Salt and pepper, as needed
¼ c melted butter
¼ c breadcrumbs, for dusting
Beef Cheeks
3 Tbsp olive oil
4 lbs beef cheeks, cleaned, small dice
1 ½ lbs small dice mirepoix
3 oz garlic, minced
1 pint red wine
2 qts beef stock
¼ c chopped thyme
3 bay leaves
2 Tbsp kosher salt
Directions
For the Duchess Potatoes:
Preheat the oven to 350 degrees F.
Place the bones, cut side up, onto a baking sheet and cook the marrow until soft and slightly separating from the bone, about 20 to 25 minutes.
Meanwhile, boil salted water for the potatoes and let them cook until soft, about 25 minutes.
Remove the marrow bones and keep aside. Drain the potatoes. Mash until smooth. Cool to room temperature.
Using a spoon, scoop out the marrow with the juices. You should have about 1 pound. Add it to the mashed potatoes.
Fold in the parsley and egg yolks. Season with salt and pepper. Place the potatoes in a piping bag.
For the Beef Cheeks:
Preheat the oven to 300 degrees F.
Heat the olive oil in a large Dutch oven over medium-high heat. Add the beef in batches and cook until browned, about 4 minutes per side.
Add the mirepoix; cook until tender, about 20 minutes. Stir in the garlic and cook until fragrant, about 2 minutes.
Pour the stock and wine into the Dutch oven; bring to a boil. Lay a piece of parchment paper over the surface. Cover with a tight lid. Simmer on the stove or place in the oven for 3 to 4 hours. Add more stock or red wine if you need more liquid.
To Assemble:
Fill the empty bones with braised beef cheeks and top with piped duchess potato. Brush with the melted butter and dust with breadcrumbs.
Bake in a 350-degree F oven until the beef reaches an internal temperature of 165 degrees F.
Chef's Notes
The potato-to-marrow ratio should be four parts russet potato to one part marrow.
Project Management: Summit F&B
Photography: Carlos Garcia // Food Styling: Peg Blackley & Bree Williams