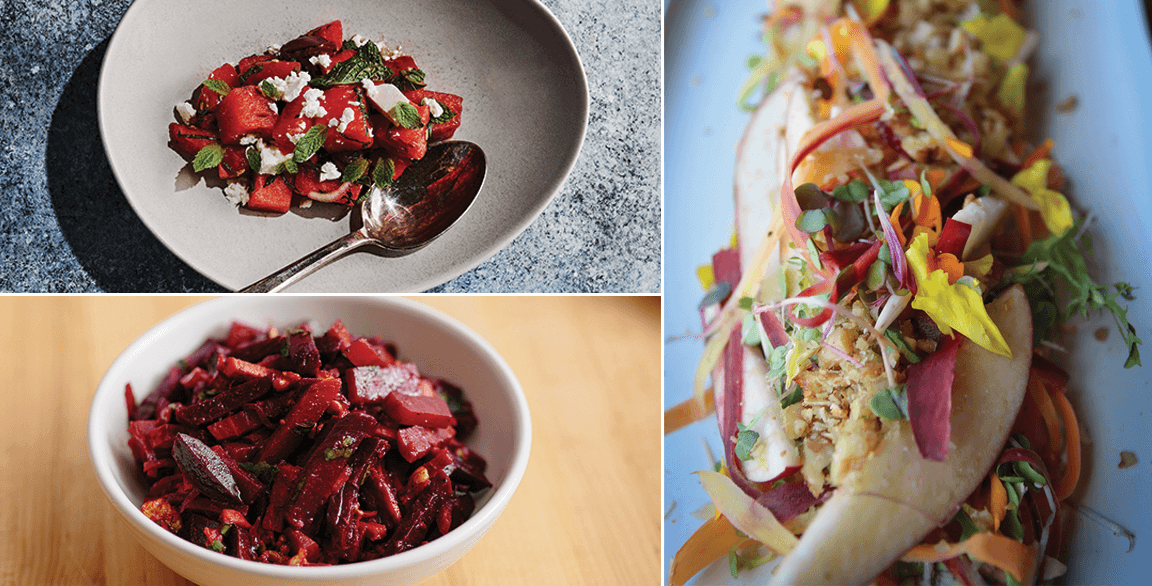 By Elyse Glickman
August 18, 2022
The antidote for the routine salad correlates with the continued influx of East Asian, Middle Eastern and Latin American elements and alternatives to croutons and bacon bits, according to reports released in early 2022 by Penn State Extension, Grubhub for Restaurants.
Even with an amplified interest in plant-based alternatives, Grubhub for Restaurants' February 2022 report noted menu developers have found dishes—including salads—generate greater excitement when global flavors and textures (Japanese yuzu, Filipino ube potatoes, Korean gochujang) recently embraced by American palates or now-familiar spices and seasonings (harissa, Tajìn) are used in adventurous ways.
TOP(PER) SECRET
In modern salad builds, little touches can easily make a big impact. Executive Chef Stephen Ennamorati of Boston's Pazza on Porter has enjoyed surprising customers by using dried apple granola as a textural topper for his Apple Fennel Salad, where granola balances and complements the acidic tart apple dressing.
"The most surprising thing about the granola is that it fits extremely well into salads," Ennamorati says. "It does not absorb dressing, keeps its crunch, and doesn't overpower the other ingredients in the salad. I chose the dried apple granola because I felt the salad needed to have a warm flavor to balance the juiciness of the apple slices and the strong flavor of the blue cheese crumble. While the granola is delicious on its own, adding it to this salad makes every bite well rounded. The additional flavor and texture bring the salad to the next level."
At the salad-centric MIXT, with locations in California, Arizona and Texas, Director of Culinary Matt Colgan pays attention to the crunch that enables him to achieve "nutritious deliciousness." "At MIXT, we create crave-worthy salads that are full meals," he says. "My goal is to offer nutritious, delicious salads that make people happy and satisfied."
Several salads on the menu feature a "crackle." To create Asiago crackle for a limited seasonal special, he bakes together Asiago, fontina and Parmesan, pumpkin seeds, black and white sesame seeds and poppy seeds to create an "umami crunch bomb." Its "FALAF" salad, meanwhile, stirs things up with falafel crumbles, which ties together the other ingredients (roasted cauliflower, avocado, grapes, cucumbers, chickpeas, fresh herbs, lemon tahini vinaigrette) into a hearty Middle Eastern build. The Peachy Salad is enlivened with cornbread crumbles, made with house-baked cornbread which is cooled, crumbled and baked again.
While tortilla chips are a standard finisher in Mexican salads, Guanajuato Mexican Restaurant & Tequila Bar in Winnetka, Ill., swaps these out with pomegranate and pumpkin seeds to top its Margarita Salmon Salad. The resulting sweet and salty crunch texturally balances the fish, but also the eclectic mix of arugula, avocado, goat cheese, cherry tomatoes and beets.
ALWAYS IN SEASONING
Unexpected ingredient combinations can result in exciting new flavor profiles. Chef Matt Horn, noted pitmaster at Horn Barbecue in Oakland, Calif., adds Kalamata olives to a watermelon salad to level out the sweetness and accentuate the basil, feta cheese and mint. Cole Ellis, chef-owner of Delta Meat Market in Cleveland, Miss., throws the steakhouse staple wedge salad a curve with the addition of sweet and hot chile sauce.
Umalu, at the Hyatt Regency Maui Resort and Spa, coats ahi tuna with a secret peppery and smoky "volcano" spice blend and finishes the Volcano Spiced Seared Ahi Salad with a crystallized ginger vinaigrette to update the popular Pacific Rim-Asian mix.
A preponderance of Middle Eastern seasonings and spice blends are showing up as high-impact flavor-makers in modern salad offerings. Roman Shishalovsky, creator of the menu at the newly opened Mazza Modern Kitchen in Studio City, Calif., selects spices and seasonings for its salads with intention, not only to make the salad pop but to harmonize with other dishes as well.
"A traditional Shirazi Salad is made of cucumbers, tomatoes and red onions, with salt, pepper and dried mint for seasoning and olive oil for dressing," Shishalovsky explains. "However, we do things with a twist at Mazza, and added snap peas and radishes for crunch, and frisée lettuce for air and presentation. Finishing with our sumac vinaigrette not only brightens up the salad, but gives it a special zing which allows it to pair nicely with our fish dishes."
In Oakland, Calif., Pomella's chef-owner Mica Talmor notes her Butternut Squash & Quinoa Salad and Beet Ras el Hanout Salad are among the most popular. The hearty butternut squash salad has Middle Eastern sensibilities and gets its texture from quinoa, dried cranberries, pumpkin seeds, Manchego cheese and scallions. She describes the butternut squash salad as a hybrid of Spanish and Middle Eastern sensibilities, getting its texture from quinoa, dried cranberries, pumpkin seeds, Manchego cheese and scallions. She makes the Maghrabi Beet Ras el Hanout (which can be served as a cold mezze or over greens) her own through her approach to the spice mix.
"The beet salad was inspired by a North African spice blend, ras el hanout, which means 'head of the shop.' It is the blend master's pride and joy, as each spice shop has a unique blend," she explains. "The sweetness of the beets and yams complement the warm robust flavor of the ras el hanout. We use some of the beet braising liquid to dress the salad, further amplifying the flavor."
RECIPE:
WATERMELON SALAD
Matt Horn, Horn Barbeque, Oakland, Calif.
6 cups cubed seedless watermelon
¼ cup chopped fresh mint
¼ cup chopped fresh basil
¼ cup Kalamata olives, pitted and sliced
drizzle of olive oil
drizzle of balsamic vinegar
½ cup feta cheese
In a large bowl, toss together the watermelon, mint, basil, olives, olive oil and balsamic vinegar until well mixed.
Top with the feta cheese just before serving.