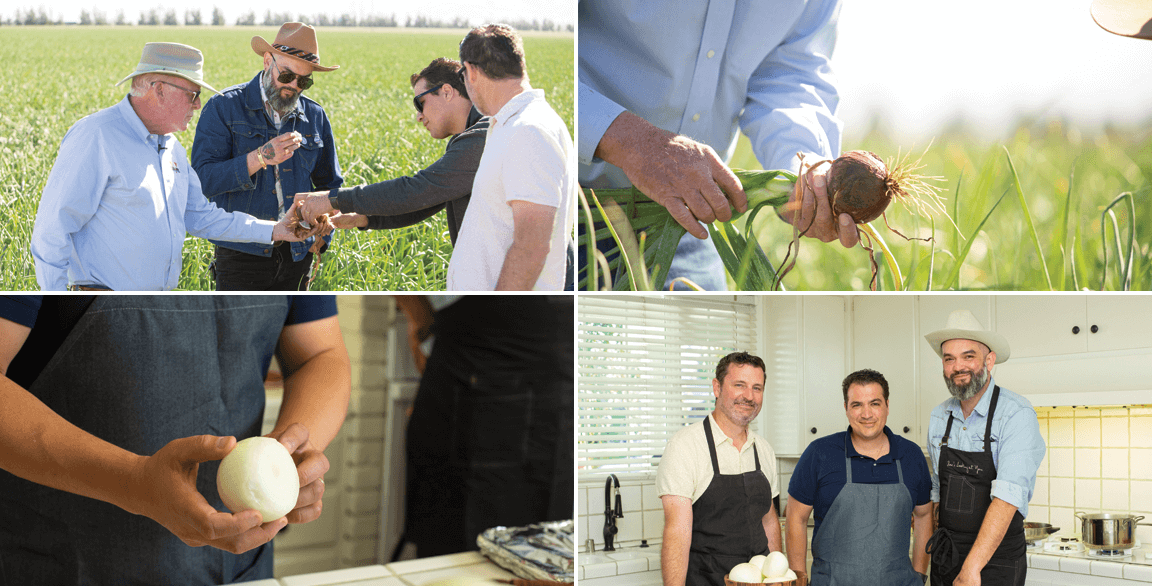 As kitchen ingredients go, onions often don't get the respect they deserve. While flashier seasonal products — looking at you, truffles, morels and spring peas — often hog the spotlight with special menu items created around them, the ever-present onion remains in the background doing its important work with little or no fanfare or attention.
At Gills Onions, however, it's a much different story. What began in 1983 as a passion project of brothers and fourth-generation farmers Steve and David Gill to offer the highest quality, sustainably grown fresh-cut onion products to its foodservice and retail customers, has become one of the largest family-owned onion growers and processors in the world. Using a three-pronged approach to its onion farming that focuses on innovation, conservation and sustainability, Gills ensures their onions have the best growing conditions and the lowest environmental impact.
To help shed some light on their unique onion growing process, Gills Onions recently hosted a true farm-to-table experience for a group of chefs at one of their farms in Bakersfield, Calif.
"It was eye opening to taste through many onions and learn the details of the farming that result in such a superior product," says Chef Chris Shackelford of Trelio Food and Wine in Clovis, Calif.
Creating a superior product starts with using the highest quality soil that is rich in macro- and micronutrients, which in turn creates a strong root system aiding in withstanding pests and extreme weather. Raised from seed to harvest by their experts, Gills' onions are processed in their own facility, guaranteeing they are in control of the entire process up until their onions arrive at customers' doors.
TRACING QUALITY
"Product tracing is extremely important," says Chef Michael Ponzio of Chicago's Union League Club. "Knowing the care and attention that goes into a product I buy helps ensure that my customers are receiving a quality product from a safe and reliable vendor. We have so many options now, so it is our responsibility to provide our customers with the best products."
Gills Onions' Steve Gill echoes that sentiment. "At Gills, we have the ability to trace the product all the way back to the field. Traceability should not stop at the distributor level; it needs to have the ability to be traced all through the supply chain."
For Shackelford, the ability to trace a product to its source is not only vital for food safety but also plays a role in food consistency. "Agriculture can vary year to year and knowing a farmer that has put considerable effort into the terroir and farming practices ensures that we are cooking with a consistent piece of produce each time," he says.
Getting a glimpse firsthand into the sustainable symbiotic waste-powered energy solution Gills Onions employs—including converting 100 percent of their onion waste into emissions-free electricity—was another pleasant discovery for the chefs. "Their sustainability practices blew my mind," says Ponzio. "It is amazing how they use their own byproduct to make methane for their production, and how a business that size could be so environmentally friendly."
Available in a variety of formats, ranging from diced and sliced to slivered and whole peeled, Gills Onions arrive 100 percent washed—ensuring that the unsanitary dirt and bacteria common with unpeeled onions isn't brought into your kitchen—and ready to use. "We've worked hard to achieve an 18-day shelf life to ship into every market within the U.S. and Canada," says Gill, adding that their onions' strong cellular structure translates to less odor and can be cut with fewer tears. "This level of quality does not happen by accident."
And chefs have taken notice.
"It's not easy as a chef to commit to buying processed products, but Gills takes the time to focus on their quality and shelf life ensuring that the peeled onions we get are even better than the whole commodity ones we used to buy," says Ponzio. "This helps my team save time, be more productive and actually increases our quality."
Discover more about the foodservice products and advantages available from Gills Onions by visiting https://gillsonions.com/products and clicking on "Foodservice."