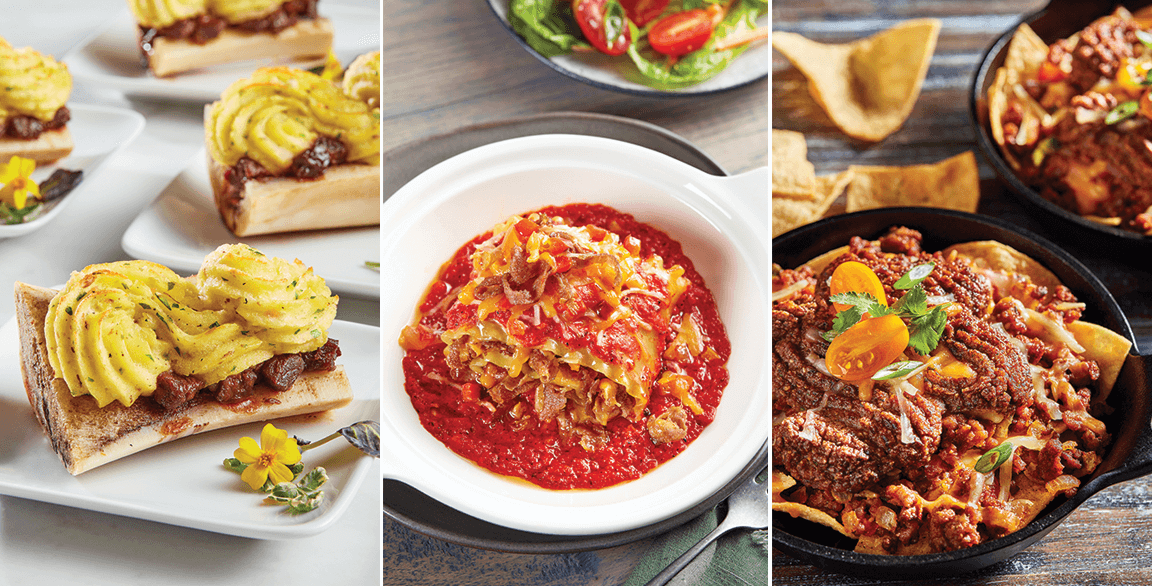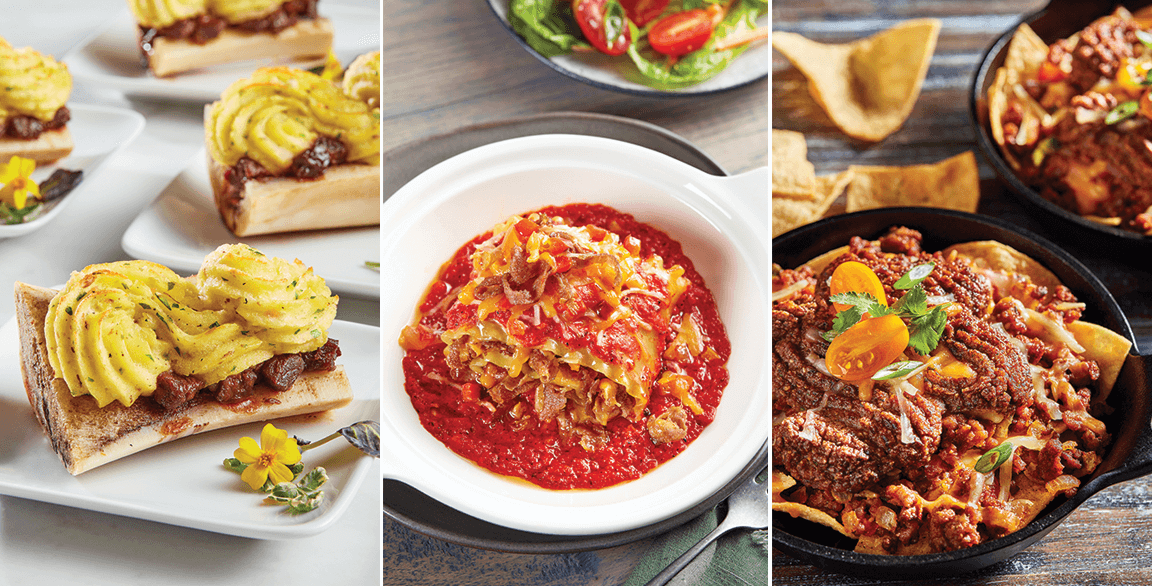 Kitchen Collaborative is a recipe-development initiative formed by Summit F&B and Flavor & The Menu. To fuel flavor innovation, a group of talented chefs partnered with sponsor brands and commodity boards to create recipes that showcase the passion and potential of our industry.
CHEF SPOTLIGHT: Thomas Horner
After 25 years with Marriott — most recently as complex executive chef at The Westin Bellevue/W hotels in Bellevue, Wash. — Thomas Horner stepped away from the hustle and bustle of the foodservice kitchen and into a new professional identity as Chef/Owner of Misty Clover Farm, a "family farm and food forest." The 54-acre permaculture farm and event space means, he says, "Nature and the seasons are always my guidepost," with harvests as the principal driver in his menu decisions and culinary approaches.
But Horner's work today remains informed by his past experiences and training. This is born out in everything from his pantry preferences—"I still fancy a bunch of finishing salts in my kitchen. The right salt, used appropriately, will elevate any dish," he says—to the inspirations behind his recipes for Kitchen Collaborative: Bone Marrow Duchess Idaho® Potatoes with Braised Beef Cheeks, Tyson Cheesesteak Rotolo di Pasta and Ranchero Baked Bean Pie.
Bone Marrow Duchess Idaho® Potatoes with Braised Beef Cheeks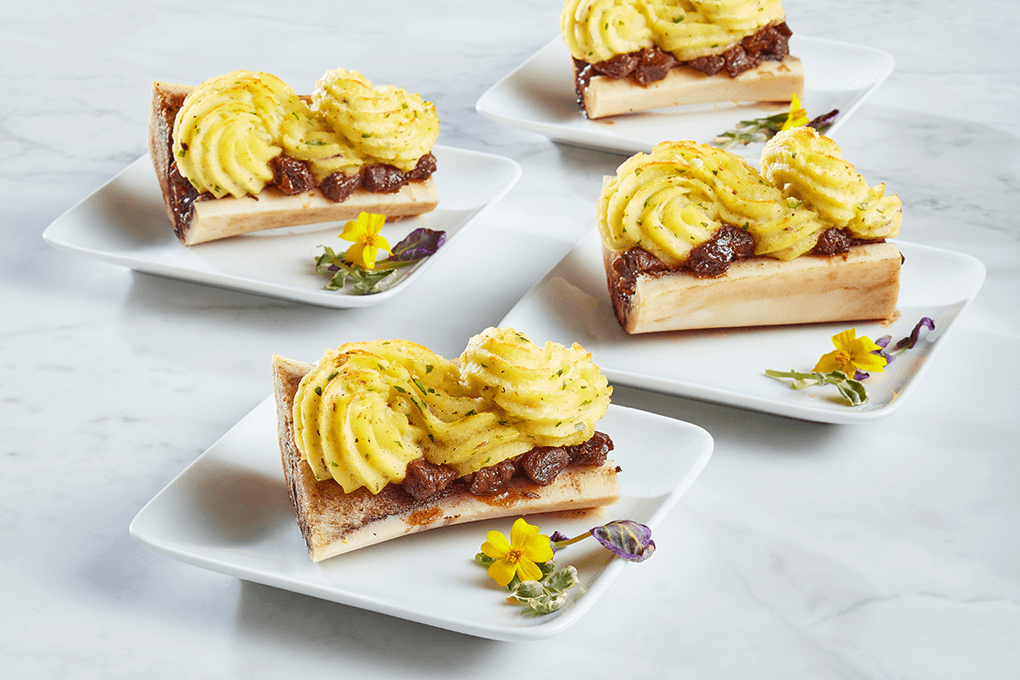 Photo: Carlos Garcia // Food Styling: Peg Blackley & Bree Williams
To showcase Idaho® Potatoes, Horner lifts the flavor experience by using bone marrow. "I love bone marrow. It is rich and succulent and butter-like," he says. Noting that potatoes need some kind of fat to deliver a creamy texture and luscious flavor, Horner turned to this next-level pairing for his Bone Marrow Duchess Idaho® Potatoes with Braised Beef Cheeks dish. "Marrow and potatoes marry well," he notes.
It was also a budget-savvy tactic. "Bone marrow is a cheap luxury," Horner notes of a perception that marrow is gaining more menu mentions in recent years. "It gives chefs a nice alternative for creating a rich appetizer." And pairing the potatoes with beef cheeks—another less-expensive ingredient choice—was part of his strategy to present "a luxurious dish, without the cost."
Warm, soft marrow is added to mashed potatoes, along with parsley and egg yolks. The beef cheeks are braised in oil with mirepoix and garlic, then simmer in beef stock and red wine for three to four hours.
To assemble, the meat and potatoes are served in the hollows of the empty bones. This plating, along with piping the mashed potatoes in the Duchess presentation and brushing them with butter and dusting with breadcrumbs, are all genius touches that dial up the elegance factor. Given the rich flavor profile of the dish, Horner sees this as a shareable appetizer "or it could be a fun buffet small plate," he says.
Tyson Cheesesteak Rotolo di Pasta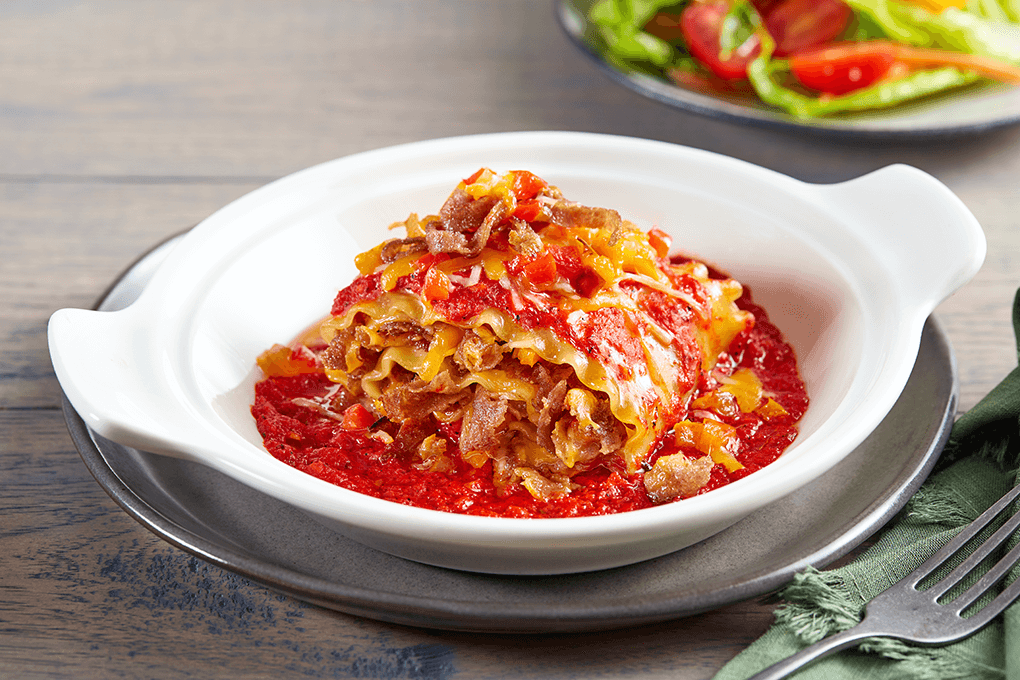 Photo: Carlos Garcia // Food Styling: Peg Blackley & Bree Williams
Horner relied on his background in Italian cuisine to create this Tyson Cheesesteak Rotolo di Pasta, featuring a kitchen secret that may simplify conventional prep approaches, while extending pantry versatility. "Whenever we had cooked off too much lasagna pasta, a rotolo was an easy way to use the extra sheets and create a pasta appetizer," Horner explains. His assigned Kitchen Collaborative ingredient, Tyson® Steak EZE® Traditional Beef Ribeye Steak, is particularly well-suited as a cheesesteak, leading him to this successful mash-up.
The marinated meat can go from grill to plate in 90 seconds, especially valuable for on-the-go handhelds. Horner pairs it with traditional cheesesteak ingredients: peppers, onions and lots of cheese. "I never want to skimp on extra cheese," he notes of his decision to use both cheddar and provolone in the dish. "A cheesesteak has to have cheese." Horner's dish also features a pepper sauce made with jarred roasted red peppers, butter, garlic, dried basil, cracked black pepper and heavy cream. Half of the sauce is poured into a baking pan, followed by each lasagna noodle, which has been rolled with the beef-and-vegetable mixture. Any remaining sauce, beef mixture and cheese crown the dish before baking.
The assembled result, in which pasta replaces the traditional hoagie roll as a carrier, is clearly an elevated take on the Philly favorite. But Horner doesn't necessarily characterize it that way. For him, it's simply "a cheesesteak that you can eat with a fork!"
Ranchero Baked Bean Pie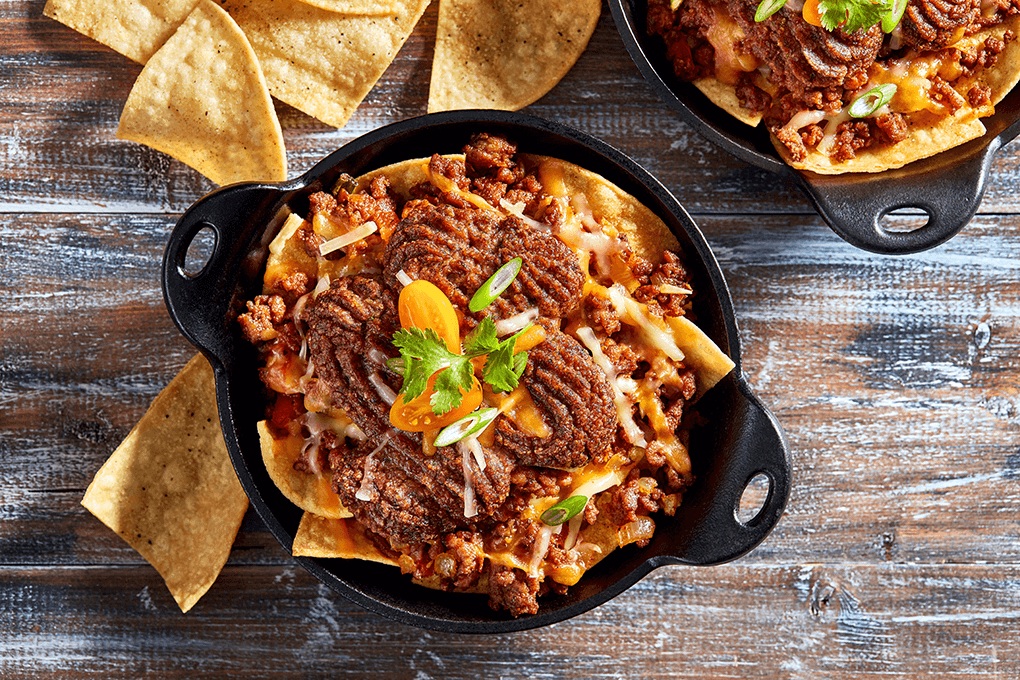 Photo: Carlos Garcia // Food Styling: Peg Blackley & Bree Williams
Shepherd's Pie, that comfort classic, is a personal favorite for Horner. "I love to make Shepherd's Pie. It's something that can be prepped ahead of time and then fired when needed," he says. Horner's Ranchero Baked Bean Pie, featuring Bush's® Sidekicks™ Taco Fiesta™ Black Beans, is both an homage and a riff on the iconic dish. "It's a play on that flavor build, but with a Southwest take," he explains.
Horner sautés onions in oil, adding ground beef, garlic, scallions, taco seasoning, diced tomatoes and salt. Half of this mixture tops a base of crispy tortilla chips. The meat is capped with a full pound of shredded cheese, which is followed by a second layer of the seasoned beef.
While a conventional Shepherd's Pie is crowned with mashed potatoes, Horner's dish features an inventive departure with tradition. After draining the black beans, they are pureed in a food processor, along with breadcrumbs, cilantro and eggs. This mixture is poured into a piping bag and applied decoratively across the beef, with a final layer of cheese sprinkled on top. Cilantro is the only seasoning Horner adds to the beans, as the Taco Fiesta product "definitely packs a punch of spice," he notes.
Project Management: Summit F&B
Photography: Carlos Garcia // Food Styling: Peg Blackley & Bree Williams