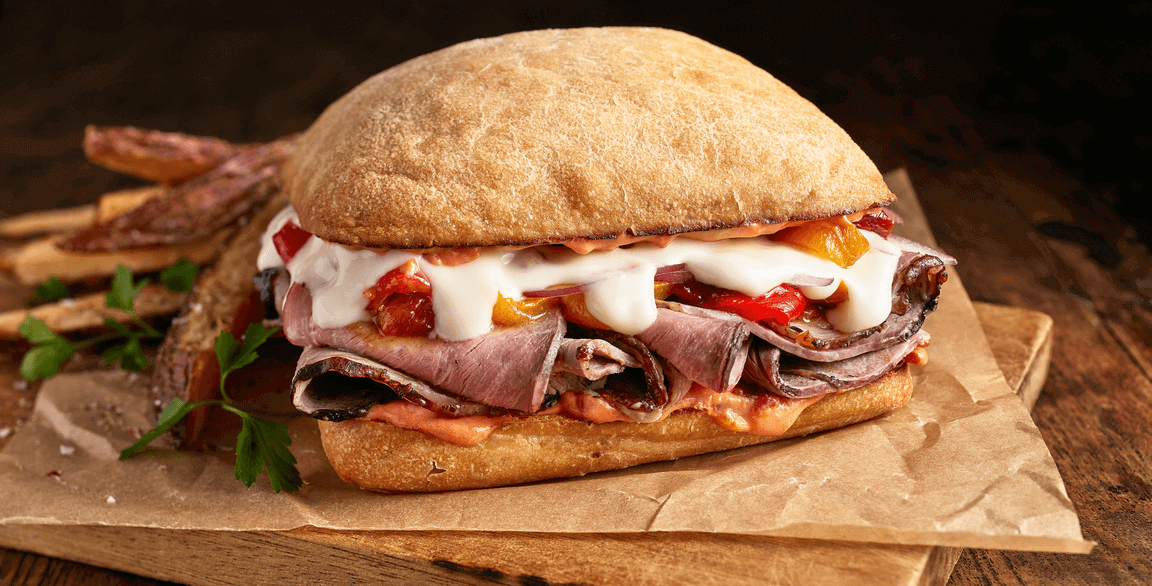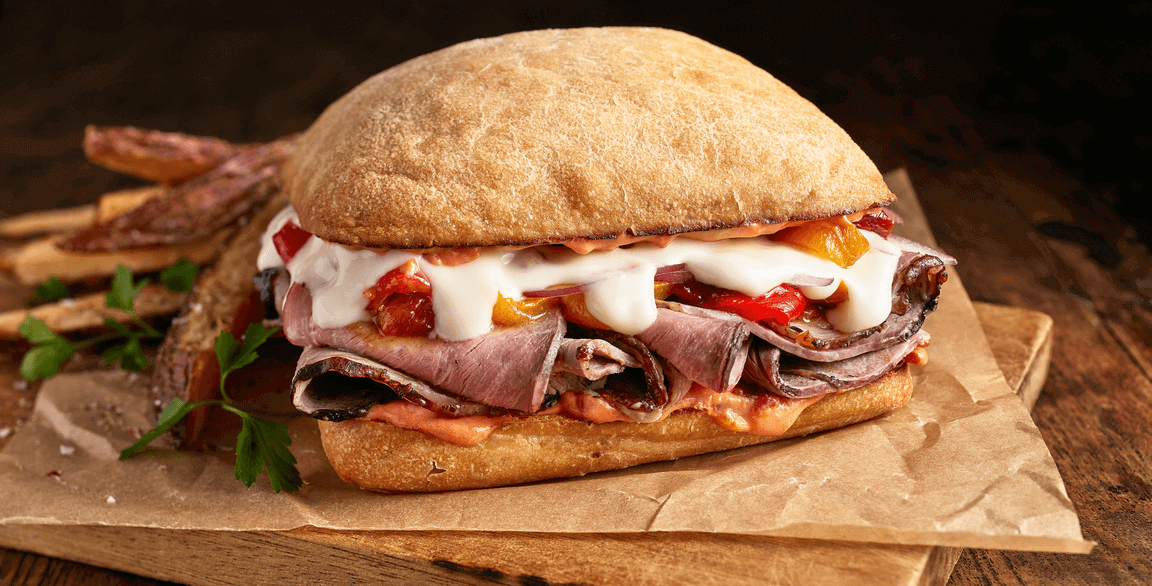 Roasted Aussie Lamb Sandwich with Fontina, Sweet Peppers and Harissa Mayo
Recipe courtesy of Chef Alex Hoefer
Sponsor: True Aussie Beef & Lamb
Servings: 25
Ingredients
Marinade
1 c balsamic vinegar
3 c extra-virgin olive oil
5 sprigs rosemary
Sandwiches
9 Australian legs of lamb, shanks removed, H bones removed
Kosher salt, as needed
Fresh ground black pepper, as needed
5 lbs multicolored baby sweet peppers
½ c sherry vinegar
½ c water
2 oz granulated sugar
2 sprigs oregano, leaves chopped fine
3 c milk
1 c heavy cream
2 lbs fontina cheese, shredded or feathered (see Chef Notes)
½ c harissa paste
3 c Duke's mayonnaise (or preferred brand)
25 ciabatta rolls, sandwich-size square loaf will work
3 red onions, peeled and shaved paper thin
Directions
Preheat oven to 400 degrees F.
Mix marinade ingredients and place in large resealable or vacuum bags with prepared lamb meat. Let marinate for at least 8 hours.
Remove lamb from bags and tie into roasts for even cooking. Season liberally with salt and pepper. Place on a roasting rack on a sheet pan so they are elevated. Roast until they reach an internal temp of 125 degrees F for medium-rare doneness. Let rest and cool.
Roast peppers until the skins are colored and wrinkled. This can be done over an open flame as well. Place in a stainless bowl and cover with wrap to steam. Peel the peppers and remove the stems. Give them a light, rough chop.
Add the vinegar, water, sugar and oregano to the peppers and let them marinate.
In a small saucepan, gently heat the milk and cream until simmering. Whisk in the cheese to create a thick cheese sauce. (As an option, grind a bit of nutmeg into this.) Season the cheese sauce with a pinch of kosher salt.
Mix harissa paste and mayonnaise together and reserve for building the sandwiches. (I recommend doing this a day ahead of time in order to let the flavors get to know each other a bit and become more of a homogenous spread.)
Split rolls in half and toast lightly.
Slice the cooled lamb on a deli slicer or by hand so that it is thin but not shaved. You should get 4 to 5 sandwiches per leg (about 4 ½ ounces of meat per order), depending on sizes of legs.
To build the sandwiches, spread the mayo on both top and bottom sides of bread. Place the meat on bottom (I heat the meat on a flat top griddle with a splash of water for steam), add some shaved red onion, a spoonful of the pepper mixture, top with the warm cheese sauce, and place the roll tops on. Cut in half from corner to corner.
Chef's Notes
The sandwich holds up well in a hot box for about 30 minutes. For the fontina, try to find younger and softer versions.
Project Management: Summit F&B
Photography: Carlos Garcia // Food Styling: Peg Blackley & Bree Williams