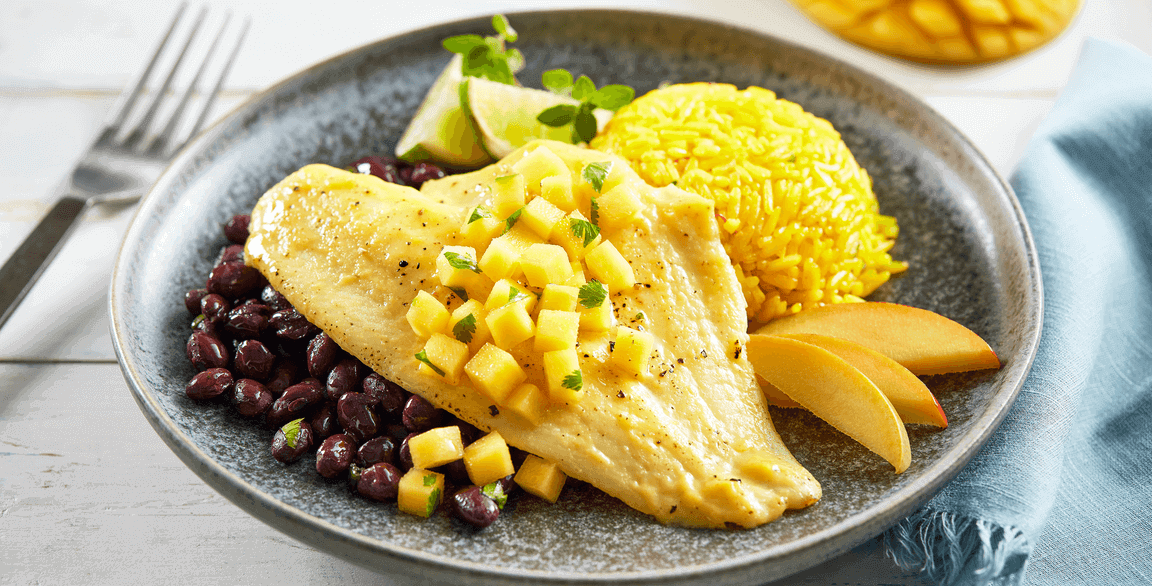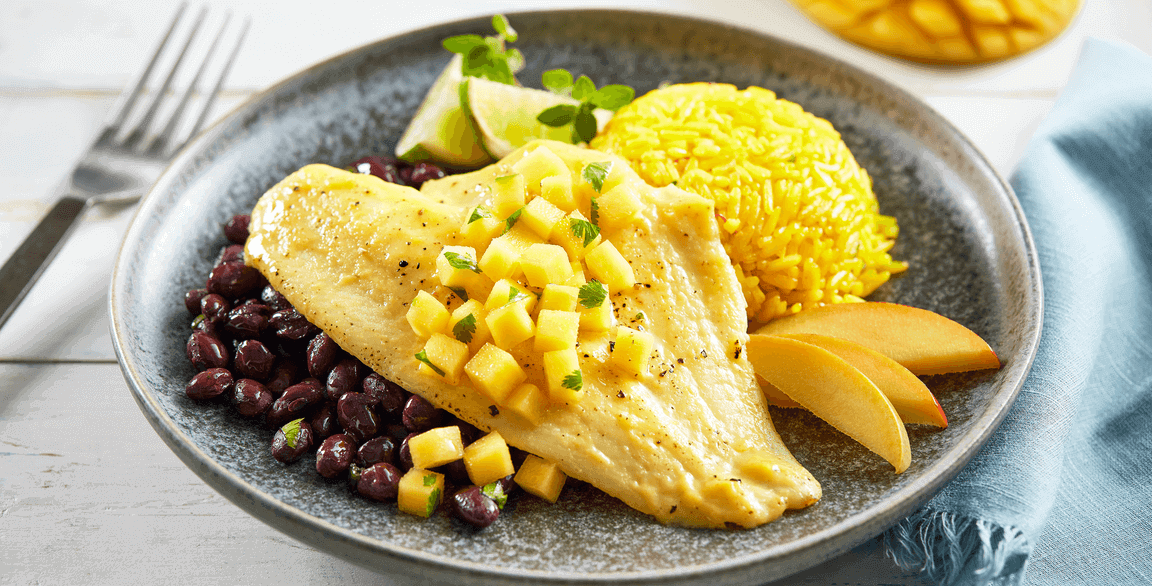 Mango Mojo Grilled Flounder
Recipe courtesy of Chef Alex Hoefer
Sponsor: National Mango Board
Servings: 25
Ingredients
8 ea mangos, pit removed, skinned & diced
2 c water
¼ c orange juice (fresh preferred, or high pulp)
½ c fresh lime juice
½ c extra virgin olive oil
3 Tbsp fresh minced garlic
1 tsp ground cumin
2 tsp dried oregano
25 ea 5-oz filet of snapper, skin off
As needed salt and pepper
25 orders steamed white or saffron rice
25 orders cooked black beans (usually made with fatback and citrus juice)
As needed fresh cilantro, chopped
25 ea lime wedges
Directions
In a blender, add three-fourths of the diced mango and the water. Blend well to make mango juice.
Add the orange and lime juices, oil, garlic, cumin, and oregano. Blend well to combine.
In a hotel pan, pour the marinade over the fish but only enough to coat. Let sit for about 15 minutes.
Remove the fish from the marinade, season with salt and pepper.
On a very hot grill, cook fish until it reaches about 143 degrees F internal. Glaze the fish with the marinade while grilling to help it caramelize.
Serve each fillet with an order of rice and beans and perhaps some tostones. Garnish the fish with some of the remaining diced mango, lime wedges, and fresh chopped cilantro.
Chef's Notes
This is a simple but delicious dish that is great for lunch or dinner and works well for takeout. The mango flavor is strong and pronounced and offered in many forms from flavoring the fish flesh, charring and caramelizing on the grill, and the fresh diced mango on top. It is also good served with coconut rice.
This mixture can be used on smoked pork ribs, whole chickens or chicken parts. It is versatile and holds well in a refrigerator. It can also be thickened with cornstarch to make a wing sauce or thickened with pectin and spiked with habaneros for a mango jam to serve on roasted pork loin sandwiches.
Project Management: Summit F&B
Photography: Carlos Garcia // Food Styling: Peg Blackley & Bree Williams