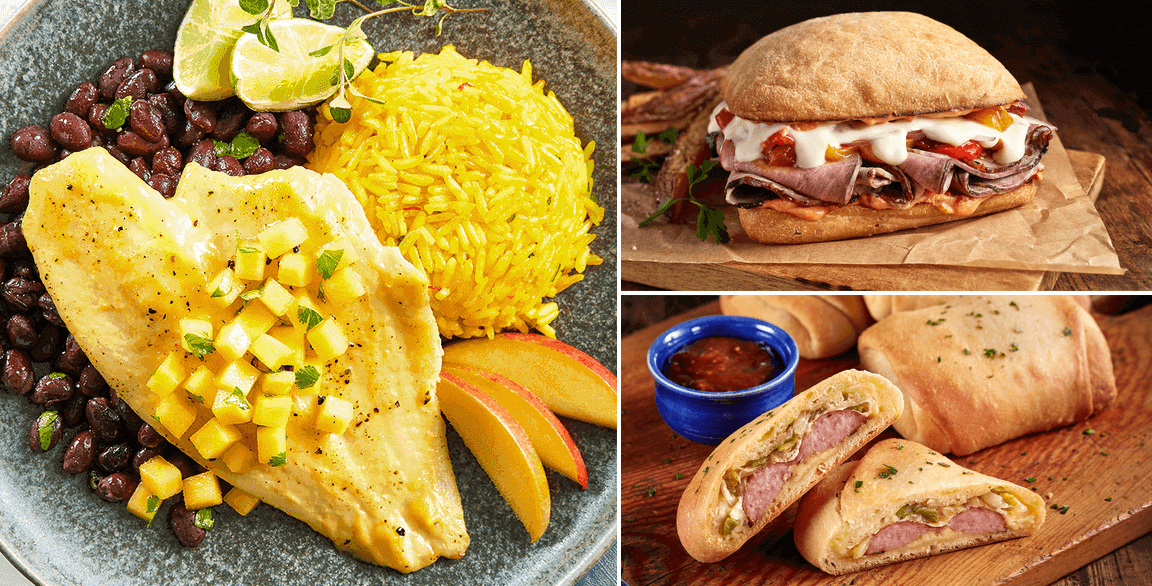 By Flavor & The Menu
April 11, 2022
Kitchen Collaborative is a recipe-development initiative formed by Summit F&B and Flavor & The Menu. To fuel flavor innovation, a group of talented chefs partnered with sponsor brands and commodity boards to create recipes that showcase the passion and potential of our industry.
CHEF SPOTLIGHT: Alex Hoefer
"Simplicity and satisfaction. Where those things intersect, that's where I want to be," says Alex Hoefer, Executive Chef, Wind Creek Casino & Resort, of his culinary philosophy. "Most of my approach is based on what sounds really good to me while I'm brainstorming; often they're the simple pleasures." Hoefer's three recipes for Kitchen Collaborative—Mango Mojo Grilled Flounder; Roasted Aussie Lamb Sandwich with Fontina, Sweet Peppers and Harissa Mayo; and Hillshire Farm® Fully Cooked Split Smoked Sausage Kolaches with Roasted Chile and Onion—may be rooted in a modest methodology, but they produce deep flavors and serious satisfaction.
Hoefer is an evangelist for this approach, urging fellow culinarians "not to over-complicate things, even as you push your imagination," he says. "Just walking through a grocery store or a farmers market, I find myself rediscovering foods that have fallen out of sight and out of mind. We get tunnel vision sometimes. We need to remember, 'What's something I like and think others will like, too?'"
MANGO MOJO GRILLED FLOUNDER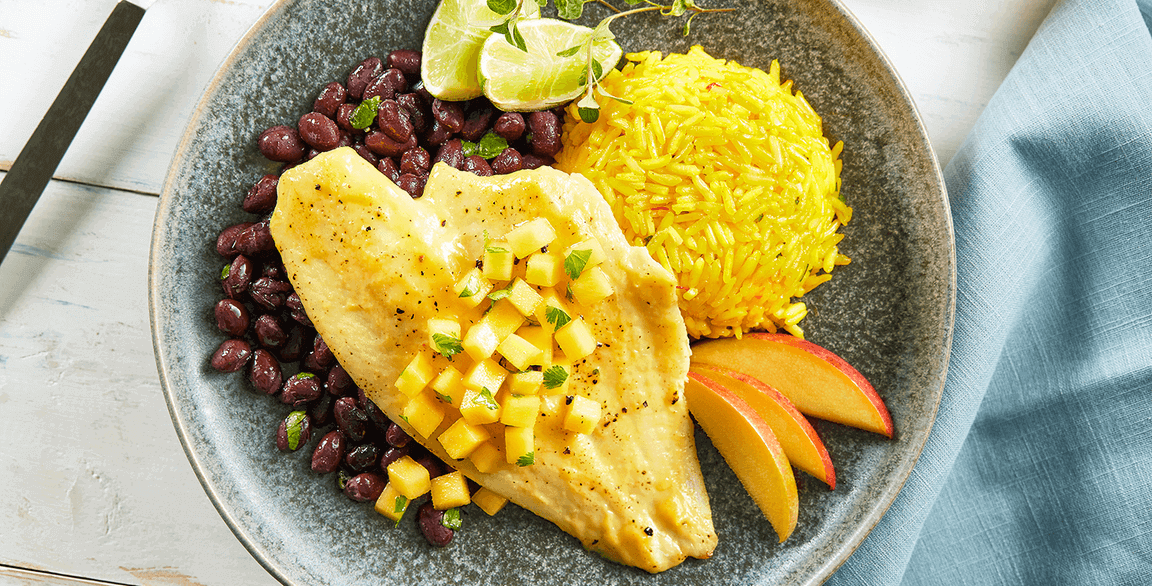 Photo: Carlos Garcia // Food Styling: Peg Blackley & Bree Williams
Hoefer is strongly influenced by youthful memories of Alabama's Gulf Coast and his love of whole grilled fresh fish: "Flounder, snapper, grouper, rockfish, wreckfish, lionfish, salmon, tuna, mackerel—even shrimp, spiny lobsters and oysters. Anything you would grill on a sunny afternoon with friends and family," he says. That seafood naturally requires a delicious glaze, and while mojo is conventionally paired with Cuban-style pork roast, Hoefer finds it an exceptional flavor profile for grilled fish. The mango assignment, he says, seemed like the perfect fit. "Simplicity is the key: rice, beans, some grilled fish and fruit," he says of his Mango Mojo Grilled Flounder. "I can hear the waves right now!"
"Mango tastes like paradise," continues Hoefer, offering one reason for their popularity with both customers and chefs. "Whether it's puréed or blended, it has such a beautiful texture and viscosity to it that makes a perfect glaze without hardly any effort. The flavor also lends itself to many different avenues. You can make it sweet or spicy and it has the strength to shine."
Hoefer blends diced fresh mango with water to create a mango juice, which he combines with orange and lime juices, extra-virgin olive oil, garlic, cumin and oregano for a marinade that pulls double flavor duty as a glaze for basting during grilling. He uses diced mango as a finishing garnish. Hoefer also recommends the mango marinade for smoked pork ribs, whole chickens and more, and notes that it can be thickened with starch for a wing sauce or with pectin—and spiked with habaneros—for mango jamon roasted pork loin sandwiches.
ROASTED AUSSIE LAMB SANDWICH WITH FONTINA, SWEET PEPPERS AND HARISSA MAYO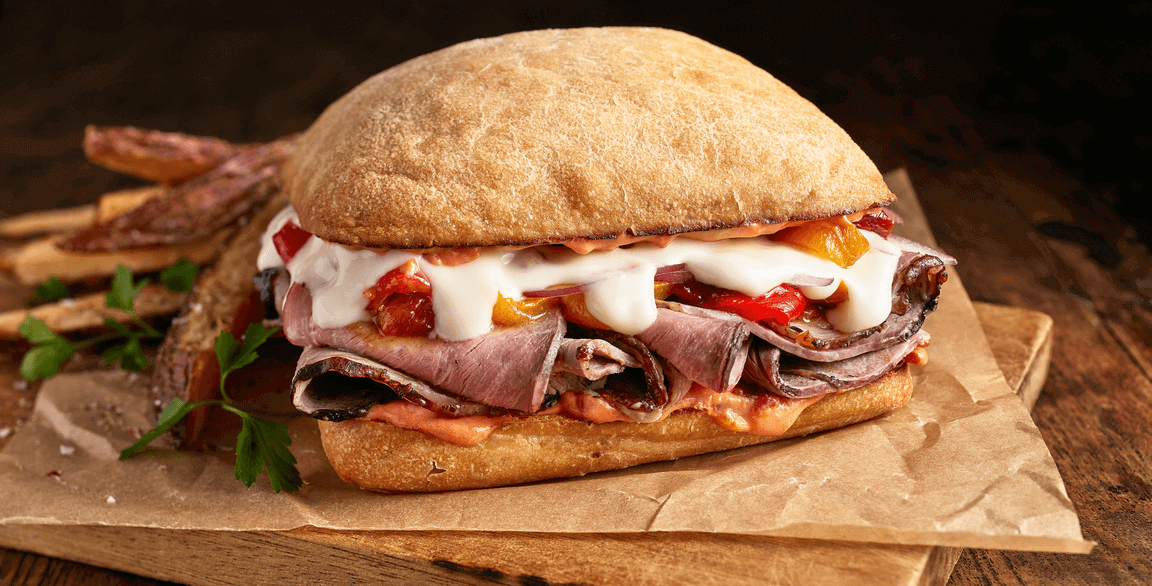 Photo: Carlos Garcia // Food Styling: Peg Blackley & Bree Williams
"I don't know anyone who doesn't like a good cheese steak sandwich," says Hoefer. Putting roast lamb in the hero spotlight and supporting it with a bevy of robust flavors makes his "a cook's version, so to speak."
Hoefer cites the many reasons he's in love with this Roasted Aussie Lamb Sandwich with Fontina, Sweet Peppers and Harissa Mayo: "It just makes sense. The soft fontina is mild, but flavorful and provides a great melted consistency, like a fancy Cheez Whiz. The harissa is something I've used on a lot of burgers and other sandwiches, and when I tried it on the lamb, it was a direct hit. The dry chiles help to break through some of the richness from the Aussie lamb and cheese. The fire-roasted peppers provide a pop of sweetness here and there, and I like to leave the skins on after roasting, so you get real charred flavor and some bitterness."
"I remember the first time I had harissa. It hit me like a brick," adds Hoefer. "My mind exploded with ideas. 'This has to go on everything right now'—and it did, for a really long time. What an extraordinary and varied condiment. It's such a great balance of heat, smoke, citrus and warm spices—pretty much all of my favorite attributes."
Hoefer would happily apply harissa to any protein, "But lamb—I really love it on lamb. It's like a Tunisian barbecue when I grill lamb over open coals." Indeed, Hoefer values the efforts of True Aussie Beef & Lamb in helping to change entrenched opinions that lamb is a wild, gamey, love-it-or-hate-it meat. "Aussie lamb has such great flavor. Once we started serving Aussie lamb, our sales started to increase," he reports, concluding, "in the right restaurant setting, this sandwich would be a crowd favorite, no doubt."
HILLSHIRE FARM® FULLY COOKED SPLIT SMOKED SAUSAGE KOLOCHES WITH ROASTED CHILE AND ONION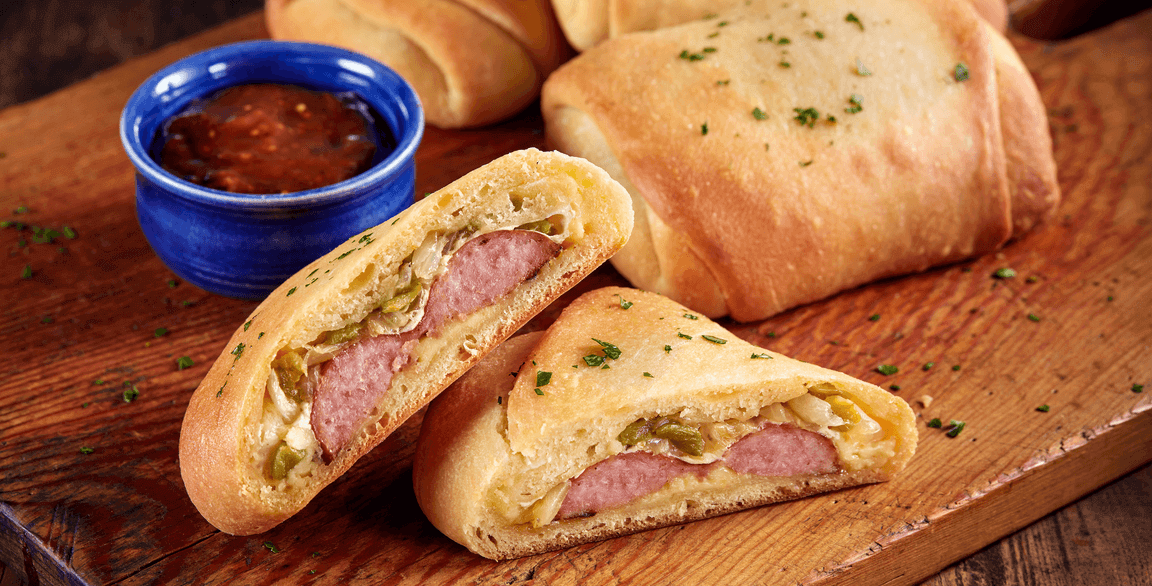 Photo: Carlos Garcia // Food Styling: Peg Blackley & Bree Williams
"Growing up in Birmingham, Ala., we had a Shipley's Donuts, which I later learned is a Texas-based company. You had to be in line early to get the kolaches. Salty, smoky and so, so good," recalls Hoefer of the craveable pastries originally brought to the Lone Star state by Czech immigrants. "When I was assigned the Hillshire Farm® Fully Cooked Split Smoked Sausage and cooked a few up, I knew they would be perfect wrapped in fluffy dough!"
Also within that tasty carrier is sharp cheddar for flavor, along with Oaxaca cheese to deliver a stretchy, satisfying bite. To "mellow out" the sausage, Hoefer adds onions and green peppers. "Simple flavors all coming together," he says.
This philosophy is applied in the kitchen, as well. "I work in a very busy casino, and we need items that we can reproduce quickly," Hoefer explains. The recipe relies on pantry staples that need minimal processing. But the end goal is always taste, he says. "When you wrap sausage, cheese and other fillings in dough, could you think anything other than 'yum' is going to transpire?"
Project Management: Summit F&B
Photography: Carlos Garcia // Food Styling: Peg Blackley & Bree Williams