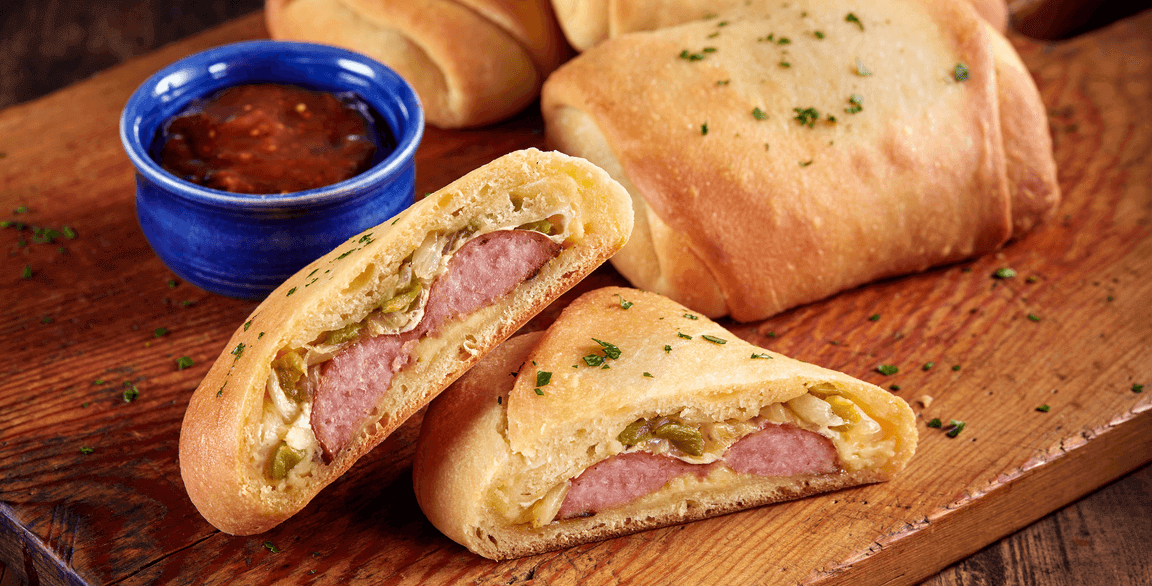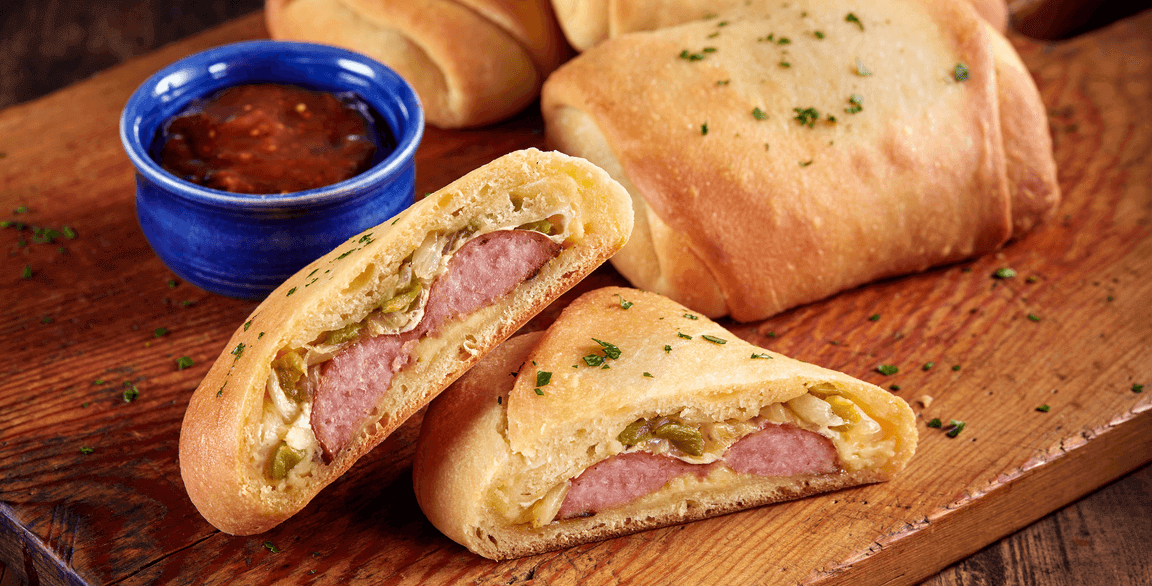 Hillshire Farm® Fully Cooked Split Smoked Sausage Kolaches with Roasted Chile and Onion
Recipe courtesy of Chef Alex Hoefer
Sponsor: Tyson Foodservice
Servings: 40
Ingredients
Dough
1 c milk
1 c granulated sugar
2 tsp kosher salt
½ c butter, softened
½ oz active dry yeast
1 c warm water (about 100 degrees F)
4 eggs
9 c all-purpose flour, plus more for benching
Filling
4 lbs green chiles (Anaheim or Hatch)
5 large yellow onions, julienned
Salt and pepper, as needed
40 Hillshire Farm® Fully Cooked Split Smoked Sausage Links
40 slices sharp white Cheddar cheese
3 lbs shredded Oaxaca cheese
Melted butter, as needed
DIRECTIONS
For the Dough
Heat the milk in a saucepan over medium heat. Stir in the sugar, salt and butter to dissolve. Set aside to cool to room temperature. Be careful not to scorch the milk.
In a stand mixer bowl with a dough hook, combine the yeast and warm water. Stir on low to activate yeast. Stir In the cooled milk mixture, eggs and 4 cups of the flour. Beat until smooth. Add the rest of the flour gradually, mixing as you go. Mix until the dough is elastic and stiff but not dry.
Turn the dough onto a floured board and knead until smooth and elastic, about 10 minutes. Coat with butter or neutral oil and place in a large bowl, covered, for about 1 hour in a warm area, until the dough has doubled in size.
For the Filling
Roast and peel the chiles, then roughly chop them. Remove the seeds for less heat.
Lightly caramelize the onions and season with salt and pepper.
Sear the sausages to color them. Finish in a 275 degree F oven until cooked through. Let cool.
For the Kolaches
Preheat the oven to 350 degrees F. Lightly oil or spray a baking sheet.
Turn the dough out onto a floured board. Roll it into a log about 4 inches around. Cut into 10 equal pieces and each of those into quarters. Press each piece into an oval shape slightly larger than a sausage using your hands. Place 1 slice of Cheddar cheese, 1 sausage, a pinch of Oaxaca cheese, and a small spoonful of onion and chile on the dough. Wrap the edges around the fillings and pinch the edges shut. The fillings should be completely enclosed.
Place the kolaches on the prepared baking sheet. Brush with butter and bake for 11 to 14 minutes, until golden brown.
Chef's Notes
These can be cooled and wrapped in individual sleeves and sold as grab and go items. They can be reheated in a Turbo Chef-type oven or a microwave by the customer or kitchen staff. Some people like to dip them in a ranch-type sauce, but I personally enjoy them just as they are. Depending on who is making them, the count can go up or down by a couple. The key is making sure the seams are sealed well and they are not overfilled.
(Brought to you by Tyson Foods®)
Project Management: Summit F&B
Photography: Carlos Garcia // Food Styling: Peg Blackley & Bree Williams