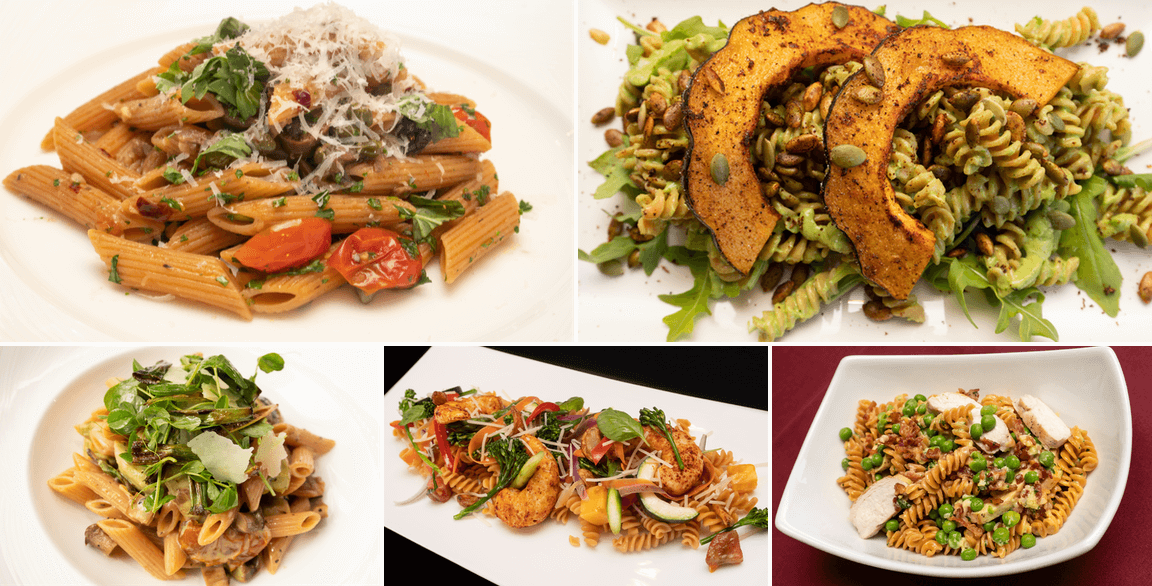 By Flavor & The Menu
September 17, 2022
Chefs are taking a close look at legume pastas, understanding that a number of drivers make them an ideal addition to menus today. Consumer interest in plant-based proteins continues to grow. This demand is propelled by the adherence to lifestyle diets, the desire to eat less meat, and the broader movement of consumers embracing more plant-based fare. Nowhere is this more apparent than on college campuses, where Gen Z consumers are, often for the first time, flexing their purchasing power and asserting their dining preferences.
For recipe inspiration that leverages protein-centric legume pastas, we tapped chefs who develop menus and get feedback in real time from this demographic. The culinary team from the University of Massachusetts in Amherst, Mass., offers a roadmap on how restaurant chefs can thoughtfully build a dish around the unique qualities of legume pasta. UMass' chefs source Barilla Red Lentil and Chickpea pastas, now offered in bulk size for foodservice. The legume flour—made with either 100 percent chickpea flour or 100 percent red lentil flour—is combined with water, then kneaded and pressed through a die to form the pasta shapes. These legume pastas are made in a way that is similar to the traditional pasta-making method that Barilla is famous for. Indeed, the family-owned company pours its 145 years of pasta-making expertise into these legume pastas, which yield an al dente texture and singular flavor—all while providing guests with a good source of protein and excellent source of fiber per 3.5 oz. serving, that's naturally gluten-free and vegan.
Alexander Ong, Director of Culinary Excellence at UMass, developed a gluten-free spin on the classic puttanesca with his Barilla Red Lentil Penne with Anchovy, Tomatoes, Olives and Basil. He says the legume pasta does more than provide a gluten-free, protein-centric foundation. "The red lentil penne brings a distinct nuttiness to the mouthfeel of the dish, and the texture is meatier. These features add to the complexity of flavors," says Ong. "You get savory, briny finishes from the olives and anchovies, and the sweet notes from the basil and tomatoes bring a sense of elegance to the plate."
Iztayub Valenzuela, Catering Chef at UMass, makes a Green Goddess Pasta Salad with Chile-Roasted Acorn Squash, choosing Barilla Chickpea Rotini for its unique qualities. "The chickpea rotini brings a great balance of textures and flavors that pair well with the creamy, avocado-based sauce and the tenderness of the squash," he says. "It is very important to offer plant-based options now more than ever, with the growing health issues that the world is experiencing," says Valenzuela. "It is equally important to make these dishes flavorful and attractive."
The Barilla Red Lentil Penne Spring Vegetable Carbonara is a plant-forward spin on the classic carbonara, with mushroom "pancetta," grilled artichokes, charred ramps and pea greens. Bob Bankert, Chef de Cuisine, chose the red lentil pasta for its color, texture and flavor, but was most impressed by its performance. "The Barilla Red Lentil Penne performs very when it is cooked al dente," he says. "It holds up better than any other gluten-free pasta, and works great in recipes that are meant to be finished quickly or à la minute."
Anthony Jung, Chef de Cuisine, UMass, touts the broader benefits of working with Barilla legume pastas. "The legume pasta absorbs many different flavor profiles extremely well," he says. "It really is a blank canvas to add your own favorite flavor profiles—anything from classic Italian to Latin or Asian flavors." For his Plant-Based "Shrimp" Scampi with Barilla Chickpea Rotini and Primavera Vegetables, Jung calls out how well the chickpea pasta balances other textures in the build. "I particularly enjoyed the texture of the pasta, it paired perfectly with the softer nuances of the spring vegetables. Additionally, I liked how the rustic color of the chickpea pasta paired well with the vibrant spring vegetables," he says.
---
Kevin Paul, former Executive Sous Chef with UMass, developed the Chicken Carbonara with Peas, Applewood Smoked Bacon tossed with Chickpea Rotini in Lyonnaise sauce. Here, the legume pasta serves as a modern update to this classic, offering fresh new take on a venerable Italian dish.
Certified Gluten-Free and Non-GMO Project Verified
Exclusively for foodservice—Barilla Red Lentil and Chickpea pastas are available now in bulk! www.barillafs.com/legume