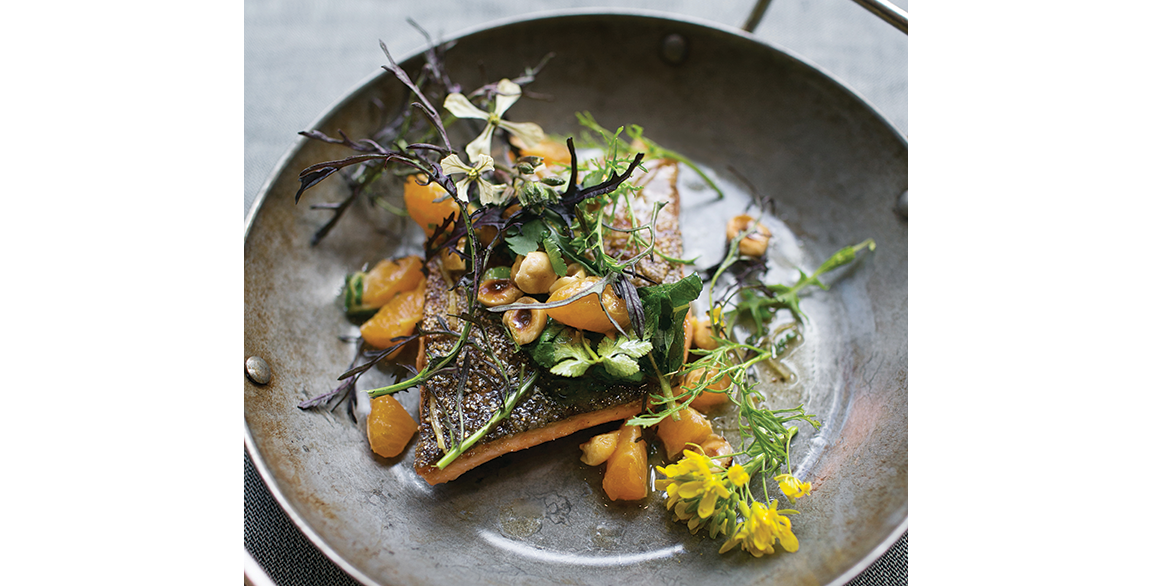 While a growing awareness among younger consumers around digestive health and overall wellness is propelling fresh excitement about fermented foods, it's the connection to several other drivers—flavor adventure, authentic preparations, use of high-quality ingredients, global curiosity and cultural storytelling—that is generating menu innovation with strong guest approval.
The fermentation category has long been anchored by such stars as yogurt, sauerkraut, kimchi and kombucha, but it is now leaving room for explorations of ingredients like yuzu kosho, shio koji and black garlic. Chefs are moving them into unexpected flavor systems that artfully weave taste, texture and functionality in an array of dishes, from salad dressings, mainstream sauces, condiments and fruit glazes to vegetable components, sandwiches, desserts and more.
Consider the example of ingredient-driven First & Last, a modern American neighborhood restaurant in Phoenix, which is wooing diners with its Rosemary Grilled Swordfish, featuring fermented tomato gazpacho and shiso chermoula. At State Bird Provisions in San Francisco, Stuart Brioza and Nicole Krasinski, co-chefs and partners, highlight garum, an ancient Roman fish sauce, in an unexpected way: The Red Trout with toasted hazelnut sees a drizzle of mandarin-garum vinaigrette. Using inspiration like this as a springboard, here are 10 ferments poised to generate strong menu interest as they push boundaries in recipe development.
1

SHIO KOJI

Shio koji, an express fermentation with a mild, miso-like flavor, makes implementing koji (starter culture grown on cooked grains) an easier prospect for operators. Use the fruity fermented sweetness of shio koji, in either a prepared powder or a housemade paste, to tenderize meats, fish and vegetables, as a soup base and to enhance recipes with umami.
Try This >
Koji Chicken Salad: Roasted chicken breast/thigh chunks (marinated in shio koji) + mayo/sour cream + minced celery + halved green grapes + toasted walnuts + fresh tarragon + cracked black pepper
Shio Koji Roast Duck Legs: Roasted duck legs (marinated in shio koji) + haricots verts + fingerlings + strawberry-gochujang sauce
Menu Sighting
Koji Beet Reuben: Koji-smoked roasted beets with hazelnut-chive cheese, kraut and horseradish-mayo sauce on rye
Fermenter, Portland, Ore.
2

DOUBLE-FERMENTED SOY SAUCE

In the soy sauce category, the double-fermented variety is rising fast and high in culinary circles. This umami-forward, full-flavored offering provides deeper color, along with enticing aromatics and a luxurious multilayer flavor, making it exceptional as a finishing touch or sophisticated glaze.
Try This >
Supreme Omelette: Smoked salmon-cream cheese omelette + saishikomi soy sauce drizzle + shaved raw red onion rings
Ham Musubi Bowl: Seared ham steak wedges + sushi rice + furikake seasoning + nori crumbles + double-fermented soy sauce drizzle
Menu Sighting
Classic Lamb Dumpling: Duck schmaltz, double-fermented soy, black vinegar, white tamari
E+P Dumplings, Coral Gables, Fla.
3

TEPACHE

Transition this lightly fermented pineapple peel beverage off the drinks menu and use it in food preparations as a unique tenderizer or flavoring agent. In expanding tepache applications, menu developers are positioned to accentuate lesser-known Mexican dishes.
Try This >
Tepache Aguachile: Shrimp and scallop ceviche + pineapple tepache + lime juice + Serrano + red onion slivers + cucumber + cilantro
Sugarcane Pork: Sugarcane-skewered pork tenderloin medallions + green bell pepper
wedges + pineapple tepache huli huli
Menu Sighting
Tepache Ice Cream with honeycomb, tepache and tequila granita
Regards, Portland, Maine
4

GOCHUJANG

Fermented chile paste and sauces have become the flavor darlings of heat-seeking consumers, especially stoked by the enduring interest in Korean foods. An intense sweet-and-spicy profile coupled with fermented funkiness make this ideal for unconventional menu applications and inventive twists on familiar favorites.
Try This >
Korean Belly Bun: Gochujang-rubbed braised pork belly slices + "kimcheese" (kimchi/pimento cheese) + cucumber
Shorty Taco: Tempura-braised beef short rib + Asian pear salsa verde + gochujang crema + white corn tortillas
Menu Sighting
Bibim Grain Bowl: Job's tears, farro, Brussels sprouts, zucchini, shiitake mushrooms, seasonal pickled and marinated vegetables, soft egg and gochujang vinaigrette
Young Joni, Minneapolis
5

MALT VINEGAR

Malt vinegar's double fermentation introduces intensity and depth of flavor with a caramel tartness plus a balancing sweetness that cuts through rich ingredients. Transitioning malt vinegar from a conventional fried food condiment into a key flavoring component transports tastebuds into new nuanced experiences.
Try This >
Hearth Salad: Shredded green cabbage-radicchio-Brussels sprouts + malt dressing (dark malt vinegar, mayo, maple syrup, barbecue seasoning) + shaved manchego + crispy puffed barley + toasted chopped pistachios
Malted Winter Chutney: Bartlett pears + pomegranate arils + whole cranberries + dried figs + candied ginger + jalapeño + light malt vinegar + brown sugar + white miso + orange zest + clove + cinnamon
Menu Sighting
Garlicky Bacon Fat Fries: Hard-fried Kennebec potatoes tossed in bacon fat-malt vinaigrette with parsley
Big Jones, Chicago
6

GARUM

For modern recreations of garum (an ancient Roman fermented fish sauce that's also called colatura), chefs are developing these, often with the addition of salt and koji, from ingredients such as lamb, beef, chicken wings, vegetables and mushrooms. Today's garums add umami-rich tones that mirror or fortify the flavor of the dishes that they're added to.
Try This >
Milk-Caramelized Acorn Squash: Skin-on acorn squash wedges + sweetened condensed milk + tamarind + smoked mushroom garum + Calabrian chile flakes
Rock Pasta: Linguini + crispy rock shrimp + olive oil + crushed garlic + red pepper flakes + anchovy garum + toasted breadcrumbs
Menu Sighting
35-day Dry-aged Cowboy Ribeye with beef garum butter
Corrida, Boulder, Colo.
7

UMEBOSHI

Japanese influences continue to inspire menu development. The fermented and pickled plum-like ume fruit offers exotic charm and imparts pinkish hues and a punch of assertive salty-astringent flavor. It's ideal as a pickling agent, in dressings or adding lift to earthy/creamy flavors.
Try This >
Quick-Pickled Stripers: Thin round slices of Chioggia beets + umeboshi paste + cider vinegar + water + sugar + ginger + dried orange peel
Plum-Buttered Trout: Pan- seared rainbow trout fillet + umeboshi-toasted sesame-butter sauce + wild rice pilaf + charred broccolini
Menu Sighting
Potatoes, Kimchi and Eggs: Umeboshi mayo, butter lettuce and bacon vinaigrette
Dish, Lincoln, Neb.
8

BLACK GARLIC

Use black garlic as an attention-grabbing menu callout, answering the demand of many consumers for new healthful flavors. Try unexpected applications, infusing its mellow, silky earthiness into chocolate desserts, condiments, sauces and dressings.
Try This >
Black Garlic Burger: Smashed burger + raclette + black garlic aïoli + toasted egg bun
Black Garlic Lamb Chops: Roasted lamb chops + black garlic jus (lamb jus, black garlic, grated sweet onions, minced Gala apple and ponzu) + au gratin potatoes + sautéed baby carrots
Menu Sighting
Crispy Brined Chicken Wings: House-fermented Fresno chile glaze with black garlic and blue cheese dip
Aftermath, Phoenix
9

KOMBUCHA

The popularity of kombucha beverages has inspired chefs to experiment with it in other menu applications. Kombucha's tanginess and lighter acidity make it a tasty replacement for vinegar. It also works as a meat marinade and as a valuable counter to balance sweetness in a dish.
Try This >
Blue-bucha French Toast: Custard-dipped challah French toast + fresh blueberries + blueberry-kombucha syrup + powdered sugar
Kombucha-Honey Mustard: Toasted yellow mustard seeds + kombucha + sea salt + clover honey
Menu Sighting
The BBQ Cow Burger: Pasture-raised beef, cheddar cheese, bacon, housemade kombucha-barbecue sauce, tomato, grilled onion and spring mix
Lil Duck Treehouse Café, West Columbia, S.C.
10

MISO

The umami saltiness of miso paste has enviable menu potential. Both the lighter, sweeter white or stronger red miso varieties are quick additions whenever a burst of flavor dimension is needed. Think miso butter on a steak, miso-sautéed squash or miso-caramel-swirled bread pudding.
Try This >
Cosmic 'Shroom Pizza: Yellow chickpea-miso creamed spinach + sautéed sliced cremini mushrooms + Alpine cheese + garlic-honey drizzle
Gulf Coastal Sandwich: Togarashi-blackened grouper + miso-caramelized onions + romaine lettuce + gingered Kewpie mayo + hoagie bun
Menu Sighting
Vol-au-vent Puff Pastry: Sorrel yogurt, miso-braised baby turnips, roasted beets, asparagus, maitake mushrooms, carrots and beet greens
L'Etoile Restaurant, Madison, Wis.