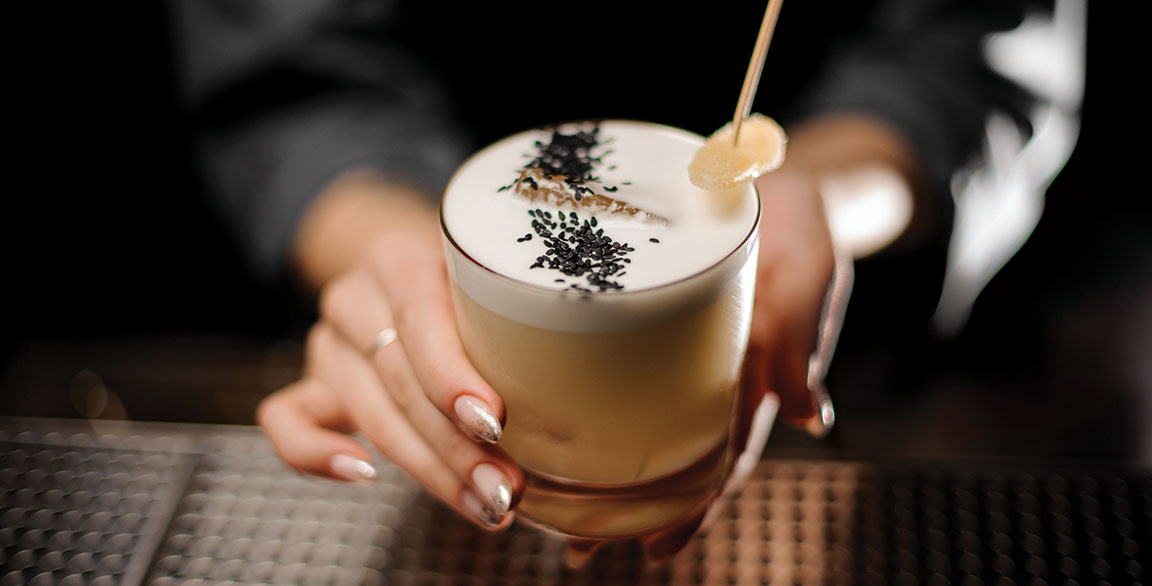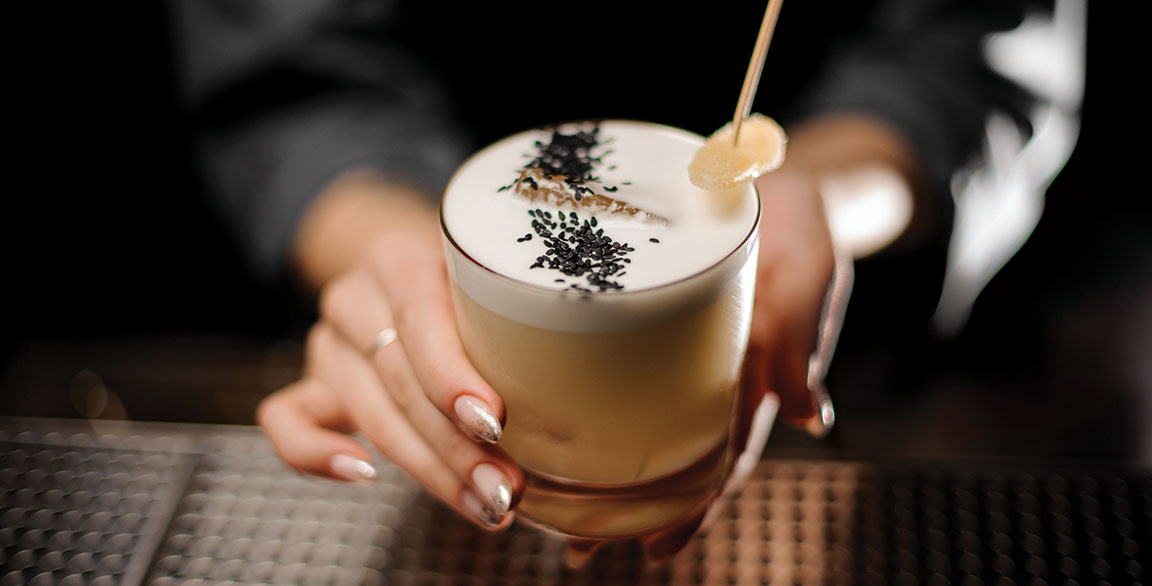 Beverage garnishes may be deemed finishing touches, but they should never be considered an afterthought. Indeed, their potential to deliver both visual impact and flavor nuance requires strategic application. Finishes are meant to stand out without overpowering. Done right, they elevate the sensory experience. By adding a touch of the unexpected, a dash of drama or a bit of playful whimsy, your beverage menu can showcase a signature style that helps to differentiate your operation.
Both hot and cold drinks can benefit from next-level executions of garnishes and other finishes. When crafting a new beverage experience for customers, start on top of and outside the glass as a means to strengthening the flavors within. Here are 10 areas to explore for finishing in style.
1

Foam

A soft, light, foamed layer introduces dimension and heightens the sensory experience. Use foam to complement and contrast in a single application, reinforcing the beverage's central flavor.
Try This >
Foamed Cadillac Margarita: Reposado tequila + lime juice + Grand Marnier foam
Maple Cream Hard Cold Brew: Cold-brew coffee + bourbon + maple-vanilla foam + gingerbread spice topping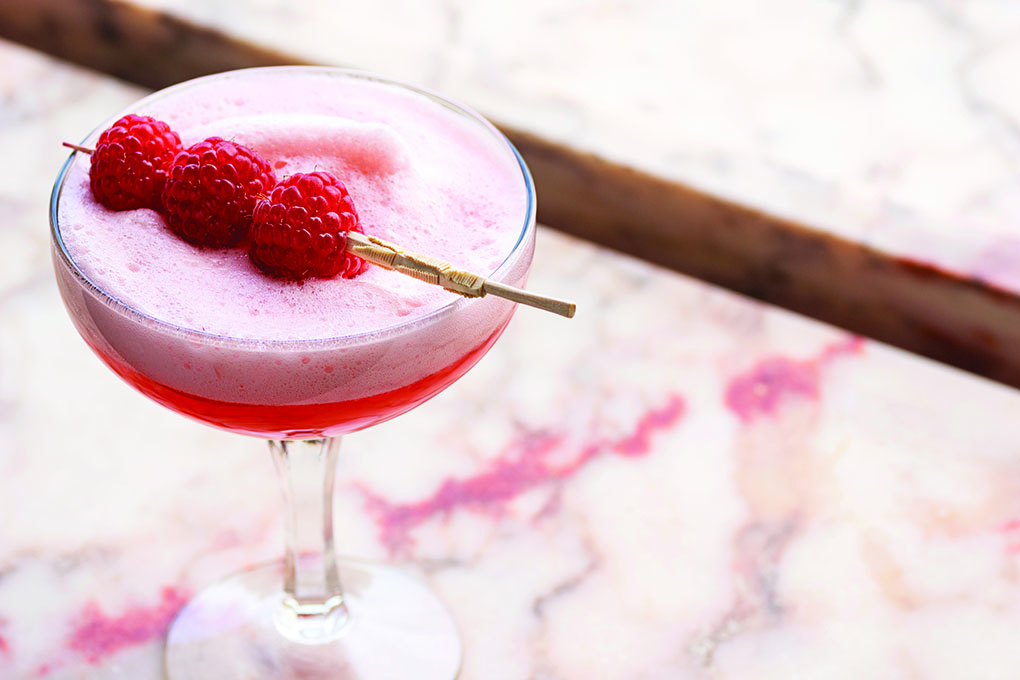 2

Spice Blends

Shaken with ice, mixed in a sachet bag or sprinkled on top as a finish, warming spices bring complexity to a cooling cocktail. Use these—added into the drink or to a garnish—to introduce or leverage trending global flavors and deliver a new cocktail experience.
Try This >
Muchas Gracias: Tequila + pink grapefruit juice + agave nectar + ice + chile-dusted lime wedge
French-Press Whiskey Cider: Pure hot apple cider + whiskey + orange peels/ginger root/star anise/cloves/cinnamon shards/cardamom seeds (French-pressed tableside) + honey syrup for drizzling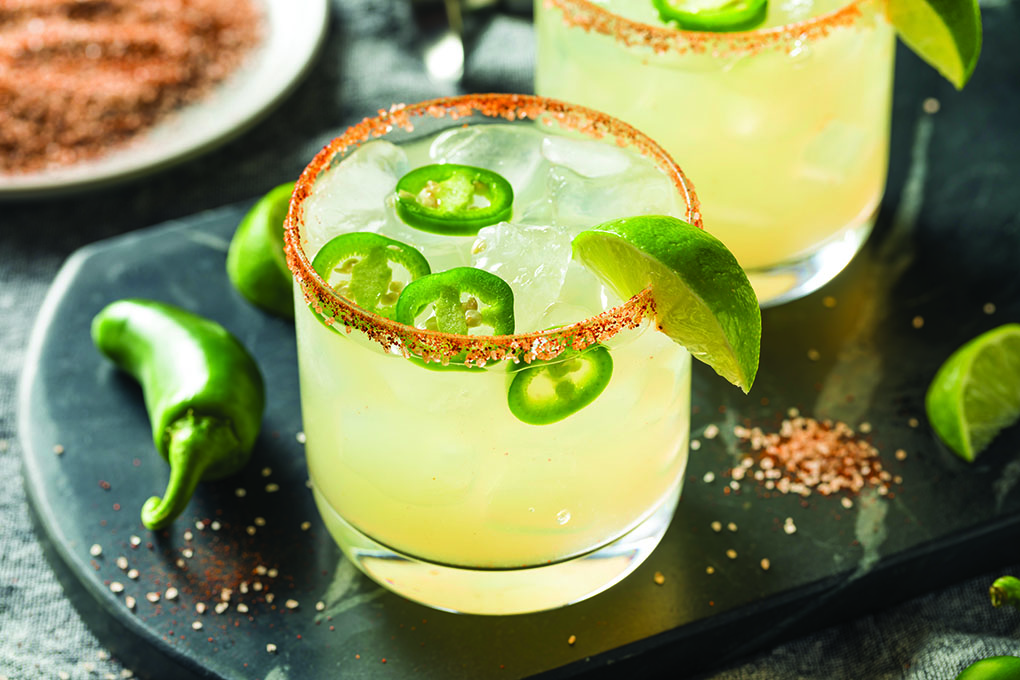 3

Flavored Sugars

Drinks finished with flavored sugar provide an initial hit of flavor, a bit of character and a pop of color. For added dimension in sugar rims: wet the rim of the glass in citrus, syrupy ingredients or liqueur, then dip it in flavored sugar.
Try This >
Candied Rum Horchata: Horchata + dark rum + rim wet with Kahlúa and dipped in a mix of cinnamon and orange-colored sugar + banana leaf partially wrapping glass
Pigs in a Barrel: Whiskey + ginger ale + ice + rim wet with honey/billionaire's bacon-dusted sugar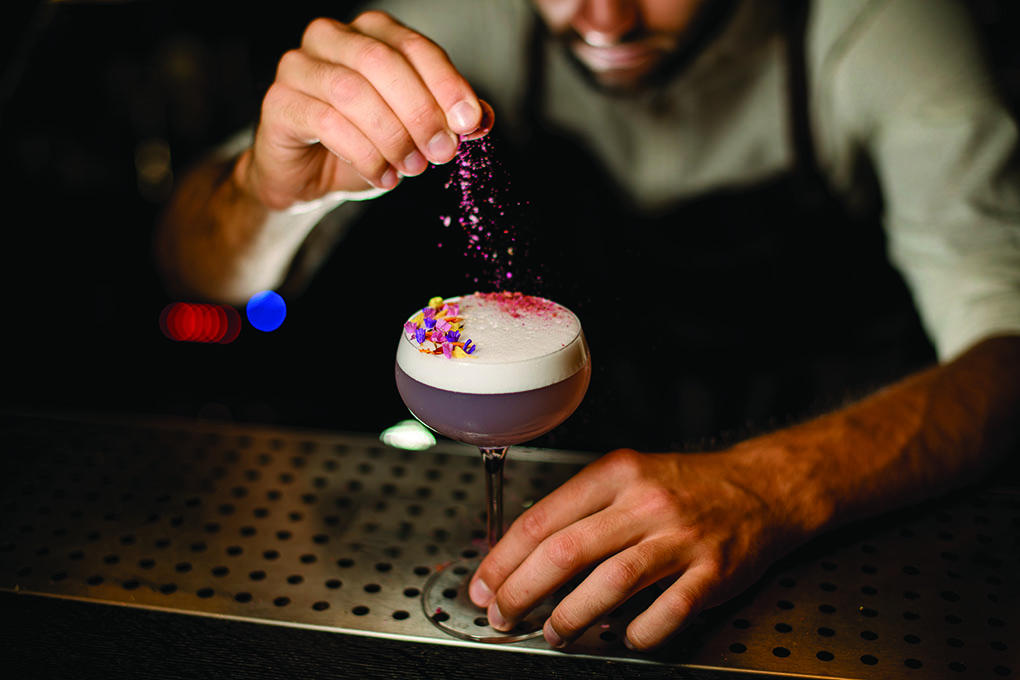 4

Aromatized Sprays

Experts say that 80 percent of taste is actually perceived through our sense of smell, leading to exciting flavor opportunities through strategic enhancement with aromas. Mixologists can deliver amped up taste experiences with atomizers, consequentially reducing the bar waste of traditional garnishes.
Try This >
Chocolate Cake: Vanilla vodka + coffee liqueur + cream + dark chocolate syrup + toasted cocoa-cardamom aromatized spray (on drink and glass)
Cran-Apple Twister: Chilled hard cider + cranberry juice + orange twist + Chinese five-spice aromatized spray (on drink)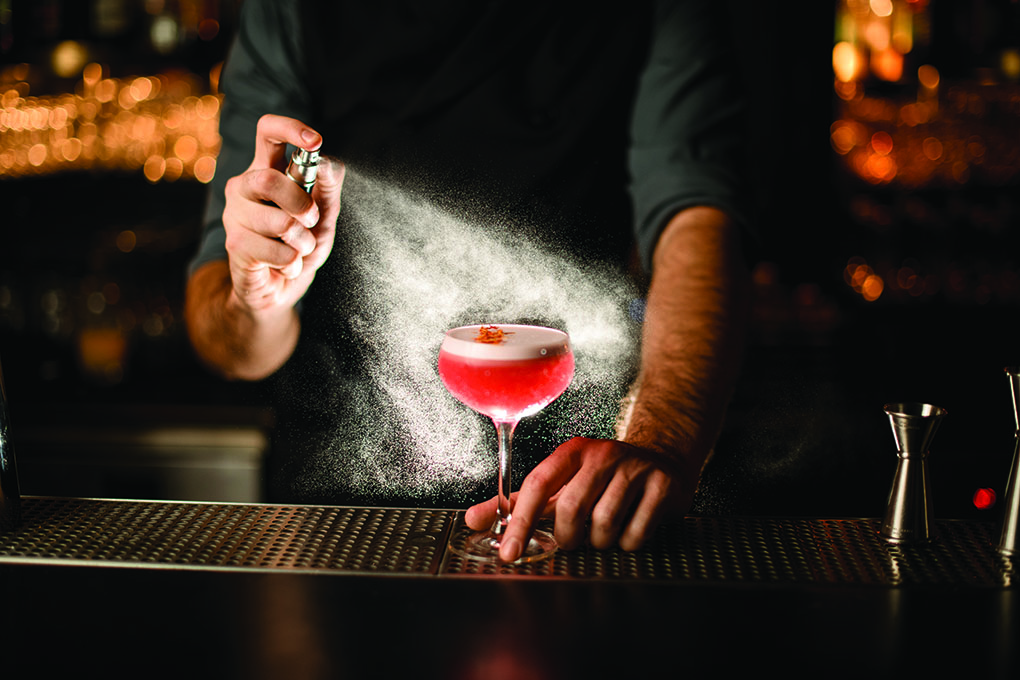 5

Fruit Garnishes

Fruit reliably adds instant freshness, with creative cuts and other applications elevating presentation. Various fruit formats signal different attributes. Use dehydrated for sophistication, grilled/roasted for dimension, booze-infused for decadence and candied for a treat inside the glass.
Try This >
Sparkling Gin 'n' Juice: Gin + sparkling water + lemon juice + raspberry simple syrup + rosemary-infused raspberry skewers
Blood Moon: Vodka + triple sec + blood orange juice + pomegranate arils + dehydrated blood orange wheel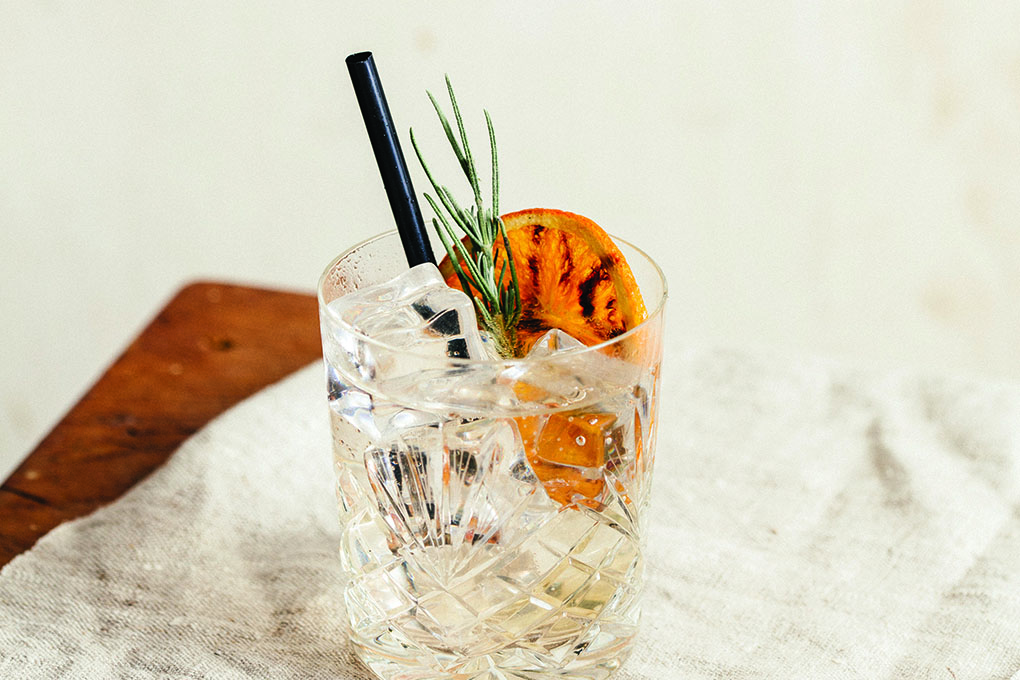 6

Flaming

Awaken the senses by adding theatrics to the guest experience. A flaming drink commands attention and is elevated by both its compelling visuals, along with distinctive smoky flavor notes.
Try This >
Warm Apple Pie: Hard cider + Irish cream + Grand Marnier + flamed orange peel + torched cinnamon stick
Flamed Christmas Cuba Libre: Cherry cola + ice + Key lime peel spiral + flamed aromatized spray of Angostura bitters/151 rum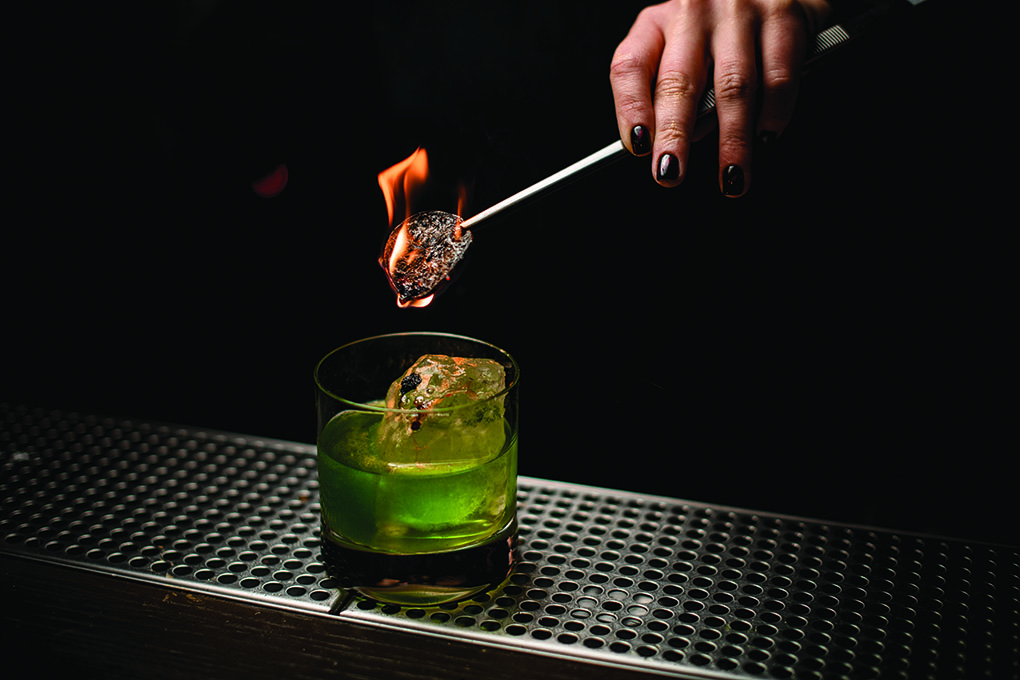 7

Vegetable Garnishes

Take full advantage of plant-forward menu trends to drive beverage options that feature a vegetable accent or an herbal splash. Lean into savory attributes to add a bold statement to sweeter drinks.
Try This >
Electric Disco: Tequila + mango juice + candied orange peel + jalapeño slivers + thinly sliced watermelon radish
Bright and Lively: Vodka + ginger beer + lime + tricolor carrot ribbons + carrot greens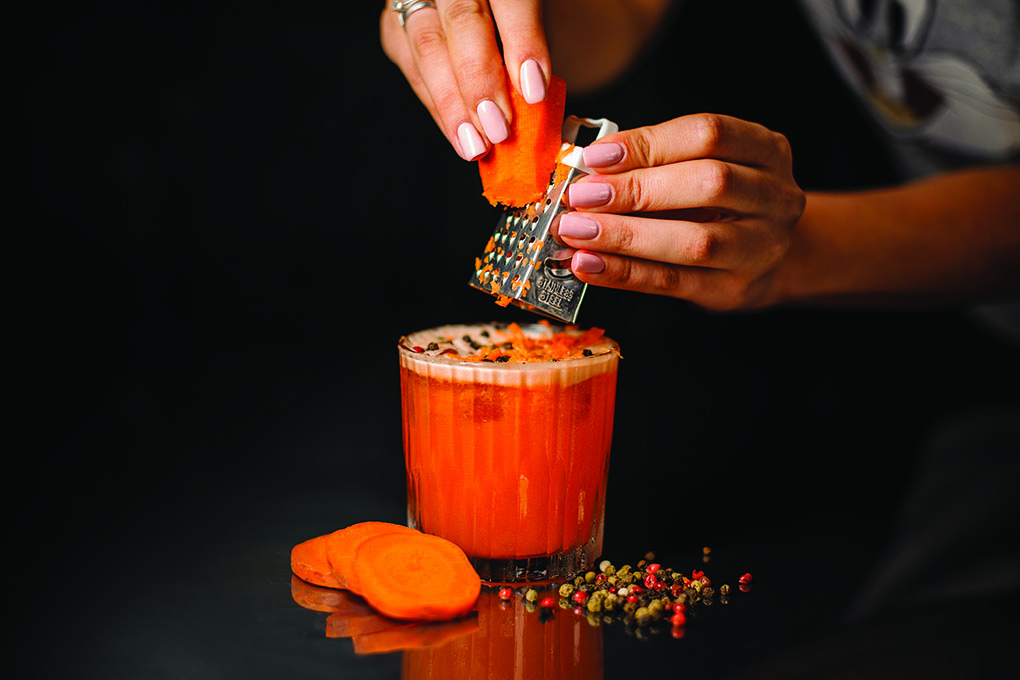 8

Pinned Presentations

The trending use of mini clothespins to clip garnishes to the glass speaks to the evolution of cocktail "hardware." This novel approach to pairing flavors on either side of the glass can take a drink over the top with charming whimsy, evoking both style and substance.
Try This >
Lemon Goddess: Vodka + pear purée + elderflower liqueur + lemon simple syrup + clothespin attaching lemon balm leaf/fresh thyme sprig
Smoked Peachy Bourbon: Smoked bourbon + bitters + cherry juice + clothespin attaching dried peach slice/vanilla bean slice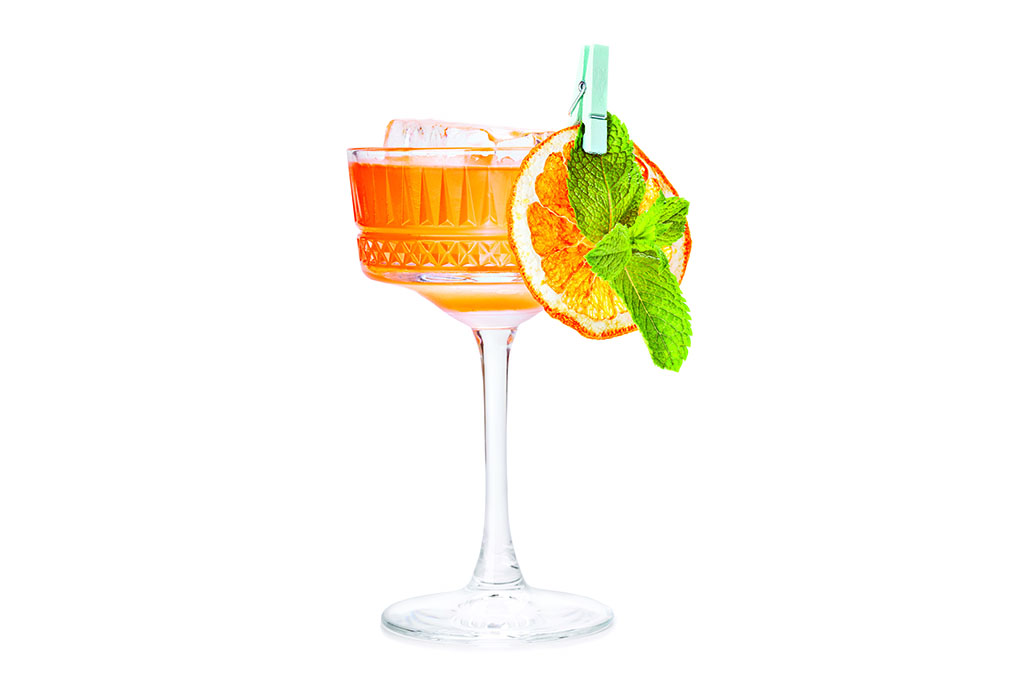 9

Artful Designs

Up the cool factor with an unmistakable accent. Introduce flavorful color with a fine dusting of fruit powder sprinkled across the top of a drink. Create a signature design by stenciling with bitters. Layer bitters within ice or stamp a logo on large-format ice cubes.
Try This >
Moody Sour: Amaretto + bourbon + lemon + agave nectar + egg white + bitters drops/swirl
Tropical Storm: Rum + charred pineapple juice + orange juice + lime juice + dragon fruit powder dusting + a fresh strawberry pierced with an edible flower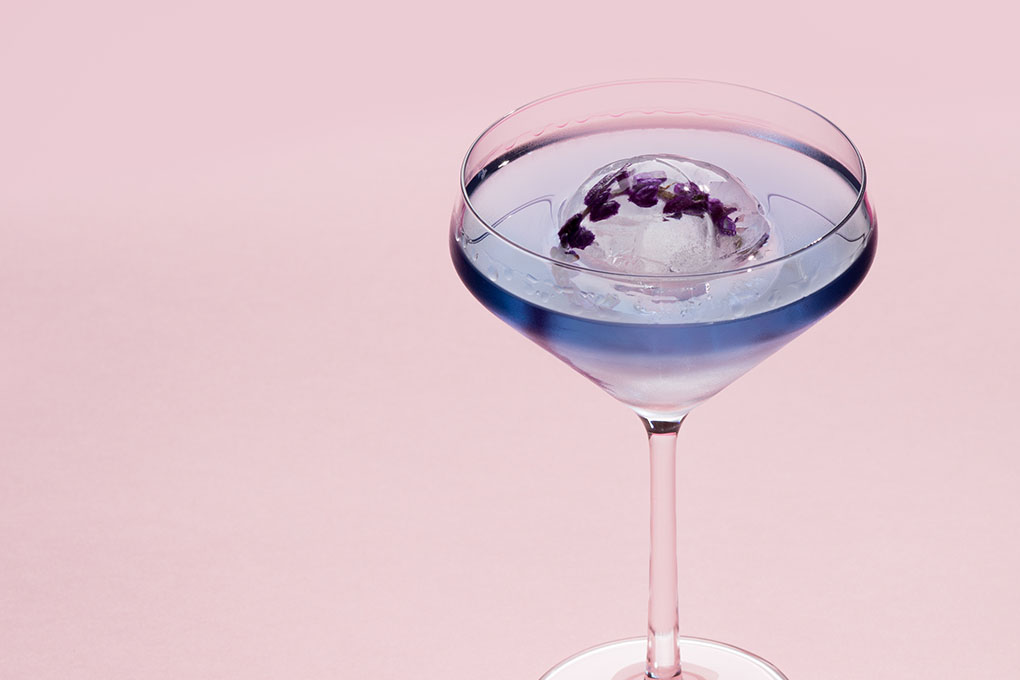 10

Unique Garnishes

Generate anticipation with garnishes that hint at what's to come in the artful beverage build. Allow a playful spirit to help tell the story behind your creation, focusing on additional visual and textural elements.
Try This >
Hot Lolly Toddy: Bourbon + boiling water + lemon + housemade honey-cayenne lollipop + burlap strip wrapping the middle of the glass
Whispering Pines Soda: Sparkling water + gin + lemon simple syrup + pine liqueur + green pine cone tassel