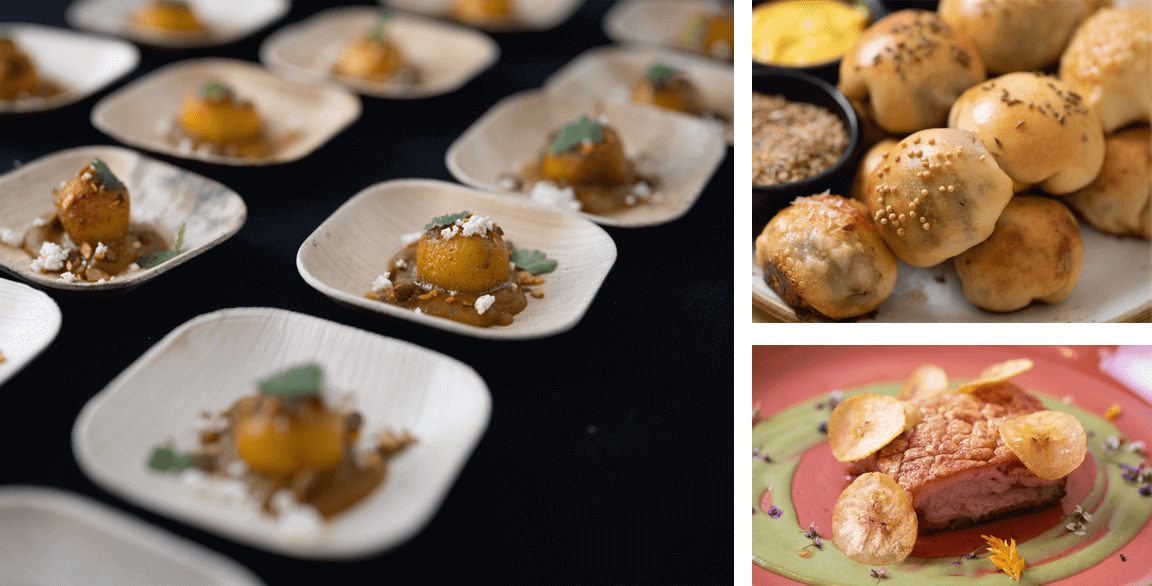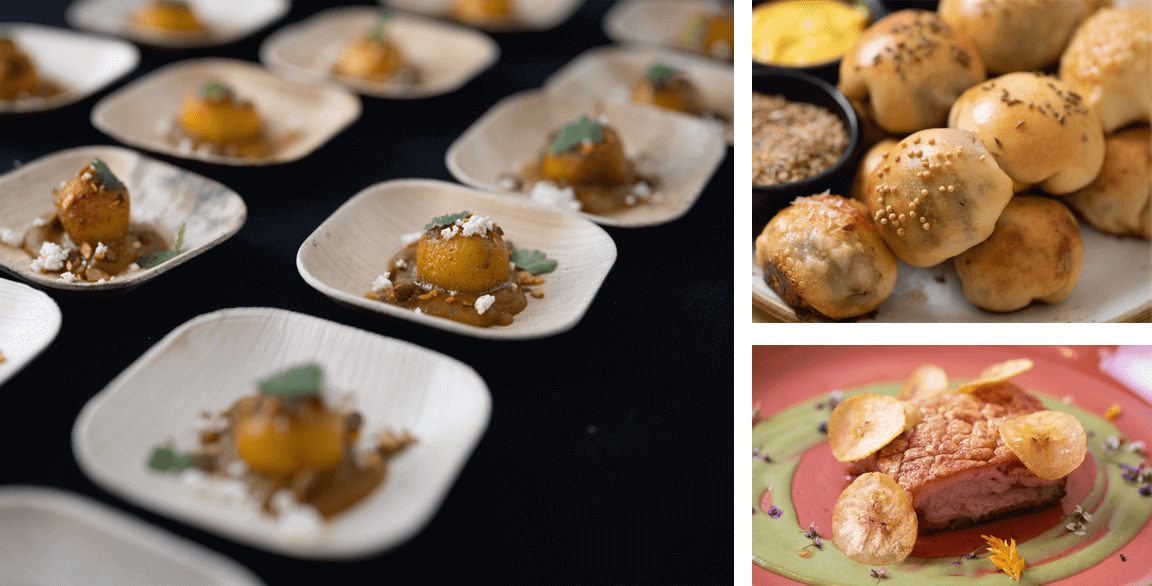 By Flavor & The Menu
December 14, 2021
The 2021 Worlds of Flavor Conference & Festival, held last month at the Culinary Institute of America in Napa, Calif., provided attendees with two days of "flavor stories," told through culinary techniques and traditions and informed by this year's theme, "Cities of the Americas: Landscapes of Flavor." Presenting chefs from across the Americas shared the flavors of their homelands through the many food and beverage tastings, intended to inform and inspire. Here, we highlight several takeaways that left an impression on chef attendees.
---
Nicholas Gonring, North American Corporate Consulting Chef, Gordon Food Service
FLAVOR TAKEAWAY:
Yuba & Shiitake "Inari" with Kosho & Umeboshi Dressing by Gaby Maeda
Chef Gaby Maeda of State Bird Provisions in San Francisco served up a modern take on the classic Japanese stuffed tofu pocket inari. Her Yuba & Shiitake 'Inari' was unlike anything I have ever tasted. She used sheets of yuba to create a plant-based cylinder-like 'ballotine' filled with farro verde, red quinoa, short-grain rice and shiitake mushrooms. Each of these components provided their own unique texture rolled inside the al dente tofu skin. The sauce was complex in flavor and brought a symphony of tastes. The inari roll soaked up the umami dressing, anchored with fermented plums and a chile-citrus finish from the satsuma kosho. Between the variety of textures and the lingering umami, my palate danced until my plate was bare."
TECHNIQUE TAKEAWAY: Fried Rice Mastery
Perhaps the biggest takeaway I gleaned was from Lucas Sin's demonstration of his cult classic Golden Fried Rice dish. Fried rice done well is a complex process, with many variables that could impact the consistency and integrity of the finished product. Chef Sin's demonstration provided some techniques that weren't on my radar. For a textural difference, he used both long- and short-grain rice that had been cooked independently. They were then chilled on sheet trays for up to two days to dry slightly. Sin then massaged the rice with egg yolks until each grain donned a yellow coat. This critical step is what differentiates his technique. This gives the rice a uniform golden hue, as well as providing a fraction of separation, allowing more surface area for the grains to 'fry.' Later in the cooking process the whites are introduced, giving it a fluffier finish. This is a genius hack that has forever changed how I will make fried rice."
---
FLAVOR TAKEAWAY:
Butternut Squash Mochi with Charred Miso, Pepitas & Cilantro by Gaby Maeda
One of my favorite bites was chef Gaby Maeda's Butternut Squash Mochi. This mochi was a gnocchi-inspired bite, essentially replacing the wheat flour with mochi flour. It was deliciously paired with a charred miso-mole sauce and topped with ricotta crumbles, chile pepitas and cilantro. This dish is a perfect example of global fusion with inspiration pulled from Japan, Italy and Mexico."
TECHNIQUE TAKEAWAY: Lessons in Kombu
Chef Gaby Maeda from State Bird Provisions showcased some really interesting techniques with kombu. She did a presentation in which she cooked scarlet runner beans in a kombu dashi. They were delicious with very subtle hints of the briny kombu. For another dish, she cooked farro verde with kombu to enhance the flavor."
---
---
FLAVOR TAKEAWAY:
Traditional Mennonite Bierocks & Low-German Mustard by John Michael & Lexi Michael
I really appreciated the inclusion of the Mennonite community. Sometimes we focus so much on the amazing contributions of Asian and Latin immigrants that we forget that we are a country of immigrants from the start. I knew nothing about the Mennonites before this session and found it to be one of my best learning experiences during the conference. And the bierocks with mustard were awesome."
TECHNIQUE TAKEAWAY: Inspiration Abounds
Chef Lucas Sin reminded us that inspiration can come from anywhere. He explained that anime in part inspired his Golden Fried Rice. As an added takeaway, from here on, I will always separate my eggs when making fried rice, using the yolk to coat the rice before adding it to the wok."
---
FLAVOR TAKEAWAYS:
Marinated Radicchio Di Treviso and Spigarello Pesto Bruschetta by Cathy Whims
Some of my most memorable tastes were from Cathy Whims of Nostrana in Portland, Ore. Her bruschetta with spigarello pesto and cheese and her Treviso dish were simple yet decadent. Separately, Christina Martinez really showed the complexity of Mexican food at its roots, while Diego Oka's anticuchos and Jesus Cervantes' sunflower seed chorizo and potato taco were also great flavor inspirations."
---
---
FLAVOR TAKEAWAY:
Corn Tamales with Corn Cream & Queso Fresco by Jesus "Chuy" Cervantes
The tasting that was most memorable to me was chef Chuy's all-corn tamale. The team roasted and ground the corn before making the masa, giving it a depth of flavor I don't usually find in mass-produced products. The simplicity of treating one ingredient correctly and not covering it up with additional flavors was truly delicious."
TECHNIQUE TAKEAWAY: Fried Rice Mastery
When making his golden fried rice, chef Lucas Sin adds the yolks to the rice and mixes before sautéeing. This enables the flavor to be cooked into the rice and maintains proper texture through cooking. After seeing this I don't think I can do it any other way."
---
Brandon Grzegorczyk, Executive Chef, Jackson National Life
FLAVOR TAKEAWAY:
Mini Baleadas: Refried Beans, Crema, Queso & Avocado on Flour Tortilla by Melissa Araujo
The mini Honduran baleada from chef Melissa Araujo made me a believer in refried beans again. The beans were so flavorful and rich, but the dish as a whole was balanced with the sharpness of the crema and queso cutting through the richness."
TECHNIQUE TAKEAWAY: Vegan Chorizo
I was stunned by the vegan chorizo chef Jesus Cervantes made with a base of sunflower seeds. He toasted them, then pulsed them to a crumble and cooked them down in a red adobo sauce. It looked and tasted like excellent chorizo sausage."
---
---
Jacques Wilson, Executive Chef, Nutrition Services, El Camino Health
FLAVOR TAKEAWAY: Four Standout Tastes
Chef Melissa Araujo's Mini Honduran Baleada; Chef Eric Adepong's Crispy Pork Belly with Sweet Green Habanero; Chef Gaby Maeda's Yuba & Shitake Inari; and Chef Lilla Bernal's Mangonada Apasionada
TECHNIQUE TAKEAWAY: Flavor Aromatics
Chef Lucas Sin created a hot aromatic by pouring hot oil into a bowl of garlic, onion and parsley. This creates the ability to add natural aromatics while being consistent with the flavor. Chef Daniel Olivella uses his onion soubise to enhance his food in the same manner. Two methods with the same result."
---
Del Taco team: Barb Colucci, Dir of Culinary/ R&D; Shereen Abutom, Manager of Innovation and Muna Afghani, Sr. Brand Manager
FLAVOR TAKEAWAYS:
Anticucho De Corazon: Veal Heart, Peruvian Potato, Miso & Aji Panca by Diego Oka
Chef Diego Oka's veal heart dish from the anticuchos workshop was one of our favorite bites. The heart was marinated in a delicious umami-packed sauce and served with Peruvian corn and crispy Peruvian potato, the perfect balance of flavors and textures, and super craveable."
Mangonada Apasionada by Lilla Bernal
Simple, fresh ingredients combined with fresh-made chamoy and chile-lime salt made for a flavorful, refreshing, sweet and savory beverage."
TECHNIQUE TAKEAWAY: Synethesia
We were vaguely familiar with synethesia, which is a phenomenon when the senses are blended with each other; for example, someone may 'hear' colors or 'feel' sounds. Gabriela Ruiz (chef-owner of Carmela and Sal in Mexico City) talked about how she can 'taste' words. Having this ability allowed her to stand out in the culinary world as a talented chef who collaborates with musicians to create dishes with their music."
---
---
Kyle Kubiak, Production Manager, Creative Dining Services at Davenport University
TECHNIQUE TAKEAWAY: Keeping it Simple
I found many of the best dishes were focused on highlighting a single ingredient within the dish. It could be masa, shrimp or beans. I think as a chef it is easy to get lost in the complexity of a dish and how it is going to be plated, when in all honesty, the best dishes are simple but executed extremely well. Chef Jesus 'Chuy' Cervantes reminded me of the importance to keep it simple."
---
TECHNIQUE TAKEAWAY: Flavor Reduction
Chef Aisha Ibrahim of Canlis in Seattle uses a caramelized Walla Walla onion pressed juice reduction for the Wildflower Condiment she serves with her sablefish. She explained how she caramelizes the onions for up to three days, then mixes them with elderflower caper, wildflower vinegar, salt and olive oil, and further reduces the mixture. She'll brush this highly flavored liquid on fish, steak or other grilled item for an incredible boost of flavor.
---
Nathaniel Malone, FSD, Creative Dining Services
TECHNIQUE TAKEAWAY: A Sizzling Finish
It was wild to watch chefs Erik Bruner-Yang and Eric Adjepong's technique for crispy skin pork belly, where they used hot oil poured over scored pork belly to form a Chicharrón-style finish."