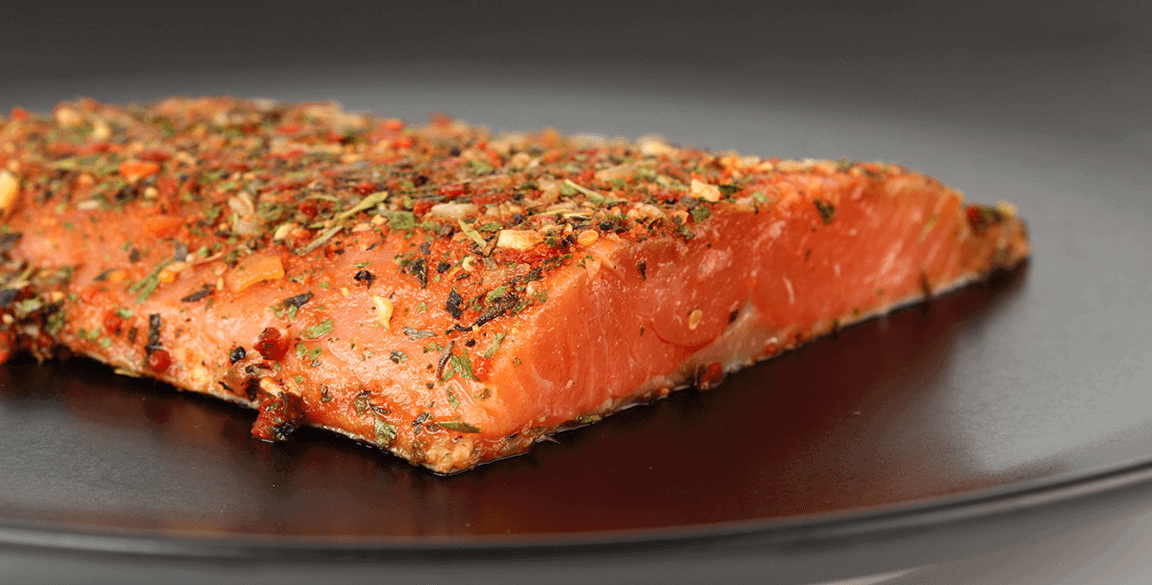 Trend-forward chefs are leveraging the unique flavors of pastrami spices, introducing the citrusy tang of coriander, bite of black pepper and lingering wisp of smoke to a world of menu development. Whether positioned as the star of the show or as an eclectic finishing touch, the flavor system is a menu developer's dream. Here, we bring pastrami flavor into new formats, play with pastrami spices in a myriad of ways, and also zero in on pastrami brisket's potential.
1

CLASSIC PASTRAMI BRISKET

Pastrami brisket's appeal as a flavor system stems from the powerful punch of its signature elements. Its brined, spiced, smoky undertones provide a perfect complement to a variety of ingredients, allowing chefs to leverage this meat's enduring popularity in modern menu development.
Pastrami Fried Rice: Cubes of pastrami brisket, cooked long-grain rice, onions, garlic, Napa cabbage and eggs are stir fried with a touch of soy-barbecue sauce
Hot Bacon-Pastrami Pizza: Thin slices of pastrami brisket, cherry peppers, caramelized onions, smoked bacon and melty mozzarella cheese on pizza dough with roasted garlic-white cream sauce
2

PLANT-FORWARD

Flexitarians, vegetarians and vegans appreciate bold tastes. Use vegan "pastrami" or employ pastrami marinades and spices to provide rustic oomph, infusing vegetables with deeper flavor or replicating meaty nuances.
Portobello "Pastrami": Portobello mushroom cap (basted with pastrami-spiced marinade while grilling) served with sauerkraut, vegan "Gouda" and vegan Thousand Island dressing between slices of marbled rye
Pastrami Mapo Tofu: Japanese eggplant marinated with brown sugar/salt/paprika, then smoked, finely chopped and wok-seared with chunks of tofu, black beans, minced ginger/garlic, gochujang and vegetable broth/cornstarch; finished with scallions and pastrami spice
3

OTHER MEATS

Applying a generous pastrami rub to rich meats, then roasting, produces an aromatic, flavorful crust of natural melting fat and bold pastrami flavor, tempting guests with contemporary menu features. Lean into pastrami-inspired deli traditions or pull in trending flavors, like Mexican or Greek.
Everything-Pastrami Lamb: Seared rack of lamb thinly smeared with cream cheese, coated with everything-pastrami paste, roasted to create a decadent crust, and sliced into chops
Achiote-Pastrami Duck: Whole-roasted duck liberally rubbed with achiote-pastrami spice, split into breast/leg portions and served with orange-flavored mole sauce and cilantro rice
4

MODERN MASH-UPS

Fuse the characteristics of a Rachel sandwich (the Reuben's cousin, made with pastrami instead of corned beef) with elements of another dish to create unexpected mergers that broaden opportunities within the comfort zone while encouraging trial.
Deli Dumplings: Chopped pastrami, cabbage and Gruyère-filled dumplings pan-fried/steamed in brown butter; served with Pommery mustard-sour cream dip and tomato-pickle relish
Hot Pastrami, Chicken and Waffles: A rye-flavored waffle topped with chopped pastrami, boneless chicken thighs and pickled slaw with a spicy brown mustard-maple syrup drizzle
5

POTATOES

Potatoes serve as a familiar entry point for fresh takes on mainstream favorites. Pastrami is a natural choice when doubling down on evocative flavor combinations that pair well with potatoes while sparking interest among diners.
Smoked Pastrami Hash: Smoked Yukon gold potatoes griddled with bacon, red onions, red bell peppers and pastrami spices; all topped with a fried egg
Pastrami Potato Gratin: Idaho russet potatoes layered with shavings of pastrami and charred cabbage, plus a Swiss cheese-cream sauce, baked to a golden brown
6

SEAFOOD

The versatility of pastrami spices can deliver moxie to a variety of seafood dishes. Start with the classic coarse ground black pepper-coriander base and build from there, introducing ingredients that complement the seafood being showcased.
Pastrami Salmon Poke: Cubes of raw salmon in olive oil, honey, tamari, lemon, scallions and pastrami spices (pink peppercorn/coriander + ginger, mustard seed and garlic flakes); served over a shaved fennel-baby spinach salad
Pastrami Shrimp Linguini: Pasta tossed with sautéed shrimp and sun-dried pastrami pesto (black pepper/coriander + garlic-onion powder, Aleppo pepper flakes, roasted almonds, sun-dried tomato and olive oil); topped with Asiago cheese