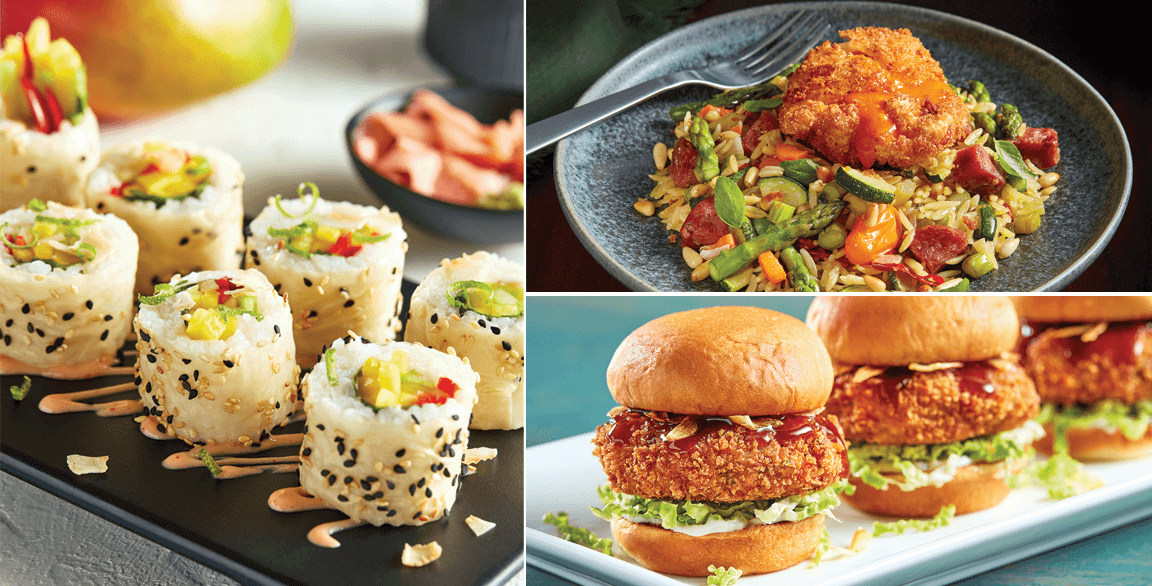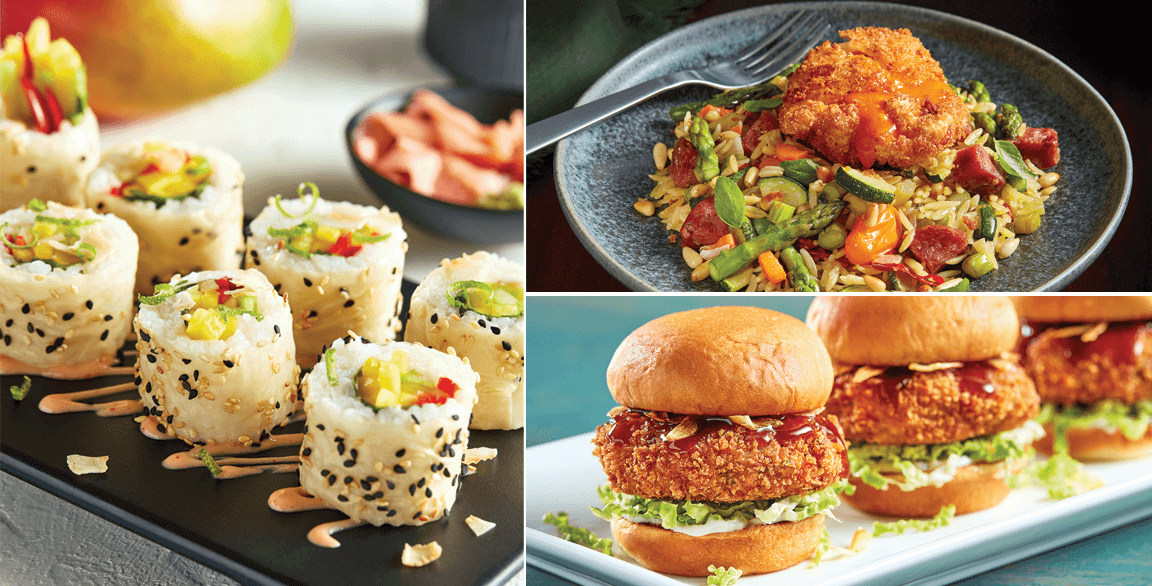 By Flavor & The Menu
August 10, 2022
Kitchen Collaborative is a recipe-development initiative formed by Summit F&B and Flavor & The Menu. To fuel flavor innovation, a group of talented chefs partnered with sponsor brands and commodity boards to create recipes that showcase the passion and potential of our industry.
CHEF SPOTLIGHT: Brandon Cook
"Every chef has an inspirational story to tell through food. I love experiencing others' stories as I write my own," says Brandon Cook, Executive Chef of Culinary R&D, The Cheesecake Factory, Inc. It's an apt metaphor that both celebrates the personal craft and investment of professional chefs and zeroes in on the value of constructing a unique and compelling flavor narrative for each item on the menu. As with an absorbing read or a binge-worthy TV series, consumers are inexorably drawn to culinary experiences that engage all the senses and tell a story that resonates within. Read on for Cook's three enticing chapters in the Kitchen Collaborative collection: Italian Fried "Rice," Mango Sushi Roll and Garlic Shrimp Katsu Slider.
Italian Fried "Rice"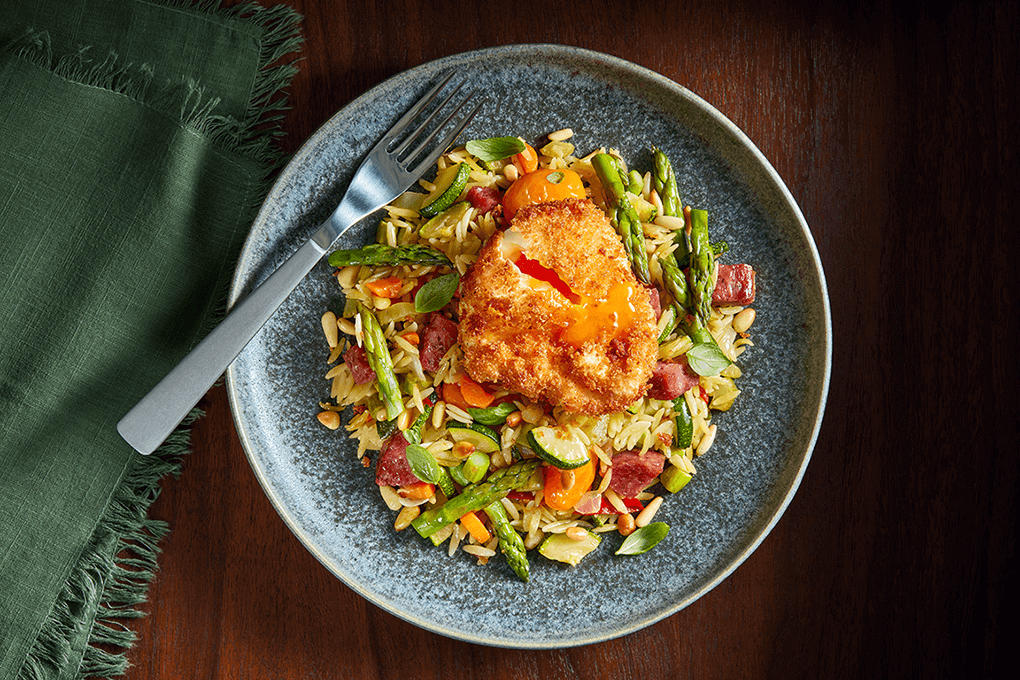 Photo credit: Photography: Carlos Garcia // Food Styling: Peg Blackley & Bree Williams
Cook credits poor spaghetti-twirling fork skills with spurring a childhood love for orzo as an alternative that required less dining dexterity. And his ongoing enthusiasm for orzo is matched by a passion for fried rice. "I love its versatility—any time I see one on the menu, I want to try that interpretation," he says. Thus it's no surprise that his Kitchen Collaborative assignment of Barilla® Orzo led to a culinary love letter in the form of Italian Fried "Rice."
A soft-poached egg is shocked in ice water, coated in a batter of beaten egg, seasoned flour and breadcrumbs and then dropped into the deep-fryer. "It's a playful twist that is an homage to my affinity for rich, saucy egg yolk in fried rice, but featuring a crispy texture, as well," explains Cook. The crispy fried egg crowns a bowlful of pan-fried orzo mixed with soppressata, sofrito, shallot, zucchini, tomatoes, chiles, asparagus, Colatura di Alici, torn basil and Grana Padano, with toasted pine nuts to finish.
"I really wanted to show this spin on an Asian classic, while highlighting the adaptability of orzo," Cook says. The flavor journey is intended to defy expectations, with diners discovering that "every bite is just a little different than the last," he explains. "It might be the spicy heat or the aromatic herbs or the garlic in the sofrito. But then there are the bites that get a kiss of that egg yolk—OMG! And the soppressata is a fun play on fried rice versions I've had that feature Chinese sausage. The goal for the dish is to be a fork magnet."
Mango Sushi Roll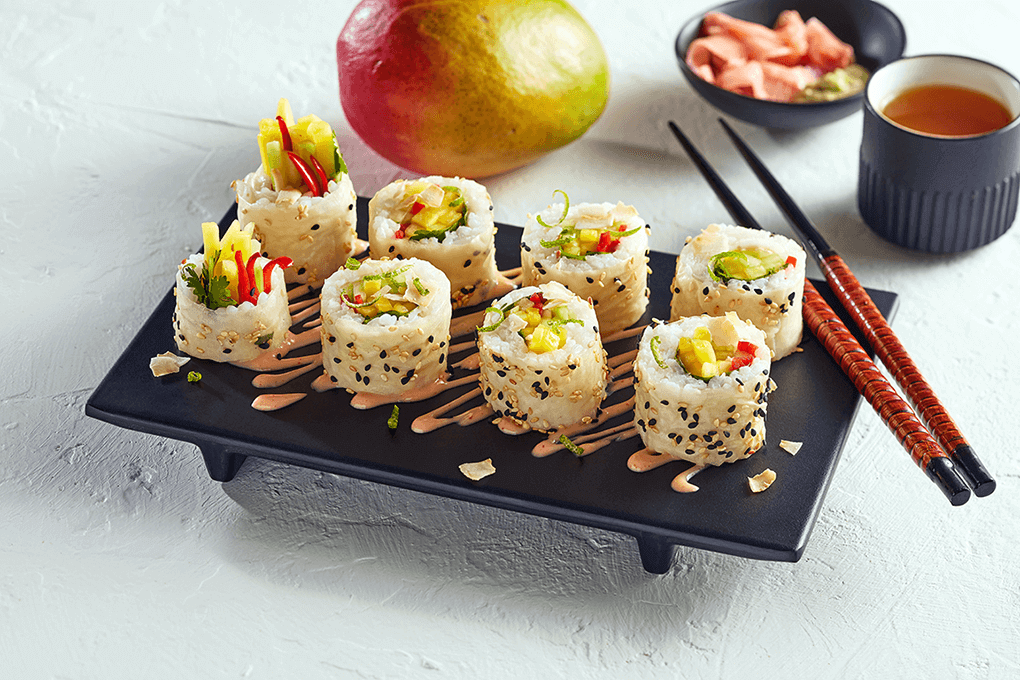 Photo credit: Photography: Carlos Garcia // Food Styling: Peg Blackley & Bree Williams
"I love going to downtown L.A. and having whole mangos, skewered and scored with a good squeeze of fresh lime juice and a heavy sprinkling of spice. The flavors are so pronounced and intense," says Cook, reflecting on the culinary muse that inspired his Mango Sushi Roll. "I wanted to take a spin on that sweet, heat and acid by creating a sushi roll that led with those flavors, presenting them in a fun and familiar way that is still a handheld."
Cook spins a compelling flavor story with the dish. "The juicy mango and spicy jalapeño are complemented by the cooling fresh cucumber, while the acidity from the sushi rice offers balance, keeping everything in check." He adds a little toasted coconut and lime zest to ground the dish in its Southeast Asian roots.
The look of the dish rivals its flavor in vivid, vibrant sensation. "While flavor always comes first in recipe development, as diners, we eat with our eyes first," he notes. Creating the perfect union is one of Cook's culinary imperatives. "Whenever our team is developing a new dish, achieving the visual 'wow!' starts the executive review with a good impression. As this recipe was being conceptualized, I saw this vision from the start and knew the flavors I wanted to play with. It was a kaleidoscope of delicious ingredients that I couldn't wait to try!" says Cook.
Garlic Shrimp Katsu Slider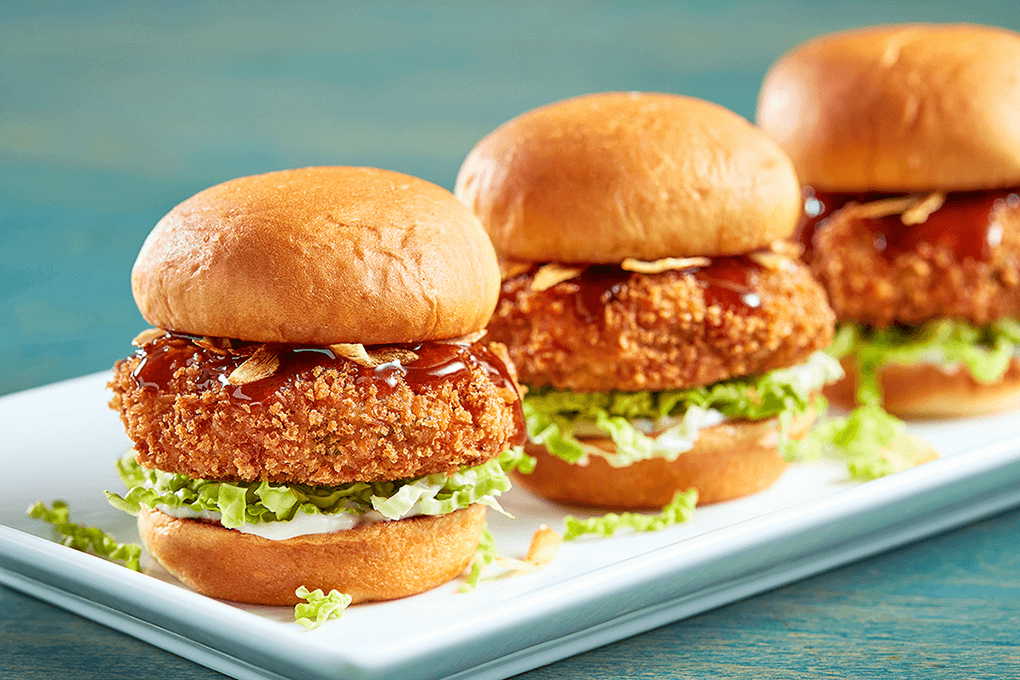 Photo credit: Photography: Carlos Garcia // Food Styling: Peg Blackley & Bree Williams
"Sliders are just plain fun," says Cook of the enduring popularity of the shareable starter. "It's a way to have a tease of a burger, fried chicken sandwich or any other handheld. I actually make my kids PB&J sliders." Personally eager to order an assortment of different flavor options, Cook offers an intriguing option for operators with his Garlic Shrimp Katsu Slider, featuring King's Hawaiian® Original Hawaiian Sweet Slider Buns. He finds the sweet flavor profile of the buns to be a perfect pairing with the natural sweetness of the shrimp.
Doubling down on the origins of the bread, Cook turned to the "legendary" garlic shrimp found on Oahu's North Shore as inspiration for his slider riff. The shrimp cakes are a mixture of chopped and minced shrimp, water chestnuts, green onions, cilantro, jalapeño, garlic, soy sauce, fish sauce and salt. After frying, the shrimp cakes are placed on griddle-toasted slider buns that have been topped with kewpie mayo spiked with lemon zest and chives. Cabbage, a drizzle of tonkatsu sauce and crispy garlic complete the build.
"I love the textural contrast of the crispy and moist shrimp katsu with the buttery soft roll. Plus, the savory garlic is balanced by the crunch of the cabbage. The creamy citrus mayo will have you making these nine at a time!" says Cook. The water chestnuts were a less obvious choice, but offer a little nuance in the flavor experience, he explains of the subtle crunch that they lend the interior of the shrimp cakes. "It was certainly a borrow from across the ocean to make this concept a little more unique."
Project Management: Summit F&B
Photography: Carlos Garcia // Food Styling: Peg Blackley & Bree Williams