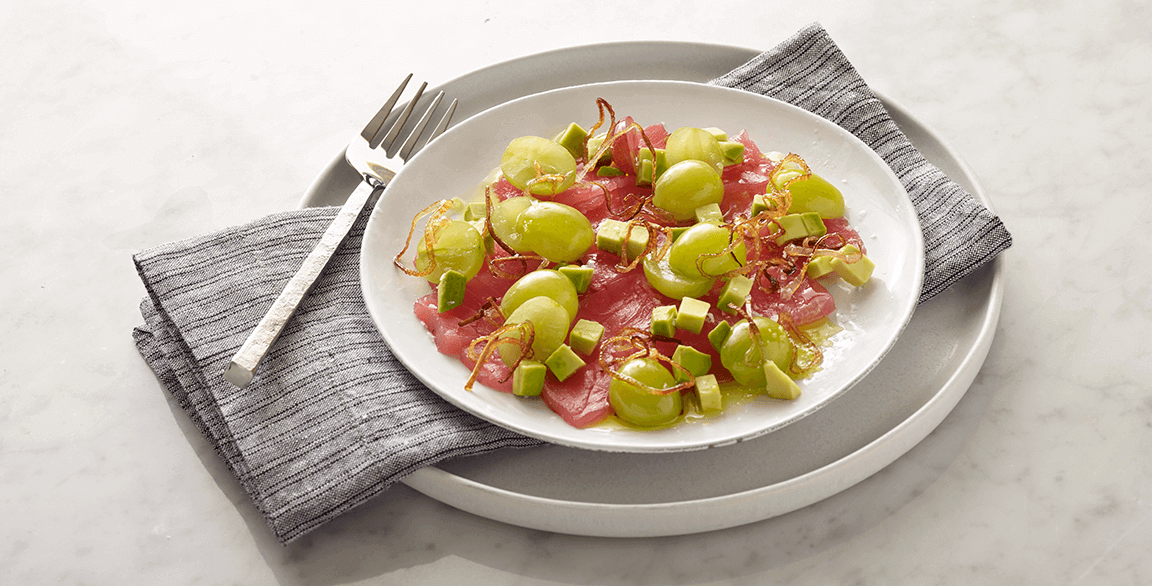 By Mike Kostyo
August 4, 2022
Like octopus, raw seafood preparations have slowly moved from polarizing to popular. In fact, the fastest-growing seafood option on menus, according to Datassential, is a typically raw dish: poke. When it comes to menuing raw options, freshness is, of course, paramount, which often means rotating seasonal selections in and out of popular preparations like poke, ceviche and crudo.
"In San Francisco and the Bay Area at large, there is an incredible selection of fish, but it is very seasonally driven. At certain times of the year, it goes dormant," says Dustin Falcon, executive chef of San Francisco's Niku Steakhouse. Falcon takes West Coast oysters off the menu when they aren't in season or replaces the crudo with a wild San Francisco halibut in a tartare preparation when it's particularly fresh and delicious. "In keeping with our preference to menu wild seafood, we have to be seasonally driven to respect the ecology, and are limited by availability," he says. "Above all, we want fresh seafood that is sourced in a thoughtful way."
COLD FRONT
Five seafood showstoppers:
1

Poke
Poke bowls continue to trend on menus and are now a go-to seafood entrée across the country. Forward-leaning concepts seeking to up the ante can look to the example of Pacific Catch, a seafood chain based in Corte Madera, Calif., which turns poke into a starter by mashing it with another reliable diner favorite: guacamole. The Guaca-Poke features poke-style ahi tuna served over guacamole and topped with micro cilantro, with tortilla chips on the side for sharing.
2

Ceviche
Ceviche also has crept into the mainstream. Chefs are embracing more unusual species (including a range of "trash fish") and are exploring various Latin American preparations, such as Mexican aguachile and Peruvian cebiche. At Hugo's Invitados, a modern Mexican concept with two locations in Texas, the ceviche spotlights local red snapper, cured with prickly pear and served with jumbo lump crab, avocado relish and a spicy-sweet mango-Serrano sauce.
3

Oysters
Trend-forward chefs are moving on from classic oyster preparations to a wider range of builds that elevate without overpowering. Greg Kuzia-Carmel, chef/owner of wine bar Canteen Next Door in Menlo Park, Calif., takes inspiration from Spain's Basque region for his Miyagi oysters. After cleaning each oyster, Kuzia-Carmel marinates them in a mixture of rooibos tea and Txakolina, a Spanish sparkling wine. For service, the meat is returned to the half shell and topped with grains of paradise, the peppery spice native to Africa, plus nasturtium and capers.
4

Crudo
Sea Craft, a casual beachside seafood concept at The Shore House hotel in Narragansett, R.I., features an upscale menu with a range of creative fish dishes, such as a whole salmon collar served over garlic hummus with Israeli salad. Its snacks menu includes Tuna Crudo, which sees a thin pool of popcorn crema spread on the plate and topped with local bluefin tuna crudo that has been flavored with vinegar from Japan's Totsuka Brewery.
5

Carpaccio
The elegance of carpaccio keeps this classic timeless, while the variations on featured seafood, accompanying sauces and garnishes make it dynamic. Eataly's chef, Adam Hill, illustrates the point nicely with his Cold-Smoked Tuna Carpaccio, served with pickled California grapes, avocado and crispy shallot. Enrique Limardo, executive chef of Immigrant Food, a globally inspired kitchen in Washington, D.C., menus a Swordfish Carpaccio with cherry tomato, cucumber and chive.