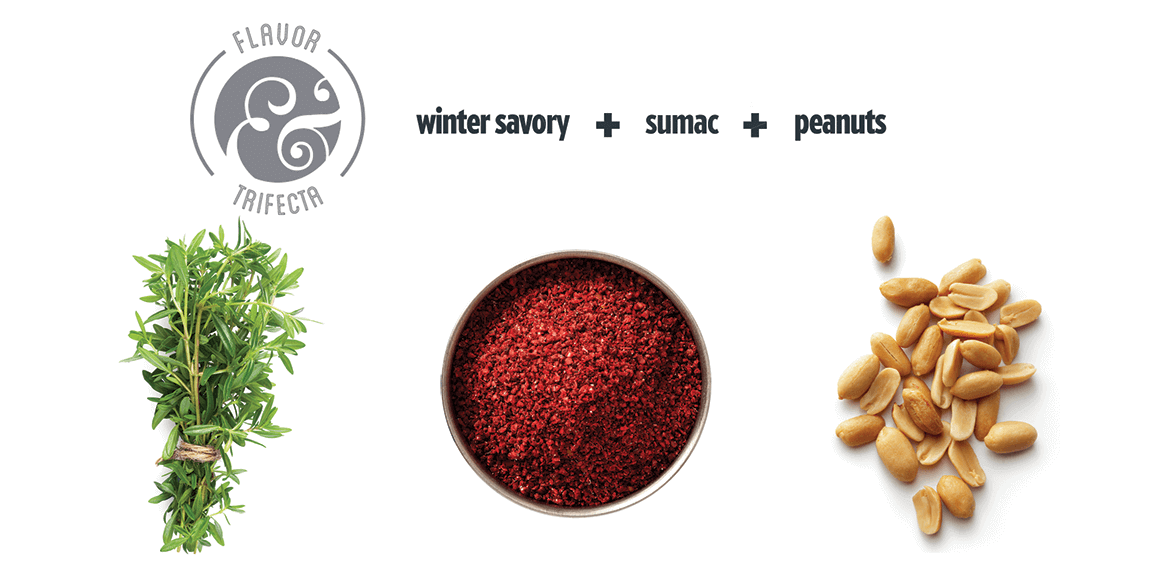 By Flavor & The Menu
August 3, 2022
Sayat Ozyilmaz is the executive chef of culinary operations at The Culinary Institute of America at Copia in Napa, Calif., where he oversees all non-student hospitality kitchens, including The Grove, Lunch Box and 3D Dining. An expert in Eastern Mediterranean flavors, Ozyilmaz's menus are inspired. They include dishes like Moroccan Duck Carnitas with bergamot dashi, peas, fava beans and saffron-pickled shallots and a "Blooming" Maitake Mushroom with strawberry mole coloradito.
We asked Ozyilmaz, originally from Istanbul, to ponder an intriguing flavor trifecta. He came back to us with a few. He combines hibiscus, strawberries and rhubarb in a savory context, currently using the combination in The Grove's Scallop Ceviche. "Another trio I like to feature is rose, sumac and green Sichuan peppercorns," he says. "This is our 'tingling rose' spice mix for our pork belly. It's tart, aromatic and tingling. Coriander and dry ginger round out the pungent aromas and flavors."
But perhaps the most compelling flavor combination is his trifecta of winter savory, roasted peanuts and sumac. "Winter savory is the name of the Turkish herb zahter that we're now growing in the CIA gardens," says Ozyilmaz. He grinds the peanuts, combining them with the sumac and the herbs. "It's delicious and super savory. Sumac is tart and fruity. Winter savory is vegetal, thyme-like and earthy. Peanuts are nutty and, when roasted properly, they're high in umami," he says. "The peanuts introduce added texture to the finishing spice." He sprinkles this blend atop dishes such as his Smoked Labneh, Fresh Burrata Flatbread with ajika
(a Georgian red pepper spice blend) and seasonal vegetables, and Grilled Maitake Kebabs.